Have you been locked out from accessing your iPhone 8? You could have simply forgotten your passcode. Or you are wanting to switch to a new carrier. Well, don't worry. You may be surprised to know how often this happens and that you do not need to possess any advanced skills to fix it. Wondering how? You have come to the right place. This article provides some hacks on how to unlock your iPhone 8/8 plus screen passcode and carrier lock.
How do I unlock my iPhone 8 if I forgot my screen passcode?
If you forgot the password/passcode you set for your lock screen on your iPhone 8, the only way to regain access to your iPhone 8 is to perform a factory restore.
Method 1 Forgot iPhone 8 Passcode? Unlock it via Mobitrix LockAway
Mobitrix LockAway is an innovative passcode/password unlocker. It is the best solution to unlock your iPhone 8 when you don't want to spend too much time unlocking it. Developed by an R&D team with over ten years of experience in iOS cracking, Mobitrix Lockaway is designed to be effective and secure. It can help you bypass a forgotten passcode or reset your iPad/iPhone without passcode in no more than 20 minutes. It is also relatively easy to operate and does not require any technical knowledge.
Mobitrix Lockaway is effective in unlocking four different types of screen locks:
4 or 6 digit codes
Face ID
Touch ID
Alphanumeric password
The Mobitric Lockaway password unlocker can be helpful when:
You purchased or acquired a second hand iPhone
Your iPhone is displaying the 'iPhone is disabled try again in X minute/connect to iTunes' alert
You forgot your unlocking passcode
The Face/Touch ID is ineffective or disabled
Your iPhone screen is broken or defective
Steps:
Download Mobitrix LockAway then install and launch it on your computer
From the main menu, click on 'Unlock Screen Passcode.'

Unlock screen passcode home

Click Start to begin the passcode removal. A Keyfile will be detected automatically.

Unlock screen passcode product

Unlock screen passcode looking for keyfile

Proceed to download the Keyfile Package and extract it.

Unlock screen passcode download and verify keyfile

Once the Keyfile download is complete, click on 'Start to Extract.'

Unlock screen passcode firmware has been downloaded

After extraction, click 'Start unlock.'

Unlock screen passcode extraction complete

Unlock-screen-passcode-remove-screen-lock

The unlock process is done.

Unlock screen passcode unlock is complete
For additional information, refer to the user guide page for unlocking a screen passcode.
Trustpilot
Why Do I Recommend Mobitrix LockAway?
You do not require iTunes.
The whole procedure is easily done in a few clicks and is suitable for non-technical users.
Mobitrix Lockaway is the fastest solution and only takes about 20 minutes. It is ideal for an emergency.
It has a 99% success rate.
It fully supports iPhone 5s to iPhone 15 and iOS 17 and earlier versions.
Guarantees 100% privacy protection
Once your iPhone is unlocked, it will restart and take you to the setup screen. If you used iCloud or iTunes to back up your data before being locked out, you can restore your iPhone through iCloud or a computer. However, if you had not, click on 'Don't transfer apps & data '' to start your iPhone as a new device.
Method 2 Unlock Disabled iPhone 8 via iPhonePass Without Data Loss
iPhonePass is an iPhone unlocking program from Mobitrix that is FREE to use. The tool offers support to users of iPhone5s - iPhone X. It enables Apple users who have forgotten their passcode to unlock their iPhone/iPad without risking data loss. A CPU chip vulnerability found in the supported devices allows you to gain super authority through jailbreaking, enabling you to delete and modify your passcode.
iPhonePass offers support for the following iPhone models:
iPhone 5s - iPhone X
Preparations:
You will need a Mac. Any system version is suitable.
Proceed to download the lock removal tool–iPhonePass
Also, download a tool for jailbreaking– checkra1n.
Steps:
Run the checkra1n program and click Start to begin jailbreaking your device.

Launch Checkra1n

Wait for checkra1n to finish installing a jailbreaking program. Do not disconnect your iPhone until the process is complete.

Install Jailbreak

Once jailbreaking is complete, do not immediately set up or operate your iPhone/iPad.
Connect the device to your MacBook
Wait for the phone and the computer to create a network link, then open 'Terminal' on your Mac and key in the command 'sudo iproxy 22 44.'

Enter "iproxy 22 44"

Delete the passcode, then double click to erase the 'deliphonepass.sh' script.

Delete "deliphonepass.sh" file
As soon as you accomplish this, your iPhone passcode is removed without you losing any data. You may proceed to access your iPhone normally and set up a new lock screen passcode.
Once you have set up a new passcode, it is recommendable that you turn off your iPhone's jailbroken state. This recommendation is because jailbreaking renders your iPhone unsafe. However, Perfix, a repair program by Mobitrix, can help you resolve this issue. The tool's standard repair feature will turn off the jailbreak state without affecting your data.
Method 3 Bypass iPhone 8 Passcode via Find My
Find my is the ultimate software for all location-related activities and helps locate your lost and stolen devices. Other than its location-related functions, the program also has an 'Erase' feature that creates an easy way for you to reset a locked Apple device. This 'Erase' feature effectively wipes all your data, including your iPhone screen passcode. Deleting the password enables you to access and reset your iPhone.
Note: The 'Erase' function wipes all your data and settings but does not change the iOS version.
You can use a computer or a phone browser to visit icloud.com. If you do not have either of these devices, you can borrow one from family or a friend.
Requirements before using Find My to erase your iPhone:
Find My must have been pre-enabled on the locked phone
The locked iPhone should still be logged in to your iCloud account
The locked device must still have internet access through Wifi or mobile data
You must recall your Apple ID and password
Note: Apple users can go to iCloud.com to log into Find My or use the Find My App.
Situation 1: Via iCloud.com
Steps:
Using a phone or computer browser, go to iCloud.com
Proceed to enter your Apple ID and password

Enter your apple id and password

Once you have logged in, click 'Find iPhone' and key in your Apple ID and Password again, then click 'Sign In.'

Click Find iPhone

Enter your Apple ID password

Next, click 'All Device' and select your iPhone.

Click all device and choose your device

Tap on 'Erase iPhone'. A prompt will ask you to confirm 'Erase this iPhone'. Click 'Erase'

Click erase iphone

Click erase

Enter your Apple ID password to continue

Enter the password to continue

A message bearing a verification code will be sent to your trusted device. Key in this code to proceed

Two factor authentication

You are now required to enter your phone number and tap 'Next.'

Enter your phone number

The iCloud website will signal the erase has started with an 'Erase started' notification. Your iPhone will also simultaneously show the erasing progress with the white apple logo.

Erase started

After erasing is done, your iPhone will restart automatically. Swipe up to reveal the iPhone reset screen. It will display an 'iPhone locked to owner' message. Enter your Apple ID and password, and click 'Next' to create a new passcode.
Situation 2:
If you own or have another Apple device, or someone around you has an iOS, you don't need a computer. You can use the Find My app on the other device to erase your iPhone.
Steps:
On your device, launch the Find My app (If the device is not yours, you will have to log in using your Apple ID & Password)
Click on 'Devices' and select the device you want to erase
Scroll down and tap on 'Erase iPhone.'

'Find my iPhone' App

When prompted to confirm 'Erase This Device', click 'Erase.'
Key in your Apple ID password to proceed
Note: If the device you wish to erase is offline, you will see 'Erase Pending. The process will begin as soon as the device has internet access. Else, it starts immediately and resets your iPhone to factory settings.
Method 4 Unlock my iPhone 8 via iTunes
Released by Apple in 2001, iTunes was initially a media software used to play, download and manage multimedia files, i.e. audio and video. In 2011, Apple began allowing users to use iTunes to backup and sync data on multiple devices. iTunes relies on its 'Restore' function to help you regain access to your iPhone. This feature wipes everything on your iPhone, including the passcode locking you out.
However, iTunes is not a professional unlocking software, and Apple rarely updates it. With the last update being on 7th Dec 2020, it is riddled with bugs and can take up to three hours to unlock according to my tests. You are also likely to encounter various error codes like error 1100, 3004, 3194, 4000, 4013 etc. But if you want to try, here are the details to follow:
Preparations:
You will need a PC or a Mac
If you have a PC: Ensure it is running on Windows 8 or later and install iTunes' latest version.
If you have a mac:

a. For macOS Catalona or later, open a Finder window

b. For macOS Mojave or older, you will need to install and run the latest version of iTunes.
You will also require a compatible USB cable.
Steps for Windows users:
Switch off your iPhone

If your iPhone is connected to the computer, unplug it.
Turn it off depending on the iPhone's model.
For iPhone 8, 8 plus, X and later, including the 2nd and 3rd generations of iPhone SE: Press down and hold both the side and volume down button until the power off slider pops up.
For iPhone 7, 7 Plus, 6s and 6: Press down the side button until the slider appears.
For the 1st generation of iPhone SE, iPhone 5S, and prior: Press down the top button until the slider pops up.
Switch off your iPhone by dragging the slider and wait for a minute to ensure it shuts off entirely.
Prepare yourself by identifying the iPhone button you will need to press and hold down in the next step:
For iPhone8, 8 Plus, X, and later models (2nd & 3rd gen), press the side button
For iPhone 7and 7 Plus, use the volume down button
For the 1st generation of iPhone SE and 6s and earlier models, press the home button.
While pressing and holding the correct button, connect your device to the computer immediately, and don't stop holding the button.
You should let go of the button only after the recovery mode screen pops up.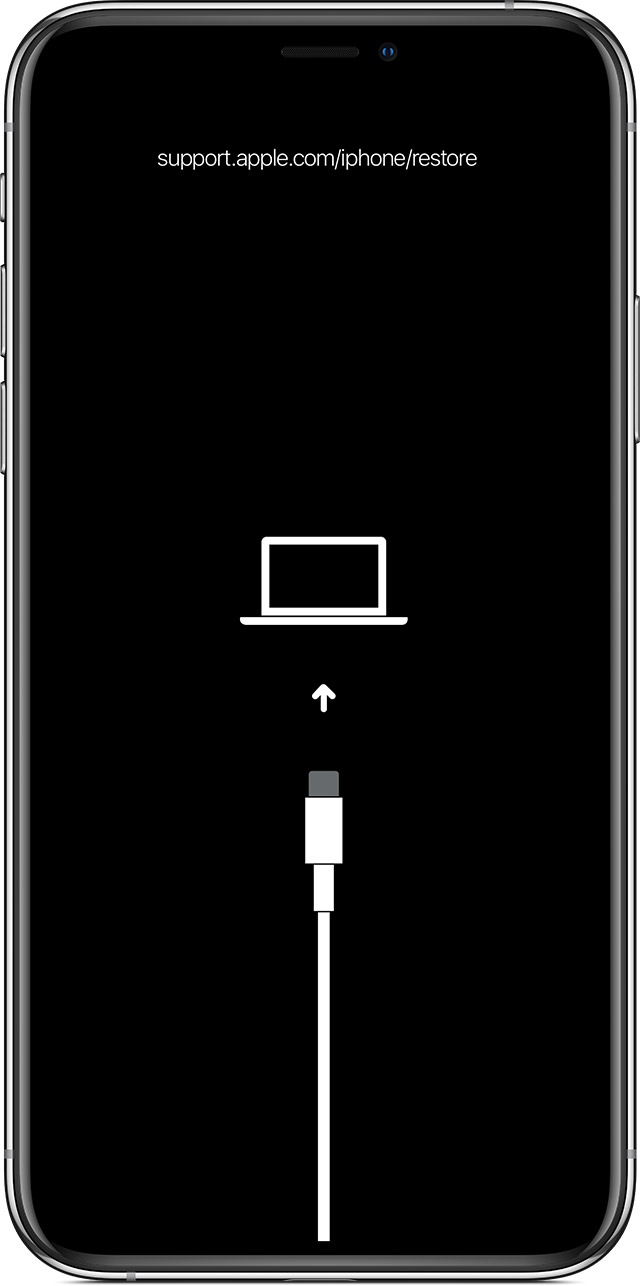 See the recovery mode screen
Note: If the lock screen pops up instead, you need to start the procedure again from step one.
Restore your iPhone
Open iTunes on your computer. A message will pop up notifying you there is a problem with the iPhone that requires it to be restored or updated. Click Restore.

The iphone that requires it to be updated or restored

Next, click Restore and Update.

All of your media and other data will be erased

An 'iPhone software update' window will come up. Tap Next and then agree to the terms.
Open iTunes on your computer. A message will pop up notifying you there is a problem with the iPhone that requires it to be restored or updated. Click Restore.
After successfully downloading the iPhone software update, iTunes will display an 'iTunes will erase and restore your iPhone to ios 15.4.1 and will verify the restore with Apple' message. Tap Restore.
The top bar will show a message saying Extracting software. This is to notify you os 15.4.1 iTunes is getting ready to restore the program on your iPhone.

Preparing to restore the software on this iphone

iPhone software update

The restoration progress will be shown on your iPhone screen, accompanied by Apple's white logo. Your iPhone will turn on automatically once the restoration is done.

click this icon to check the download process

Once your iPhone is done restarting, you can reset it. You may create a new password/passcode if you wish to.

Note: On the 'Apps & Data' screen, click 'Don't transfer apps & data' if you had not backed up your phone on iTunes, finder, or iCloud before it locked. However, if you did create backups, tap 'Restore from Mac or PC' or 'Restore from iCloud Backup .'Where you restore from depends on where you created a backup.
Ios14 iphone12 pro setup restore from icloud backup ontap
How do I unlock my iPhone 8 if I want to switch to a new carrier?
How to check if your iPhone is locked by a carrier?
There are three ways to check if your iPhone is locked by a carrier, i.e. through Settings, using a sim card, and contacting the carrier.
Using Settings
Find the settings app on your iPhone and click on mobile data
Go to mobile data options. Where the device is in American English, click on Cellular and then Cellular Data.
Find the Mobile Data Network or Cellular Data Network.
If you can find this option, your iPhone is unlocked. In a locked iPhone, it is typically not present.
Using the SIM card
You will require two SIM cards from different carriers to use this technique. Follow the listed steps below:
Call any number from your current SIM and wait for it to connect
Next, turn off your device
Remove the current SIM from your iPhone using the ejector tool
Now slot in the SIM from a different carrier
Switch on your phone
Call a number and see if the call goes through.
If the second call doesn't connect, your iPhone is carrier-locked. If it does connect, it is not locked since SIM cards from different carriers work.
Contacting the carrier
If you do not know or are unsure if your iPhone is locked, you can call your network carrier to inquire. They will require some specific data from you. You will need to provide your phone's specific make, serial number, and model.
Two Most Reliable Methods to unlock iPhone carrier (Suitable for All iPhone Models)
Method 1: Unlock iPhone Carrier with SIM Unlock Chip
A sim unlock chip is a tiny chip used by network carriers to place restrictions on a device. Microcontrollers are used to create these limitations by regulating traffic between the device and the SIM card. An unlock chip modifies the SIM card's operation by altering these microcontrollers and the traffic. The chip goes for between $20 to $30 and can be found online or in the market.
Steps:
Buy an unlocking chip suitable for your iPhone model.
Lay your SIM card on the unlock chip
Place both in the SIM tray and insert them into your device

insert fold chip

Switch on your phone
Select a universal activation mode from the popup
You will be required to edit the ICCID code
Key in the ICCID number written behind your SIM card

The ICCID

Comply with the on-screen prompts, then restart your device again.
These may vary depending on your unlocking chip. This method may also not be effective for old SIM cards since it is hard to distinguish the ICCID number. It is also not always smooth or easy, depending on the brand of your SIM Unlocking chip.
Method 2: Contact your carrier
AT&T

To unlock an iPhone locked by this carrier, you must meet the following conditions:
Your Device must not have been reported as stolen, involved with fraud, or lost.
You must not have a past-due balance.
Your iPhone should only be active on a single AT&T account.
However, military professionals who have been deployed do not have to wait for the payment plan to finish as long as they keep paying their bills. People who have a business plan with a two-year contract have to wait for 30 days for eligibility to unlock any early upgraded devices.
AT&T's prepaid devices must be active for six months before you can unlock them. For people with an installment or term agreement, your iPhone has to have been active for at least 60 days. You will also be required to complete your contract or pay off the plan depending on the agreement.
Steps to unlock:
Go to your phone Settings, then tap General and click on about
Locate the IMEI number by scrolling down
Log in to the AT&T device unlock portal
Key in the IMEI and follow the onscreen prompts
T-Mobile
The following is a list of eligibility requirements for T-Mobile iPhone unlock:
You must have paid all Equipment Installment programs and Demand releases charges.
The Device shouldn't have been reported stolen, lost, or have defective payments.
The user's account must be in good standing.
The phone must have been active for at least 40 days.
Prepaid devices must have at least a year's worth of activity on T-Mobile. Alternatively, you can ensure each active in eon your accounts have at least $100 in refills since purchase. For unlocking, you have to contact their customer support.
Steps to unlock:
Log in to your T-Mobile account using a browser
On the left corner, click on the account icon
You will be provided with a list of options, select a line of service
Click on Device, then check the Device unlock status
If it is locked, call 877-746-0909
Sprint
Due to Sprint's merger with T-Mobile, its unlocking services are available from both support teams. However, for older devices, you have to fulfill the following requirements:
The phone must have been on Sprint for at least 40 days.
You must have fully paid the service, installment billing, or lease agreements.
You must also exercise the end of lease purchase for leased devices
The account your device is associated with must have a good standing
The device has not been flagged, reported stolen, or associated with the fraud.
The Sprint network carrier automatically unlocks devices that meet these requirements and are SIM unlock-capable. You have to contact Sprint's customer care for inactive devices. Military personnel can have their phone unlocked if they provide necessary documents but can only unlock two devices per phone number each year.
To unlock a device on Sprint, call customer care on 888-211-4727.
Verizon
This carrier has much simpler unlocking requirements. Verizon locks the Device for 60 days after purchase, after which they automatically unlock it. This applies to post and prepaid users, but you have to pay your bills in full. Military personnel can have theirs unlocked before 60 days upon request. If it does not unlock, dial 611 on your iPhone or call their customer care on 800-922-0204.
If you wish to unlock carrier-related restrictions on your SIM card, contacting your network carrier is the easiest approach. On the other hand, if you have lost your passcode Mobitrix LockAway is the best approach. This tool provides a sophisticated but simple unlocking tool that gets the job done and does it fast. A locked phone is a huge inconvenience, and this problem can further be compounded by using a slow unlocking method or tool. Mobitrix Lockaway is a one-stop-shop for your iPhone 8 unlocking needs.