Did you forget your passcode and make numerous wrong attempts? Or maybe somebody else repeatedly tried to guess your password? Can you now see that "iPhone is disabled connect to iTunes" alert on your screen? If you can, you, or someone else, entered the wrong passcode more than ten times. Don't fret. In this guide, you will find 3 proven methods to fix " my iPhone is disabled and won't connect to iTunes". Wanna know how? Dive in.
Why your disabled iPhone won't connect to iTunes?
An "iPhone is disabled, connect to iTunes" alert shows up if you enter the wrong passcode more than ten times. Providing the wrong passcode between one to five times gives you a chance to try again. On the other hand, each failed attempt between six to nine will provide you with a waiting time before attempting again. After the tenth consecutive failed attempt, your device is locked entirely.
Unlocking a disabled iPhone via iTunes won't work unless you had synced the locked device to iTunes. If you connect it to a computer, it will ask you to provide the passcode you forgot. Your iPhone will also not connect to iTunes if it has no access to an internet connection. To resolve this situation, you will need to use an unlocking tool to factory reset the iPhone, then set it up afresh or from a backup.
Three Methods to Fix my iPhone is disabled and won't connect to iTunes
Method 1: Fix Disabled iPhone won't connect to iTunes via Mobitrix LockAway
Mobitrix LockAway is a dedicated unlocking tool that provides the fastest and simplest way to remove an iPad/iPhone screen lock. This tool can help you regain access by unlocking or factory resetting your iPhone without a passcode in 20 minutes. It is also security-oriented and guarantees 100% privacy protection.
Mobitrix LockAway's R&D team has over ten years of experience in iOS cracking, making this tool a comprehensive one-stop-shops. The software also doesn't require any technical knowledge to handle it.
Scenarios when you may need Mobitric LockAway:
You cannot remember your iPhone's screen lock password
You entered too many failed passcode attempts triggering an iPhone is disabled connect to iTunes alert
You obtained a used iPhone
Your Face/Touch ID is dysfunctional
Your iPhone screen is ineffective due to cracking
If you're tired of reading text guide, you can check the following video guide.
Steps:
On your Mac or PC, download and install Mobitrix LockAway
Inside the main menu, tap "Unlock Screen Passcode."

Unlock screen passcode home

Click Start to get rid of the iPhone passcode.

Unlock screen passcode product

Unlock is successful

Unlock screen passcode unlock is complete
Trustpilot
Why Do I Recommend Mobitrix LockAway?
You don't need iTunes.
It is ideal for non-technical users and only takes a few clicks
It gives the desired outcome 99% of the time
Incredibly fast as it only takes about 20 minutes. It is the best option if you are in a hurry.
Provides 100% privacy protection
Offers full support for iPhone 5s to 14 and iOS 12 to 16 and later.
Method 2: Forgot iPhone Passcode? Bypass it via Find My iPhone
Find My is the ultimate app for all matters concerned with location. The app is ideal for locating your lost or stolen devices. In addition to these functions, it also has an "Erase" feature that enables you to reset your locked Apple device easily. The "Erase it with ease" feature is used to clear all your data and settings from the iPhone. This deletion eliminates the iPhone screen passcode denying you access to your iPhone.
Requirements for using the Find My app:
Find My must be enabled on the locked iPhone
The locked device is still logged into your iCloud account
The locked iPhone must have an internet connection
You have your Apple ID & password
Situation 1: Via iCloud.com
Steps:
Open iCloud.com on any browser
Enter your Apple ID & password

Enter your apple id and password

Once the login is successful, click 'Find iPhone', provide your Apple ID again and tap 'Sign in'.

Click Find iPhone

Enter your Apple ID password

Next, click 'All Device' and pick yours.

Click all device and choose your device

Tap 'Erase iPhone'. When you notice a prompt saying, 'Erase this iPhone?' tap 'Erase'.

Click erase iphone

Click erase

Next, enter your Apple ID password.

Enter the password to continue

A verification code will be sent to your trusted device via message. Key in this code.

Two factor authentication

Provide your phone number and click 'Next.'

Enter your phone number

The iCloud site will show you "Erase Started". Your iPhone will also show the erase progress with Apple's white logo.

Erase started

Your iPhone will self restart once the process is done. It will also display an 'iPhone locked to owner' message. Once you see this notification, enter your Apple ID & password and click 'Next', then create a new passcode.
Situation 2: Via Find My iPhone (App)
If you possess another Apple device or someone around you has an iOS, you do not need a computer to erase your iPhone. You can use the Find My app to accomplish the same task.
Steps:
Open the Find My app (If you don't own the device you are using, you will need to log in using your own Apple ID & password)
Tap on "Devices" and choose the device you want to wipe
Scroll down and click "Erase iPhone."

"Find my iPhone" App

A prompt will popup asking you to confirm "Erase This Device" click "Erase."
Enter your Apple ID password to continue
Method 3 Use iTunes Recovery mode to unlock your disabled iPhone
For devices running on iOS 15.4.1 and later versions, if you forget your screen passcode and disable your iPhone, iTunes cannot recognize your device automatically. To use iTunes to unlock your device, you will have to set it to recovery mode manually so iTunes can recognize it first. Once iTunes notices your disabled iPhone is in recovery mode, it will provide you with an option to factory reset (restore) it.
Preparations:
1) You will require a PC or a Mac
For PC: Ensure you have windows 8 or later and install the newest version of iTunes
For Mac:

For macOS Catalina or later models, open a Finder window
For macOS Mojave and earlier, install and run the newest version of iTunes
2) You will need a compatible USB cable.
Steps: (For Windows users)
Power down your iPhone

a. Disconnect your iPhone from the computer if it is connected

b. Switch off your iPhone according to its model:
iPhone 8, 8 Plus X, and newer, including iPhone SE (2nd & 3rd gen): Press and hold the side and volume down buttons until you see the switch off slider appears
iPhone 7, 7 Plus, 6S, and 6: Press down and hold the side button until the power off slider appears
For iPhone SE (1st gen), 5S, and older: Press the top button and don't release it until the power off slider is visible.
c. Drag the slider to power off your iPhone and wait a minute to ensure it is entirely switched off.
Set your iPhone to recovery mode
a. Get ready by identifying which button you will need to press and hold down in the next step.
For iPhone 8, 8 Plus, X, and later, including the 2nd and 3rd generation of SE, press the side button.
On iPhone 7 and 7 Plus, use the volume down button
For the 1st generation of iPhone SE and iPhone 6 and earlier models, use the home button.
b. Press and hold down the appropriate button for your iPhone and immediately connect it to your computer without releasing the button.
c. Hold the button until your screen shows recovery mode, then let it go.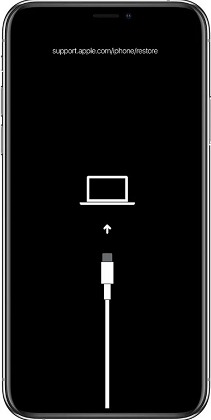 See the recovery mode screen
Restore your iPhone
a. Open iTunes. You will encounter a message saying, "There is a problem with the iPhone "iPhone" that requires it to be updated or restored." You will then be offered two options, Update or Restore. Tap Restore.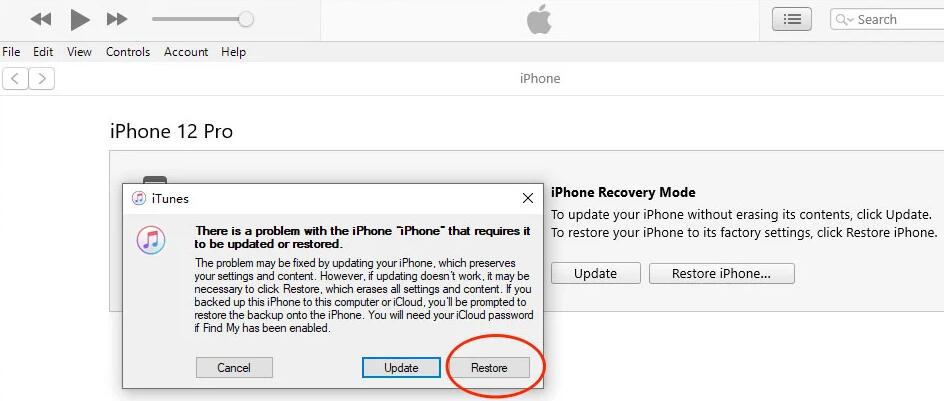 The iphone that requires it to be updated or restored
b. Next, tap Restore and Update.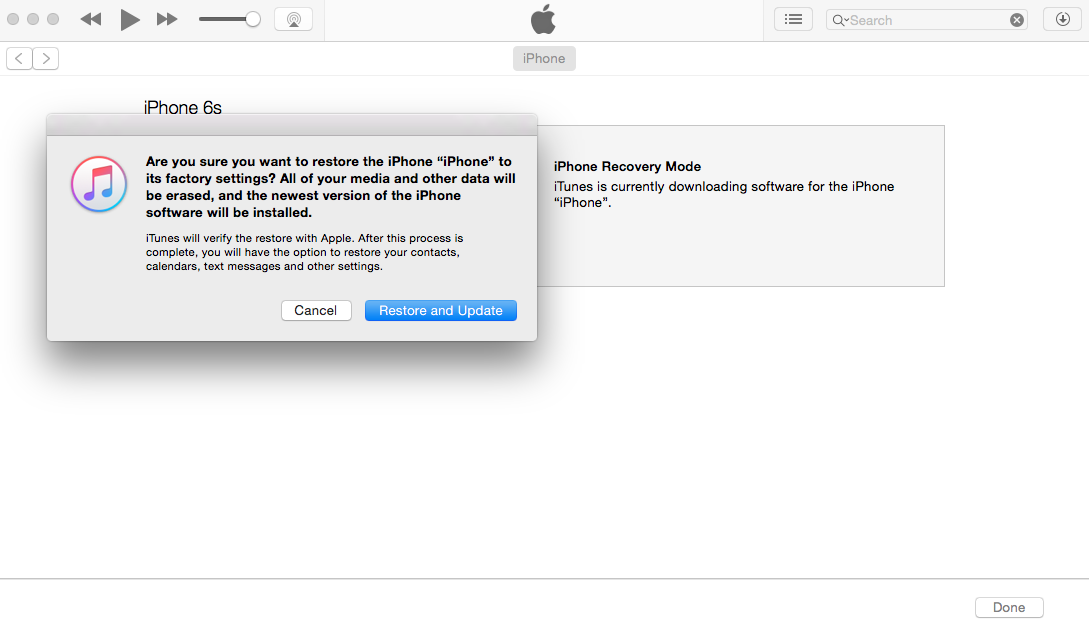 All of your media and other data will be erased
c. An "iPhone Software Update" Window will come up. Click Next, then click Agree to accept the terms.
d. After downloading the "iPhone software update" successfully, you will notice the following pop-up, "iTunes will erase and restore your iPhone to ios 15.4.1 and verify the restore with Apple". Click Restore.
e. On the screen, the bar will display "Extracting Software..." This means iOS 15.4.1 iTunes is getting ready to restore the iPhone.

Preparing to restore the software on this iphone
f. Your iPhone screen will display a progress bar to track the restoration process with the white Apple logo. Once the process is complete, your iPhone will automatically restart.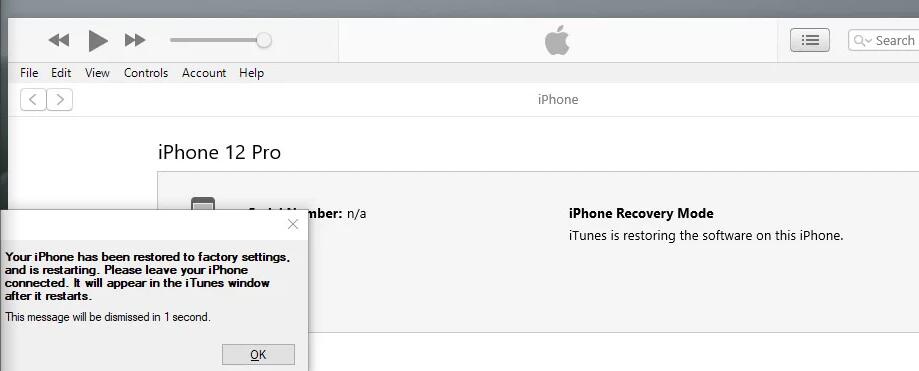 click this icon to check the download process
g. Once your iPhone has powered on, you can reset it and create a new passcode if you wish.
Note:
On the ''Apps & Data'' screen, if you had not backed up your content to either finder, iTunes, or iCloud before the iPhone locked, tap "Don't transfer apps & data." However, if you took a backup, click "Restore from iCloud Backup" or "Restore from Mac or PC".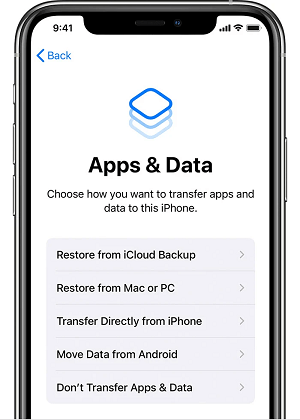 Set up Apps & Data
This article has analyzed various causes of an "iPhone is disabled, and won't connect to iTunes" scenario. It has also looked at three ways to resolve this situation for various iPhone models. And, from what we have learned, Mobitrix LockAway is the best alternative compared to the other methods. Not only is it highly successful, but it is also impressively fast and secure. It also involves only a few clicks making it suitable for all users, even those who only possess basic or no technical skills.