When you forget your Apple ID password, you may fail to access Apple services like the Apple store or iCloud through your device. Fortunately, with Apple's security mechanisms like two-step and two-factor authentication, you can easily reset it.
In case you get stuck – you can't reset the Apple ID password, then you should understand how you can reassess your account. This article will help you with the solution. Read on!
What Security Mechanisms does Apple Have for Resetting the Apple ID Password?
After two-step authentication, Apple has introduced two-factor authentication (2FA) for iOS 9 or OS X El Capitan or later to improve the security of your Apple ID.
You might say that you don't remember turning it on. This is because your security settings may be automatically upgraded to 2FA when you upgrade the device system. And you can no longer turn it off.
Trustpilot
Why Do I Recommend Mobitrix LockAway?
Did you lose your phone number or a trusted device and can't rest your Apple ID password?
Want to sign in using a new Apple ID on your old iPhone or iPad?
Well here's a quick fix! Using Mobitrix Lockaway, you can remove Apple ID from iPhone and iPad in just 20 minutes. Allowing you to sign in using a new Apple ID. Visit Mobitrix Lockaway and apply this fix!
When Will You Use Two-Factor Authentication?
When you want to sign in to a new device for the first time, you'll need to provide two pieces of information—your password and the six-digit verification code that's automatically displayed on your trusted devices or sent to your trusted phone number. These are also the information for resetting the forgotten Apple ID password.

Two Factor Authentication Code
And vice versa, you cannot reset the Apple ID password if you cannot provide them. The good thing is that Apple has the last resort for it.
By resetting the password through the two-factor authentication an individual can use their own devices or any trusted devices.
Can I use security questions to reset my Apple ID password?
No, if you are already using 2SA or 2FA.
Apple will remove your security questions if you enable either of them. Your identity is instead validated solely by your password, verification codes provided to your trusted devices or SMS-capable phone number, and your Recovery Key.
Way 1 Request Account Recovery to Reset Your Forgotten Apple ID
In instances where a user has insufficient information to reset password, account recovery is a process adopted to get the individual into their apple ID account.
The process verifies identity based on unique account information provided by the user. It takes a while,hence advisable to use it as the last option.
Steps on your device's Settings:
Go to settings, click on your name, scroll to the bottom and click Sign out.

Click sign out

You will be asked to enter your Apple ID password to disable the Find My iPhone.
Select "forgot password?"
This will prompt you to key in your screen passcode.
Click on "forgot the passcode?"
Provide your number and tap next.
Enter the verification code sent on your phone number.
You will again be asked to provide your screen passcode.
Tap Start Account Recovery and follow the guideline on the screen.
Steps via the web:
Visit https://iforgot.apple.com/password/verify/appleid
Key in your forgotten password's Apple ID email address and click Continue.

Enter Your Apple ID

Provide the phone number registered to your Apple ID (usually, they give the last two digits of the number. If you fail to remember, confirm using the two digits).
Tap continue (once you've logged in, you will receive a notification on your device).
Select "Don't have access to your iPhone?" on the web page.
Select "Can't use any of these options?" on the web page.
Tap "Conitnue anyway," on the web page.
The phone number associated with your account will receive a verification code.
Key in the code and click Continue.
If the web interface displays "Thank you. We'll send you an update soon." The account recovery process has started.
Tips:
When using account recovery, some tips and tricks are required to ensure a smooth process;

You may need to wait 24 hours or more to receive the update for the account recovery.
If you submitted your account recovery request through your device's browser, you should avoid using that device during this period. Using that device might cancel account recovery.
To avoid delays, turn off other devices that are signed in with your Apple ID until account recovery is complete.
You can check the waiting time by going to https://iforgot.apple.com/password/verify/appleid and entering your Apple ID.
If you recall your password during the account recovery process, you can cancel the request by going to https://iforgot.apple.com/password/verify/appleid, and entering your account and password to log in.
Way 2 Erase Forgotten Apple ID password with Mobitrix LockAway
Mobitrix LockAway is a specific software designed for people who find it challenging to use the procedure provided by Apple to reset the Apple ID password. It fully supports iPhone 5s to iPhone 15 and iOS 17 and earlier versions.
It can help you remove the Apple ID on a specific iPhone or iPad so as to enjoy all the Apple service, like iCloud, Apple store, and Facetime. Moreover, you will not required any password or trusted information.
Connect your iPhone or iPad device to your computer. Click "unlock Apple ID"

Unlock Apple ID

Select start to remove the Apple ID.

Mobitrix-LockAway: Click Start

After this, the Apple ID password will be erased along with the Apple ID allowing you to sell the device to a stranger without leaving any personal information.
Applicable Scenario
If it's a second-hand phone and the previous user did not sign out their Apple ID from the device.
Your iPhone for a long time is unused and you can't remember its Apple ID information.
There are security reasons for locking your Apple ID
The above procedures are guidelines to help you with your Apple device if you've lost its password and cannot reset it. In part two, we will look at ways in which you can reset your password.
Way 3 Use Two-Factor Authentication (2FA) To Reset Your Apple ID password
As I said at the beginning of this article Apple has its own simple and robust mechanisms that protect your Apple ID. Providing the necessary information can allow you to reset it if you have forgotten the password.
Case 1 Use Two-Factor Authentication (2FA) on iPhone
The 2FA is the simplest and the most common way you can reset an Apple ID password. If you can't remember the password, this is the method you should try first.
Steps to follow
Open Settings, and click on your name.
Scroll down to choose "Sign out."
Choose "Forgot password?"
You will receive a verification code on the trusted device or a text message to the trusted number.
Key in the verification code.
You might be asked to provide the screen passcode belonging to another device the Apple ID has been signed into.

Enter passcode

Create a new Apple ID password and repeat to verify and complete the process.
If you find it difficult to use your iPhone, you can visit the Apple ID account page on any device.
Case 2 Using 2FA through the web
Visit iforgot.com through your browser.
Key in your Apple ID.

Enter Your Apple ID

Provide the associated phone number of the Apple ID.
You will receive a notification on your trusted device; tap "Allow."
Provide the trusted device's screen passcode.
Please create a new Apple Id password, and re-enter it to verify it.
You can also use your other Apple devices, borrow a device from your friends or Local Apple Store to reset your Apple ID password.
Case 3 Use Apple Support App
Apple Support is an exclusive app developed to offer online technical support and services under Apple, which personalizes Apple ID accounts management, device failures, and subscriptions among other issues.
Follow these steps:
Download Apple support from the App Store.
Sign in using your Apple ID: Input your Password.
Tap install and open.
Select "Passwords & Security."
Click on Reset Apple ID password. Follow through to get started.
Select "A different Apple ID." Then continue.

Using Apple Support App to Reset Apple ID Password

Enter your Apple ID: provide the trusted phone number (no area code), and tap Next.
Input the verification code received, then enter the requested screen lock password.
Please create a new password and re-enter it to verify and reset it.
The above procedures will help you reset your password. However, prevention is better than cure, which means you can easily avoid the issues that arise from forgetting your Apple ID password.
Tips: Set up Account Recovery Contact to Avoid the Trouble of Forgetting Your Apple ID Password
iOS 15 has introduced a new feature, a new precautionary measure that will help you avoid the hurdle of resetting your Apple ID again. You can easily set up an account recovery contact that will always have access to your account.
When setting up a recovery contact, ensure it's someone you trust and know very well; it's maybe a close family friend or member of your family.
Steps to setting up an recovery contact on iPod, iPhone, or iPad.
Open Settings on your device, and tap your name.
Select Password &Security, then tap Account Recovery.
Add Recovery Contact; while Under Recovery Assistance, use your face ID or Touch ID to authenticate.
On your Mac with macOS Monetary or Later
Select the Apple menu, click System Preferences, and select Apple ID.
Select Password & Security under your name.
Proceed to select manage, next to account recovery.
Select the Add Button as indicated below, and tap o add Recovery Contact. Use your touch ID or mac password to authenticate.
Way 4 Use Account Recovery Contact to reset your forgotten use Apple ID password
When you forget your Apple ID password, you can reach out to your contacts and do the following on their devices.
Steps using your iPhone, iPad, or iPod touch using iOS 15 or later:
Go to settings and click on your name.
Select Password & Security under it tap account recovery.
Click on the name to receive the recovery code.
Select "Get Recovery Code."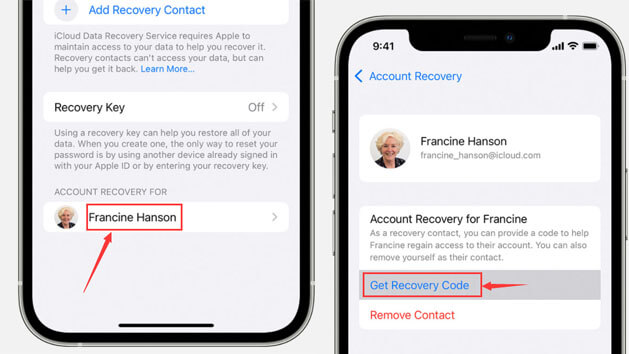 Using Recovery Contact on iPhone or iPad
Steps using macOS Monterey or later:
Select system preference from the Apple Menu and clock on Apple ID.
Under your name, tap Password & Security.
Next to "Account Recovery" select "Manage."
Under "Account Recovery For," click on them to receive the recovery code.

Using Recovery Contact to Reset Apple ID password on Mac

Select "Details," then click on "Get Recovery Code."
Once ready, ask your contact to send the code via call, message, or email. The recovery code will help recover your account and data.
In this article, I have explained all the details required in case you forgot the Apple ID password of your device. However, if you find yourself stuck using the above procedures, turn all your worries and issues to Mobitrix LockAway. By the time you finish one coffee cup, you will be enjoying the device again with a new Apple ID.