Recently Whatsapp chat backups using iCloud will not complete; they always stop at exactly the same point after uploading 33.7Mb out of 9.69Gb. Can I backup iPhone WhatsApp without iCloud?– From discussions.apple.com
There are times when it is impossible to backup WhatsApp on iCloud. You get about 5GB free iCloud storage space and when you use this space for all types of data on your device, it is very easy to run out of iCloud storage space. There are also several problems that can arise when trying to back up WhatsApp on iCloud such as a backup that fails or get stuck.
When this happens, you may look for alternative ways to backup and in this article, we share with you different ways to backup iPhone WhatsApp without iCloud and the comparison of these 3 methods.
| | Backup only WhatsApp | 1-Click backup | Data loss | Difficulty |
| --- | --- | --- | --- | --- |
| Mobitrix WhatsApp Transfer | Yes | Yes | No | Very easy |
| iTunes | No | Yes | Yes | Very difficult |
| Email | Yes | No | Very easy | Easy but inconvenient |
Here are the 3 free ways to resolve the backup issue.
Free Way to Backup WhatsApp on iPhone without iCloud/iTunes
Since iCloud is a free solution, it makes sense that you may be looking for a free alternative solution to help you make a complete backup of your WhatsApp data. The best free solution to back up WhatsApp data is Mobitrix WhatsApp Transfer. This solution is very easy to use and allows users to create a full backup of all the data in their WhatsApp accounts including all the attachments.
To use this WhatsApp program to backup WhatsApp chats and data to your computer, follow these simple steps:
Download and install Mobitrix WhatsApp Transfer to your computer and launch the program.
Run Mobitrix on your computer and then select "Back up WhatsApp on Devices" from the options listed on the left.

connect the 2 device to pc

Connect the device to the computer with USB cables, as soon as the program detects the device, click on "Back Up" to begin the process.

connect the device and start to backup

Mobitrix will notify you when the process is complete. Keep the device connected to your computer until the process is complete.

backing up whatsapp messages
Some of this program's most notable features include the following:
It is useful in the transfer of data from Android and iPhone, iPhone to Android, Android to Android, iPhone to iPhone.
Create a backup of the WhatsApp data on your device for free and restore the same backup to the device.
The free storage to backup iPhone WhatsApp messages is unlimited while iCloud only offers 5 GB free storage and Google drive offers 15GB.
Each WhatsApp backup file is kept on your computer without affecting each other.
Based on Mobitrix Privacy Policy, your device data will only be saved on your own device and will not be uploaded online.
Shortcomings of this solution:
A computer is required to download and use this program.
Backup WhatsApp on iPhone with iTunes (Apple's Official Solution)
If you don't have adequate space in iCloud to backup WhatsApp, your other option is to use iTunes. One of the best things about using iTunes is that the backup will be easy to restore. The process to backup WhatsApp data is no different from the usual way to back up all the data on your device. Follow these simple steps to backup WhatsApp to iTunes:
Open iTunes and then take a moment to make sure that you are running the latest version of iTunes. If not, update the program before continuing to prevent compatibility problems.
Now, connect the device to the computer using the device's lightning cable.
iTunes will detect the iPhone. When it appears in iTunes, click on the iPhone icon to begin the process.
Click on "Summary" option and then click on "Back up Now" to begin the process.
Keep the device connected to the computer until the process is complete. Once the backup is complete, all the data on the device including all WhatsApp data will be backed up to your computer.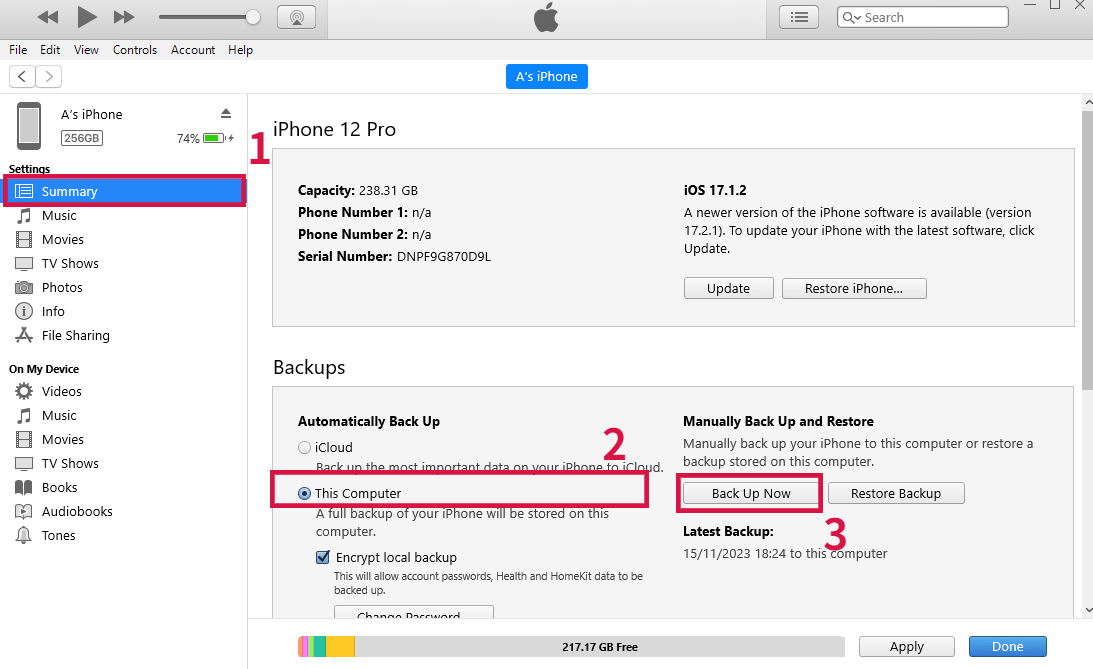 backup iphone whatsapp via itunes
While backing up WhatsApp via iTunes is a great free solution, it does have some shortcomings. They include the following:
The process can take a long time as compared to Mobitrix that allows you to back up only WhatsApp data, reducing the time it takes to complete the backup.
Once the backup is complete, you will not have access to the backup files and therefore you can't restore only WhatsApp chats.
Restoring an iTunes backup will erase all the existing data on the device, meaning that you may lose the data that is not in the Backup.
Using Email to Backup WhatsApp without iCloud
If you just have a few WhatsApp chats, you can easily back them up by sending them to your email address. This can be easily done within the WhatsApp application, since by simply selecting the chats you want to send to yourself and share them via email. This method also allows you to share some of the WhatsApp attachments to yourself.
Here's how to do this step by step:
Open WhatsApp on your device and then go the WhatsApp chat that you would like to save. It can be an individual chat or a group chat.
Go to the "More" options by swiping on the conversations icon and then select "Export Chat".
You should see the option to include attachments or not. Please note that if you choose to include the attachments, the email may be too large to send since most email servers limit the size of the email to 20MB.
Send the email to yourself. When you open the email in your email app of choice, you will see a draft window with the attached WhatsApp chat as a TXT file.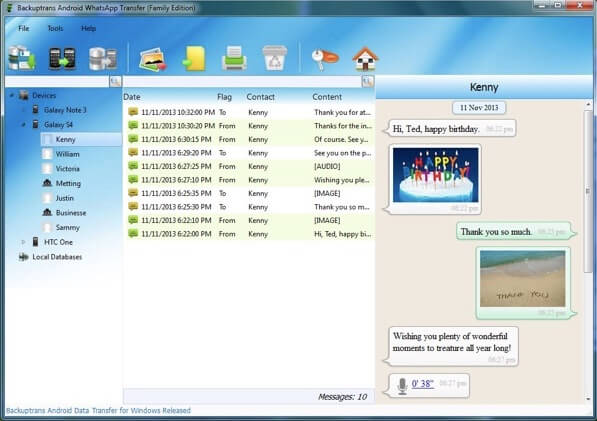 backuptrans android whatsapp transfer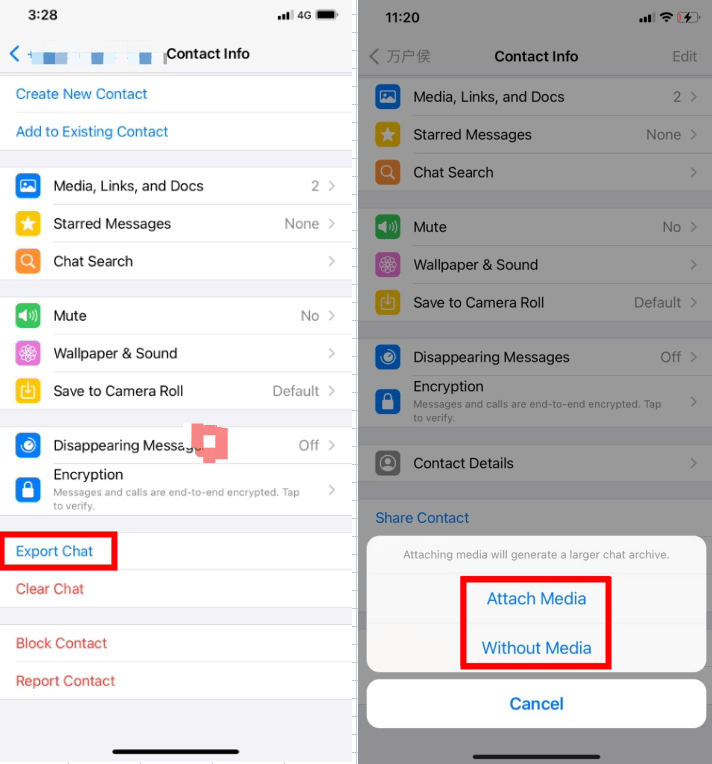 backup iphone whatsapp via email
But as you can probably already guess, this method does have a lot of shortcomings. The following are just some of them:
The process can be a bit complicated especially if you have never used it before.
It is also time consuming, especially if you have a lot of chats to email.
You may not be able to include all media files to the email.
It cannot restore the chats back to WhatsApp.
Backing up WhatsApp via iCloud is one of the best solutions since you can set up the process to be automatic. But like we've seen above, sometimes it is not possible to backup WhatsApp via iCloud. If you are unable to backup WhatsApp to iCloud for one reason or another, the solutions above will be helpful to you.