One of the best things about WhatsApp is that it is so easy to use. This simplicity of use also extends to one of the most important features of WhatsApp: backing up WhatsApp chats. The Automatic backup feature allows you to easily back up all your WhatsApp chats and attachments without much input from you. In this guide, we'll take a look at this automatic backup feature and how it works.
Information about WhatsApp Auto Backup on Android
Android users can automatically back up WhatsApp chats and attachments to Google Drive. Setting up this automatic backup on your Android device is quick and easy. Here's how to do it:
Open WhatsApp on your Android device and then click on the "Menu" button. Select the "Settings" to open the WhatsApp settings.
Tap on "Chats and Calls" in the next screen and then select "Chat Backup".

whatsapp chat backup

Here you can choose to manually backup the chats on your device. You can also click on "Back up to Google Drive" and select the duration you would like to automatically create a backup.

whatsapp backup google drive
Pros:
It is a very simple process.
You don't need to download additional apps to create the backup.
Cons:
You don't get to choose what you want to backup.
Information about WhatsApp Auto Backup on iPhone
In much the same way, you can also create an Auto Backup of your WhatsApp chats on your iPhone, only this backup will be to your iCloud account. Follow these simple steps to do it:
Open WhatsApp on your iPhone and go to Settings < Chats.
Click on "Chat Backup" and in the next screen you will get to choose if you want to create a manual backup or setup an automatic backup. To set up an automatic backup, click on the "Auto Backup" option and set your preferred duration.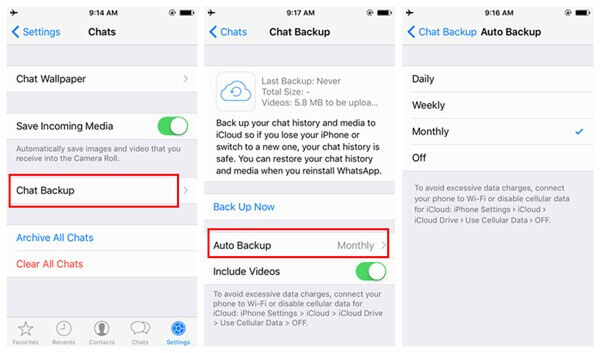 backup whatsapp icloud
Pros:
Again, this is very easy to use.
It is an in-built feature that is free, easy to access and doesn't require additional apps.
Cons:
You can't choose the chats you want to backup.
The free storage to back up the WhatsApp is limited.
Where Is the WhatsApp Backup Stored
The WhatsApp backup is stored on the Google Drive in Android devices and the iCloud Drive for iOS devices. You can follow these simple steps to access the backup on your Google Drive using your Android device:
Open the Google Drive on any browser on your device and then sign in. You can also do this on your computer's browser.
Click on the gear icon to open the settings. In the settings window that opens, click on "Manage Apps".

google drive backup whatsapp

Scroll down the page to find WhatsApp. If you don't see it, you may not have connected WhatsApp to this Google account.
Wait for the "Hidden app data size" to appear. You can tell by the size of the file if the backup has been included.
How to Stop WhatsApp Auto Backup
If you are experiencing problems with the Google Drive or you would like to save some storage space on the Drive, you can choose to stop the automatic backup process. Here's how to do that:
Open the Google Drive on a browser on your device or computer. Sign in if you aren't already signed in.
Click on the gear icon to access the settings.
In the "Settings" window, click on "Manage Apps".
A list of all the apps connected to this Google Drive account will appear. When WhatsApp appears, click on "Options" and then choose "Disconnect from Drive". This will stop the automatic backup process.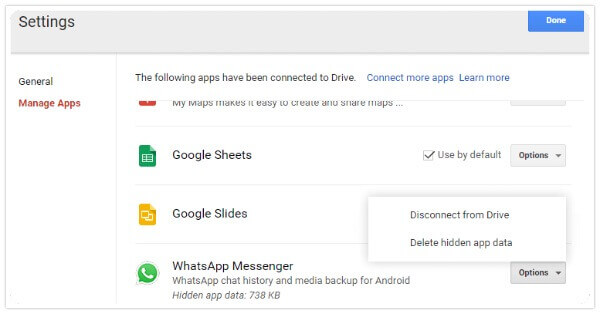 discount whatsapp from google drive
Other FAQs You May Want to Know about WhatsApp Auto Backup
If you need to know more information about WhatsApp auto backup, you can go through the frequently-asked questions below.
Does WhatsApp automatically backup to iCloud?
WhatsApp can be automatically backed up to iCloud if the feature of automatic backup of WhatsApp is turned on. You can go to WhatsApp settings to turn on this feature.
How often does WhatsApp backup?
Generally, WhatsApp messages are backed up at 2 a.m. every day. For Android users, you can manually set the backup frequency of WhatsApp data to Google drive.
What do if WhatsApp backup is not working?
There are many ways to address WhatsApp backup issue. For more information about this topic, you can refer to the article of '8 Solutions to Fix WhatsApp Backup Not Working Issue'
The Auto Backup feature in WhatsApp is one of the easiest ways to keep your WhatsApp conversations and attachments safe from data loss. And now, you know how to use this as well as how to turn it off if you need to. Let us know in the comments section below if you experience any issues with WhatsApp Auto Backups and we'll do our best to help.