'My iCloud is likely to run out of room. Can I stop WhatsApp backup on iPhone?'— From discussions.apple.com
---
When there is no adequate storage in iCloud, it may be necessary to stop your WhatsApp backup. For Android users who usually back up WhatsApp via Google drive, they may turn off automatic backup for fear of data leakage.
How to Stop WhatsApp Backup on iPhone
There are 3 ways to stop WhatsApp backup on your iPhone. Let's take a detailed look at each method.
1.1 Stop from iPhone Settings
You can easily disable an automatic WhatsApp backup from the iPhone settings. Follow these simple steps to do it.
Open the settings on your iPhone then tap on your name at the top.
Select "iCloud" and then scroll down to find "WhatsApp".
Toggle the switch next to it to turn off "WhatsApp". This will disable the automatic backup and prevent WhatsApp from the backing up to iCloud.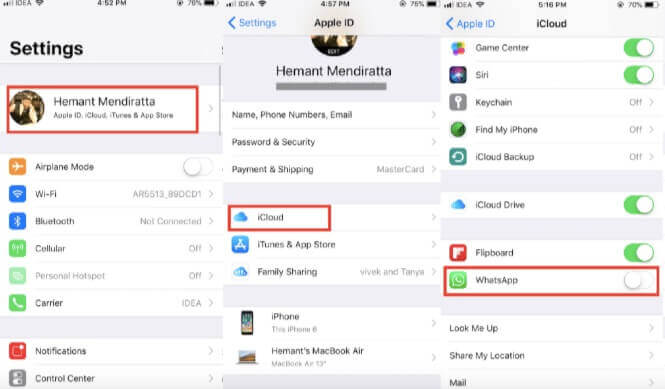 stop whatsapp backup on iphone settings
1.2 Disable WhatsApp Backup from iCloud
You can disable the automatic WhatsApp backup from within WhatsApp. Here's how to do it.
Open WhatsApp on your device then go to the "Settings".
Tap Chats > Chat Backup.
Tap on "Auto Backup" then tap "Off" and automatic backups to iCloud will stop.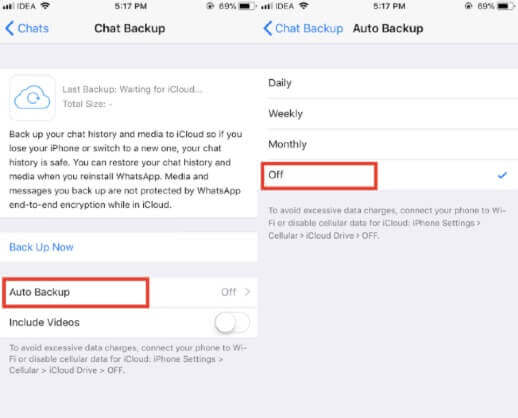 disable whatsapp backup from icloud
You can follow the same steps above to turn on the automatic backup feature again.
1.3 Turn off Network Connection
You might also be able to turn off automatic backups by simply turning off network connections on the device. But it is worth pointing out that this method may hinder other functions, features and apps on the device, including preventing the app from updating.
How to Stop WhatsApp Backup on Android
There are 3 ways for Android device users to stop WhatsApp from automatically updating to Google Drive as well. They include the following.
2.1 From WhatsApp Settings
To stop WhatsApp backup from the setting in WhatsApp, follow these simple steps:
Open WhatsApp on your device then tap on the "Menu" (the three dots at the top right corner of the screen".
Now select "Settings" then tap "Chats".
Tap "Chat Backup" then select "Back up to Google Drive" under "Google Drive Settings".
Tap on "Never" to change the backup frequency so WhatsApp will stop all automatic backups on WhatsApp to your Google Drive.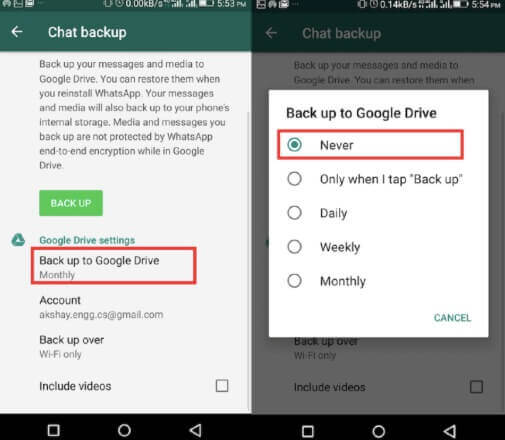 stop whatsapp backup on android
You can also use this process to enable the automatic backup process again if you want.
2.2 From Google Drive
Follow these simple steps if you want to disable automatic WhatsApp backups from Google Drive:
Open the Google Drive app on your device and the tap on the three dots at the top right corner.
Tap "Backups" in the options that appear.
You should see "WhatsApp Backup". Tap on the three dots (menu) button next to it.
Tap "Turn off this Backup" and automatic WhatsApp backups to your Google Drive will stop.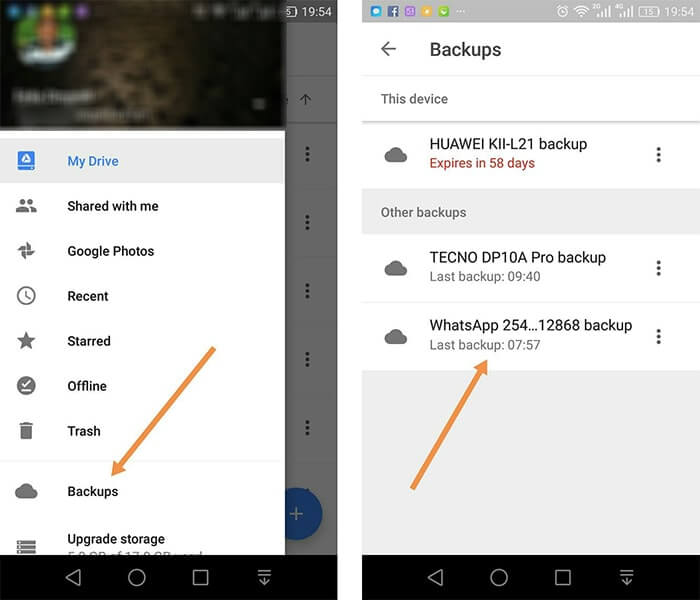 google drive whatsapp backup location
2.3 Turn off Network Connection
You might also be able to turn off automatic backups by disabling the network connections on your device. To do that, simply open the settings on your device and then turn off both "Wi-Fi" and "Mobile Networks".
Although this will turn off the automatic backups, it also means that you won't be able to access features, services and apps that require a connection to function properly.
Tip: Backup WhatsApp without Storage Restriction (FREE)
You may find an iCloud or Google drive alternative to back up WhatsApp with unlimited storage. To do this however, you need a third-party tool – Mobitrix WhatsApp Transfer, allowing you to easily back up WhatsApp messages with the most exclusive technology.
Totally free to fully or partially back up WhatsApp chats & attachments on your computer. Your private data will not be uploaded to cloud or be leaked out.
It supports an unlimited number of iOS or Android devices.
Large amount of WhatsApp messages can be backed up by Mobitrix without storage restriction.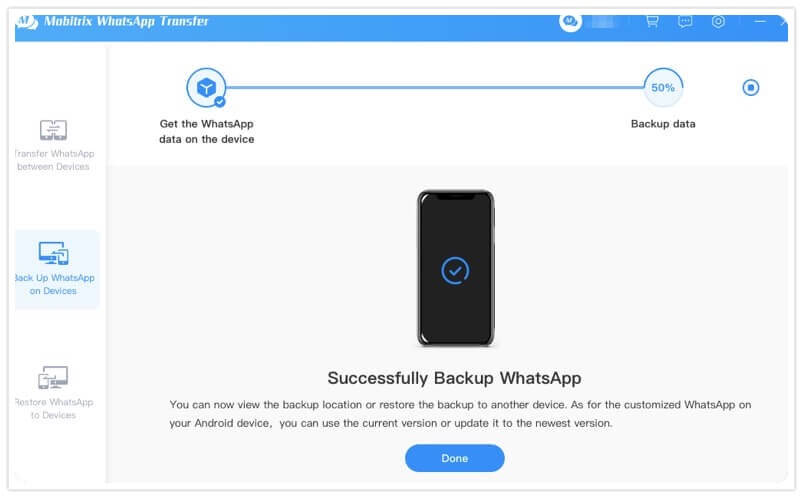 successfully back up whatsapp
Now you have a few ways to stop WhatsApp backup on your device. However we must point out that a backup is still vital to the security of the data on your account. Therefore, even as you disable the automatic backups, remember to manually backup the data on your WhatsApp account to your computer or SD card, you never know when you will need a backup and it pays to have one.