About a week ago, as I was talking to someone on WhatsApp, it paused.
A message was displayed on the screen saying that WhatsApp is backing up the chats. That got me thinking about where the WhatsApp backup is stored on iCloud Drive or Google Drive, and is there any way that we can access it and see what's actually inside a WhatsApp backup?
I dug into the internet and found some interesting and some disturbing information that you might find helpful.
Accessing WhatsApp Backup on Google Drive
The first thing that I discovered was that Android phones use Google Drive to backup WhatsApp data.
That immediately made me think, even if I stop using WhatsApp, all my data will be on Google Drive, and I personally don't feel comfortable with my data being on the cloud, especially when I am not even using it.
To delete the data, it is necessary to know where it is stored. Here's how you can find your WhatsApp data on your Google Drive.
Go to www.drive.google.com and log in with your Google account credentials. Make sure you use the same account like that on the phone you created the backup from.
Click the number (xGb of yGB Free) under the "Storage" on the left-hand side of the page.
On the page that opens up, click on Backups just under your profile picture in the top right corner of the page.
You can view the details of any of the backups by right-clicking on it and clicking "Preview."
If you want to delete a backup, that can also be done from the same menu.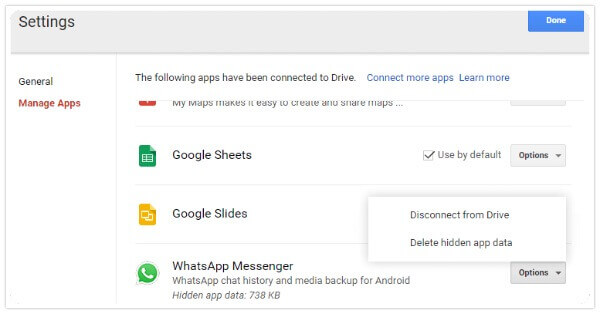 find whatsapp on google drive
That solved part of the problem for me. I could delete the backup (which I did not do because I am not planning to stop using WhatsApp anytime soon) backup but not see what actually was inside it.
Here are the three things you need to know about WhatsApp backups stored on Google Drive:
You can delete any or all WhatsApp backups from Google Drive when you want, but the messages and files in the backup are not in a readable format.
You can restore the backup to a new or the same Android phone, and it will bring back all the messages and files till the date the backup was created.
WhatsApp backups on Google Drive are linked to the phone number and Google account they are made from.
As I was doing this research, one of my friends asked me what I was doing. When I told her, she asked me to dig a bit about iCloud WhatsApp backup because, for some reason, she thinks that Android is a thing of past – and iPhone is the way forward.
Here is what I found.
Accessing WhatsApp Backups on iCloud
As we all know, Apple is super-sensitive when it comes to security and privacy.
To make sure that the backed-up WhatsApp data of iPhone users is secure and out of the reach of anyone with bad intentions, Apple does not let users access the backup files on iCloud.
access whatsapp backup on icloud
However, there is one way that you can access your WhatsApp backup. For this, you need to do the following:
Back up your phone to your computer using iTunes.
Use a dedicated iTunes backup extractor and load the "ChatStorage.sqlite" file.
You can access the WhatsApp chats backup in it.
access backup whatsapp with itunes
All that brings us to one big question: how can we access the contents of WhatsApp backup for any device?
The answer to that lies in a smart little tool called Mobitrix WhatsApp Transfer.
How to Read WhatsApp Backup for Any Device? – Mobitrix WhatsApp Transfer
So far, we have established that neither Google nor Apple lets you access the specific files inside a WhatsApp better. However, that does not mean that you cannot access them at all.
The tool that can make it possible is Mobitrix WhatsApp Transfer . It is a 100% safe and secure tool that can be used for WhatsApp data backup, transfer, and restore across different operating systems.
What makes Mobitrix the best tool when it comes to WhatsApp backups? The following features:
You can use it to back up your WhatsApp data to a computer for free.
It stores the backups in neatly organized folders that you can view, organize, and edit.
All your data is saved on your computer, which makes it totally safe and secure, invulnerable to any attack.
It can be used to backup, restore, and transfer WhatsApp data across any device, no matter what their operating system is.
Now, the next logical question is, how do we use this tool?
How to Use Mobitrix?
One of the other tricks up the sleeve of this tool is that it is incredibly simple and easy to use. You can backup your WhatsApp data using this tool in the following three simple steps:
Download and install Mobitrix on your computer.
Attach your phone to the computer using a USB cable.
Run Mobitrix and click on the Backup button on the interface.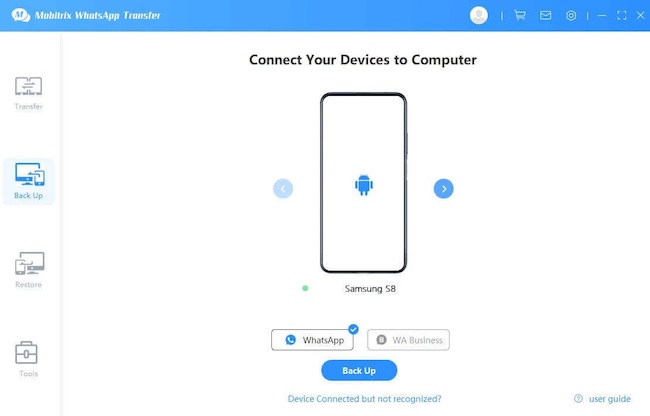 backup whatsapp to pc
Your WhatsApp data will be instantly backed up to your computer. You can see it, explore what's inside and manage it. The best part is, even if you make the backup from an iPhone and want to restore it to an Android device or make one on an Android device and want to transfer to an iPhone, that is also possible.
You can access your WhatsApp backup on Google Drive by going to the backups section, where you can delete or restore it. However, it is not able to access backup files on iCloud Drive. You can also not view the contents of a backup in either of the cases.
Mobitrix WhatsApp Transfer is a third-party tool that can be used to make and restore WhatsApp backups. The backups made by this tool are saved on your computer and are not vulnerable to any attack. You can also access them and view the files inside them whenever needed.