Are you a heavy WhatsApp user? Are you encountering headaches like these:
You've accidentally deleted your chats and are struggling to restore them
Your phone has recently been lost, stolen or damaged
You've changed your device from Android to iOS and failed to transfer your WhatsApp data along
You have factory resetted your phone and all your WhatsApp chat history is gone
If yes, well, this article is for you!
I am an engineer in data transfer and recovery. And I have been using WhatsApp for 8 years, long enough to understand how difficult and confusing it can be while retrieving WhatsApp messages. I guarantee this will be the most comprehensive tutorial you'll find, whether you are looking to restore deleted chats, or seeking to restore old chat data onto a new phone, especially if it's from Android to iPhone, or vice versa.
Before I get into the specifics of how to restore WhatsApp chats, let me first explain how WhatsApp backup actually works.
Understanding How WhatsApp Backup Works
I will be honest here. Restoring your WhatsApp chats is not as difficult as you think, as long as you have enabled the backup option beforehand.
On an Android phone, you can select whether to store your WhatsApp backup data onto your local storage or to Google Drive. On an iPhone, all your WhatsApp backup data will be stored on iCloud.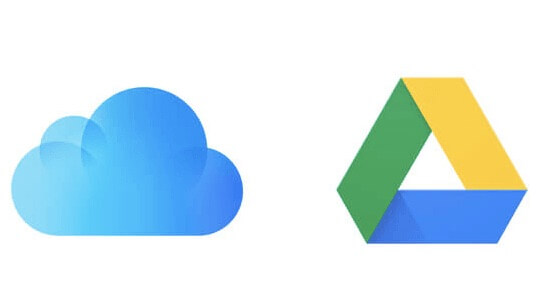 whatsapp on google drive or icloud
You need to keep in mind that WhatsApp is designed in a way that as you create new backups, the old backups automatically get replaced by the new ones. If your WhatsApp data is backed up locally, your backup will be restricted for up to a week, so only the most recent backup is stored. This process is carried out every day around midnight.
Therefore, you can only expect to retrieve conversations that may have happened within the last seven days, but not those earlier than that. In cases like when you've lost your phone, cloud backup is your savior.
Anyway, always remember to back up beforehand so you always stand a chance of getting your valuable chats back. .
So you have already got your data backed up? Simply skip here to know how to restore. Don't know how to back up? No worries. Here are the simple steps for you to follow:
Open your WhatsApp and check on the top corner for three dots. Then click Settings.
Tap Chats > Chat backup > BACK UP.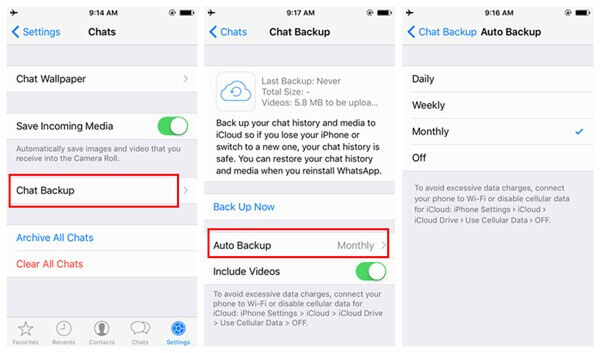 backup whatsapp icloud
Before we look at how to retrieve lost messages or chats, there's a good chance you've just archived the chat, instead of deleting it. Archiving and deleting WhatsApp conversations are two different things, requiring various ways to restore. I'll explain their differences and show you how to get your messages back if you have accidentally archived them.
How to Recover Archived WhatsApp Chats
Like I've mentioned above, there's a clear distinction between archiving and deleting chats. If you have accidentally deleted a message or a conversation, you'll no longer have access to read or retrieve it directly.
But if you have just simply archived a conversation, it will still be still visible to you in the special archived section, which you can find at the very top of that chat list. The archived messages aren't deleted but are sorted in a hidden place.
How To Unarchive Chats On iPhone
Scroll and look for the Archived chats.
Swipe from right to left after tapping on the chat.
Once you do that, an Archive button appears. Click on the Archive button to make the chat visible as normal.
How To Unarchive Chats On Android Devices
Look for archived chats, often placed at the top or bottom of your chat list.
Select and hold the conversation you want to unarchive.
You'll find the Archive button next to the three dots on the top corner. Click that to unarchive the conversation.
In case you didn't archive those valuable messages, but had deleted them for good, then you should check if you have had those chats backed up in the cloud before. If yes, simply read on. If not, you'll need to use a data recovery tool to get your deleted chat history back. Simply skip here to get a quick look.
How To Restore Deleted Messages from Cloud Backup
Restoring your deleted messages from the cloud backup is different on Android and iPhone. On an Android phone, your cloud backup is usually saved on Google Drive, while on an iPhone, it's on the iCloud.
Via iCloud
Attempting to restore messages via iCloud is pretty simple. Follow the steps I've mentioned below to get it done.
Steps:
Open your WhatsApp settings and look for Chat Settings.
Check your iCloud backup to see if there's a backup to retrieve the messages.
The next step is to uninstall the WhatsApp application and download it again from the store.
Complete the registration process as you usually would. You'll be asked for permission to restore the chat history.
Click the Restore Chat History option to retrieve the messages.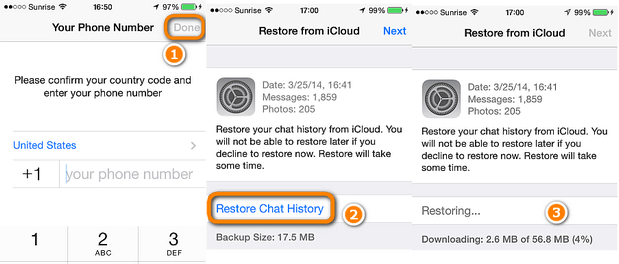 restore whatsapp from icloud
Via Google Drive
If you have enabled the Google Drive backup option on your Android phone, you'll be able to restore your chat history easily. But first, make sure you are logged into the device with the same Google account you've backed up your WhatsApp data to.
Steps you must follow to carry out the procedure:
Reinstall WhatsApp on your new phone and verify your cell phone number
Tap Restore and wait for the whole process to complete
Tap Next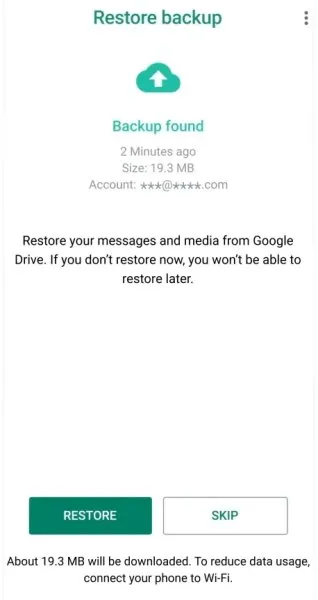 restore whatsapp chats from google drive
Restore Deleted Whatsapp Messages From Local Backup
What if you don't have a cloud backup on Google Drive, and all your WhatsApp messages are actually stored in the local phone memory? What to do? Well…not an issue! You can still restore them using the following method.
Open the file manager and look for the WhatsApp folder to get into the database.
Look for a file named msgstore.db.crypt12 and change it to:
msgstore_BACKUP.db.crypt12
Select the most recent backup and rename it.
Look for backups on Google Drive and find WhatsApp backup.
Once you've deleted the WhatsApp backup, uninstall the WhatsApp and download it again from the Playstore.
Restore the backup after you've verified your account.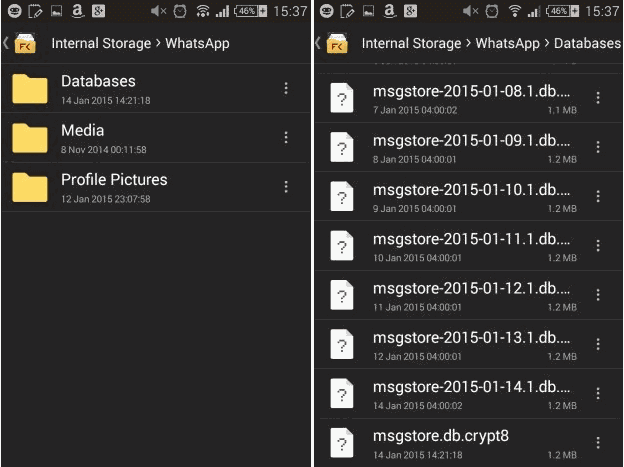 restore WhatsApp from local backup
Restoring from backup onto the same phone is easy, but what if you have switched into a new phone with a completely operating system, like from Android to iPhone, or vice versa. Those methods above won't apply anymore.
After all, Android and iOS are like water and oil. They don't mix! Instead, you'll need a third party tool to restore your WhatsApp backup successfully.
How To Restore WhatsApp Backup After Switching Phones
There are four ways that I would recommend you to try that will work out for you the best.
Mobitrix WhatsApp Transfer.
Email.
WhatsAppTransbox.
WhatsAppTrans.
Mobitrix is considered the best tool for WhatsApp Transfer because of its efficiency and convenience. I tried it myself when I switched my phone from Android to iPhone back in 2020. Guess what? It took me only 2 hours to get my 6GB WhatsApp files transferred.
If you are not a tech guy, and just want something quick and easy, it's definitely worth your try.
Simply follow the steps below to experience how it's done.
Install Mobitrix WhatsApp Transfer on a computer and launch it.
Connect your old and new phones to the computer.
Click Transfer. All your backup will be restored on your iPhone immediately.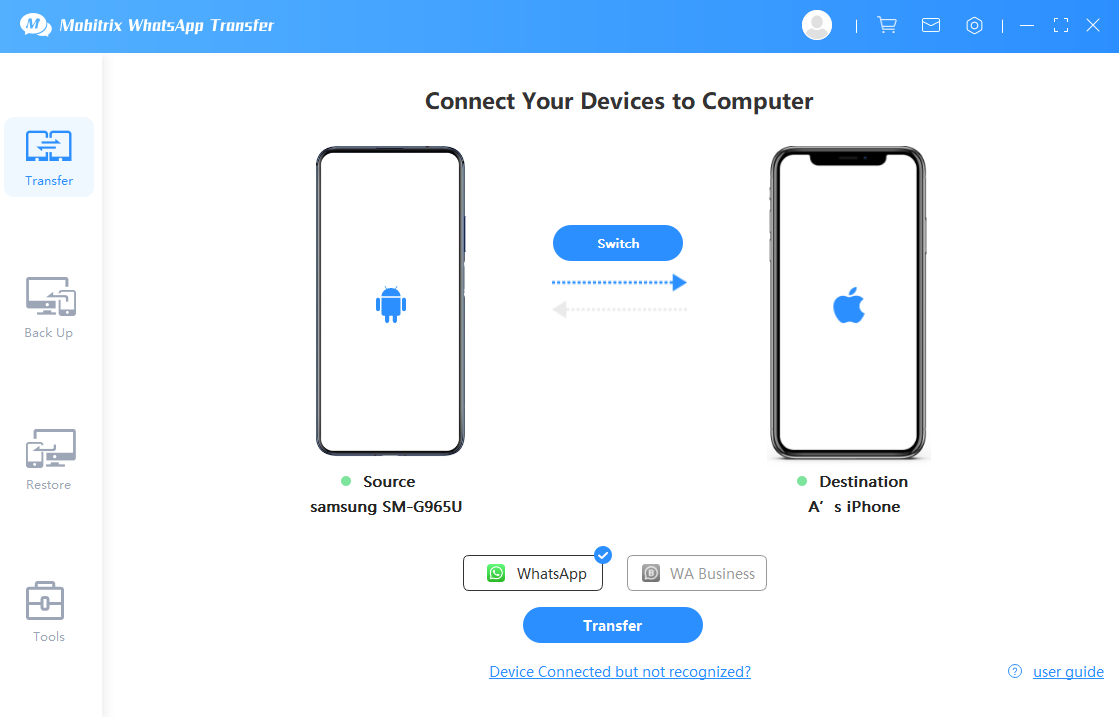 transfer WhatsApp from Android to iPhone via Mobitrix WhatsApp Transfer
Pros:
100% secure.
Super easy to use, with a few straightforward steps.
Highly time-saving, compared to most tools in the market.
No need to uninstall your previous WhatsApp.
Applicable for both iOS and Android devices.
All your media, files, and chats will remain intact.
Cons:
Method 2: Via Email
Steps:
Restore the WhatsApp backup as mentioned above.
Select the chat and look for the export option.
You'll be directed to a page where you can send the attachment to an email address.
Check the mail and download the attachment in text format.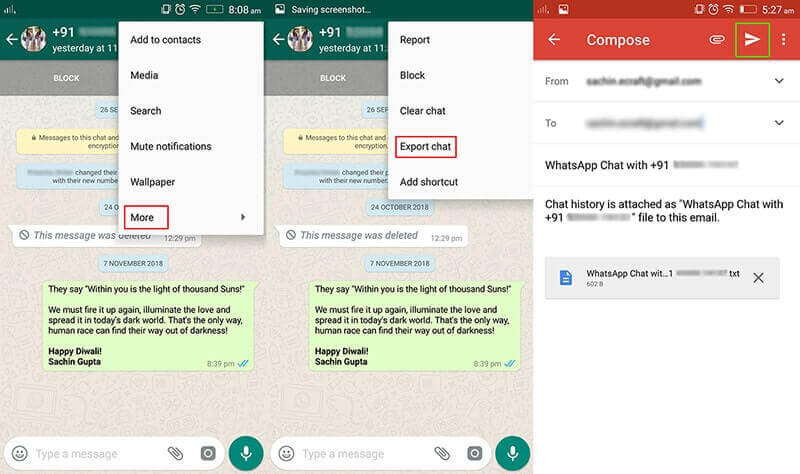 transfer via email
Pros:
It's easy to operate.
It's rather fast.
Cons:
It is inconvenient because you can't reply to the messages.
You have limited access to the number of messages you can share.
All messages are in the TEXT.form
Method 3: Using Whatsapp TransBox
Steps:
First, you are required to install the Toolkit of WhatsAppTrans Box.
For the next step, WhatsApp data needs to be extracted from Android.
Next, the data should be transferred from Android to iPhone.
Finally, to conclude the process, the data should be restored from Android to iPhone.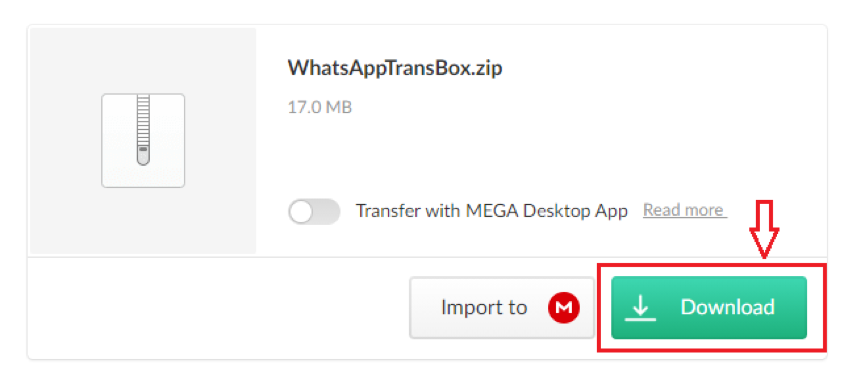 Download the Toolkit of WhatsAppTrans Box
Pros:
The toolkit is free of cost.
Supports various transfers.
Applicable mainly for larger data transfers.
Cons:
Only supports chat history for the past 3 months.
Only supports text transfer.
Anyway, you can rest assured that everything is easily manageable as long as you have a backup. Though sometimes, unfortunately, you may not even have had any backup data with you. This is likely to happen on the iPhone. And you need to restore some super important WhatsApp chats. What to do?
In such cases, unless you're using a data recovery tool, restoring messages will become extremely sophisticated. We'll get into that as we proceed.
How To Recover WhatsApp Messages Without A Backup
We'll take Minitool Mobile Recovery for iOS as an example to show you how to recover your deleted WhatsApp messages without any need to uninstall the WhatsApp app.
Here's how:
Connect your phone to the computer once you've downloaded the software.
Install and run the app.
Once you complete the scan, you'll find the WhatsApp category on your left.
You'll be shown all the messages, and you can select the particular chat you want to recover.
Click the Recover option at the bottom to continue.
How To Export Retrieved WhatsApp Messages And Return To The Latest Backup.
Steps to export the messages:
Go to WhatsApp and click on the conversation you want to save.
Next to the profile icon, you can find a bar with three dots. Click on the option more to find the export chat option.
You'll be asked to include the media if there is any. Select the app you want to export the chat from.
You can attach and send the text file through any medium you prefer, like mailing to yourself or an app etc.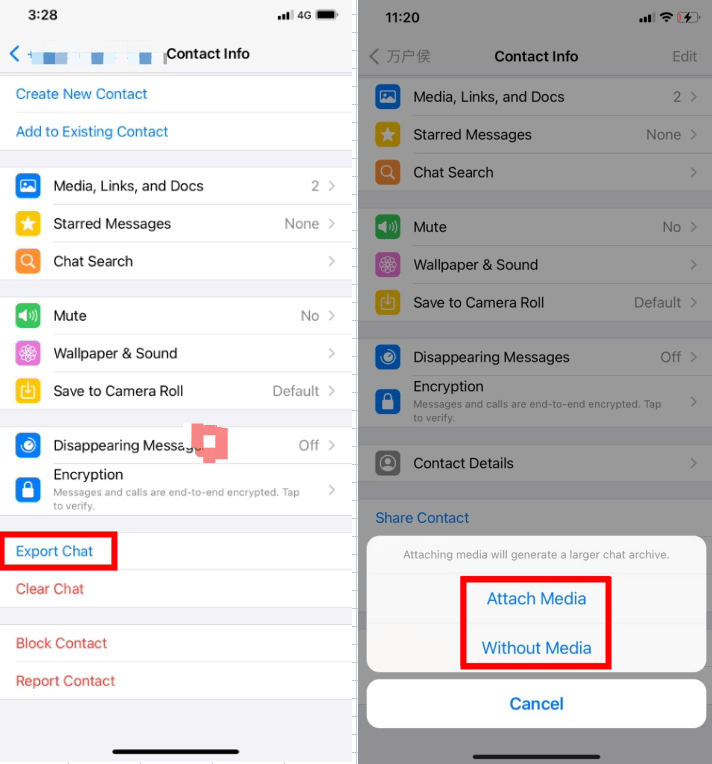 export whatsapp chat from iphone
After you've finished exporting, return to the previous section and repeat the procedures. Reverse the process when it comes to renaming backup files:
Rename the current msgstore.db.crypt12 to msgstore-YYYY-MM-DD.1.db.crypt12, using today's date format. If a file containing today's date already exists, replace it with DD.2.
Rename msgstore-latest.db.crypt12 to msgstore.db.crypt12.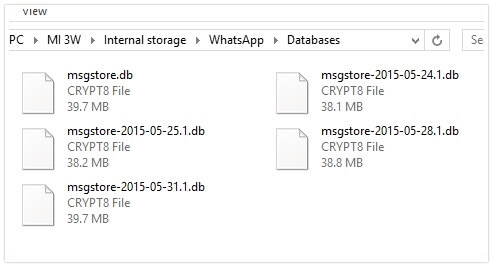 via local backup
Uninstall WhatsApp, then reinstall it after deleting your Google Drive backup if necessary. Your most recent chats will resurface when you restore from backup.
Tips: Backup Strategies To Keep Messages Safe In The Future.
One of the best ways to backup data is to enable the Google Drive backup option and keep it in check. Otherwise it will become difficult to restore your needed WhatsApp data. To make the process convenient, make sure you have the backup turned on.
FAQs

FAQs of Restoring WhatsApp
Where is WhatsApp backup stored?
Usually, backups are stored in your phones as encrypted database files. You can find them under WhatsApp > Databases.
How do I transfer WhatsApp chat history?
To backup the chat history, you have to click on the WhatsApp setting and then head to chats to find chat backups. Look for a green button with a backup option on it. Proceed by clicking on the button to store the chat history on your phone.
How long are WhatsApp messages stored?
WhatsApp's server does not save messages. When you send a message, WhatsApp usually only keeps it until it is delivered. The message will be deleted from the server once it has been delivered.
How to export Retrieve Whatsapp messages and return to the latest backup?
Steps to export the messages:
Go to WhatsApp and click on the conversation you want to save.
Next to the profile icon, you can find a bar with three dots. Click on the option more to find the export chat option.
You'll be asked to include the media if there is any. Select the app you want to export the chat from.
You can attach and send the text file through any medium you prefer, like mailing to yourself or an app etc.
When you simply want to restore the deleted messages, you can activate back up and then uninstall and download the app again. After verifying your number, you'll be able to back up those messages.
If you want to transfer from an Android device to iPhone, you have various tools at your disposal to carry out the process. Out of all the resources online, Mobitrix stands out because of its efficiency and how easy it is to work it out.
To keep your conversations safe, don't forget to enable the Google Drive backup.