6 Easy Ways to Fix New iPhone Won't Activate - 2021
Is your new iPhone failing to activate? Relax because this article has explained reasons why this issue may occur and how you can fix it. Perfix is the best technique for fixing the problem because it is simple and does not lead to data loss.
Reasons Why New iPhone Won't Activate
A new iPhone may fail to activate when;
The activation lock is enabled.
Either one or both of your SIM cards have been inserted wrongly, or your device cannot support the SIM cards.
The user of the phone is encountering difficulties while using it
The server for activation is not available temporarily.
Your iPhone is offline
6 Ways to Fix New iPhone Won't Activate
Methods you can apply to fix new iPhone won't activate include;
1. Checking Your SIM Card
If an error message shows up while activating your iPhone, you should first reboot it and then confirm if the SIM card you are using is well placed. Ensure that the SIM card chip is free from debris and dust.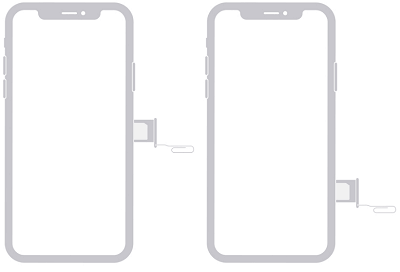 Open your SIM tray located on the right-hand side of your iPhone by using an earring, a paper clip, or a SIM clip. Use a dry cloth that is clean to remove dust on the SIM tray if there is any.
Put your SIM card back on your phone's tray that ensure that it is sitting correctly.
2. Contacting your Carrier
There is a possibility that you got your iPhone from the carrier when the SIM card is faulted or damaged. Reach out to the carrier you got your phone from to seek for a replacement of your SIM card. You will be required to pay some money to replace the SIM card, although not every carrier will request the replacement fee.
Techniques you can use to activate your iPhone have been arranged optimally to ensure that you solve the problem with ease. Method 1 requires only your iPhone to solve the problem. However, methods 2-4 require you to have a computer.
3. Restart Your iPhone
If an error message "Can't activate- requires an update to activate your iPhone" pops up after you have tried to activate the device, try to restart it.
On iPhone 6S and earlier models: Long press the button for home and the button for power simultaneously. Release them when the logo for Apple disappears and then shows up again.

On iPhone 7: Long press the button for power and the button for lowering your phone's volume. When Apple's icon disappears and then pops up again, release the buttons.

iPhone 8 and newer versions: Press the button for increasing your phone's volume and then release it. Follow the same step for the volume down button. Then long-press your phone's side button and release it when the icon for Apple disappears and then appears again.
4. Use Perfix to Fix New iPhone Won't Activate
If the above technique does not fix the problem, then use Perfix. Perfix is a tool that enables iPhone users to return their phones to the normal state without losing their data. Using Perfix, mobile phone users can repair their Operating system, upgrade or downgrade it, reset their phones and repair iTunes.
The steps for using Perfix include;
a) Visit the Perfix official website and download it. Install Perfix on your PC and then run it.
b) Connect your device to the PC with the help of a cable.
c) On the Perfix window, tap on the Standard Repair option so that you can start the process of repairing your device without deleting your data.

d) When the process for repairing your phone is complete, the problem of your device failing to activate is solved, and you can easily activate it.
Advantages of using Perfix:
a) You do not require to install iTunes on your PC
b) Your phone is repaired without deleting your data
c) It works on all versions of iOS and on all devices as well.
d) This method ensures that your data is 100% secured.
5. Using iTunes to Active Your iPhone
While using iTunes;
a) Switch off your phone and then use a cable to connect it to your PC
b) Power on your phone, and this triggers iTunes to launch. If iTunes does not launch, then run it from your computer.
c) When your mobile phone is detected by iTunes, iTunes requests you to activate the phone
d) If iTunes does not request you automatically, go to the left-hand side of the iTunes window and click on your iPhone. The option for activating your iPhone shows up, and tap on it.
e) Log in to Apple ID and then tap on continue.
When the options for Restoring from Backup or Setting as New appear, it means that iTunes has successfully activated your device.
While using this method, you need to have the latest version of iTunes installed on your computer.
6. Using Recovery Mode to Active Your iPhone
To use recovery method;
a) Plug your phone into a computer with the help of a cable
b) Go to recovery mode.

iPhone 6S and earlier: Long press both the buttons for power and the button for home until you see the icon for Apple.
iPhone 7 and 7 plus: long-press your phone's side button and button for lowering volume until the logo for Apple appears.
iPhone 8 and later: press the button for increasing volume and then release it. Follow the same steps for the button for lowering your phone's volume. Press and then hold your phone's side button until you see the screen for recovery mode.

c) After getting to recovery mode, launch iTunes. iTunes will recognize your phone in recovery mode, and you will be requested whether to update it or restore it.
d) Click on the restore option, and the recovery process will be carried out. When your device is restored, you can now activate it.
This method is tiresome and requires users to install iTunes on their PC. Also, some devices may not be compatible with iTunes.
Summary
iPhone users can be greatly disappointed when their device fails to activate. This article has outlined techniques such as restarting your phone, using iTunes, using Perfix, and using recovery mode that you can employ to solve the issue. Perfix is the best method because it enables one to easily activate their iPhone without data loss.