4 Ways to Delete Apple ID: A Step-by-Step Guide
Need to delete your Apple ID? Whether you're moving away from Apple devices, selling your old iPhone for the latest model, or setting up a second-hand iPhone, it's essential to remove your Apple ID.
This blog post covers 4 easy methods to delete your Apple ID, complete with detailed step-by-step instructions.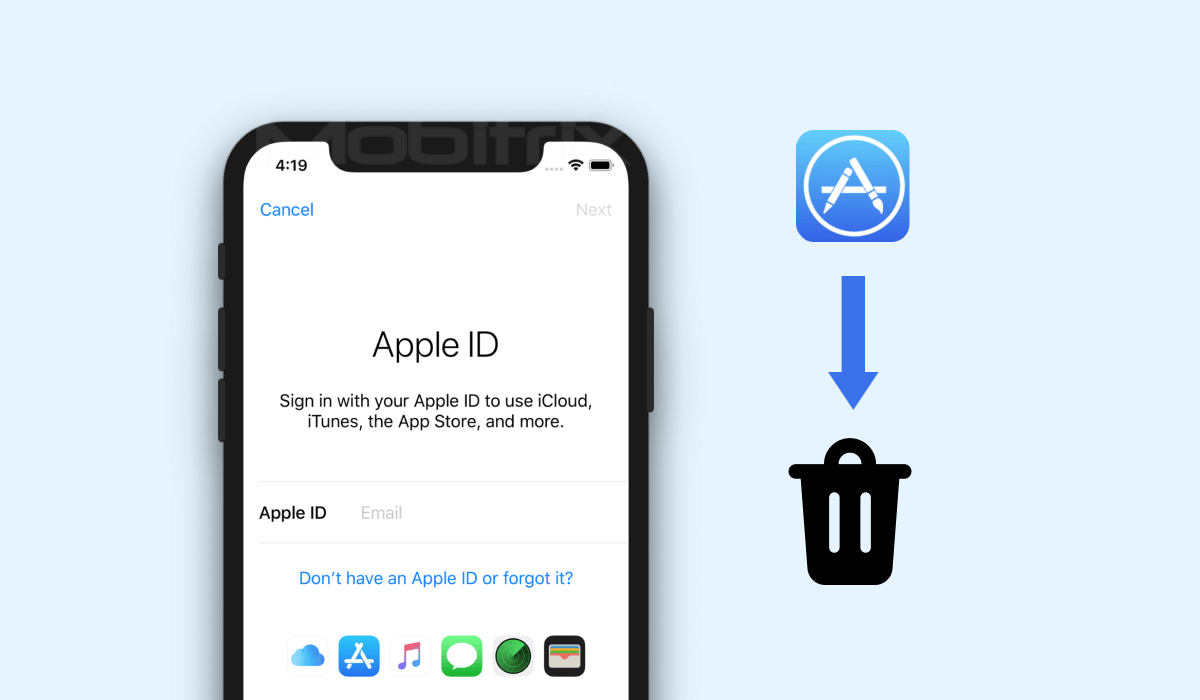 What Will Happen When the Apple ID Account is Deleted?
If you delete your Apple ID, you will no longer have access to the following:
Purchased iTunes Store, App Store, and Apple Books will be permanently deleted.

All Apple ID subscriptions will be canceled.

Documents stored, as well as photos and videos, will be gone.

You also lost access to messages sent to your account via iCloud mail, FaceTime, or iMessage.

Signing up for the above services will be impossible without creating a new Apple ID.
Way 1 Steps to Delete An Apple ID Account Permanently
Go to the Apple Data and Privacy webpage.

Sign in with the Apple ID you wish to delete. You may need to verify your identity with Two-Factor Authentication. Then Click Continue.

Click Delete Your Account.

Choose a reason for account deletion from the dropdown menu on the new page and click Continue.

Once you have reviewed the essential information necessary for Apple ID deletion, click Continue.

Review the terms and conditions, agree by ticking the checkbox, and then click Continue.

Select how you want to receive updates about your account deletion (email, phone number, or another Apple ID) and click Continue.

Note down the unique alphanumeric access code sent by Apple and click Continue.

Enter the received access code and click Continue.

Review the final reminders, click Delete Account, and then Sign Out on the confirmation screen.
Your account remains active until the request is verified. To cancel the deletion, contact Apple Support.

If you're seeking to delete your Apple ID account without password verification, try Mobitrix LockAway!
Way 2 Delete Apple ID Without Password on iPhone/iPad via Mobitrix LockAway
If you already know your Apple ID password, deleting an Apple ID is straightforward. But what if you've bought a second-hand iPhone that's still signed in with the former owner's Apple ID, and you can't contact them?
In such cases, Mobitrix LockAway offers a solution. This efficient unlocking tool allows you to remove an Apple ID from your device without needing the password, and it can do so in just 20 minutes!
FREE DOWNLOADFREE DOWNLOADFREE DOWNLOAD
Steps
Install Mobitrix LockAway on your PC or Mac.

Open the program and choose Unlock Apple ID.

Use a USB cable to connect your iPhone/iPad to the computer. Unlock your iPhone screen and tap Trust on the pop-up alert.

Click Start to remove the Apple ID and iCloud account from your device.
After completing these steps, the Apple ID password will be removed, allowing you to use a new Apple ID and access all features on your device.
When Will I Need to Use Mobitrix LockAway?
If you forgot the Apple ID password and its challenging to reset it;

If you want to sell your iPhone or iPad but can'remember the Apple ID password to factory reset it;

If You bought a used iPhone, you'd need LockAway to remove the previous owner's Apple ID;

If You have an iPhone that has been unused for a while and you forgot its Apple ID account information;

If your Apple ID account has been locked for security reasons, LockAway can help you regain access to your account.
Why Choose Mobitrix LockAway?
Fast: Delete your Apple ID within 20 minutes.

Easy to use: No technical steps, just simple clicks.

High success rate: A 99% success rate guarantees that you will be able to use your device without any problems.

Compatibility: It fully supports iPhone 5s to iPhone 15 and iOS 17 and earlier versions.

Affordability: Mobitrix LockAway is very competitively priced.

Security: It uses the latest security technologies to protect your data.
FREE DOWNLOADFREE DOWNLOADFREE DOWNLOAD
With its unbeatable security features, high success rate, and affordable price, Mobitrix LockAway is the obvious choice for anyone who wants to keep their data safe.
If you don' want to delete your Apple ID account through the verification process or download Mobitrix LockAway, you can use Find My to delete it remotely.
Way 3 How To Delete Apple ID Remotely With Find My
There are times when people need to delete their Apple ID remotely. This can be for many reasons, such as selling the device on the second-hand market, giving it away, or the phone is stolen. Whatever the reason, it is possible to delete an Apple ID remotely.
However, the device must be connected to an iCloud account, then the Find My feature can be used to track, locate and remotely erase the device. This will also disconnect the Apple ID account from the device.
So, if you want to delete your Apple ID remotely, make sure that you have considered all of these factors first.
Steps to Remotely Delete Your Apple ID Using Find My
Visit iCloud.com and sign in with your Apple ID.

Once logged in, navigate to the Find My feature in iCloud.

Click on All Devices at the top of the screen and select the device you wish to remove from your Apple ID.

Instead of just removing the device, you need to erase it to delete the data associated with your Apple ID. Click on EraseThis Device to wipe all content and settings from the device.

After erasing the device, you can remove it from your account. Click Remove This Device to complete the dissociation.
Way 4 How To Deactivate An Apple ID
If you deactivate your Apple ID, here's what happens:
You lose access to all the services that require your Apple ID, including iCloud, iMessage, Apple Pay, and the App Store.

Your access to send or receive messages via iCloud Mail, FaceTime, or iMessage would be disabled.

Apple freezes all of your data, making it inaccessible to you and anyone else who may try to access it.
People might want to deactivate their Apple ID account for many reasons. Maybe they want to start fresh with a new account. Or maybe they're selling their iPhone and don' want the new owner to have access to their personal data.
Whatever the reason, deactivating an Apple ID is a straightforward process. And if the person decides they want to start using their account again, all they need to do is reactivate it.
Steps for Deactivating Your iCloud Account
Navigate to the Apple Data & Privacy website and log in using the Apple ID you wish to deactivate.

Scroll to the Temporarily deactivate your account section and select Request to deactivate your account.

Carefully follow the instructions provided on each page. Continue through these steps until you reach the point where you can confirm your account's deactivation.

Click the Sign out button on the confirmation screen.
It usually takes about one week before your deactivation request is approved and processed by Apple, but you'll undoubtedly receive a notification once it's completed. You'll also get instructions on the steps to reactivate your account anytime you are ready.

Deactivating an Apple ID is a much simpler process than deleting it, and the account can be easily reactivated if needed.
Differences Between Deleting and Deactivating the Apple ID
| | Delete Apple ID | Deactivating Apple ID |
| --- | --- | --- |
| Account Status | Permanently Deleted | Temporarily Deleted |
| Reactivation | Impossible | Possible |
| Access to Apple Store | Permanently Disabled | Temporarily Disabled |
| Data Deletion | Yes | No |
FAQs About Deleting Apple ID
Is Creating a New Apple ID Possible After Deleting the Old One?
Yes, you can create a new Apple ID after deleting your old one. Deleting your old Apple ID does not prevent you from establishing a new account.
When you create a new Apple ID, you'll start with a fresh account, meaning you won't have access to any data (like purchases, app data, or subscriptions) associated with the deleted Apple ID.
Can I Delete and Create a New Apple ID with the Same Email Address?
No, you cannot immediately create a new Apple ID with the same email address after deleting an old one. Once an Apple ID is deleted, the associated email address may be unavailable for a certain period before it can be used again.
It's recommended to use a different email address for a new Apple ID.
Conclusion
You've learned 4 different ways to delete an Apple ID. Among these, Mobitrix LockAway offers a swift and simple solution, even if you've forgotten your password.
After removing your Apple ID, you can either create a new one or log in with a different account to continue enjoying Apple's services.
Get started with Mobitrix LockAway today and effortlessly delete the Apple ID from your iDevices.