It can be very frustrating to try and backup WhatsApp only for the process to get stuck. Yet this happens a lot. As you've probably experienced, this can be very frustrating.
Don't worry. There are just as many diverse solutions that you can try to fix the problem. This article will share 7 solutions.
Reasons of WhatsApp Backup on iPhone Stuck
Before we look at the best solutions for this particular problem, it is important to understand some of the reasons why it may be happening. The following are the most common causes of this problem.
You may not be signed into iCloud.
iCloud drive could be turned off or enabled on other devices with the same Apple ID.
There is insufficient storage in iCloud.
The iCloud servers will be unavailable.
Your network connection could be faulty, unavailable, or not working.
There may be compatibility issues with WhatsApp.
WhatsApp automatic backup feature could be disabled.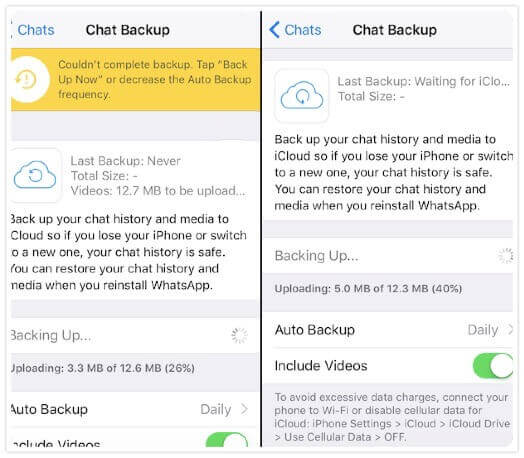 Best Alternative to iCloud to Backup iPhone WhatsApp for Free
Sometimes, you might be incapable of fixing causes of this problem. Perhaps your device is having issues connecting to a Wi-Fi network and you may be unable to fix the problem for a few days. In the meantime, it is necessary to find a solution to the backup problem while you fix these issues with the device.
One of the most effective alternative ways to backup WhatsApp on your iPhone is Mobitrix WhatsApp Transfer. To use Mobitrix to backup WhatsApp to your computer for free, download and install the program on to your computer and then follow these simple steps.
Open the program then connect the device to the computer using USB cables. Select "Back up WhatsApp on Devices" from the options on the left.

Once the device appears on the screen, simply click "Back Up" to begin the process.

Keep the device connected until the backup process is complete and you will be able to see the backup location.
This third-party tool has all the features necessary for the complete management of your WhatsApp data. These include the following.
It allows for the easy transfer of WhatsApp data between Android and iOS devices. Mobitrix guarantees the 100% success rate by adopting the most advanced technology.
As we shall see shortly, you can also use it to make a complete backup of your WhatsApp data to your computer (FREE). You don't have to purchase more storage to keep the data.
It is 100% safe to use. Data loss and leakage will occur.
It is also fully compatible with all iOS devices and all versions of the iOS firmware, including iOS 15.
Other 6 Fixes for WhatsApp Backup Stuck on iPhone
The following are some of the things you can do to fix the WhatsApp Backup stuck on iPhone.
3.1 Ensure WhatsApp Backup is Turned On
For the backup process to work as expected, you need to make sure that WhatsApp is enabled in iCloud. Here's how to make sure.
Open the Settings on the device and then tap on your name at the top.
Scroll down to turn on "iCloud Drive" while making sure that "WhatsApp" is also turned on.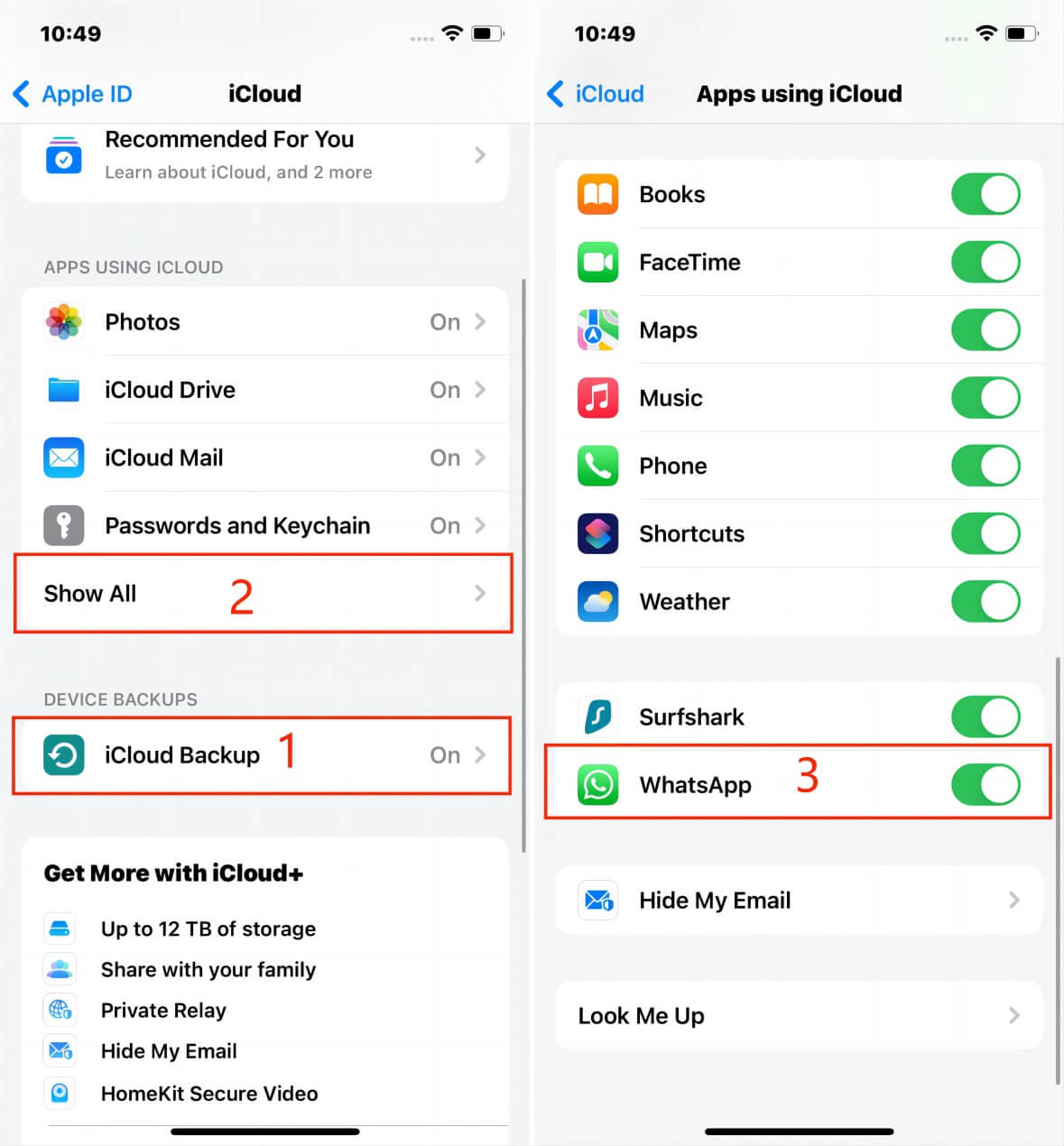 3.2 Check iCloud Storage
Your backup will also get stuck when you don't have adequate storage space. You only get 5GB of free iCloud storage space and it is easy to run out of storage space without realizing. To check how much iCloud storage space is available, follow these simple steps.
Open the Settings and then tap on your name.
Tap "Manage Storage" and you will see available iCloud storage space along with detailed information on how the apps on your device are using up your storage.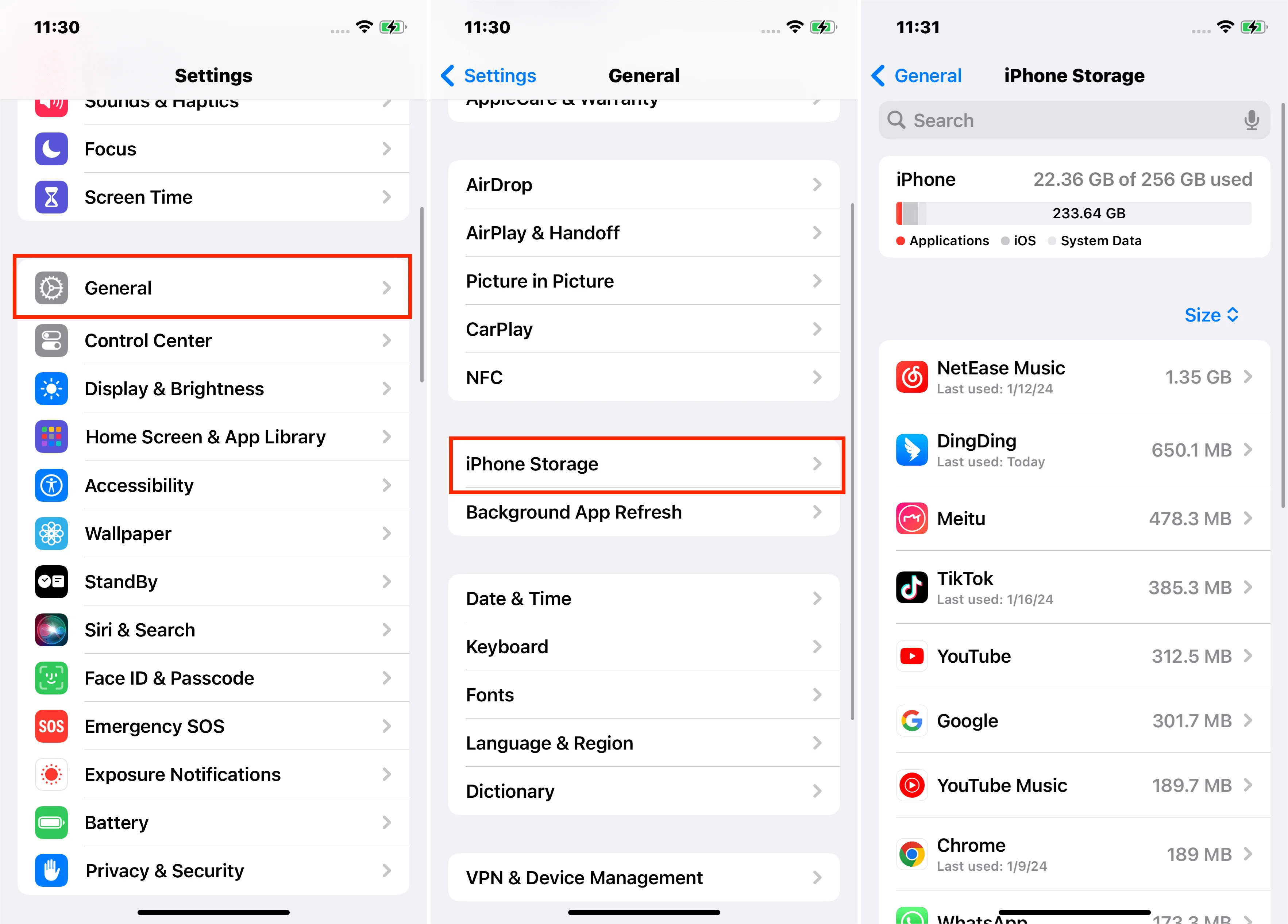 If you find that you don't have adequate iCloud storage space for the backup, you can choose to purchase an additional storage plan or delete some data to make room for the backup.
3.3 Check iCloud System Status
The iCloud server has been known to crash from time to time and when it does, you will not be capable of backing up WhatsApp. Therefore it is important to check the status of the iCloud server just to be sure. To do that, go to https://www.apple.com/support/systemstatus and look for iCloud Backup.
If there is a green light next to it, then the problem is not the server, but if there is an orange light next to it, there could be a problem with the server. In this case, there is very little you can do other than wait until the servers are back at full strength.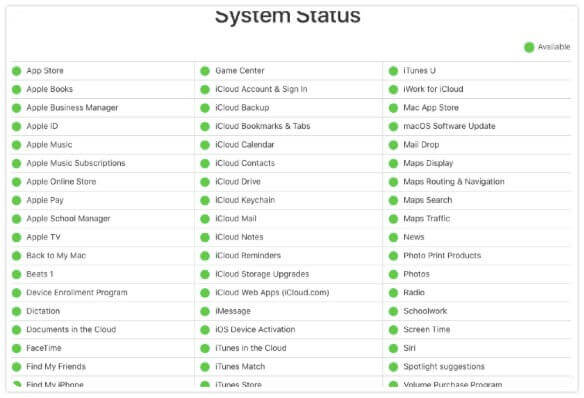 3.4 Check Network Connection
You may also have problems backing up WhatsApp if there is a problem with your network connection. In this case, the first thing you should do is change the Wi-Fi network you are connected to. If you were unable to connect to the new network, it may be a good idea to reset the network settings on your device. Follow these simple steps to reset the network.
Open Settings and tap on "General > Reset > Reset Network Settings".
Enter your passcode when prompted and then connected to your Wi-Fi networks again before attempting to backup WhatsApp.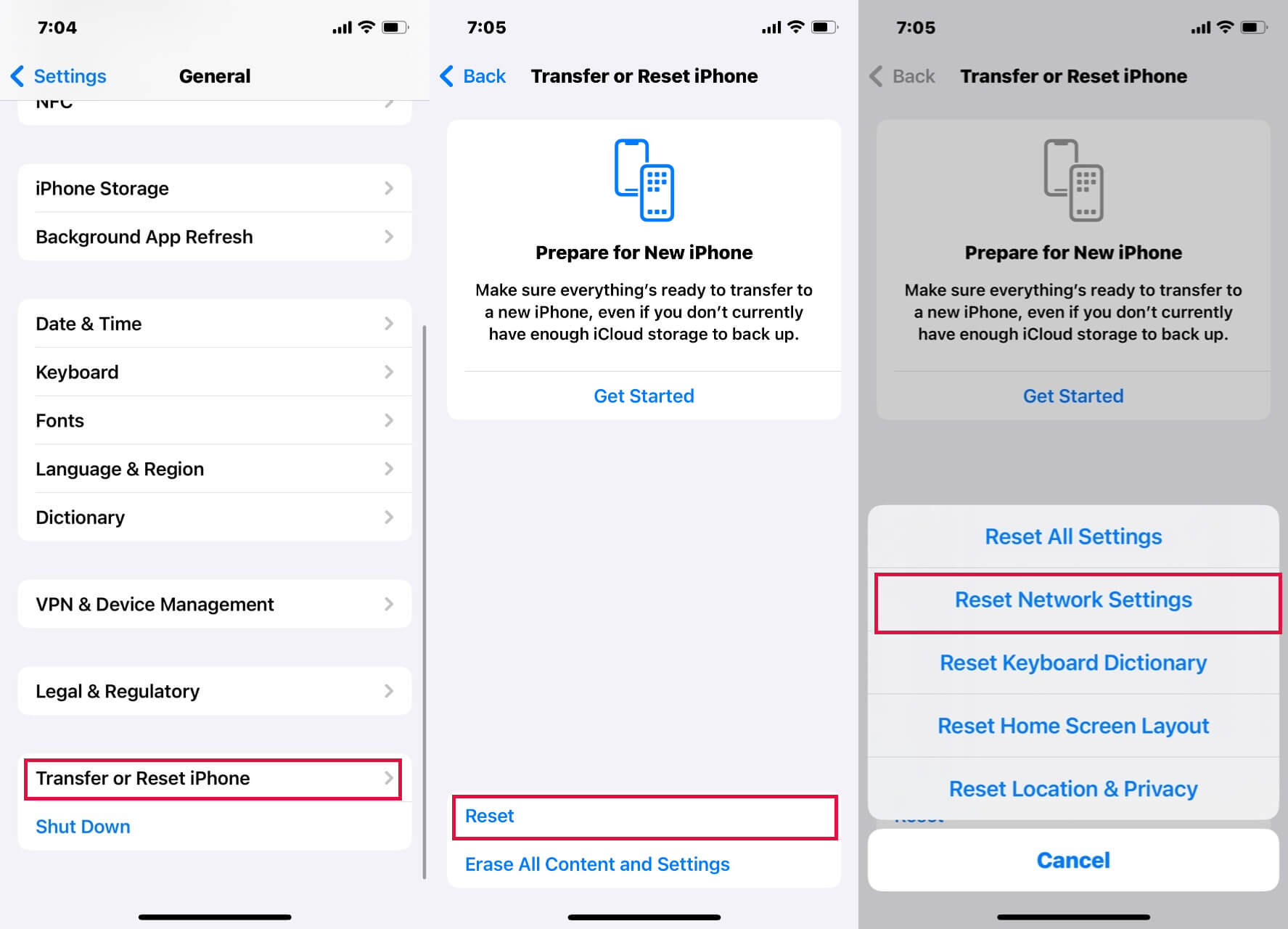 3.5 Change WhatsApp Auto Backup Settings
Large backups can take a long time to complete and when the backup frequency is set daily, then one backup may begin before the last backup is complete, creating a sort of "backlog" that may cause the backup process to get stuck. The best way to fix this problem is to change the backup frequency settings to weekly or monthly rather than daily. Follow these simple steps to do it.
Open WhatsApp and then tap on "Settings".
Tap "Chats > Chat Backup".
Tap "Auto Backup" to change the frequency to weekly or monthly.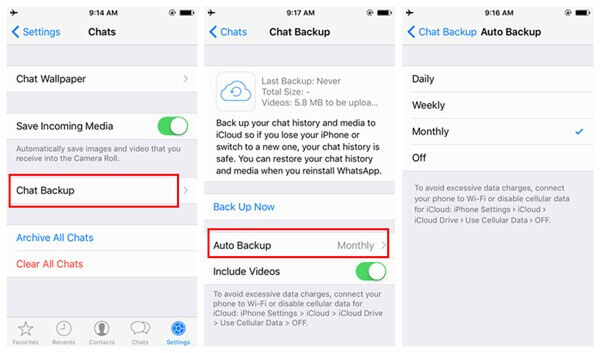 3.6 Delete the Previous Backup and Try Again
Another great way to fix this WhatsApp backup problem is to delete the last backup and then try backing up WhatsApp again. This will eliminate any errors that could be causing the issue. To do this, follow these simple steps.
Open the Settings on your device and tap on your name.
Tap "iCloud Storage" and then select "Backup".
Select the most recent backup and then tap "Delete Backup" to remove the backup.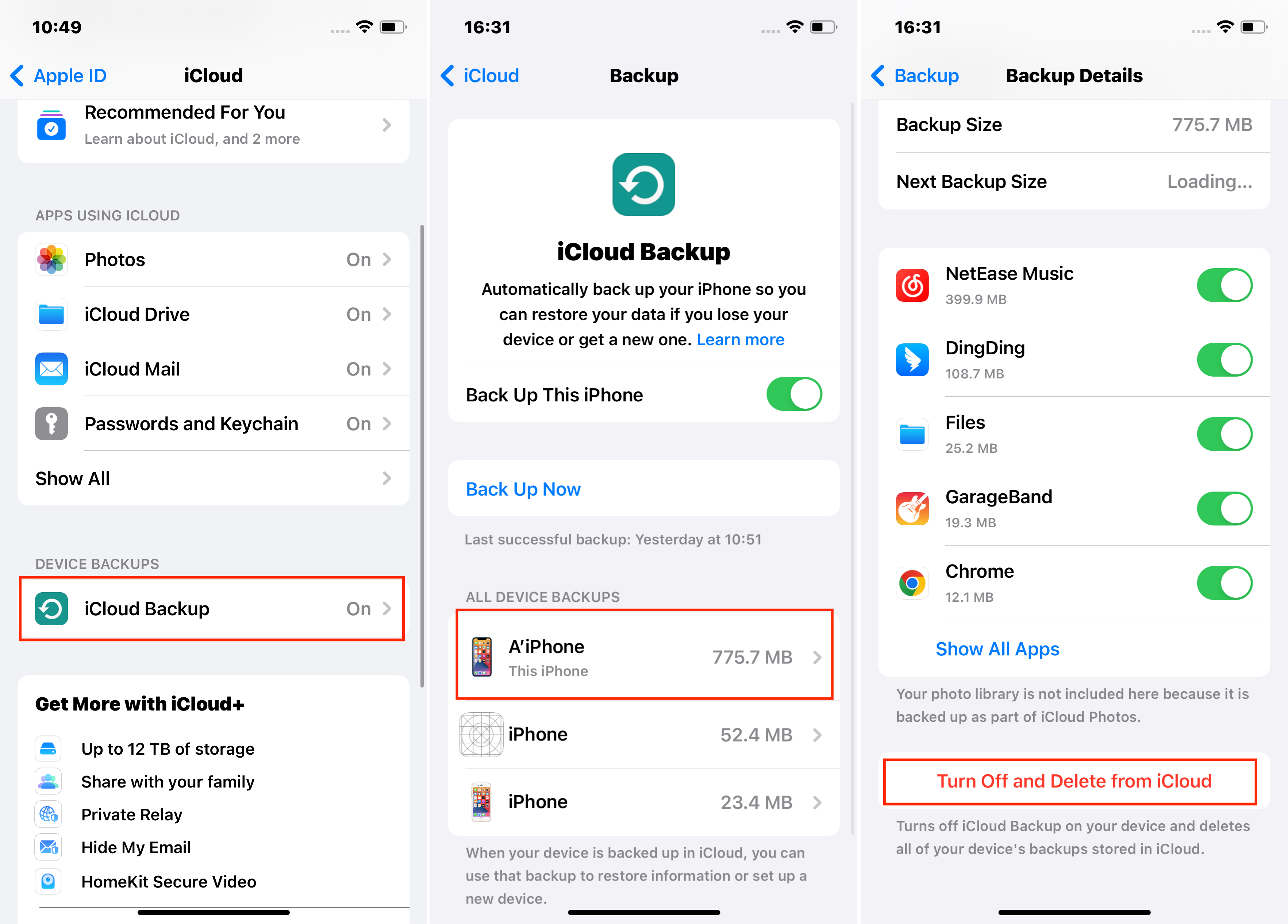 It is very important to backup WhatsApp data on the device. Nevertheless this doesn't mean that the process is without its issues. When your WhatsApp backup is stuck on iPhone, the solutions above will help you fix the problem and get WhatsApp back to working normally again. If you have any questions about this process, let us know in the comments section below and we'll do our best to help.