How to Transfer WhatsApp Messages to New iPhone/Android
You've probably acquired your new iPhone or Android phone, and you are thinking about how do I transfer WhatsApp messages between these devices.
As the official WhatsApp fails to provide a way for migrating chat data across mobile phone systems, the feasible current solution remains to use third-party tools
This article comes in handy as it explains how you can achieve this with simplicity and ease. Whether transferring from iPhone to Android or the reverse, we got you covered.
Transfer WhatsApp messages from Android to New iPhone
Whenever one is transferring messages, data privacy is a priority. It calls for the use of Mobitrix WhatsApp Transfer, a powerful tool to transfer WhatsApp messages quickly and reliably.
The steps below give you the needed guidance to use Mobitrix WhatsApp Transfer:
Install the Mobitrix WhatsApp Transfer tool on your computer, and by the use of a USB cable, connect your Android device and iPhone to your computer.
Both devices will display on the next screen on your computer, go ahead and choose the Android device as the source and the iPhone as the destination.
All you have to do next is click on the transfer button, and the tool will begin to transfer WhatsApp messages to your iPhone.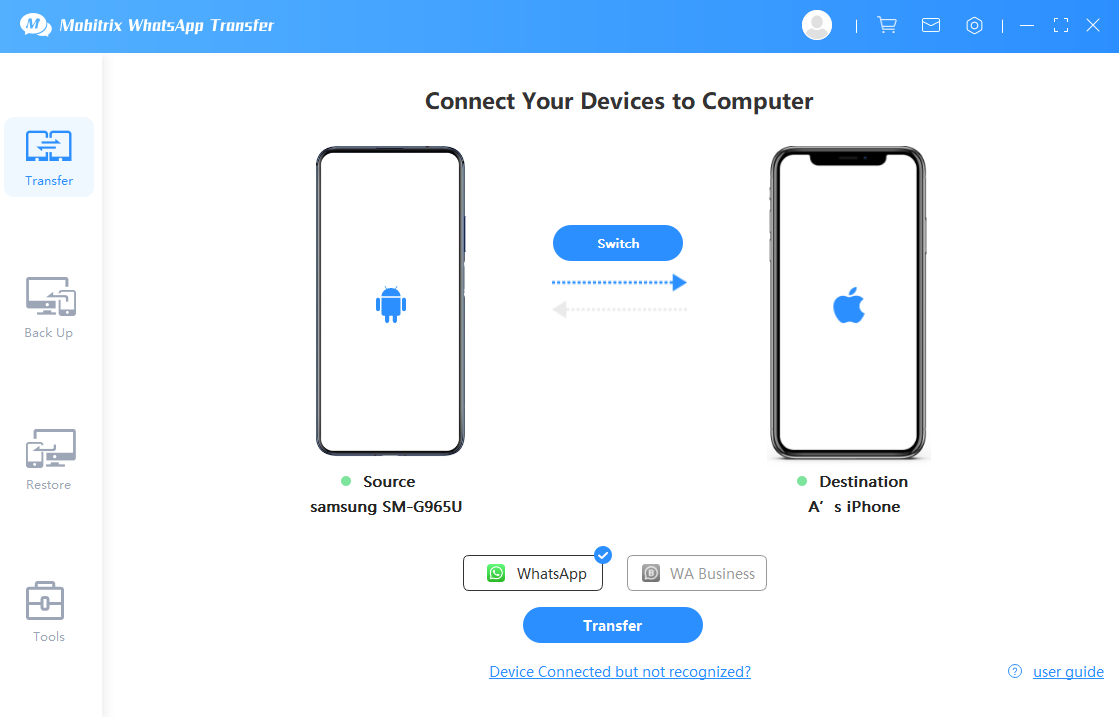 Watch the video guide to transfer WhatsApp from Android to iPhone using Mobitrix WhatsApp Transfer:
Mobitrix stands out as the best tool to use whenever you need to transfer WhatsApp messages between different devices for the following reasons;
Easiness to use – it doesn't require any experience to use it. Anyone can use it by just following the above steps.
Ensures data safety – Mobitrix strictly protects its user's data.
Mobitrix supports thousands of various iOS and Android devices.
It is highly rated and trusted by most professional websites; hence it's reliable.
It allows the transfer of backed-up messages from Android to iPhone without having to uninstall WhatsApp.
Transfer WhatsApp messages from iPhone to new Android phone
With few clicks on your iPhone and computer, the steps below got you covered.
Via a USB cable, connect your iPhone to your computer. Ensure it's unlocked and it remains at the home screen. On the pop-up that appears, click trust to continue.
Open your Mobitrix WhatsApp transfer application and click on the blue Back up button. In case you don't have it installed, check it out here.
Here, a few processes will occur, but relax if you've managed to get here means everything is running well. Wait for the backup to complete.
Connect your Android phone still via a cable and allow USB debugging.
On the backup window on our transfer WhatsApp messages tool, select backup to restore, iOS, right-click > click on restore to phone > select your Android. Then click continue.
Click on restore on your Android WhatsApp and click through the needed steps.
And that's it, and you've successfully transferred WhatsApp messages from iPhone to Android.
Transfer WhatsApp messages from iPhone to iPhone
The use of iCloud is the official transfer method that WhatsApp offers. The following steps will guide you in restoring your chat history from iCloud.
Clarify that an iCloud backup exists in WhatsApp > Settings > chats > chat backup
Delete the WhatsApp and install it again, having checked when the last backup occurred.
Verify your phone number, then click on restore your chat history.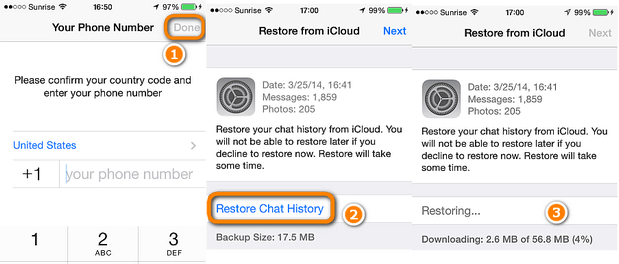 For proper transfer of WhatsApp messages via iCloud, ensure that both your iCloud and phone have enough space.
Maintain only one account as it is impossible to restore the chat history from a different WhatsApp account.
Transfer WhatsApp messages from Android to Android
It makes use of google drive, the same phone number and Google account that was used to create the backup using the steps below:
Open your new WhatsApp and verify your number.
Click on the restore prompt to restore data from google drive.
Click on NEXT once completed, and the chat history will appear together with media files.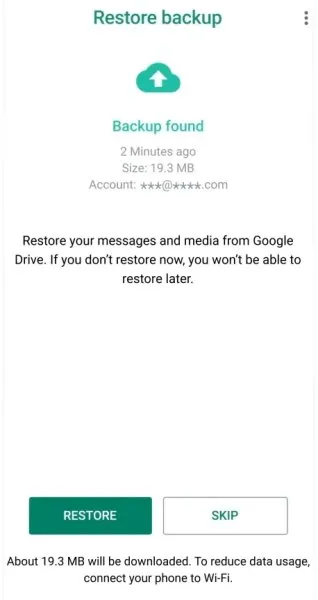 Summary
As our WhatsApp chats are part of us in saving our memories and buying new mobile phones is also inevitable, migrating our chat history becomes necessary whenever we replace our mobile phones. Hence the need to use proper ways to migrate our chats.
This article covered ways to properly migrate our chats with ease through iCloud and google drive from Android to iPhone and the reverse.
In particular, it focused on Mobitrix, an awesome and the best tool to get things done in the right way. With Mobitrix WhatsApp Transfer, your needs, data, and memories are all covered under this one tool.