'Is there a way one can move whatsapp back up from google drive to icloud? I used Samsung S8+ for several years and most important WhatsApp messages were backed up via Google drive. I have just recently purchased an iPhone 14 and have no idea to restore my whatsapp from Google drive onto iCloud. ' – From discussions.apple.com
I get it.
The last thing you want is to lose all your contacts, media files, and app data just because you got a new phone, especially if it's a switch from Android to iOS.
I bet you've backed up your important data like your WhatsApp history on Google Drive now, in the hope that it can be transferred later onto iCloud on your new iPhone easily.
But badly, things don't work that way.
From my experience, Google Drive might seem the best way to backup your WhatsApp messages on your Android device, but its encryption protocols just aren't compatible with iCloud.
Hence, it is directly impossible to transfer your WhatsApp data from an Android to an iPhone.
In such cases, using a third-party tool becomes inevitable, especially if you have important business chat records, or cherished memories to transfer, and you want to do it quickly.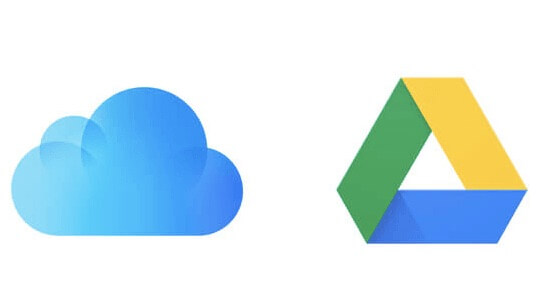 restore whatsapp from google drive to icloud
How Does a Third-party Transfer Tool Work?
Just so you know, WhatsApp doesn't allow you to switch data across board if you're changing operating platforms completely. That means, iPhone users can only backup and restore their WhatsApp data from iCloud, and Android users via Google drive.
A third-party tool, however, works by helping you transfer WhatsApp backup from Google Drive to iCloud in 3 simple phases.
To show you how it's done, I'll take Mobitrix as an example, since this software is free to download and backup WhatsApp data, and very easy to use. You can even try it out, following this article.
Restore WhatsApp Backup from Google Drive to Your Android Device
Before you transfer WhatsApp backup from Google Drive to iCloud, you'll need to first restore it to your current Android device from Google Drive.
Here's how to go about it:
Uninstall the WhatsApp package on your Android device and then re-install.
Open WhatsApp on your Android device and follow the on-screen prompts that come up to set up WhatsApp and also confirm your phone number.
Click on "Restore" when prompted in the next window to start restoring the backup to your device.
Once the restoration process is complete, tap "Next" to continue and finish setting up WhatsApp.
Note: You must use the same phone number that you used in creating the backup, not a different phone number.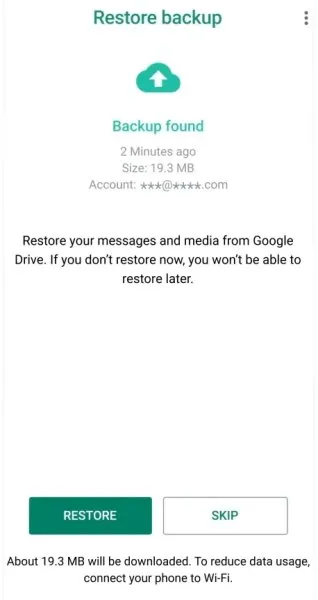 restore whatsapp messages android
Here's what you'll need to succeed during this phase. Otherwise it would be almost impossible for you to move ahead with restoring your WhatsApp backup from Google Drive:
Adequate Storage: Google drive has made it possible for you to store large data files up to 15GB for free but if you don't have enough storage, the process of restoring your WhatsApp backup would get disrupted.
An Activated Phone: You'll need to activate your phone with your connected email address and password. You'll also need to ensure that you're using and have access to the same Google account and original phone number for your WhatsApp account.
Use Mobitrix to Transfer WhatsApp Backup from Your Android to the iPhone
To make this phase super easy, usually we'll need a third-party transfer alternative for moving our WhatsApp data between devices whether they're run by the same cloud services or not.
Now I am just going to demonstrate this step with Mobitrix WhatsApp Transfer .
Step 1: Download and install Mobitrix WhatsApp Transfer to your computer.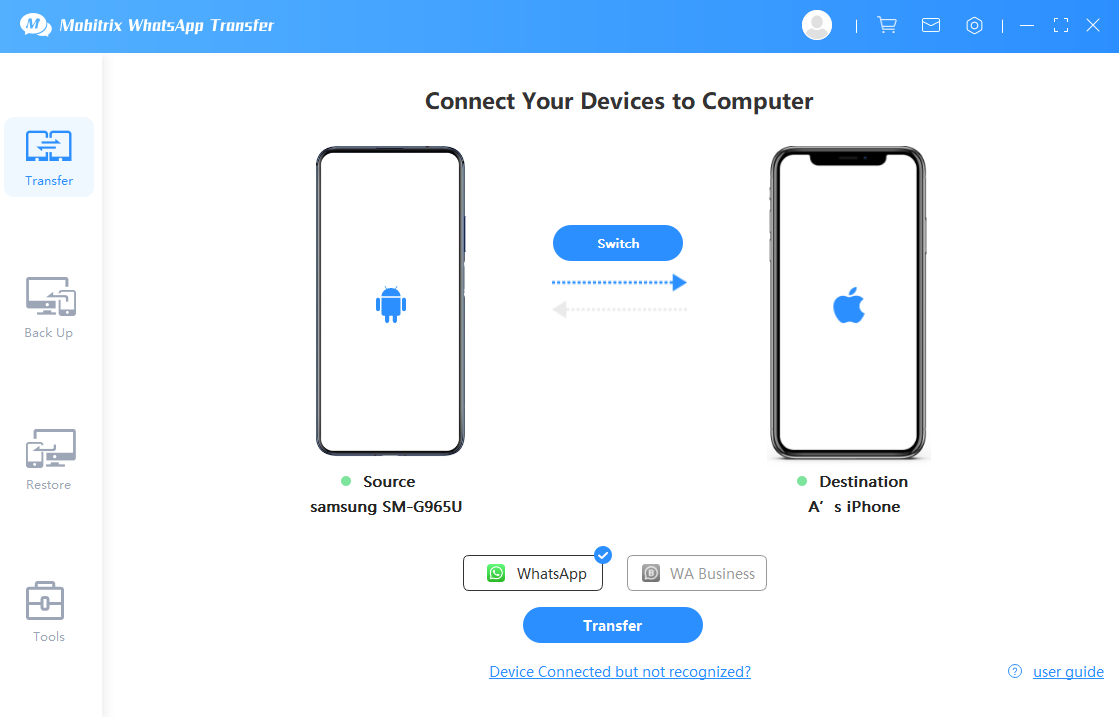 connect the 2 device to pc
Step 2: Connect both the Android device and the iPhone to your computer using USB cables. Then, wait for the program to detect both devices.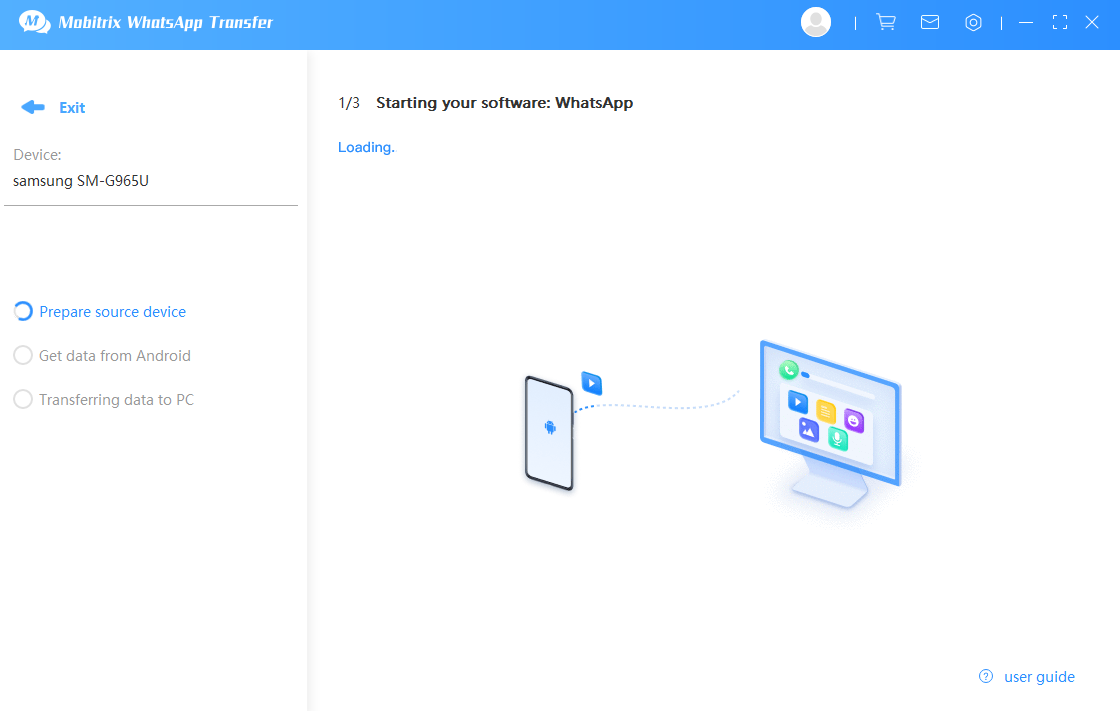 the device successfully connected
Step 3: Click on "Transfer" to begin the transfer process when you've confirmed that the devices are connected and in their right order.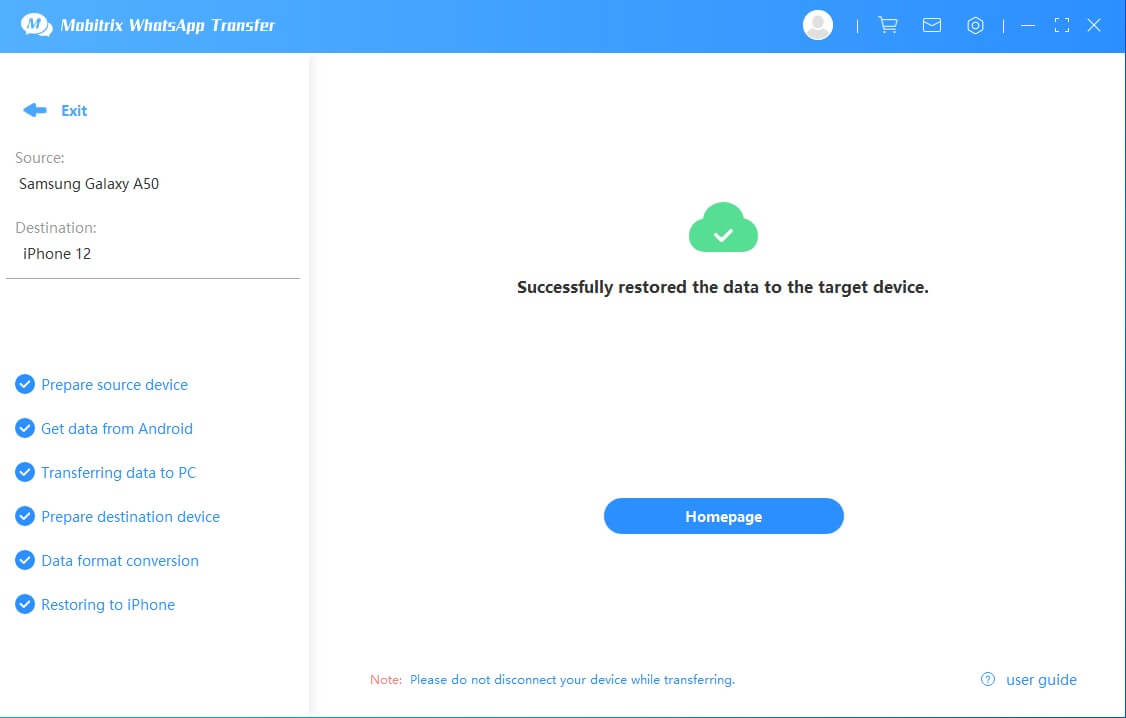 start to transfer whatsapp messages
Note: Keep the devices connected to your computer until the transfer process is complete. Once the transfer process is complete, all your WhatsApp messages will be immediately made available on your iPhone.
What to Look for in Selecting a Third-party Transfer Tool?
Knowing the importance of a third-party transfer tool is not enough. You still need to make sure that you can find one that really suits your needs .
Based on my survey of 1876 iPhone new users as well as my personal experience, I find these factors are important to consider in using a third-party transfer solution, to transfer whatsapp backup from Google Drive to iCloud:
Whether it is simple to use: It sucks when you pay for a tool that's supposed to give you a quick fix, but in the end requires you to become a coding expert, with knowledge of different data formats to use it. And you'll have to spend time researching how to do it, because there are no good tutorials offered.
Whether it can transfer all your chats, files & attachments:Some tools only transfer your WhatsApp chat from the past 3 months, or only support migrating messages, not videos or files. Some even put restrictions on the way you transfer files, like one contact after another. Some only allow you to view the data in TXT format. They are all horrible experiences to avoid.
Whether it provides FREE backup for WhatsApp: Backing up our WhatsApp data should never be a costly thing. Better look for an alternative with no limits on the storage capacity for all your memorable WhatsApp messages.
Whether it can protect your privacy: How can anyone bear the shivers running through the spine, when knowing their secret photos, chat history, videos and business secrets are leaked online, during the transfer? You have to make sure that the tool you choose stores your phone data on your computer only, so it won't be shared around.
Whether it supports your phone model: No matter how amazing a third-party tool is, in terms of data range, size and security, if it doesn't support your model, it's a wasted effort. Be sure to make this a priority.
I am still in the process of testing more tools for now, but Motribix WhatsApp Transfer looks like the most reliable one so far.
It's very simple to use, with free video tutorials, and has helped me transfer all my chat history, like files, video, voice recordings, stickers, onto my new iPhone in a much shorter period than other similar products. Additionally, it stores my data on my own computer only.
Some of my readers tried it as well and gave good feedback. You can take a try if needed.
Transfer WhatsApp Data from the iPhone Back to WhatsApp and Back-up to iCloud
Now that you've successfully transferred your WhatsApp messages and files to your iPhone, it's time to back them up to iCloud:
Making this phase the final, successful step in completing the process of transferring your WhatsApp backup from Google Drive to iCloud.
First, ensure that your iPhone is connected to a strong Wi-Fi network and that it's also well charged. Next, open the Settings on your iPhone and tap on your name.
Scroll down to locate "iCloud" and tap on it. Then, tap on "iCloud Drive" to turn it "On".

enable icloud backup iphone

Sign in to your iCloud account if you aren't already signed in. If you are signed in, skip this step to the next.
Go back to Settings > iCloud and the turn-on "Backup iCloud" section to select "Backup now". Immediately, your device will begin to back-up all the data on your device including your WhatsApp data.

transfer whatsapp to iphone via icloud
Once this backup process is complete, all the data that was originally on your Google Drive account will be made available on your iCloud account.
Now, you can restore the backup to your iPhone if you need to.
Extra Tips: How Can You Free up Space on iCloud without Buying More Space
As I kept using WhatsApp, my iCloud backup kept expanding.
All the gifs, stickers, videos, etc generated logged up my iCloud space faster than expected. I couldn't even make extra space for other important data.
You probably have had similar experiences too. It's just way too common to avoid.
My solution before was just to delete some files or buy more iCloud storage.
Yet recently while I was testing Mobitrix WhatsApp Transfer, I was surprised to discover that it actually has an add-on allowing me to backup data on my private computer for free.
In this case all my privacy wouldn't risk being released or shared, and thus staying protected.
And I could choose which period's data I want to backup.
Guess now you've known why it's impossible to directly transfer WhatsApp data from an Android device to an iPhone.
Luckily, sometimes when your need for transferring your WhatsApp messages becomes critical, you'll need a good third-party tool like Mobitrix to transfer WhatsApp backup from Google Drive to iCloud.
After all, you wouldn't want to lose all your data, memorable WhatsApp messages, files, etc.
More than that, with such applications, you can also solve issues that come with restoring data from Google Drive to iCloud, backing up future data, and also backing up data to iCloud.
Plus, you can use them to free up some storage space in iCloud and still keep your information secured – so you don't need to purchase more space or delete files.
Hope this article is useful for you.
Do let me know when you have discovered a new solution to transfer WhatsApp backup from Google Drive to iCloud. I'd be more than happy to know.