WhatsApp is a phenomenal messaging platform that has transformed the way we send and receive messages.
The only problem that I find with this messenger is that it does not offer the option to store the chats on a remote server. It makes it very difficult to transfer chats across devices and nearly impossible if you switch from Android to Apple or vice versa.
As the data in WhatsApp is priceless, no one can afford losing it. Well, I certainly can't! The data might range from the video of your child's first steps to such WhatsApp business chats that have taken years of work!
But don't worry, I can help you out!
In this article, I'll explain how you can avoid losing your WhatsApp or WhatsApp business data when you change your device. This is easy and efficient. And if I can do it, I believe anyone can do it!
Part 1. Restore to Any New Phone
My brother gifted me an iPhone for my birthday and after the excitement of getting a $1,200 gift was over, I was left with a huge problem. There was no way I could let go of my WhatsApp and WhatsApp Business chat data.
Despite all my tries, I couldn't find any official method to transfer that data to my new phone. After a lot of research, I learned that it is because Android and iOS are fundamentally different.
They are so different that they even use different cloud services to store WhatsApp chat data. And this is what makes it nearly impossible to get your messages across these services.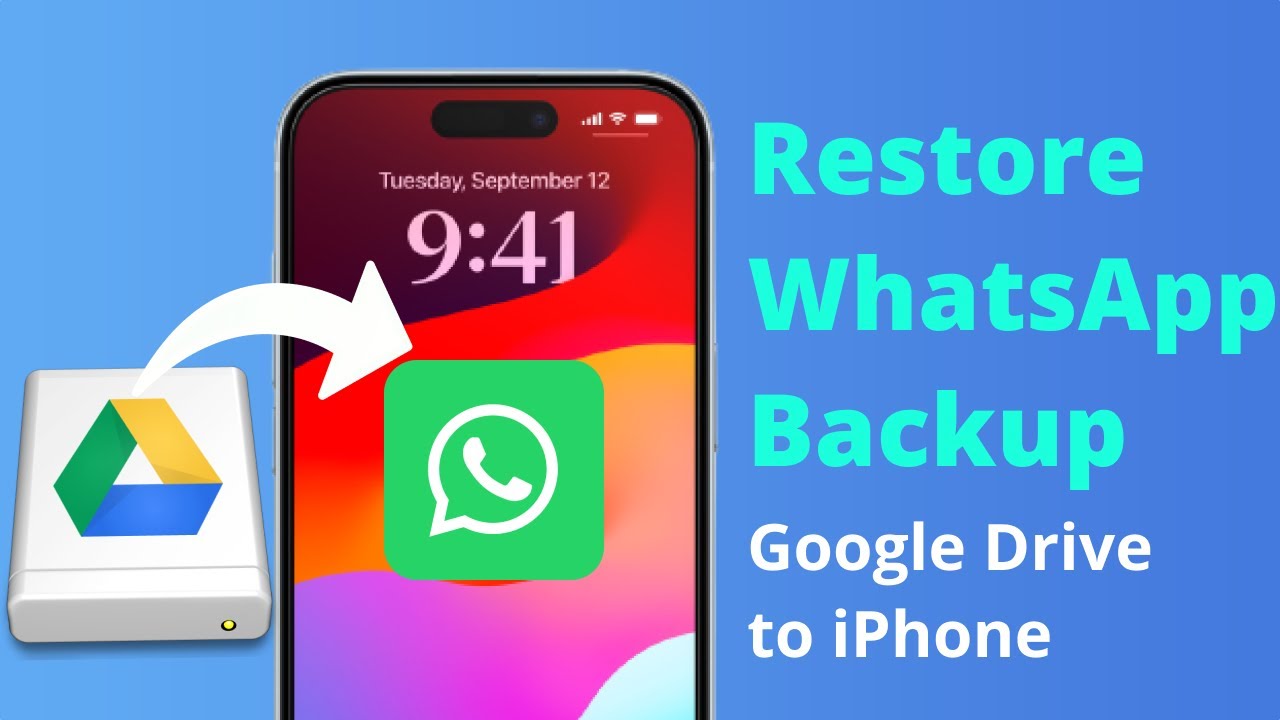 how to restore whatsapp messages on new different type of phone
However, I was lucky to find a tool that solved my problem. I thought it might be a good idea to share it with others like me.
Mobitrix WhatsApp Transfer – The Ultimate Cross-Platform WhatsApp Data Transfer Tool
After trying different solutions, hacks, and tools for transferring my WhatsApp data to the new iPhone, I finally found one that actually worked.
It was Mobitrix WhatsApp Transfer.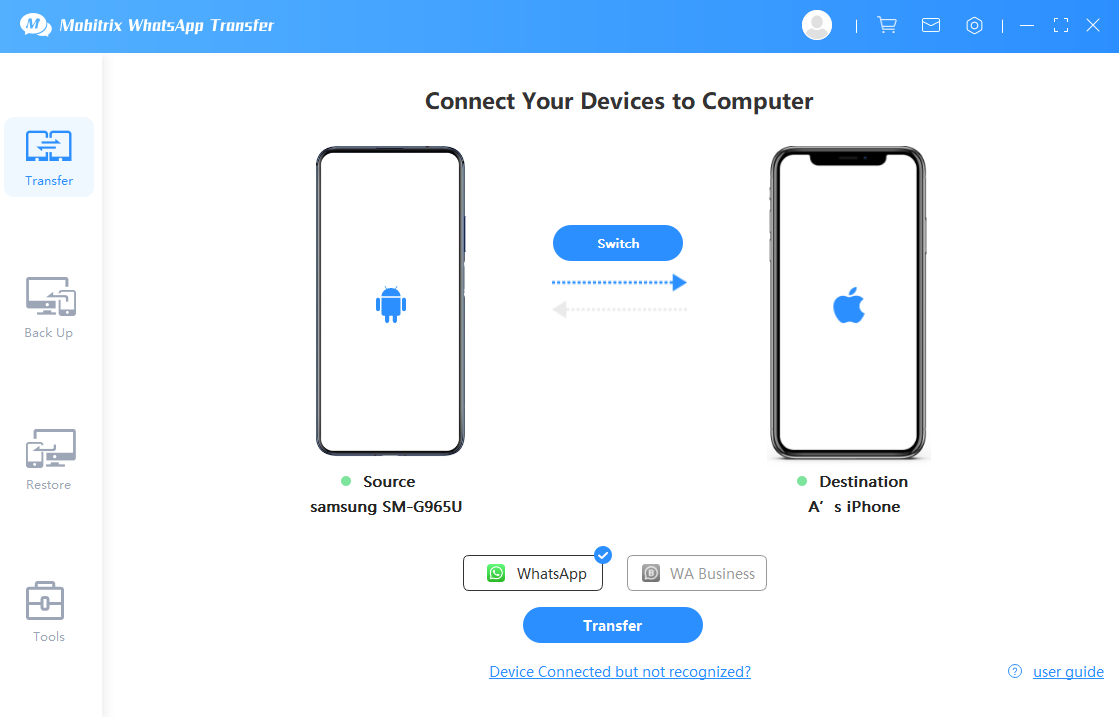 how to restore whatsapp messages on any phones
Here's how it can be done in a few simple steps:
Go to the internet and download and install Mobitrix WhatsApp Transfer on your computer. It is available for Windows as well as Mac.
Run the software and connect the devices you want to transfer the messages across using USB cables.
On the main interface of Mobitrix WhatsApp transfer, you can select whether you want to transfer the chats for WhatsApp or WhatsApp Business.
After you've selected the version of WhatsApp, set the respective devices as the source and destination.
Click on the transfer button and the messages will be transferred to the device you have selected.
Pros:
In my opinion, this is the easiest chat history transfer can get. In case you have a problem, there are many video tutorials that can help you use this tool.
The tool is safe to use and even the tool itself can't read your messages as they are in transit across the devices.
It can not only transfer the text part of the chats but also all the other related things like pictures, videos, emoticons, attachments.
The transfer speed is way faster than that of iCloud Drive or Google Drive and you don't have to have free space on the cloud to execute this.
Part 2. Restore to Same Type of Phone
If you are upgrading or changing your phone but the new device runs on the same software (Android or iOS) as the old one, you can use WhatsApp's official method for transferring the chats.
In case of an Android, you can use Google Drive to transfer WhatsApp data from one device to another and for iPhone you'll have to use iCloud.
Let's see how both of methods work and what are limitations.
Method 1: Across Android Devices Using Google Drive
The steps for this process are the following:
Go to WhatsApp, click on the three dots at the top right corner and open the Settings menu.
Click on Chat > Chat Back Up.
Select the option saying, "Back Up to Google Drive."
Click on Back Up Now to start the back up process.
Once the backup is complete, all the messages are saved in Google Drive. To restore them to the new device, do the following:
Log in to the same Google account that you used to back up your WhatsApp data.
Install WhatsApp and enter the same phone number.
Upon being asked, select the option that says, "Restore Backup" to get the messages back.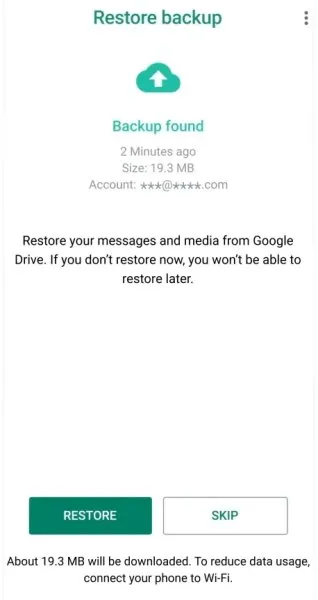 how to restore whatsapp messages on new phone using google drive
If you face any trouble while creating or restoring the backup, you can consult this official guide from WhatsApp.
Method 2: Across iPhones Using iCloud
If you want to transfer your WhatsApp chats from one iPhone to another, here's how you can do that.
Create an iCloud backup of the chat:
Go to WhatsApp and tap on Settings > Chats > Chat Backup.
Select iCloud Back Up and click on Back Up Now.
This will immediately back up the messages to iCloud.
To restore the messages to another iPhone:
Make sure you have signed into the same iCloud account as that used for making the back up.
Download WhatsApp and enter the same number that you were using when you made the back up.
When prompted, select the "Restore Back Up" option and the messages and other data will be restored to the new phone.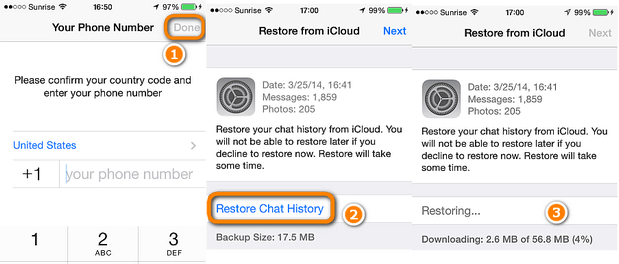 how to restore whatsapp messages on new phone with icloud
If you are having trouble creating or restoring WhatsApp or WhatsApp business chat data on an iPhone, you can use this official WhatsApp guide.
Cons:
The amount of storage you get with a free iCloud account is limited. You need to have at least 2.05 times the size of your back up free on iCloud to complete the backup and restore process.
You also need the same amount of free storage on both the iphones too.
The best solution for this is that you either purchase more space on iCloud (which is a recurring expense) or you can use Mobitrix WhatsApp Transfer to do the job.
Here's what I've learned after all the research on this topic:
If you are transferring WhatsApp or WhatsApp Business chats from one phone to another and both run on the same operating system, you can use iCloud (for iPhone) or Google Drive (for Android phones) to transfer WhatsApp chats.
If you do not have enough storage on your phone or cloud storage, Mobitrix is your best bet.
If you have a new phone that is not on the same operating system as the old one, WhatsApp is not currently offering any official solution to transfer chats and media.
In such a case, you can use Mobitrix WhatsApp Transfer. It gets the job done and has a phenomenal transmission speed, is fully secure, and makes no compromises on user privacy.