Chances are that if you are using WhatsApp from an iPhone, you already have your data backed up to iCloud. It's the default backup option. In addition, its also stored locally on your phone and can be restored to another iPhone.
But there are some limitations. While you can backup and restore WhatsApp from iCloud, you only have5 GB storage space split among all your apps, including WhatsApp data. Additionally, you can't restore iCloud backup if you decide to shift to an Android phone.
In this article we will discuss how you canovercome these limitations and the things to keep in mind when backing up and restoring.
Restore WhatsApp from iCloud to iPhone
First, we will be discussing how you can restore WhatsApp from iCloud to an iPhone. As discussed earlier, iCloud is the default mode of backup and restore. It's easy to set up and does not require any installations. Here are the steps:
1.1 Restore from iCloud backup
First check whether your WhatsApp data is backed up to the cloud. Open WhatsApp > Tap thecog icon for'Settings' in the bottom right corner.
See when the last backup was done. If its too old, tap the'Back up Now' button.
Now Delete and reinstall WhatsApp.
Open WhatsApp and follow the prompts > Enter and verify your phone number.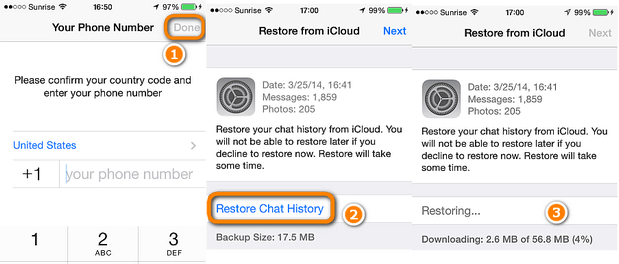 restore whatsapp from icloud
After these steps, the chats will start to restore from iCloud.
Note: You can skip step 3 if you are restoring the backup on a separate iPhone.
1.2 Disadvantages of using iCloud to restore backups
Now although restoring backups using iCloud is straightforward, there are some points which make it somewhat impractical.
For instance, youonly get 5 GB of storage for the backup. Not only that, but this 5 GB is also used to store the data of all other apps that use iCloud for backup. As a result, you are left with even lower storage for WhatsApp.
Now this varies from user to user, but it's almost guaranteed to be less than 5 GB. People share all kinds of media files including videos that end upfilling your storage space way too quickly. As a result, you could risk losing the space to store more important WhatsApp data like personal chats and documents.
To get more storage you'd have to purchase additional iCloud storage which carries a monthly or yearly cost. Or you could use Mobitrix WhatsApp Transfer for backup which comes with free backup and is not limited by the iCloud storage space.
Mobitrix lets you use your PC's storage for backing up and restoring your WhatsApp data. This gives you access tovirtually unlimited space as you can always expand the storage. Although, most PC's already have more than enough space built-in that you'd most likely not need to add storage. I am leaving its download link below:
Some tips about iCloud restore
You could be running into issues when restoring from the iCloud. We have got you covered! These are the troubleshooting steps you can take to fix any issues in both creating and restoring a backup.
2.1 Can't create a backup – Troubleshooting Steps
Here are the action steps you can try if there are any issues with creating a backup on iCloud:
Check if you are signed in with thesame Apple ID that you use for iCloud.
Check if iCloud Drive is switched on. Navigate toSettings > Tap on your name > TapiCloud > Here you can spot if the iCloud Drive is turned on or not >Turn it on if its off.
Same as above if you see it turned on, try turned it off and on again.
Check which version of iOS you're on. If its iOS 9 or below, update toiOS 10 or higher.
Check how much storage you have available on your iCloud. WhatsApp requires availability of2.05 times the size of the actual backup.
If you are using mobile data, it won't backup unless you enable cellular data usage for iCloud.
You can perform a manual backup by opening WhatsApp > Settings > Chats > Chat Backup > TapBack Up Now button.
Finally, you could try backing up using a different internet connection. There might be issues in connectivity on your current network.
2.2 Can't restore a backup – Troubleshooting Steps
Here are the steps you can take if there are any issues when restoring an iCloud backup:
Check if you are restoring from the same phone number and iCloud account you used in the backup.
Check how much storage you have available on your iPhone. WhatsApp requires availability of2.05 times the size of the actual backup on your phone internal storage.
Verify if you haveiOS 9 or later installed.
Try the restoration with adifferent network.
Reset the iCloud backup. Navigate to iPhone Settings > Tap on your name > Tap iCloud > turn iCloud Drive off and on.
Log out of iCloud and restart your iPhone > Log into your iCloud account and try restoring again.
Restore WhatsApp from iCloud to Android
You might be wondering how to restore WhatsApp data to a different platform like Android. For that, the process is not so straightforward, at least not without third-party tools. As there is no official solution to do so.
3.1 Can we restore WhatsApp from iCloud to Android Directly?
Short answer, no.
You may be surprised if you're switching platforms the first time. Because the process is pretty straightforward when restoring on a new iPhone. As we discussed above.
After all, its still the same WhatsApp application on both platforms.
But what's different is the way how both these platforms store the data. The formats are different and that makes the data on one platform incompatible on the other. This goes both ways, from iPhone to Android and vice versa.
So it's not possible to restore WhatsApp from iCloud to Android. Because WhatsApp uses different cloud storage for these platforms as well. For iOS there is iCloud and for Android there is Google Drive.
That said, there is still a quick solution to restore your WhatsApp data from iPhone to Android.
3.2 How to use third-party tools to transfer iCloud data to Android phones?
You can use Mobitrix WhatsApp Transfer as a third-party tool to transfer iCloud data to Android phones. Mobitrix is a specially developed software for not only maintaining backups of your phone but also to make transfers a breeze.
To use Mobitrix, your computer becomes the intermediary in both backing up and transferring data. Here are the easy-to-follow steps:
Download Mobitrix from Mobitrix official page. It's available forboth Mac and Windows.
Install and run Mobitrix > Connect both the iPhone and Android phone to your computer with the USB cables. Make sure the iPhone is selected as the'Source' and Android phone is selected as the'Destination'.
Click on the'Transfer' button and Mobitrix will begin transferring all your WhatsApp data to the Android phone.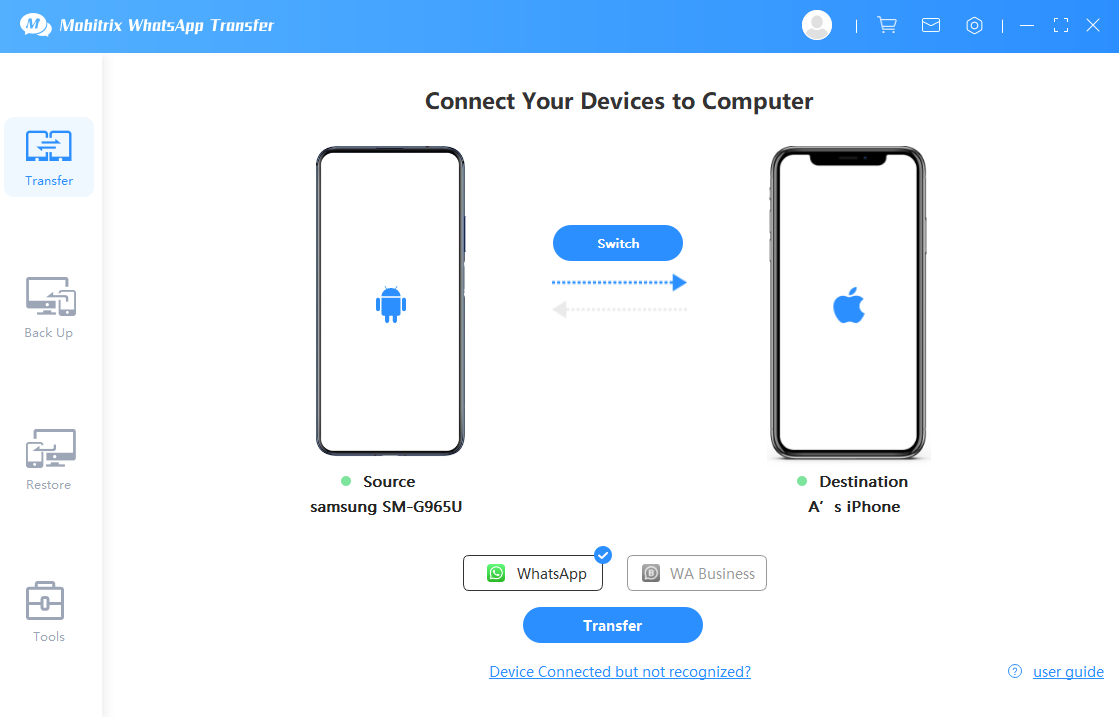 restore backup from Android to iPhone via mobitrix whatsapp transfer
A progress bar will show the transfer, keep the phone connected till its complete. That's it.
Here are some of the features in Mobitrix that make it possible:
Specially designed for all your WhatsApp data needs.
Simple easy to use interface.
The backup feature is completelyfree.
Transfers and keeps a backup of all file types on WhatsApp.
If you are a regular WhatsApp user, iCloud backup can only be enough for a limited duration. Its only a matter of time before you will run out of thelimited 5 GB storage on iCloud. Coupled with all the other apps on your iPhone that use iCloud, you are left with even lower space for WhatsApp.
Mobitrix WhatsApp Transfer solves that issue with almostunlimited storage space for free. Keep on the lookout for special offers on their website. You can get the plans at a discounted rate especially if you buy the yearly package for all features.