Probably you are one of the many individuals that feel that the backup speed of WhatsApp to google drive or iCloud is slow hence the worry about privacy leakage. Calling for a need to backup to local storage on the phone or computer.
Well, this article comes in handy for you. It teaches you how to properly carry out a local backup and in doing so it also makes use of Mobitrix, a third-party tool for the backup process.
Backup WhatsApp to local storage on Android phone
Many are the times that we experience data loss in our Android phones. However, the steps below show how we can avoid this by creating WhatsApp local backup easily.
Open your WhatsApp, then tap on the three dots icon that is on top of your application screen and select the settings option from the dropdown.
Select chats then go to chats backup option and select '1'.
On the chat backup screen, select on Google Drive setting and check the never option.
Now click on the backup option to create a WhatsApp local backup of your data.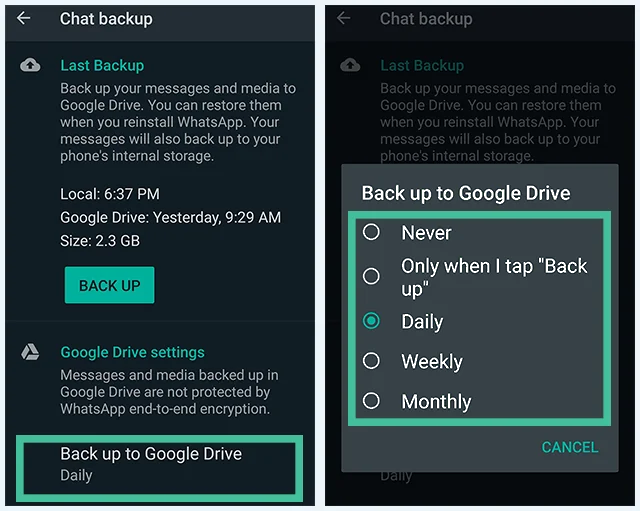 backup whatsapp google drive
With the above steps, a WhatsApp local backup will be created on your SD card (if you have any) or local phone storage in your phone.
In this case, the local backup is more effective over Google Drive as it is more encrypted hence offers more data security.
In an event where you need to access your WhatsApp local backup, just follow the steps below:
Go to your file manager on your Android phone.
Click on your device storage or SD card if you have it on your phone.
Traverse to WhatsApp, then to the database folder. From there you can access the backup of WhatsApp chats.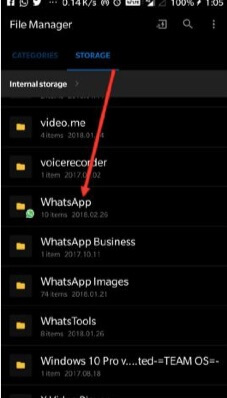 file manager whatsapp
And that's it, you've successfully created and accessed your WhatsApp local backup.
Backup iPhone/Android WhatsApp messages to local storage
Creating a WhatsApp local backup is easy; however, it has its bucket of disadvantages as highlighted below.
Mobile phones have limited storage capacity when compared to computers hence can limit the amount of WhatsApp local backup data that can be backed up.
Mobile phones can be lost easily as compared to computers hence easy chances of losing your data.
For iPhones you can't create a local backup of WhatsApp data, it only allows backing-up to iCloud, hence limiting users.
Considering all the above shortcomings of local backup, we bring to light another better and easy way of creating WhatsApp local backup via Mobitrix .
Mobitrix is one of the best ways of creating WhatsApp backup. The features below make it stand out as the best third-party tool for backups.
It offers free backup storage to your computer, and there is no limitation on the storage.
Easy restoration of your WhatsApp backup without the need of restarting or reinstalling your application.
It supports both WhatsApp Messenger and WhatsApp business.
Mobitrix is compatible with different phone models.
For these reasons, Mobitrix becomes most suitable for WhatsApp local backups. The steps below will guide you on how to install and use Mobitrix.
On your computer download the Mobitrix WhatsApp transfer tool and install it.
Open the tool on your computer and select backup WhatsApp on devices.
Via a USB cable, connect your iPhone or Android to the computer, and once it's detected, click on backup and the WhatsApp local backup process commences. Just wait till it completes.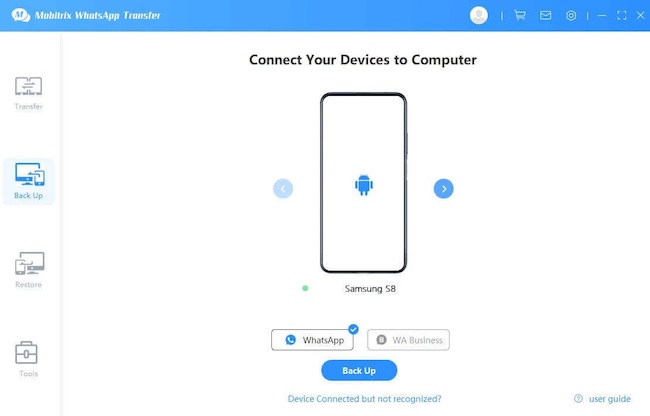 backup whatsapp to pc
The process goes to completion and a completion notification appears, and that's it you've successfully used Mobitrix to back up your data.
In summary, having a local WhatsApp backup is a necessity for both efficiency and data security. Whether stored on your phone or computer, it's advisable to have a local backup for your WhatsApp data.
In particular, Mobitrix is a good tool for this task and offers an easy and friendly backup process hence more suitable for most models of phones.