Our daily routine and activities have made our phones to be part of us thus in an event that our iPhone keeps crashing, this is frustrating and requires a quick fix. This article will cover most of the quick fixes that you need to fix your iPhone.
Part 1: Why does my iPhone keep crashing?
iPhone random crashing results from various issues, some of these issues are:
1. Update errors
2. Malware attacks
3. Driver instability
4. Hardware problems
Now that we know what causes the crashing, it's time we fix it.
Part 2: How to Fix an iPhone keeps crashing?
This article aims at giving you a more focused solution thus, solutions to fix iPhone crashing are arranged optimally. If your iPhone can still be turned on, refer to Methods 1, 2, 3, and 6.1. Methods 4 and 5 are common options that fix small common problems.
If your iPhone is not working due to the random crashing, we recommend you use Method 6.2 to 8 all addressed in-depth below.
Method 1: Turn off the problematic application
If you have an app that keeps randomly crashing yet it's running in the background, you need to kill it as it may be the cause of your iPhone crashing.
Open your iPhone's app switcher and swipe them up and swipe and drag upwards to switch the app.
Quick tip on how to open your app switcher.
iPhone 8 and earlier: Double click your iPhone's home button.

iPhone X and later: From the bottom of your iPhone's screen, swipe up to the center of the screen
Method 2: Clear storage and memory on your iPhone
Freeing up space and memory makes your iPhone more efficient as it reduces its processing abilities and frees the CPU processing.
1. Open Settings.
2. Find Safari.
3. Click the option to clear both history and cache.
Method 3: Update iOS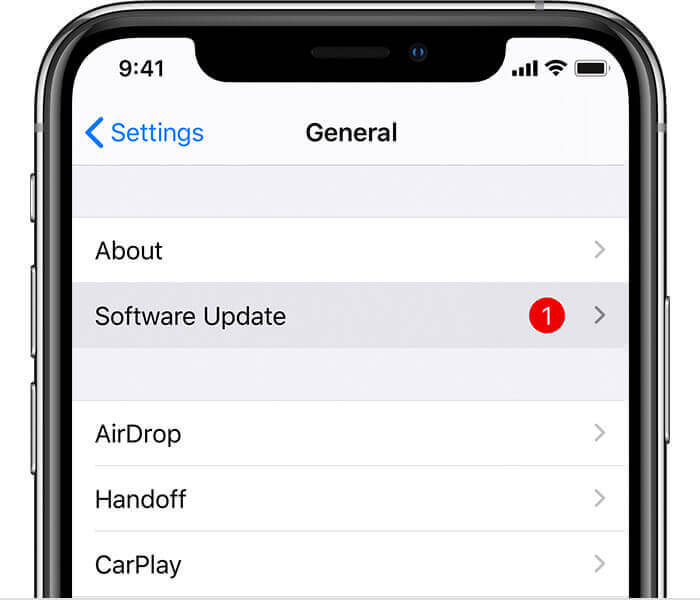 Using an outdated iPhone could be problematic ensure you have an updated iOS version or update through the steps below.
1. Open Settings.
2. Tap General.
3. Click "Software Update"
4. If an update for your iPhone is available, download and install it. If no update is there, you will be notified that your software is updated.
Method 4: Restart iPhone
Restarting your iPhone will give it room to restart all its services correctly killing all apps running and freeing the memory. This might fix your problem.
iPhone X or 11: long-press the volume or side button until a pop-up for power off appears. Drag the slider towards the option for Close. Long-press the side button again until Apple's logo appears.
iPhone SE, 8, 7, or 6: long-press the side button up to when the power off slider will pop. Drag the popped slider towards the option for "Close". Long-press the side button again until Apple's logo appears.
iPhone SE, 5, or earlier: Long-press the button at the top right corner of your phone up to when the power off slider will pop. Drag the popped slider towards the option for "Close". Long-press the side button again until Apple's logo appears.
Method 5: Hard reset
If your iPhone is unresponsive and refusing to restart or appears to be frozen, attempt the forced restart which will make it to quickly power off then restart which can fix the problem.
iPhone 6s or earlier: long press both the home button and the Power button once up to when Apple's logo gets to disappear then reappear, then release.
iPhone 7: Long press the power and down volume button until the logo disappears then reappears.
iPhone 8 or newer: Press then release the button for volume up and volume down then long-press your iPhone's side button until Apple's logo displays,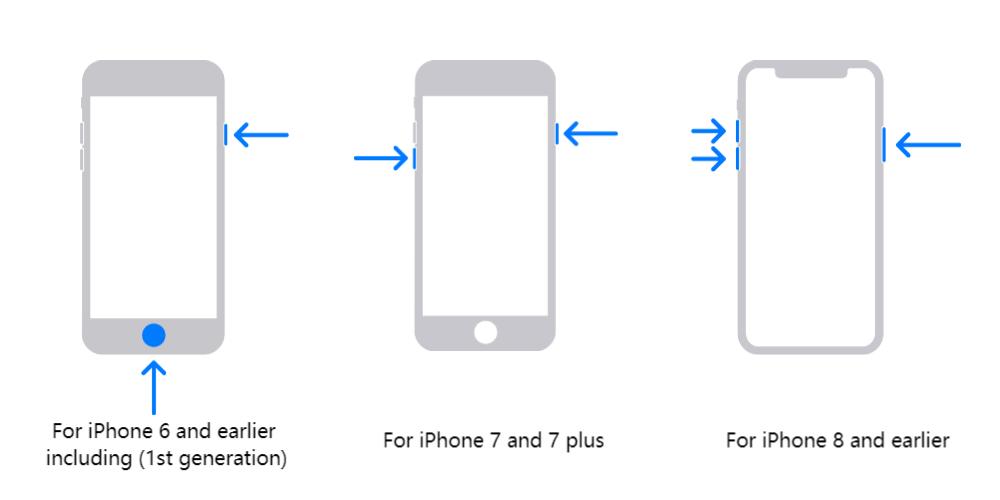 Method 6: Reinstall iOS
If restarting your iPhone did not help to fix your iPhone from crashing, reinstall your iOS.
But first, click here to learn how to create a backup as this method will wipe your data thus, you should first create a backup.
There are various methods you can use to restore iOS.
1.1 Use iPhone:
Here, we estore the iPhone to the default factory settingsr which will reinstall the operating system.
Open Settings.
Click General.
Click Restore.
Select the option to restore all settings and contents.
1.2 Use computer:
Open Settings and click on your iPhone name at the top
A list will display at the bottom of the screen, click on your iPhone
Click "Find my iPhone"
Open iTunes on your computer and via a USB cable connect your iPhone to it.
From the Summary tab, click the option to Restore iPhone
This method will erase all your data and requires you have an updated iTunes installed on your PC.
2. Use an Advanced Tool – Perfix
If you can't even power on your iPhone, you should use Mobitrix Perfix which is a professional iOS system repair tool dedicated to solving iOS and iTunes problems with guaranteed success.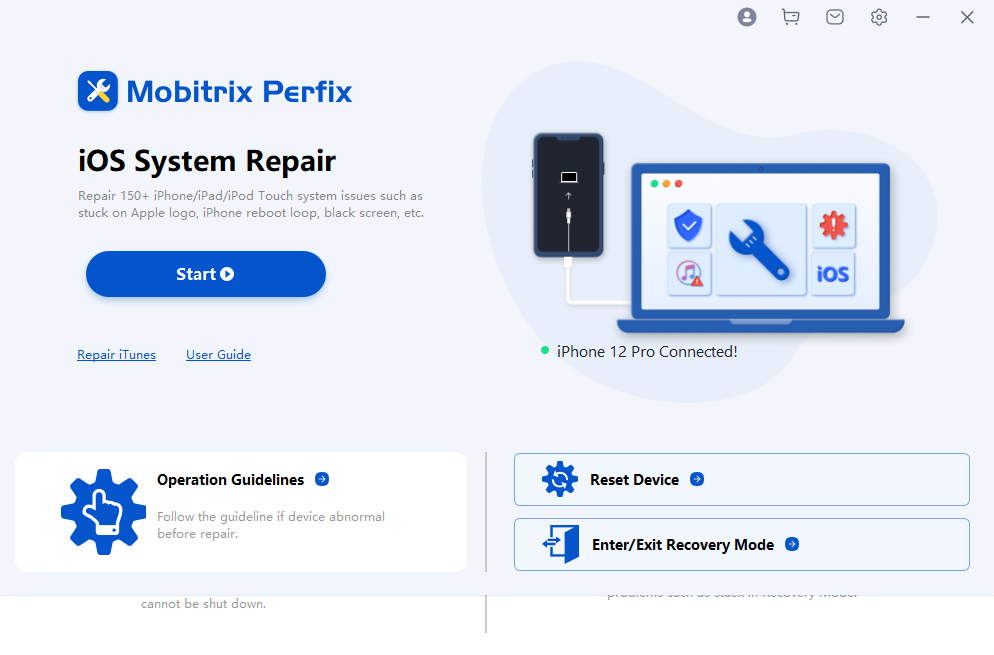 1. Download and launch Perfix on your computer
2. Connect iPhone to the computer.
3. Let Perfix recognize your iPhone.
4. Download the needed firmware.
5. Select option for "Standard Repair Mode".
Advantages of using Perfix are:
No need to download iTunes or Finder
No data will be lost.
Simple steps involved.
It has support for all iOS versions
3. Use DFU Mode
DFU is risky mode but will help to restore your iPhone and fix your problems.
To enter DFU mode, follow the steps based on your model.
For iPhone 6S or earlier: Long press the Sleep button while pressing the home button for like 8 seconds after which you release the Sleep button and not the home button. Keep pressing the home button up to when your iPhone is recognized by the computer.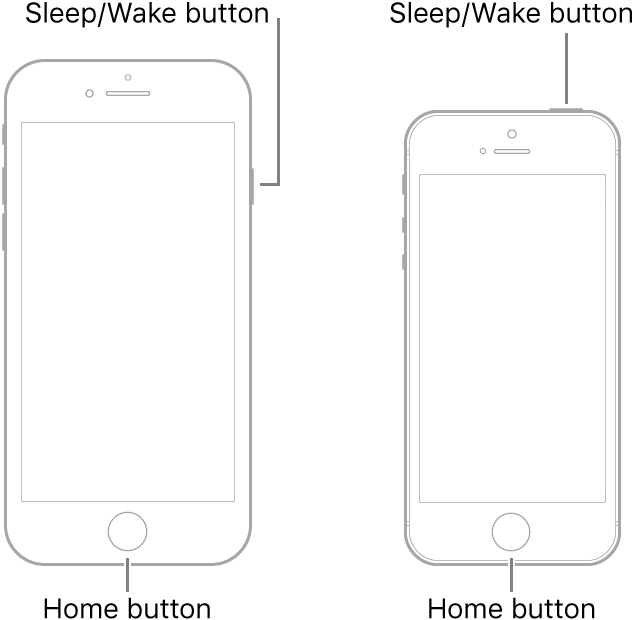 For iPhone 7 or iPhone 7 Plus: Long press the Side button while pressing the volume button for like 8 seconds after which you release the Side button and not the volume button. Keep pressing the volume button until your iPhone is recognized by the computer.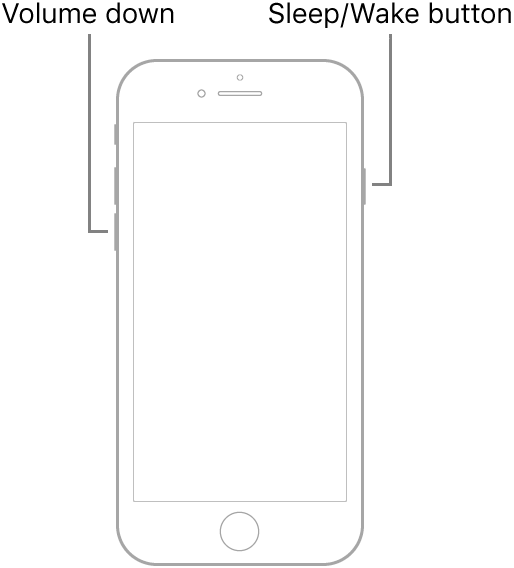 For iPhone 8 or newer: Press the volume up button then release, do the same for the down volume button. Long-press the side button of the phone. Once you see a black screen, long-press the down volume button. Long press these buttons but release the Side button after 5 seconds while holding the volume down button. Follow the instructions that will display.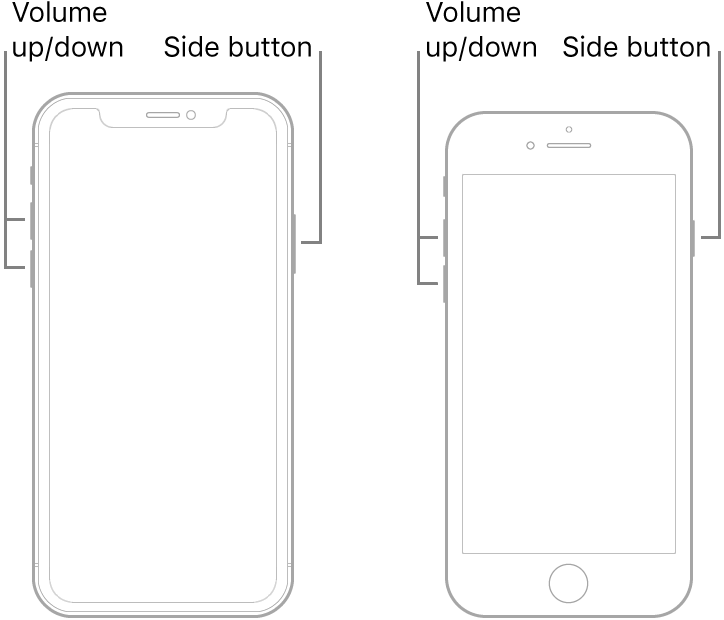 The disadvantages of this method are:
You must have iTunes' latest version installed.
The process is complicated.
Data is lost.
Part 3: What to do if no method worked.
Contact Apple via their official support website or take your iPhone to be repaired at an Apple Store.
Summary
In conclusion, we all need our iPhones to be in good shape and not just crashing randomly as this is annoying and can inconvenience our daily activities thus, we need good and quick fixes for all our problems. With the help of this article, you can fix your iPhone problem but with the help of Perfix you can fix almost all your iPhone problems quickly and effectively.
Seek official Apple help if still stuck.