A hard reset helps you restart your iPhone. It can clear the memory and shut down all the running apps on your device.
If the hard reset method doesn't work for you, you can go for the factory reset option.
Many of my friends seek my help when their iPhone gives them a hard time. Why me? Well, I am a senior smartphone software engineer, and I can solve tons of iPhone problems within minutes.
One of my little-known tricks is hard reset. It's a simple process that can fix many common iPhone issues.
However, there are too many different reset methods available on the internet. It confuses non-techy people, just like my friends.
Given that, I have decided to explain the hard reset method in detail for those in need. Additionally, if hard reset doesn't work for your iPhone, I will direct you to the factory reset method. Let's dive right in...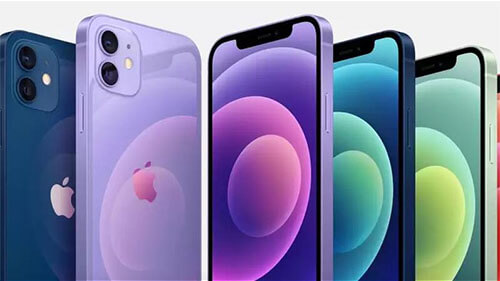 iphone images for beginning one
What Is a Hard Reset?
A hard reset is also known as a force restart. This method is useful when you cannot restart your device in the normal way. Maybe your device gets frozen, or your touch screen doesn't respond.
By performing a hard reset on your iPhone, you can restart your device, clear the RAM, and shut down all the running apps in it, then helping your iPhone get back to normal.
When Do I Need to Hard Reset My iPhone?
A hard reset can help you resolve the following issues on your iPhone.
Your iPhone's battery is draining fast.
Apps are not running properly on your iPhone.
Your iPhone is stuck on the Apple logo.
Your iPhone is frozen, and you are unable to reboot normally.
These problems occur due to various reasons. Maybe there is malware infecting your iPhone, resulting in a software crash. Or perhaps your iPhone is going through a data transfer or an update and something gets stuck etc.
Whatever it is, if you have already tried to soft reset your iPhone(turning off your iPhone and then restarting it) and the problem remains unresolved, then it is time that you try a hard reset.
For the record, hard reset cannot help you resolve the major issues underlying your iPhone. However, it can treat simple software glitches like those listed above. Therefore it's well worth a try.
Now you have understood what a hard reset is. Let's move on to the detailed steps to hard reset an iPhone, which varies for different iPhone models.
How to Hard Reset iPhone?
Hard resetting or force restarting an iPhone is no rocket science. Before you begin, you should be aware of its disadvantages and advantages.
Advantages:
The hard reset is a safe and secure method for your iPhone, as Apple proposes it.
It can clear up minor issues with your iPhone.
Disadvantages:
It may not always be able to fix your iPhone issues.
Your iPhone will be devalued in the market for resale, if you perform hard resets too many times.
Steps:
Force restart iPhone X, iPhone XS, iPhone XR, iPhone 11, iPhone 12, or iPhone 13:
Press the volume up button and release it quickly.
Press the volume down button and release it quickly.
Then keep holding the side button for a while until the Apple logo appears on the screen.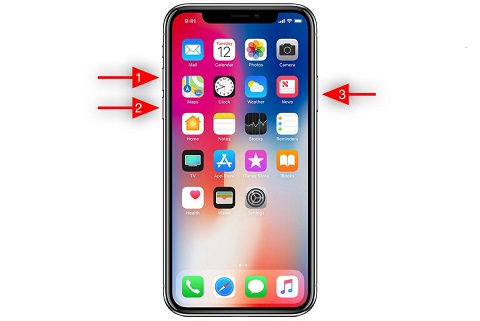 force restart iphone x and later
Force restart iPhone 8 or iPhone SE (2nd generation):
Press the volume up button and release it quickly.
Press the volume downg> button and release it quickly.
Then hold the side button until the Apple logo appears on your iPhone screen.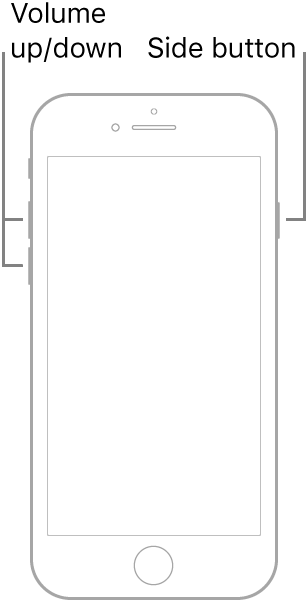 force restart iphone 8 or iphone se 2nd generation
Force restart iPhone 7:
Hold and press your iPhone's sleep/wake button and volume down button together.
Let go of the buttons once the Apple logo appears on the screen.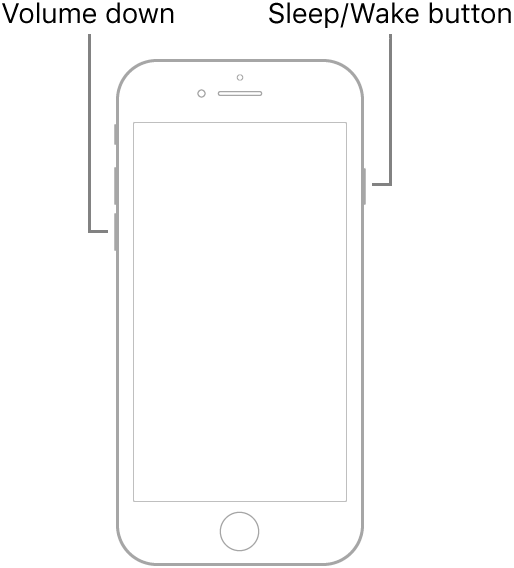 force restart iphone 7 with buttons
Force restart iPhone 6s or iPhone SE (1st generation):
Press and hold the home button and sleep/wake button of your iPhone simultaneously.
Keep pressing them until the Apple logo appears on your iPhone screen.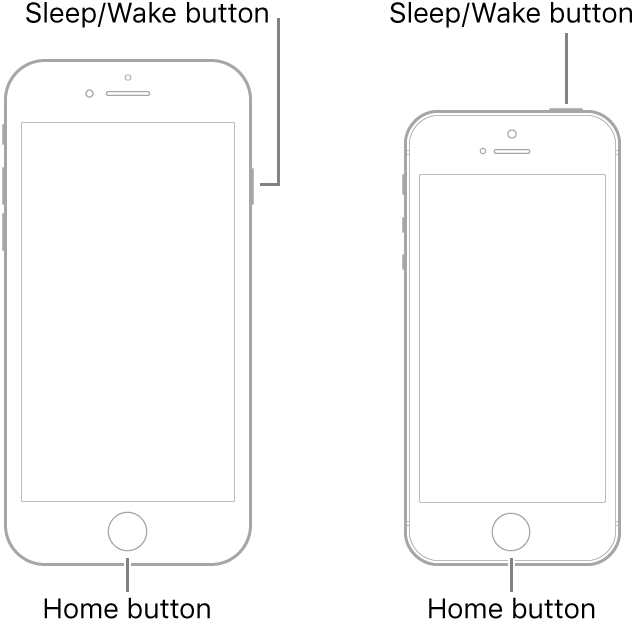 force restart iphone 6s or iphone se 1st generation
Note: Be sure to hold the buttons for at least 25-30 seconds. Most people tend to ignore this step and panic unnecessarily, assuming their force reboot must have failed.
Once a client came to me full of anxiety. She was confused why her iPhone didn't get back to default settings, even after she had performed a hard reset. She meant to give the old phone to her son and wanted no personal data remaining. Obviously she couldn't make it.
I'm sure you get it. She was mistaking a hard reset with a factory reset.
If at some point you want to erase all your data too, say you want to sell your iPhone, that's where the factory reset comes into place.
When to Factory Reset an iPhone?
Unlike hard reset, a factory reset deletes all your settings and data and returns your iPhone to its defaults. Usually, you'll need to make sure you've backed up your important data before doing the factory reset.
If you forget to do so, you will be deleting all your data. Backing up is also helpful to restore your content later when you need it. If you want, you can also restore your previous settings after the factory reset.
There are two main reasons why you should factory reset your iPhone.
Transferring Ownership: A factory reset comes in handy when selling your iPhone. With the factory reset, all your data will be removed, which means your contacts, playlists, pictures, password memory, etc, will never be passed on to the new owner. Your iPhone will be back in its initial condition, just like the way when you first bought it.
Troubleshooting: You might need to factory reset your iPhone, when it's facing critical issues like getting stuck in a loop, or loading super slowly, and you have already tried all the other common solutions, but none of them have worked.
You can follow these specific steps to initiate the factory reset in your iPhone.
How to Factory Reset iPhone
Via Settings
The fastest way to factory reset your iPhone is via settings.
Advantages:
This method is introduced by Apple, so it's safe and secure
You don't need a computer for a factory reset if you do it via settings
Requirements:
Before you start, turn off the "Find My iPhone" feature, which requires your Apple ID and password or your screen password.
Steps:
Go to Settings> General> Reset, then choose Erase All Contents and Settings.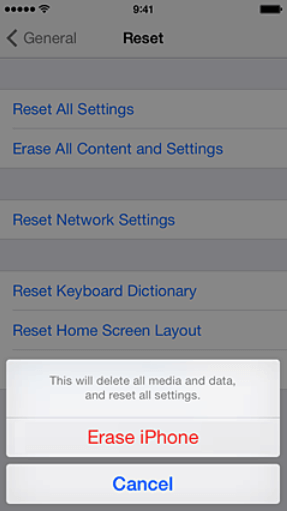 iphone connected to wifi but no internet set up your iphone as new
Note: You will also find some other options to reset, such as "Reset Network Settings."
It can be frustrating if you forget your iPhone's password. Apple requires you to provide your Apple ID and password to turn off your "Find My iPhone." Otherwise, you cannot successfully factory reset your device.
Either you go all the way to the local Apple store and get your iPhone unlocked. Or you can try Mobitrix Perfix. I would suggest you try the latter one. It's a useful tool that facilitates you to reset your iPhone right at home while saving your time.
via Mobitrix Perfix
Mobitrix Perfix can help you factory reset your iPhone in 30 minutes without using any authentication credentials or iTunes.
Advantages:
Fast: With Mobitrix, you only need 30-60 minutes to factory reset your iPhone.
Easy to use: You don't need to be tech-savvy to use it.
High success rate: There is a 95% success rate of performing a factory reset with Mobitrix.
Steps:
Follow these steps to factory reset your iPhone with Mobitrix.
Download and install Mobitrix Perfix.
Connect your iPhone/iPad to the computer.
Click on the " Reset Device" option in the main menu, select the "Factory Reset" option and start the reset.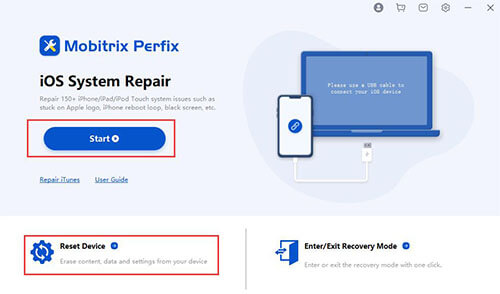 mobitrix perfix start and reset device
You know why I recommend Perfix? After testing dozens of tools for my friends, I find Mobitrix Perfix totally living up to general iPhone users' expectations. It does the reset job within minutes. It's perfect even for people with little to zero technical knowledge.
I often recommend it to my friends who deal with iPhone problems like update, restore errors, and software crashes. It has a success rate of 95% in solving iPhone failures.
There is also yet another method for the factory reset, i.e., via iTunes. Let me brief you on it too.
Via iTunes
To factory reset your iPhone via iTunes, you need to update iTunes to the latest version. Don't forget to back up your content on the iPhone before starting the factory reset.
Advantages:
Introduced by Apple, iTunes is reliable to use and free of cost.
To be honest, even a technician like me would try to avoid doing a factory reset via iTunes. Why? It's way too time-consuming and has a low success rate. Unexpected accidents happen a lot, like suddenly the iPhone cannot be connected to iTunes, or iTunes cannot recognize the iPhone, etc.
iTunes requires your passcode to connect with your iPhone; you can't connect if you don't provide the passcode.
Before initiating the factory reset with iTunes, you must turn off the "Find my iPhone" feature, which is impossible to do if you don't have the Apple ID and password or screen passcode.
Steps:
Sign out from the "Find out my iPhone" feature on your iPhone.
Open iTunes or Finder on your computer.
Connect your device to your computer. Follow the on-screen steps if you receive any message regarding the device passcode or telling you to "Trust This Computer."
Choose your device when it pops up on your computer.
Click on the "Restore device".
To confirm your choice, click on Restore one more time. Your computer will erase your device data and install the latest iOS software.



itunes restore sync iphone callout

Your device will restart after it is restored to its factory settings. You now set it up as new.
FAQs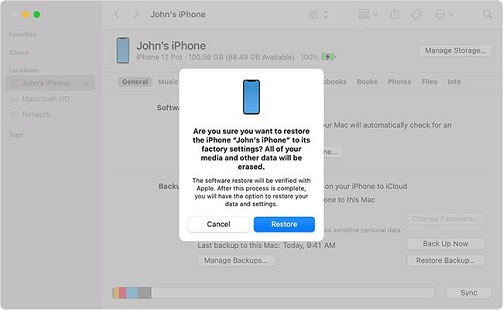 itunes restore sync iphone to factory settings prompt
The methods mentioned above should be helpful for you to walk out most of your iPhone problems. I have provided every detail in terms of resetting your iPhone. If you still have any confusion, check out the FAQs section that I've especially included below.
FAQs

faqs
1.What's the difference between hard reset and factory reset?
These two terms are often confusing, but are entirely different.
A hard reset resembles a soft reset. It's a measure taken to turn the iPhone on or off. Since it's not connected with the iPhone's internal data, sometimes it cannot fix the iPhone's glitches.
On the other hand, the factory reset removes all your data and content from your iPhone. You can reset your iPhone to its initial manufacturing settings. Thus a factory reset is appropriate for solving more complex issues of your iPhone.
2.How to soft reset an iPhone?
A soft reset is the most common way of restarting iPhones. You can either do it via settings or by buttons. A soft reset is a far easier process. You can find out its steps here.
3.What should I do before I factory reset my iPhone?
If you remember your Apple ID and passcode, before you factory reset, you should:
Backup your data: connect your iPhone to your Mac or run iTunes on a pc to create a backup.
Log out from all apps and services: go through each app and log out.
Remove all your accounts: Go to Settings > Mail/Contacts > Calendar > Accounts. Remove all the accounts like your email, contacts, calendar, etc.
Take out your sim card from your iPhone: And if you have an e-sim, don't forget to deactivate it.
4.Can I restore iPhone settings to defaults?
Yes, you can do that even without erasing your content. Before restoring your iPhone settings to defaults, you can choose among the following options.
Reset all settings.
Reset network settings.
Reset dictionary settings.
Reset keyboard dictionary.
Reset home layout.
Reset location and privacy.
Beware, if you choose the "Erase all Content and Settings" option, you will be removing all your data from your iPhone.
I have clarified everything as to hard reset. I bet you know how to perform a hard reset on your iPhone now, and will not be confused between a factory reset and a hard reset.
If you think using iTunes to reset your iPhone is not your cup of tea, you can go for the Mobitrix Perfix. It's easy, fast and secure, and will save you from tons of iPhone-related inconveniences.