How to Fix a Frozen iPhone - 2021 Essential Guide
A frozen iPhone makes the users unable to access services. Usually, this problem is solved by force restarting your device, and it goes back to normal functioning. However, in some cases, a force restart by itself may not solve the issue.
This article has gathered other solutions besides hard restarting to help a user fix a frozen iPhone.
1. Restart your iPhone
Restarting is a simple trick that is always used when an iPhone is frozen. The following are the steps of restarting:
1. Press the power button and hold it for a few seconds.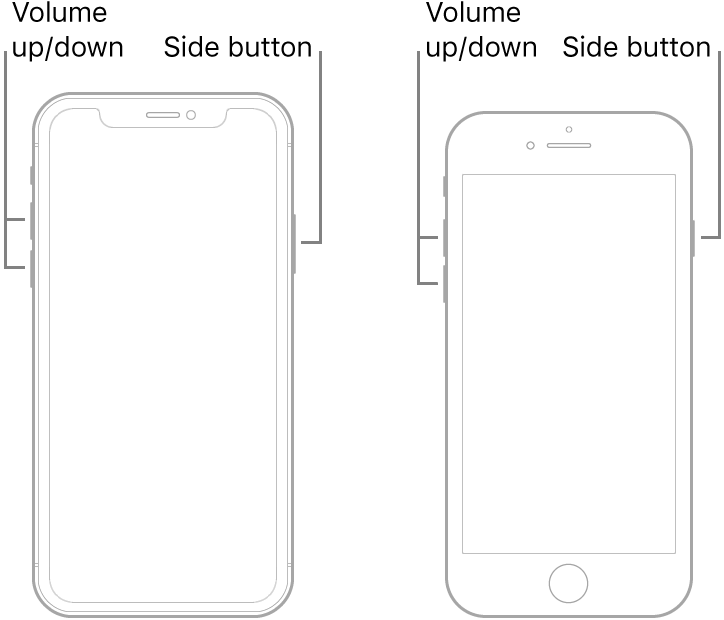 2. Swipe the slider that appears to shut down your iPhone.
3. Please give it a few seconds, then long-press the power button until the logo for Apple can be observed on the screen.
2. Update Apps
Problematic apps may make your iPhone to be frozen. Even a single app that is not updated may cause your iPhone to be frozen. This issue occurs mainly when a manual setting is done.
To avoid checking for updates, you can set auto-updates to update any updates whenever they are available automatically. The steps below will help you to do updates:
1. Go to Apple store > Updates. You will see the apps with pending updates.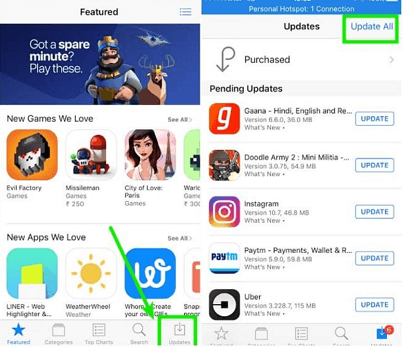 2. Click on apps that need to be updated and update them.
3. Close all background Apps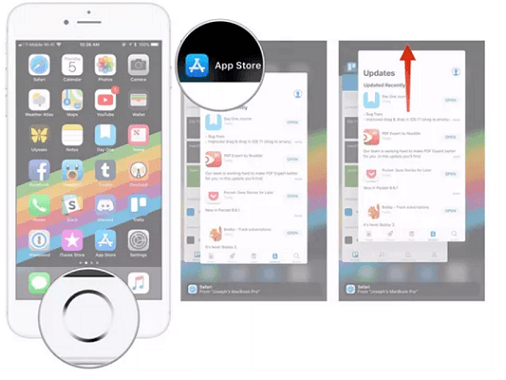 Shutting down all your apps can also fix a frozen screen. To do this;
1. Turn off your iPhone.
2. Press the Home button for around five seconds.
You can also reset specific apps by opening the multitasking screen by swiping up the home screen, finding the frozen app, then swiping up to close the app.
3. Force reboot your frozen iPhone
If your iPhone refuses to restart normally, then a force reboot may fix the frozen screen.
For users of iPhone 7 and 7plus;
1. Press both buttons for power and Volume down for around ten seconds.
2. If the Apple logo appears, ignore it until you see the startup sequence.
For iPhone 6 and earlier versions:
1. Press the Home and Power buttons at the same time.
2. Once the logo for Apple shows up, stop pressing the buttons.
For iPhone 8 and newer versions;
1. Start by pressing the Volume up button, then follow by pressing the Volume down.
2. Long-press the power button until you see the Apple logo.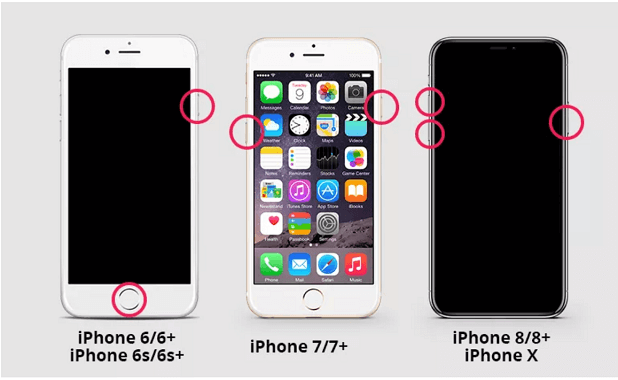 4. Charge your device
If your iPhone fails to restart completely, it may be caused by a lack of battery power. You can plug it into a nearby socket and try restarting it after allowing it to charge for a while.
5. Fix the issue using Perfix
Perfix is a powerful third-party tool that can help users to fix a frozen iPhone. Besides the tool fixing frozen screens, it can also fix an iPhone stuck in random restarts.
Advantages of using Perfix are as follows:
It is a lifetime tool that can fix multiple problems such as low Volume, frozen screen, black screen, etc.
It is very secure, and no data is lost during the process of fixing the frozen screen.
It can fix the frozen screen even when the iPhone cannot operate at all.
It can work well on all iOS devices and even the latest versions.
The steps are as follows:
1. Download Perfix from an official website, install it on your computer, start it, and select "System Repair."
2. Connect your iPhone to the computer and select "Standard Mode."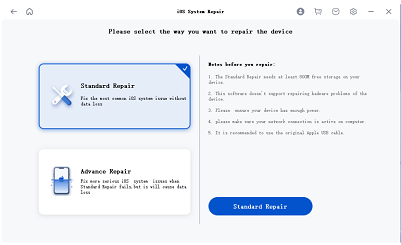 3. Allow the tool to detect details of your iPhone, then click on the "Start" option.
4. Allow the app to download the relevant firmware that is supported by your device. Ensure there is a stable network connection for the process to complete fast.
5. Select 'Fix Now".
Any issue detected by the tool will be fixed, and you will be able to use your iPhone normally again.
6. Update your iPhone via iTunes
Updating your iPhone with iTunes will not cause any data loss. Below is how to go about it:
1. Ensure your computer has an updated version of iTunes, open it, then connect your device to the computer.
2. Choose your device and head to the Summary section.
3. Select the "Update "option, enabling iTunes to look for the latest iOS version.
4. Confirm the pop-up by clicking on "Download and Install" to install the latest version of iOS.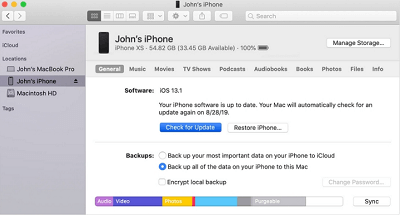 7. Restore iPhone through iTunes
If no method worked for you, you could try to restore your iPhone through iTunes. Although, before attempting this message, first back up your data because all data will be wiped out after restoration.
Steps:
1. Install the latest iTunes on your PC.
2. Launch it, then connect your device to the PC.
3. Press the side button and the Volume up button until the Apple logo is seen. You will see an option saying "Connect to iTunes."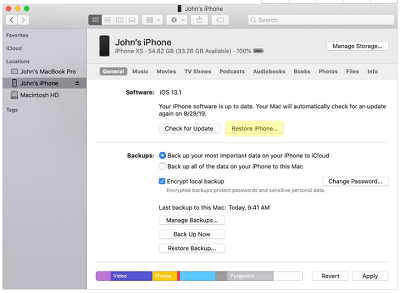 4. Follow the instructions displayed on the screen to restore with iTunes.
8. Put your phone into DFU Mode
Like restoring with iTunes, this method should only be tried when none of the methods described above works for you. All your data will be lost at the end of the process, and if no backup were made, you would lose all essential data.
The following are the steps for using DFU mode: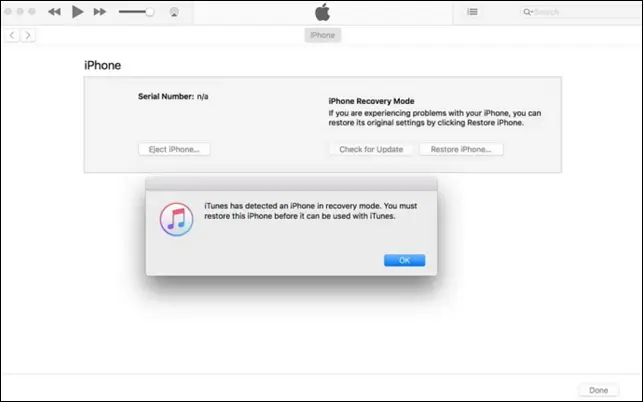 1. Run an updated version of iTunes after connecting your device to the computer.
2. If you are using the iPhone 6s or the older versions, hold the (Sleep/Wake) together with the button for Home simultaneously for five seconds, release the power button alone and hold the other till it goes into DFU mode.
3. iPhone 7 and 7 plus; Find the Home and Power buttons and press them simultaneously for five minutes. Continue holding the Volume down button alone after five seconds.
4. For iPhone 8 and other newer versions; Start by pressing the button for Volume up, leave it and go to Volume down and press it shortly. Press the power button until the screen shuts down, hold the Volume down while holding the power button for five seconds, and let go of the power button alone.
5. iTunes will detect the problem automatically once it enters DFU mode, then restore your device by selecting "Restore."
Summary
To sum up, through this article, we believe that you will fix the frozen iPhone because all the methods gathered here are proven to work.
The main issues that can freeze your iPhone have been mentioned in this article, and this will help you know how to solve the issue.
Perfix is the most recommended way of solving the issue because it has helped many users solve the same issue and is easy to use. Download it today, and you will never regret it.