(2021) Easy Ways to Solve iPad Keeps Crashing
Whenever your iPhone crashes, this is worrying and arises many thoughts most of which are negative such as presuming your iPad is broken.
This article will introduce methods that you can use to fix the problem using different tools.
Part 1: Solve the problem on the iPad
Method 1. Clear all background apps
Sometimes you may open several apps and leave them running maybe you need to access the app several times. In this case, when apps are left running for too long, they can inflict troubles, or even any of them may crash causing your iPhone to keep crashing.
To clear all background apps:
Step1: Go to your home screen and press the home key twice to view opened apps
Step2: Swipe up on an application preview to close individual apps
Step3: After closing all background apps, click the home button to navigate back to the home screen.
This will ensure the smooth running of your iPad.
Method 2: Soft reboot your iPad
You can also restart your iPad softly by doing the following;
Step1: Press and hold both the power and the home button of your iPad until a red slide appear
Step2: Turn off the device by sliding through the slider
Step3: Press and hold the power button until the Apple logo appears
Method 3: Force Restart
If soft restarting your iPad doesn't fix the problem, do a force restart that will abruptly kill all the apps that are running and refresh the iPad. A force restart does not delete any of your information.
Steps
For iPad with face ID; press the button for volume up then release it, do the same for the volume down button then long-press the side button until Apple's logo is seen then release the buttons for the iPad to restart

For iPad with Home button; long press both the sleep and home button until Apple's logo appears.
Method 4: Delete Bad apps
Bad apps can cause your device to malfunction. One affected app can cause the whole system of your iPad to fail to function well and keep crashing. For example, if when using a certain app your iPad shuts down then you can delete the app.
Steps 1: Navigate to settings > General > iPad storage
Step 2: Select the app that you suspect and want to delete
Step 3: Click on "Delete App" and then confirm the prompt
You can also delete bad apps from your home screen by long pressing on the app icon then click on the X on the upper left corner of the application and if prompted to confirm the deletion click "Delete".
You can restart your iPad to refresh it and try to use it normally to see how it behaves.
Method 5: Free up space
If you have some apps that you are not using then you can delete them, clear the app cache, and any other media files that are not useful to you to create some space. Sometimes limited space can make your iPad crash so it's good to free up space.
Method 6: Reset all your settings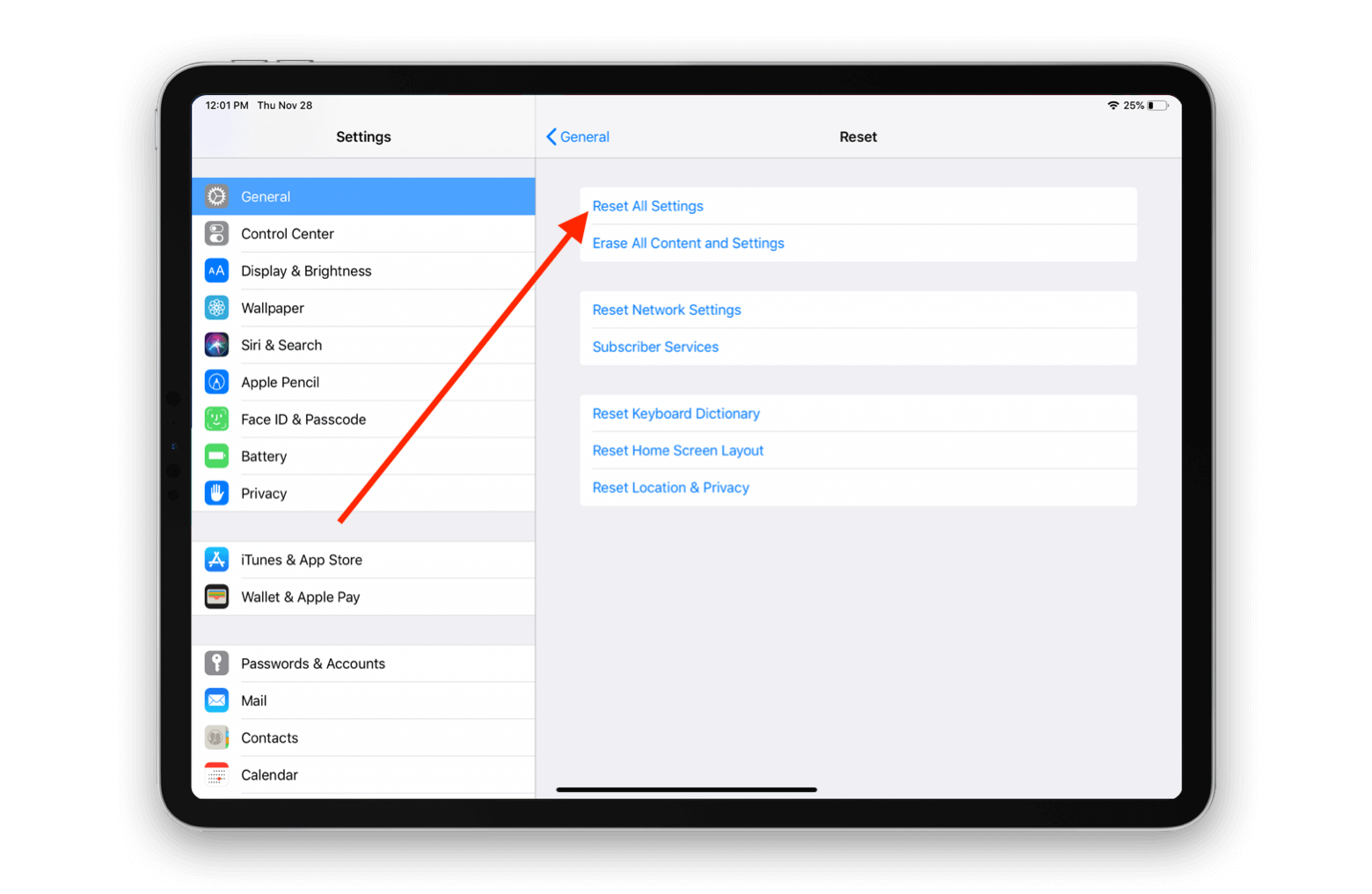 Your iPad having an incorrect setting can make it misbehave especially if it is as a result of an update or a setting modification. To reset without loss of data;
Step 1: Navigate to settings > General > Reset > Reset all setting
Step 2: Key in your passcode to proceed
Step 3: Tap on the option to confirm all settings to reset
Allow your iPad to reset and restore the default values. When resetting is done your iPad will restart and you can now enable the features you want.
Method 7: Check for iPad OS software updates wirelessly
The best thing about this method is that your data will not be lost and there is no other tool required to do the update, just your iPad. However, the new version of the iPad OS will not be the same as the one you used before.
Step 1: Connect your iPad to a power source and connect to the internet through WI-FI
Step 2: Navigate to setting > General > Software Update
Step 3: Click "Down and install" tap continue on the prompt that shows up and iPad OS will reinstall the apps it deleted.
Step 4: Tap "install" to update or you can select later and choose "Install Tonight or remind me later"
Step 5: Enter your passcode when asked to continue.
Method 8: Check for app updates
To check for your applications' updates and update them
Step 1: Open app store > Today
Step 2: Click on your icon profile
Step 3: Navigate downwards and find the "Available updates" option
Step 4: Click "Update All"
Method 9: Check the battery health
As your battery gets worn out it may cause your iPad to keep shutting down abruptly.
On your iPad go to settings > Battery > Battery Health
The page will inform you if your battery requires any service and you will know if you need to replace it.
Method 10: Restore factory default setting on your iPad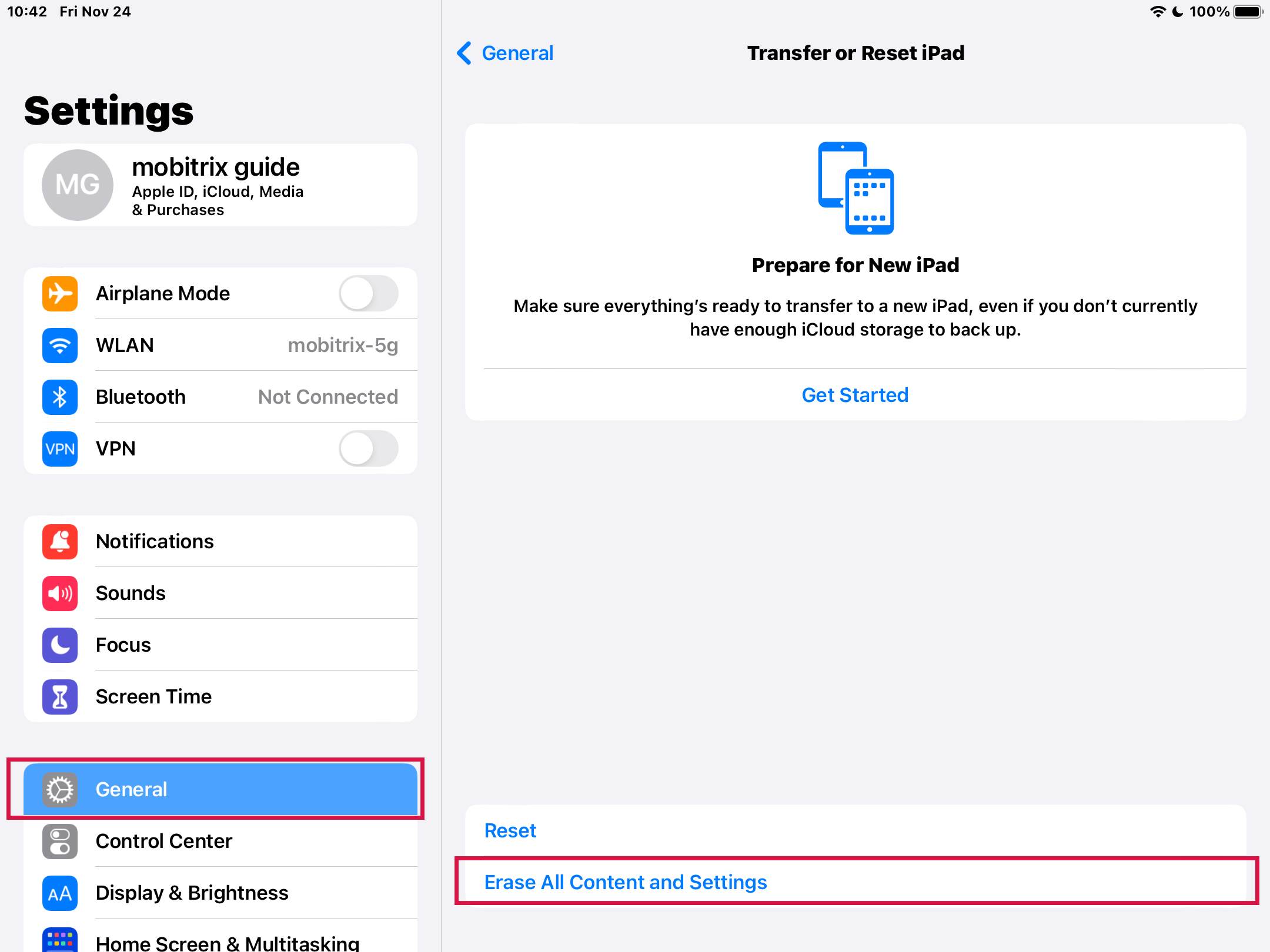 If your problem persists then you can go ahead and restore the factory settings. However, this will wipe out everything in your iPad so it's advisable to back up your data before restoring factory settings.
Step 1: Go to Settings > General > Reset
Step 2: Select "Erase All content and settings"
Step 3: Enter your passcode
Step 4: Confirm full system reset.
Part 2: Solve with Perfix
Mobitrix Perfix is a professional repair software that can solve more than 1000 iPad or iPhone problems safely and easily. Perfix is a good tool to fix iPad crashing issues instantly.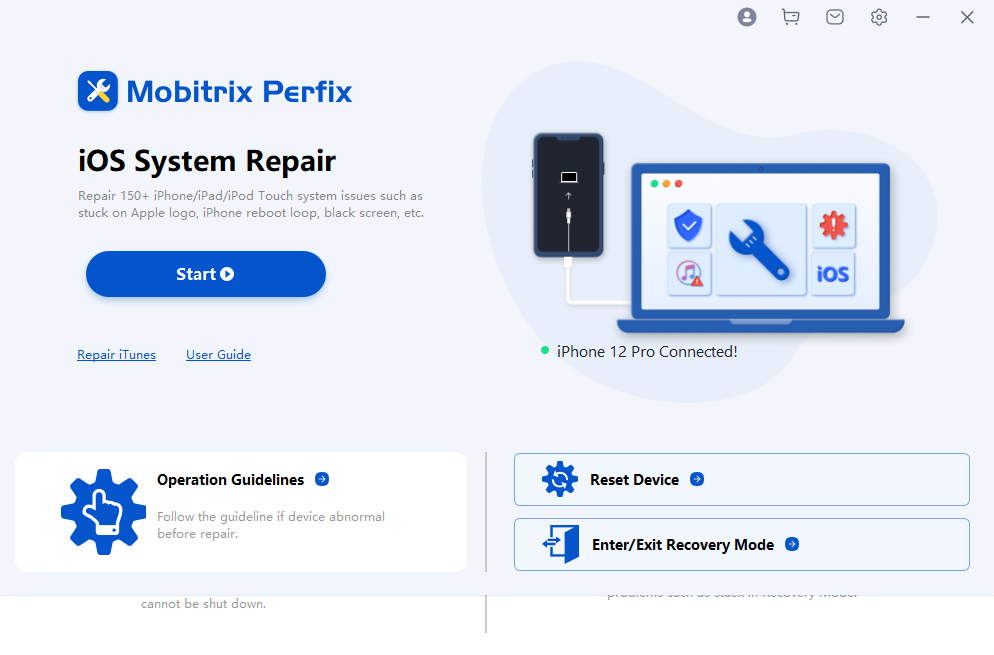 How to use Mobitrix Perfix
Step 1: Download and install Perfix on your PC from the official website, launch it and connect your iPad with computer
Step 2: Select Standard Mode
Step 3: Click to download the needed firmware to fix the iPad.
Step 4: Tap on Start Standard Repair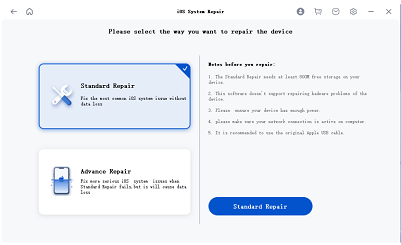 Advantages of Perfix:
All data is saved.
Your frozen iPad will be restored instantly.
No need to use iTunes
Perfix is stable and easy to use.
Perfix supports all versions of the iPad
Part 3: Solve the problem with iTunes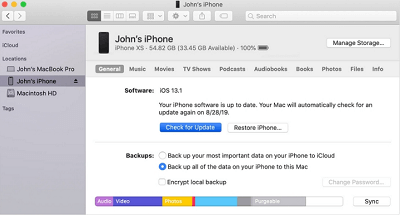 1: Connect the iPad to the computer
2: Select your iPad then click General or Settings.
3. Tap "Check for Update".
4: Tap "Download and Update"
This method fixes the iPad crashing problem without data loss and is the official recommended way by Apple.
However, iTunes is user-unfriendly, takes time, and may fail to recognize your iPad.
Method 2. Update while in DFU mode
Step 1: Connect iPad with iTunes on computer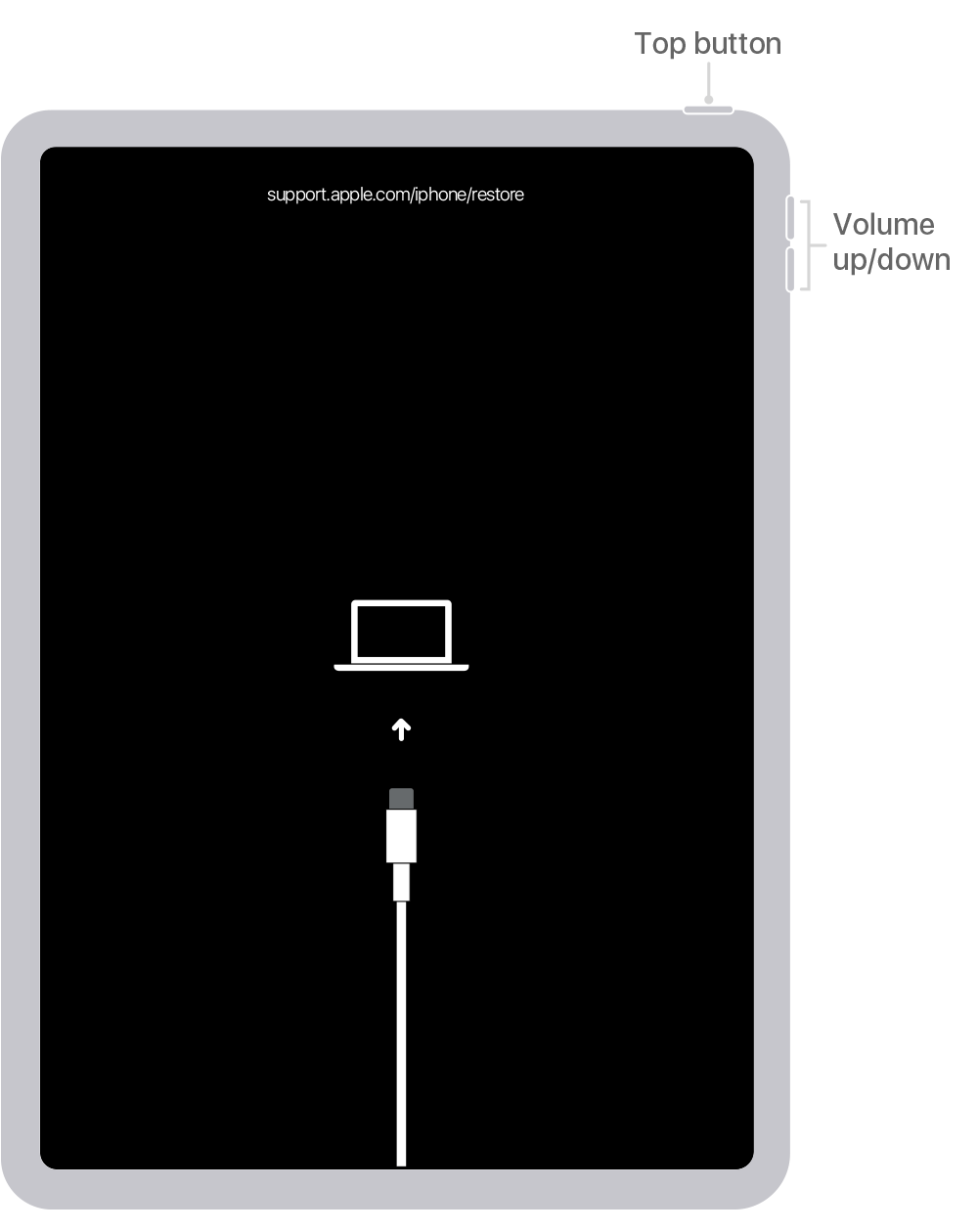 Step 2: Enter DFU mode
For iPad models without a Home button: Press then release the button for volume Up. Press then release the button for volume down. Long press your iPad's top button up to when your iPad starts to restart. Keep holding the iPad's top button and release it when it enters recovery mode.
If the iPad has a Home button: Long press both the top and home buttons once. Keep holding until it enters recovery mode.
Step 3: Choose to Update and click OK in iTunes
Step 4: Press Update iPad
Your data will be lost so ensure you create a backup before.
1: Connect iPad with iTunes on computer
2: At the top left, click on your iPad button.
3: Select Summary.
4: Tap Restore Backup
5: Click Restore
The problem will be fixed without losing your data. However, it only applies if you had an iTunes backup.
Step 1: Connect iPad with iTunes on computer
Step 2: At the top left, click on your iPad button.
Step 3: Select Summary
Step 4: Select Restore iPad
Step 5: Click Restore
All your data will be lost so ensure you create a backup
Step 1: Connect iPhone with iTunes on computer
Step 2: Enter DFU mode.
Step 3: Choose Restore and click OK in iTunes
Step 4: Press Restore iPad
Part 4: Turn to professional help
To use professional help.
Method 1: Visit Apple's website and request for help
Method 2: Visit Support Communities of Apple to view problems fixed or post your issue. This method can take time before someone responds to you.
Summary
To sum up, there are many methods addressed in this article that you can use to fix your crashing iPad however, it's time-consuming trying to check the real cause of these random restarts. Using Mobitrix Perfix will solve your problem in a time-saving manner.