iPad Cannot be Switched Off? Fix It by Easy Steps!
Is your iPad giving you trouble when switching it off? Well, you don't have to worry because this article got you covered.
The article has gathered all the ways that you can use to help you switch off your iPad when it has refused to do so. The article has gathered the steps for each method, making it easy for you to switch off your iPad.
1.Reboot your iPad
Restarting your iPad is a good trick in solving most iPad problems. Therefore, when your iPad refuses to switch off, it is advisable to reboot it as long as you can access the sleep/wake button.
To reboot iPad that has the Home button:
Go to the button for Sleep/Wake and hold it for about ten seconds.

Drag the slider that pops up, then press the button for sleep/wake until Apple's logo pops up.
For iPad with Face ID, reboot by using the steps below:
Through the button for Volume or top, press it till you can see the slider.
Please turn off your iPad by dragging the slider, then press the power button to turn it on.
Although this method does not guarantee you to work, it is a simple trick that you may want to try. You can then try to switch it off normally to check if it worked.
2.Use Settings App to turn off your iPad
This is an easy way to solve the issue of your iPad refusing to turn off. Software issues like the failure of the power button may cause your iPad to refuse to switch off.
If that is the case, iOS 11 and later versions allow you to switch your iPad from the Settings application without using the power button.
The following are the steps for turning your iPad from the settings app:
Step 1: Launch the application for settings, then go to the General section.
Step 2: Select the option for shutting down.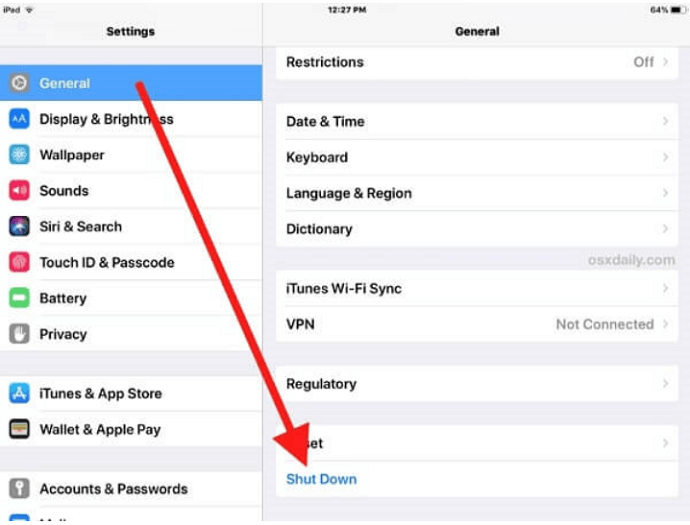 Step 3: On the slider that shows up, drag it to switch off your iPad.
3.Use the Assistive Touch
Using Assistive touch can also help you switch off your iPad if the button for Power is broken. However, this feature has to be activated first before using it. To enable the feature and switch off your iPad:
1. Visit Settings > General > Accessibility, then enable Assistive Touch.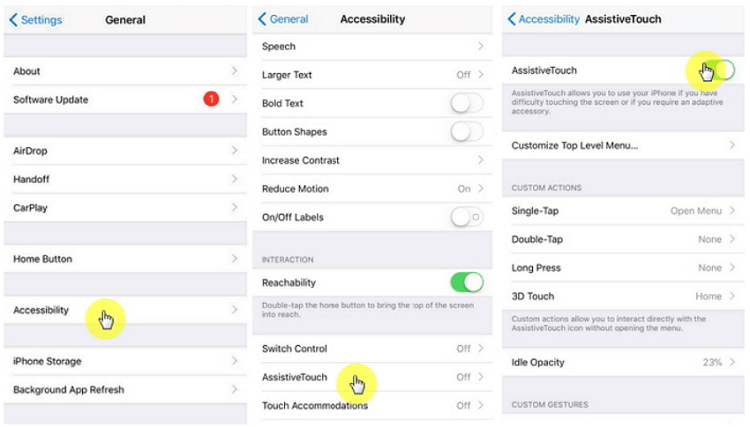 2. Click on the square-shaped icon, tap on Device, then long-press the Lock Screen.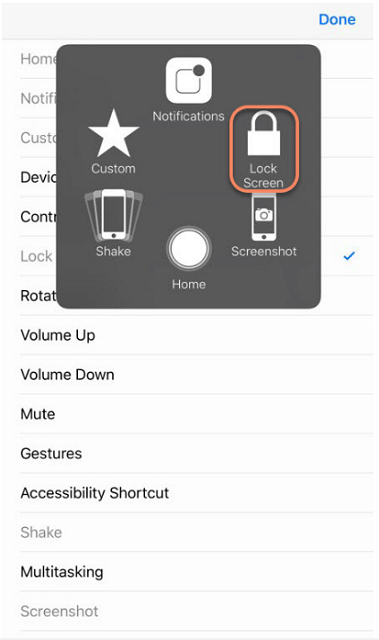 3. A slider will appear. Drag it to switch off your iPad.
Take note that if the power button is not working, then it means that you will not be able to turn on your iPad after switching it off.
4.Set Auto-lock
Setting Auto-lock and unlock your iPad is another way of switching off your iPad. The steps are as follows:
1. Visit Settings, then on the General section, select the option for Auto-lock. If it is set to "Never," please change to another option like "5 minutes". Give your iPad the time that you selected and see if it will turn off automatically.
2. Ensure that you enable Lock/Unlock in the general sections of the Settings app.
5.Enable Airplane Mode
Your iPad may be downloading some files, which may make it refuse to turn off. You can enable airplane mode so that the connection is lost and the files stop downloading.
Step 1: Visit the Settings app on your iPad.
Step 2: Select Airplane mode.
Step 3: Give it a few minutes, select the mode again to disable it, and check if your iPad can switch off.
6.Update the iOS system
If your iPad has an outdated iOS version, it may make it fail to switch off. Therefore, you can try updating the iOS version then try to switch it off.
To check for the updates:
Visit Settings, select the General section, then head to the Software Update section. If there are any updates, go ahead and install them.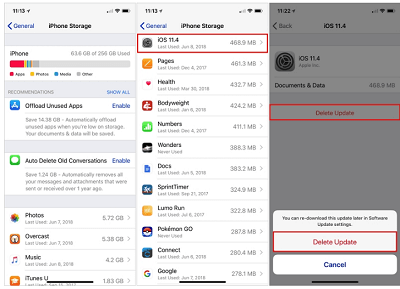 7.Force quit an errant App on your iPad
If an errant up refuses to shut down, you can try using this method.
You can force it to shut down by pressing the Sleep/Wake button until the red slider for Power pops up. Long press the home button for a few seconds before releasing it.
8.Reset your Device
Resetting your iPad is a good way of making it function normally again. However, this method will erase your data on the iPad. Therefore it is essential to back up all your data first before restoring factory settings.
1. From the home screen, go to the application for settings.
2. Find the General option and search for the Reset option and click on it.
3. Confirm your action by clicking on "Reset All Settings" to set it to factory settings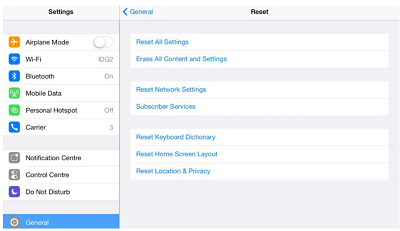 9.Fix the issue effectively and effortlessly Using Perfix
Perfix is an efficient way of fixing an iPad that can't switch off and other problems such as the iPad getting stuck on random restarts.
This tool has many advantages that make it suitable and the most recommended, as shown below:
It is easy to use when compared to tools like iTunes.
It works well with all iOS versions, even the latest.
All your data is well protected during the process.
It can fix the issue even when your iPad is not functioning at all.
It is a solution to many other issues such as frozen screens and low Volume.
The steps to follow are as follows:
1. Download Perfix, install it on your computer, then open it.
2. Select the "Standard Mode" from the home screen of Perfix and select the "Next" option after connecting your iPad to the computer.
3. Select the model of your iPad and the firmware version, then hit the "Download" button.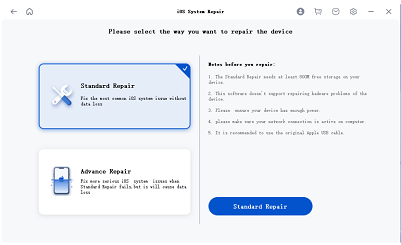 4. After the download is complete, tap on the "Start" button.
Your iPad will be repaired at the end of the process, and you can access any service you want. You can try to switch off your iPad normally and see if it worked.
10.Put your iPad into a recovery mode and restore through iTunes
Performing a recovery mode restore process may help you fix the iPad refusing to shut down. To do this, follow the steps outlined below.
1. Use a cable provided by Apple to connect your iPad to a computer.
2. For iPad with home buttons, press the buttons for Home and Sleep/Wake simultaneously.
3. For other models, start by pressing the button for Volume down quickly, leave it and press the Side button for a while.
4. Go ahead and press the Sleep/Wake button for iPad models with home buttons and the side button for other models until recovery mode shows up. Release the buttons only when the logo for Apple fails to appear. Otherwise, repeat the steps to ensure you are n recovery mode.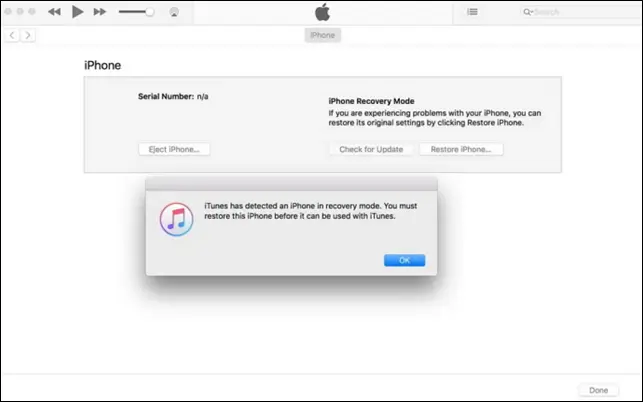 5. On the prompt by iTunes to Restore or Update, hit the Restore option. If your iPad exits the recovery mode, repeat the steps above.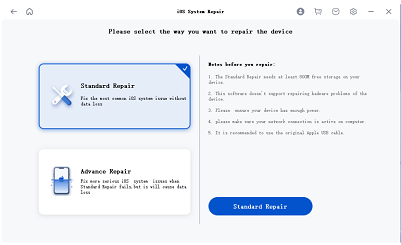 Set up your Device at the end of the process, and you can choose to restore the previous backup.
11.Put your Device into DFU mode through iTunes
If, after trying all the other methods above, none of them works, you can proceed and try this method. This method deals with fatal issues meaning it can only be used when no other way works.
Before trying this method, ensure that your iPad has no physical damage at all because this method may lead to permanent damage.
The steps are:
For Home buttons iPads
1. Connect your iPad to a Mac or PC through a cable and open iTunes.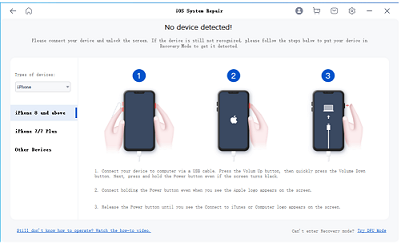 2. Simultaneously press the buttons for Home and either Sleep or Wake.
3. Release the Sleep/Wake button after 8 seconds but still hold the home button until your iPad is recognized in iTunes.
4. You can release the home button when the iPad has been recognized by iTunes and follow instructions shown on the screen to restore your iPad.
For other iPad models, put your iPad into DFU mode by following the steps below:
1. Connect iPad to a computer.
2. Press the Volume up button shortly, then release it.
3. Press the Volume down button shortly as well.
4. Use the Side/Power button and hold it until the screen is black.
5. Long-press the button for Volume down while pressing the Power or side button.
6. Keep holding for 5 seconds, then release the Power/Side button but keep holding the button for Volume down till iPad enters DFU mode.
7. You can then release the Volume down button and follow instructions on the screen to restore your iPad.
Summary
To sum up, the article has shown you the possible ways that you can use to switch off your iPad when it has refused to switch off.
With all the methods provided here, we believe that your issue has been solved because these methods are proved to solve the problem.
If you want to try a more efficient method, you can try Perfix. As explained in the article, Perfix has many advantages that make it the best option. Try it today, and you won't regret it!