If your iPad screen is not responding, you can hard reset iPad with the button.
A hard reset can help fix minor iOS issues, but will reduce the market value of your iPad.
Hard reset does not delete your iPad data, but factory reset will. Don't mix the two.
Hard resetting an iPad can help you fix glitches like lagging and screen freezing. But how do you properly hard reset an iPad? Does it have any harmful effects on the device?
If you need to know the solution to these questions, don't worry, this article has all the answers. You will learn how to perform a hard reset and some alternatives if hard resetting doesn't solve your iPad's issue. These steps are simple, and no technical knowledge is required. Let's dive in.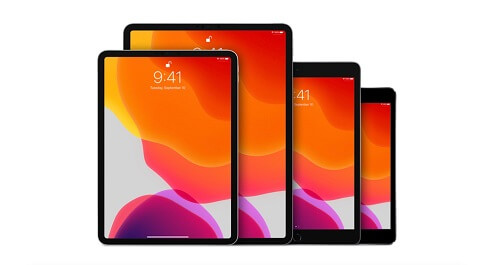 What does "hard reset iPad" mean and when do you need it?
A hard reset is also known as a 'forced restart.' It restarts the device, clears the working memory (RAM), and shuts down all running apps. So, does hard resetting iPad erases and clears all your data? No, lovelies! All your data is completely safe.
You can think of a hard reset as an alternative to restart your iPad when the normal restart doesn't work. For example, normally you can swipe the iPad screen to turn it off. But if the device freezes and the touch screen doesn't respond, you can't do so anymore. Hard reset comes in handy in such cases.
How to Hard Reset iPad?
Just one more thing, before hard resetting your iPad, you'd better understand the pros and cons of this method. And I've got you covered!
Advantages
It's a quick, easy, and free way of resetting the iPad.
It doesn't erase any data from the device.
Disadvantages
It may not always work.
Hard reset decreases the recycling value of your device, which will go down more and more every time you perform a hard reset.
The steps to hard reset your iPad are different for models with a home button and those without one. Here are the steps for both:
iPad with home button
Press and hold both the home button and the power button/top button at once.
Keep holding the buttons until your iPad restarts.
iPad without home button
Press volume up and then volume down button.
Keep holding the power button until the Apple logo appears.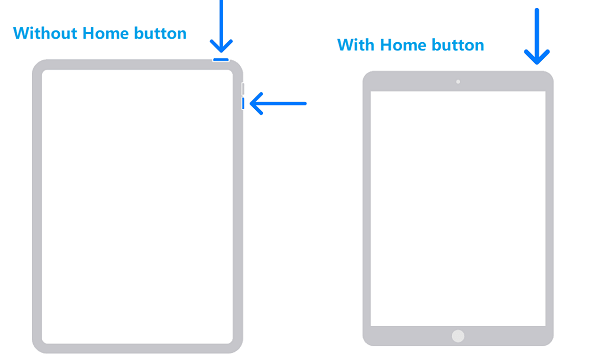 iPad With and Without Home Button
If a hard reset doesn't fix your device's problem, the next option is to perform a factory reset. You might have heard a bit about it. Anyway let me explain what factory reset is, what it does, and the various methods to factory reset your iPad.
About iPad Factory Reset
Factory reset is the process of completely restoring the iPad to its original condition, just like it was when you first purchased it. That means it will erase all data on the device – photos, music, contacts, messages, and everything else – and restore all settings to default. If you don't want to lose your data, then factory reset may not be a great option.
But in certain cases it can be useful, or may even be the only option, such as:
When your iPad is having issues that can't even be solved by hard reset, or if it doesn't reset at all in the first place. In such cases, factory reset is like a last resort to restore your device. (To be prepared for such a worst-case scenario, I'd recommend that you backup the device data on the cloud from time to time)
When your device is stolen or lost and you want to remotely reset it and clear all your private data;
When you're reselling the device or handing it over to a new user and want to erase everything from the iPad.
Now you know enough about factory resetting and when it may be necessary. Keep reading to find out the detailed steps.
Method 1: Reset iPad via Mobitrix Perfix
I prefer using Mobitrix Perfix when I need to resolve issues such as iPad frozen or showing black screen, or even when I forget the password and can't unlock the device.
What is Mobitrix Perfix and what does it do?
Mobitrix Perfix is a professional tool capable of resetting iPad efficiently without causing any potential loss. It can also repair 200+ iPad issues, be them big or small, without compromising your iPad data security.
The tool fully supports all iPad Pro, iPad Air, iPad mini, and iPad models, as well as iPadOS 17 and earlier versions. And it flaunts a 1-click to Enter/Exit Recovery Mode for free. Even better, it doesn't need iTunes and doesn't ask you for any authentication.
Steps to Reset iPad with Mobitrix Perfix
Download and install Mobitrix. (It's free!)
Next, connect your iPad to the computer with the USB cable. Open Mobitrix, click on "Start."
It will show you the issues with your device. Click on Standard Repair.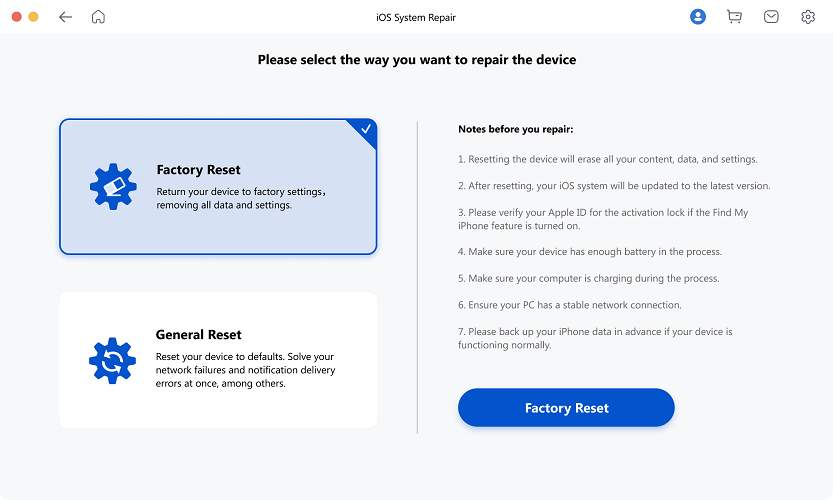 Mobitrix Perfix Standard Repair - Select Standard Mode
Trustpilot
Why Do I Recommend Perfix?
The repair normally takes only 30 minutes.
The standard repair option flaunts a 95% success rate to fix most issues.
It keeps your data safe.
It repairs 200+ iOS/iPadOS/tvOS system problems.
It is super easy to use and beginner-friendly.
VOILA! You are done. Didn't I say it is pretty simple?
If you want to explore more options, I'll show you some more methods to factory reset your iPad such as Apple's approach. However, before that, there are some steps you should take to prepare for the factory reset, so let's check them first.
Having cleared these things, let me guide you through the steps to factory reset an iPad.
Method 2 Factory Reset A Working iPad
Factory resetting an iPad via the Settings app is the easiest way to restore it to default settings. However, you will also lose all data and settings, which is why regular backups are essential.
In addition, you will need to disable Find My before erasing the iPad. To do this, go to Settings > Device name > iCloud > Find My iPhone > Turn off.
Advantages:
It's an easy and secure way to restore your iPad
Disadvantages
You need the passcode of your iPad and must have access to the device to reset it from within the iPad's settings.
Steps to factory reset the iPad:
Go to Settings and then General.
Click on the Reset option.
Then click on "Erase All Content and Settings". This will restore the device to its original condition and clear all data.

ipad restores factory settings

Enter your passcode to authorize the reset.
Provide your Apple ID password to remove your Apple account from the iPad.
Tips:
The last step is crucial if you intend to sell the iPad. Otherwise, the buyer may be locked out of using the iPad by the activation lock.
Method 3 Using iTunes To Factory Reset iPad
You can use iTunes to restore your iPad, which works the same as a factory reset. With this feature, iTunes fixes the iPad by erasing it and then updating it to the latest version of iPadOS.
Although this method will delete everything on your iPad, it's not a big deal if you have backups in advance. Once the erase is over, you can use the backup to restore your data.
Advantages
It's a free and secure method provided by Apple to reset iPad.
Disadvantages
It's time-consuming (it can even take a few hours).
It requires your device passcode or your Apple ID/password.
Steps:
Connect your iPad to the computer.
Open iTunes on the computer. You may get a prompt asking about your device's passcode, so enter it.
You should see the name of your iPad on the iTunes application. Click on it.
Then under the General tab, click on Restore.
A pop-up will be displayed to ask for your confirmation. Click on Restore again, and it will reset your iPad to factory settings.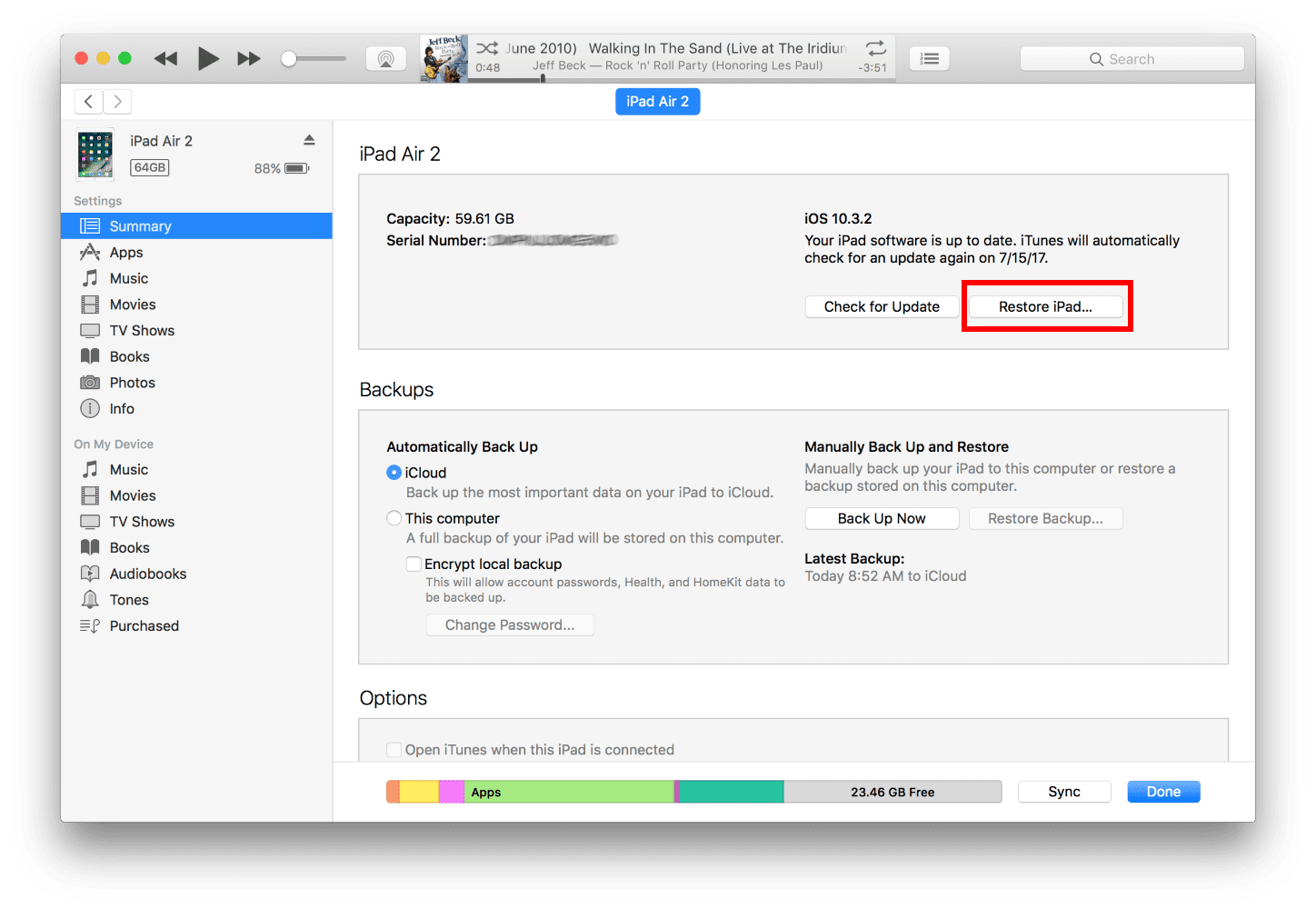 restore ipad with itunes
I've always enjoyed the features of iTunes, but honestly, I don't think it's an efficient way to reset your iPad. And if you don't have a computer, this method won't be possible. So I'll show you one more option to reset your iPad, one that doesn't need a computer.
Method 4 Using iCloud To Factory Reset iPad
So, what if your iPad gets stolen? Or what if you accidentally end up leaving it on public transport? In cases like these, you can protect your confidential data remotely by clearing everything from your iPad with iCloud.
Advantages:
It's a free, easy, and secure method to reset iPad.
The best thing is that it lets you reset the device remotely.
Disadvantages:
The iPad you want to reset must have Find My iPad feature turned on.
The iPad must have an active internet connection.
You need the Apple ID and password of the iPad to reset.
Follow these steps:
Go to https://www.icloud.com/ and then click on Find My.
Click on All Devices , and from the list of devices, choose the iPad that you want to reset.
Then click on Erase iPad .
Next, enter the Apple ID and password of the iPad.
If the iPad is active, the reset process will start right away. If it's offline, the reset process will initiate as soon as it's activated.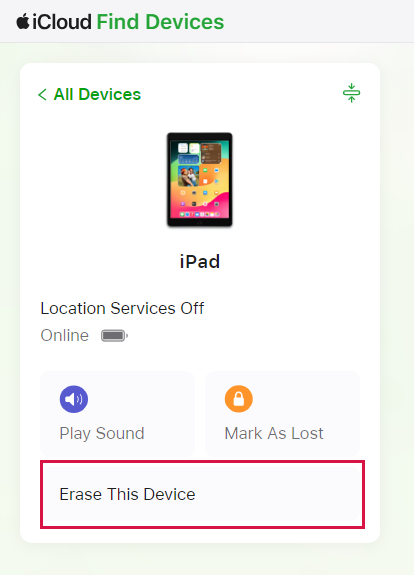 erase ipad on find my
So these are all the methods of performing hard reset or factory reset on your iPad. Each method is equally useful based on the circumstances and the reason you want to reset your device. Finally, I have prepared some quick FAQs about resetting an iPad which you might find useful.
FAQs about iPad Hard Reset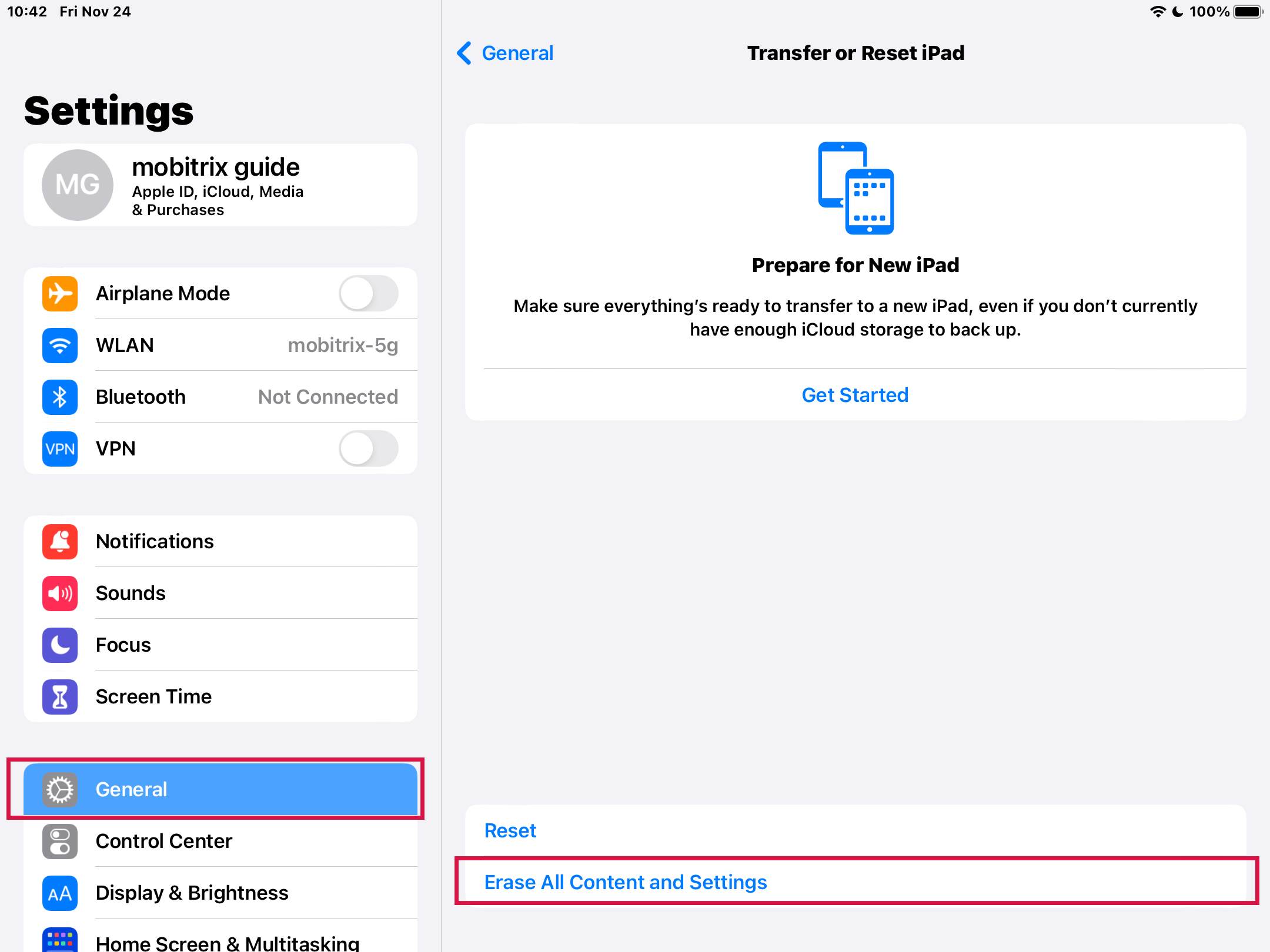 ipad restores factory settings
1. Will the methods explained above work with all iPad models?
Some methods remain the same for all models, while some options may vary depending on the models I explained above. However, the good news is that Perfix works for all models.
2. How to soft restart iPad?
Soft restart for iPad requires you to press the Home, Power, or Volume buttons. The exact steps vary for models with a Home Button and those that don't. You can find the steps for both types of models in Apple's tutorial here.
3. Does hard reset improve or decrease an iPad's battery life?
There isn't any concrete evidence that associates hard reset with the battery performance of an iPad in the long run. However, since hard reset closes all apps and frees the working memory/RAM, it does take the load off the device's battery usage so it can help in the short term.
4. Will a hard reset erase all data and settings on my iPad?
No, a hard reset is similar to restarting your iPad and doesn't delete any files or change your settings. It only clears your iPad's memory and applications. A hard reset differs from a regular restart in that you need to use the iPad's physical buttons.
5. How can I factory reset my iPad if it is locked and I cannot access it?
You can use the iTunes and iCloud methods listed above. These techniques do not require you to unlock your iPad's screen, but you must have your Apple ID and password.
We've mentioned in detail how to hard reset iPad, and the operation that goes deeper than that, the iPad factory reset. Among all reset methods discussed above, the one I recommend the most is Mobitrix Perfix, which you can use to reset your iPad efficiently. Or even if your iPad is malfunctioning, Perfix can help you fix it easily.
In short, no matter how you want to reset your iPad, now you know what to do.