Is your iPad unresponsive, buggy, or running slow with short battery life? And are you having trouble updating or restoring it in the normal way? You might want to put your device in recovery mode and attempt a complete fix.
Or sometimes your iPad is somehow stuck in recovery mode, and you don't know how to return it to working order?
Well, no worries. I've got your back. Dive in and learn all there's to know about iPad recovery mode!
An iPad is in recovery mode
What is iPad recovery mode?
Recovery mode is a unique troubleshooting state to help revive a struggling or an unresponsive iPad back to normal. It is a failsafe allowing users to reflash their iPad with a fresh operating system. You can also use it to resolve major iPadOS system errors if the iPad's built-in reset option fails.
When in the recovery state, your iPad allows iTunes or iTunes alternatives to repair its damaged system components. But, you must be careful: this method may erase all the data saved on your iPad's local storage. So, it is wise to first back up your important files before the restore!
When and why should you put an iPad into recovery mode?
Different scenarios could prompt you to put your iPad into recovery mode, such as:
Your iPad gets stuck on the Apple logo screen without any progress (over 30 minutes).
Your iPad screen turns white, blue, or black for some reason.
A bug is detected during a software update, or the upgrading process is interrupted or goes wrong.
Your iPad is unresponsive. It can't charge or fails to power on or off.
Your iPad shows the recovery screen mode for some minutes without changing.
iTunes can't recognize your iPad while restoring it from backup or updating the operating system.
Knowing when and why to put an iPad into recovery mode, you probably wonder how to do it. Stick with me as I elaborate on the process next.
How to put the iPad into recovery mode?
Various iPad generations are differently configured. Putting your particular device in recovery mode depends on the iPad model you have. Here is how to activate recovery mode in an iPad with or without a Home button.
Via buttons manually
Using a combination of button presses is the most common way to put an iPad into recovery mode. But, before doing it, you need to plug the iPad into a PC/Mac with iTunes or Finder installed. Launch iTunes or iTunes. Then manually have your iPad enter the recovery mode:
If your iPad has the Home button
Press the Home and top buttons at the same time.
Hold both buttons down until a black screen with a computer icon appears. Then release the buttons. Your iPad has successfully entered recovery mode.
recovery mode for iPad with Home button
If your iPad doesn't have a Home button
Press and quickly release the increase volume button.
Repeat step one for the volume down button.
Press and hold the top button without releasing it even when the Apple logo appears. Wait until the recovery mode screen shows up. Let go of the top button as your iPad is now in recovery mode.
recovery mode for iPad without Home button
Extra guide: Reinstalling iPadOS on your iPad with recovery mode
Once your iPad enters recovery mode, a new window will appear with the Update or Restore options on the computer screen.
Select Update on the new pop-up window on the computer. This option will not cause you any data loss.
If the Update doesn't work, for example, the updating process takes over 30 minutes and your iPhone is no longer in the recovery mode, then repeat the steps above, enter recovery mode, and choose Restore.
Update or restore an iPad when it's in recovery mode
Wait for iTunes to extract the software again. The iPad will restart, and you can choose to restore from backup or set up the device as new.
Via Mobitrix Perfix
Mobitrix Perfixis a one-stop solution to resolve iPadOS issues in the comfort of your home. You can use it to put an iPad into recovery mode with a single button click. Mobitrix Perfix is super quick and easy to use:
Steps to enter recovery mode via Mobitrix Perfix with one click
Download and install Mobitrix Perfix to a PC or Mac.
Plug the iPad into the computer with a USB lightning cable.
Run Mobitrix Perfix and click on "Enter Recovery Mode."
A computer and a USB logo will appear on your iPad screen, and a new popup window will show up on the computer. That indicates your iPad is in recovery mode.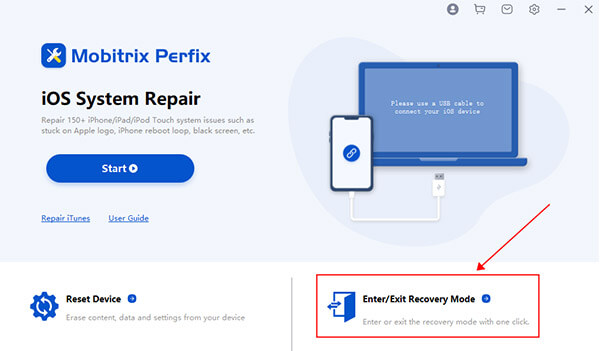 Enter or exit recovery mode with Mobitrix Perfix
Trustpilot
Why Do I Recommend Mobitrix LockAway?
No data loss is incurred.
99.9% success rate for you to DIY fix your iPhone/iPad.
Fix 200+ iOS and iPadOS system issues in 30 minutes.
Super newbie-friendly, requiring only a few clicks.
No iTunes is needed.
S/iPadOS models and versions are supported.
Using Mobitrix Perfix for entering recovery mode is completely free. Plus, you don't have any data loss.
How to exit recovery mode?
Sometimes you may have pressed the wrong buttons on your iPhone and it has entered recovery mode, yet you don't know how to exit. Or your iPhone just gets stuck in the recovery mode for no reason. In such cases, your iPhone will then display Connect to iTunes on its screen and get unresponsive. This doesn't mean the iPad is dead or lost forever. We can simply say that the iPad is in a coma. The following methods will help you exit the recovery mode.
Perform a force restart
Typically, a soft reset or restart should be enough to fix software errors that stop your iPad from working. However, if the device is stuck in recovery mode, a soft reset may not work well. Instead, a force restart will refresh the iPad and free it from the current "stuck" status.
Force restart iPads without a Home button (With Face ID or Touch ID on the top button)
Tap and release the volume button closest to the top button.
Press and let off the volume button farthest from the top button.
Tap and keep pressing the top button until the Apple icon appears.
Release the top button and wait for the iPad to restart.
Force restart iPads with the Home button
Simultaneously press and hold down the home and top button.
Keep pressing both buttons until you see the Apple logo on the screen.
Release both buttons and give the iPad time to restart.
Your iPad will get back to working order after it restarts. However, if a force restart doesn't work out as expected, you can try the following trick.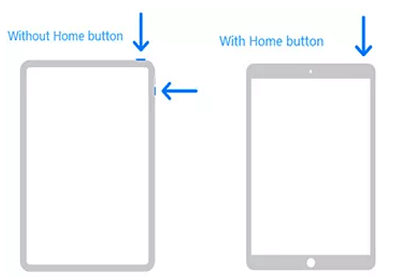 Force restart all iPad models
Via Mobitrix Perfix
As mentioned earlier, Mobitrix Perfix is a handy tool when it comes to repairing iPadOS errors. Another Mobitrix Perfix capability is to help exit iPad recovery mode. The pro solution has a unique exit recovery feature that can solve your problem with one click of a button. It is just that simple!
Plug your iPad into your computer with a USB cable.
Open Mobitrix Perfix.
Click Exit Recovery Mode.
The exit process will complete in seconds, and your iPad will return to normal.
DFU restore
If your iPad gets heavily stuck in the recovery mode, apart from Mobitrix Perfix, you can also attempt a Device Firmware Update (DFU) restore to fix it. It is a built-in repair mode where iTunes detects and mends your iPad's software issues.
If you've tried all above, and your iPad still won't get out of the recovery mode restore screen, then the issue can be hardware-related. I recommend booking an appointment with your local Apple store. They will do further assessments for your iPad and perform a physical repair, if needed.
In conclusion, iPad recovery mode is appropriate for different forms of troubleshooting. It helps resolve errors related to restores and updates or fixing the iPad when the current iPadOS version is damaged. An easy way to enter or exit iPad recovery mode is via Mobitrix Perfix, an all-in-one professional solution to repair iPadOS system issues effectively. Even when your iPad is stuck in the recovery mode, it still works like magic.