Hard reset is an effective way to repair iPhone 11 crashes or other minor glitches. This may be a bit daunting for you who are unfamiliar with it. But don't worry; our guide will walk you through the process step-by-step.
We will also introduce some alternatives for the hard reset to help you fix your iPhone 11. So whether you're a novice or an experienced user, this guide has everything you need to hard reset your iPhone 11 with confidence. Let's get started!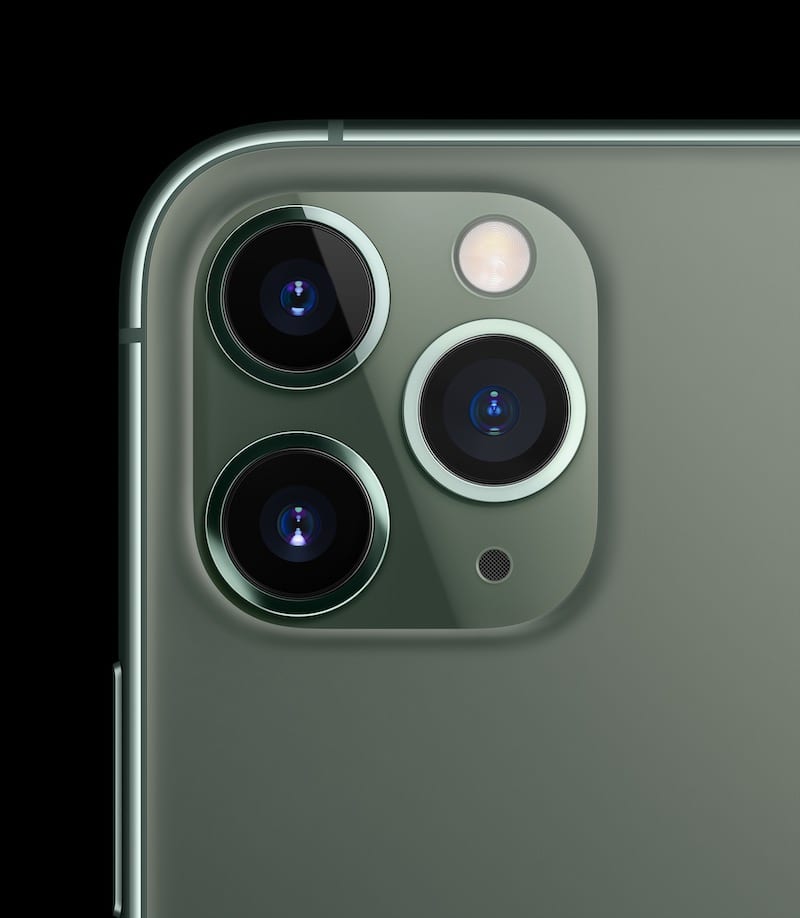 iPhone 11
What Is a Hard Reset?
A hard reset can be described as a forceful way of restarting your iPhone. Also known as forced restart, it means rebooting your iPhone using the hardware buttons, volume high/low, and power button.
A hard reset shuts down all activities on your iPhone and solves issues like an update that went wrong, an unresponsive app, or an iOS bug. It is usually the most basic solution for issues like a frozen screen, reduced phone performance, or an unresponsive iPhone. For example, when your iPhone fails to boot or is experiencing a system bug that is preventing it from functioning properly, a hard reset is often the first trick to try.
Steps to Hard Reset iPhone 11
Traditionally, a hard reset is done by removing the iPhone battery and inserting it again. But that only works for older models with removable batteries. iPhone 11 series on the market now have built-in batteries, so the procedure for a hard reset differs.
You can hard reset your iPhone 11 by following these steps:
Click down on the Volume up button and quickly release it.
Click down on the Volume down button and quickly release it.
Click down and hold down the power button at the side until the Apple logo comes on the screen.

Once the Apple logo comes on, release the button and allow the iPhone to reboot itself.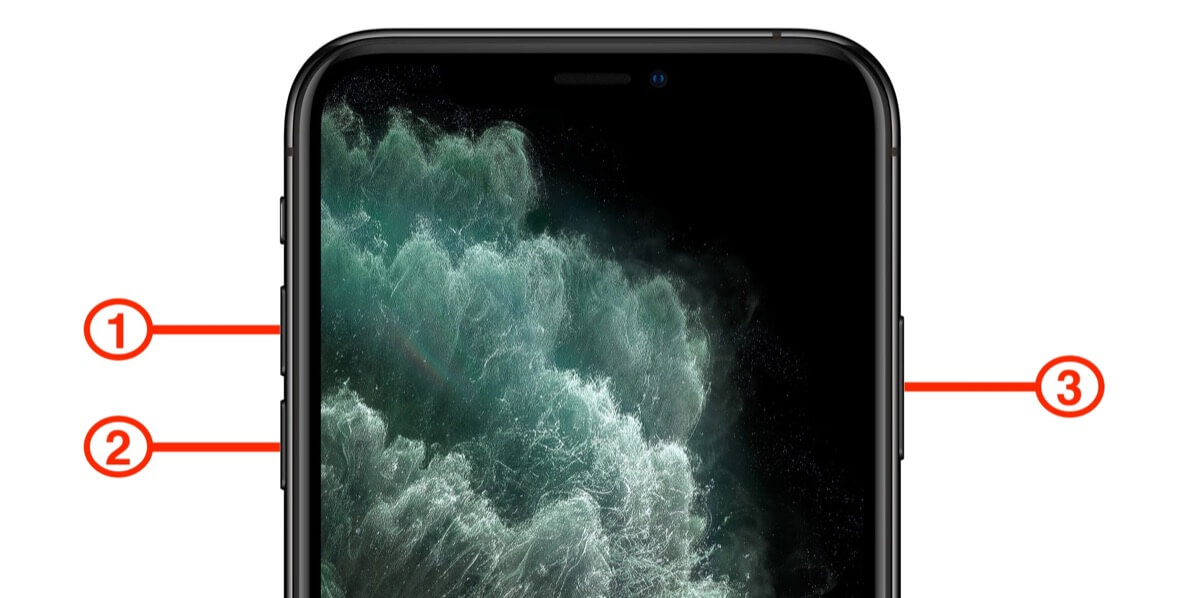 Hard reset iPhone 11
If you have other iPhone models and wonder how to hard reset them, simply check here.
What If The Hard Reset Doesn't Work on Your iPhone?
Have you already tried hard resetting your iPhone 11, but it still isn't working? Don't fret. Sometimes, the problem is caused by severe software issues that can't be solved by a simple force restart. Here are some other advanced techniques to try out.
Fix iPhone 11 with Mobitrix Perfix
One of the best online software tools for fixing iOS-related issues available is Mobitrix Perfix. Built with a user-friendly interface, Mobitrix Perfix is your one-stop solution for iPhone errors and update problems, a frozen screen, an unresponsive system, and just about every other iPhone 11 issue.
It works with all iOS versions and doesn't need you to leave your home or pay out a ton of money on repairs. With the assurance of protection and security of your data, along with a guaranteed 99% success rate, Mobitrix Perfix is definitely a tool worth trying.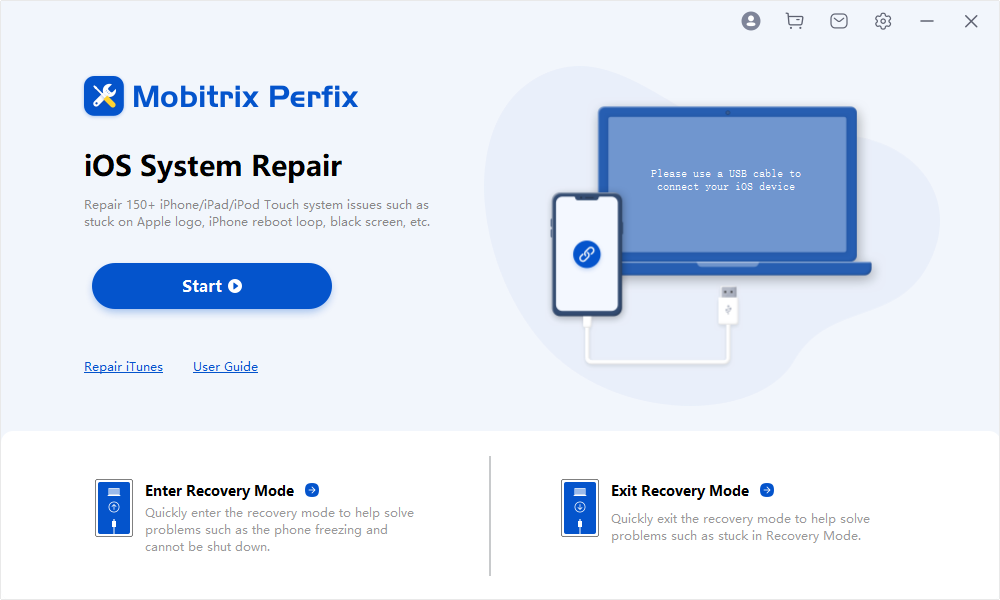 Mobitrix Perfix iOS software repair
Plus, it takes only 3 steps and 30 minutes to fix your iPhone 11:
Download and install the Mobitrix Perfix software on your PC.
Using your Apple USB cord, connect your iPhone to your PC and ensure it is detected. Then click Start.
Download the needed firmware.
Select option for Standard Repair
Once you're done, sit back and allow Perfix to fix your phone in no time.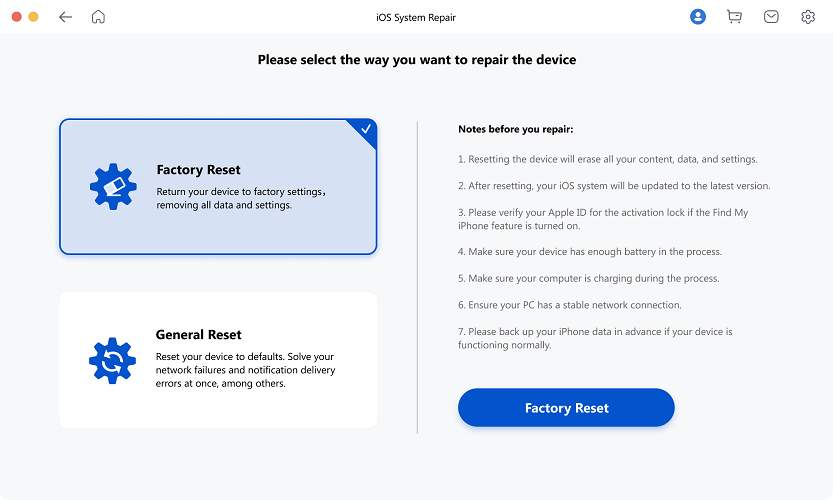 Mobitrix Perfix Standard Repair
Factory Reset iPhone 11 via iCloud
Another method for fixing iPhone 11 issues is to factory reset your phone. if your iPhone 11 is totally unresponsive and you can't use the Settings App or turn it on at all, you can try resetting your iPhone via iCloud .
As such, it's best if you backup any data you don't want to lose in iCloud. That way, even after you factory reset, you still get to keep all your conversations, apps, and files. Once your phone is connected to the Wi-Fi, backing up your data on iCloud can be done in 3 easy steps.
To Backup Data:
Simply go to your Settings.
Tap on iCloud, and then iCloud backup.
Lastly, click on Backup now, and all your data automatically gets stored on iCloud. Once that's done, you can proceed to factory reset your iPhone 11.
To Factory Reset iPhone 11:
In your web browser, go to icloud.com/#find.
Click on the option Find my iPhone.
Input your Apple ID.
Select your iPhone among the list of devices and select Erase iPhone.
Reinstall iOS Via iTunes
If the iPhone 11 is giving you trouble (for instance, if it constantly freezes or stops responding), and a hard reset can't help, you can consider reinstalling its iOS through iTunes.
The method would require you to have the latest version of iTunes on your computer and keep your phone connected until the iOS installation is complete. Follow these steps to reinstall iOS through iTunes.
Connect your iPhone to your PC using your Apple USB cord.
Open iTunes on your PC. Suppose you have a macOS Catalina, launch Finder, and follow the same steps.

iPhone 11 recovery mode screen

Next, select your iPhone 11 on iTunes on your computer.
A pop-up will appear, asking you to choose between Update and Restore.
Choose Update. If it doesn't work, take one step back and choose Restore.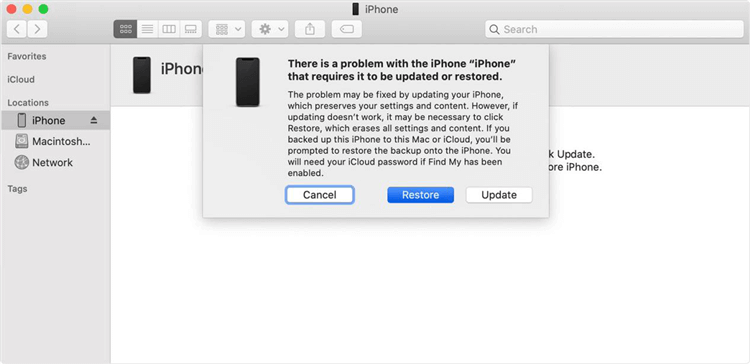 Update or restore your iPhone 11 in recovery mode
Update allows you to keep your data while Restore wipes it off.
Make sure your iPhone is connected till the update is completed.
Restore iPhone 11 Via DFU Mode
Last but not least is the Device Firmware Update (DFU) Mode. This option should only be considered, when reinstalling iOS via recovery mode does not work. It can be useful for solving persistent iOS issues, severe malware, jailbreaking gone wrong, or update errors.
Like factory reset, DFU restore will get rid of all your data, so you want to ensure it's backed up before doing anything. Here are the steps to put your iPhone in DFU mode.
Using a USB cord, connect your iPhone to your PC.
On your computer, launch iTunes or Finder, depending on your iOS.
Place your phone in DFU mode. This will require you to first hard reset your phone but hold the power button down until your screen goes black.
Once that happens, simultaneously long-press the Volume low button for about 5 seconds.
Release the power button, but keep your finger pressed on the Volume low button until iTunes verifies you are in DFU mode.
Follow the instructions on iTunes and click on Restore iPhone.
Keep your phone connected till it's completed, and your phone automatically reboots.
Once your iPhone 11 is back on, simply restore your backup and continue using your iPhone like nothing ever happened.

Instead of putting up with your iPhone crashing multiple times or force-closing apps every now and then, it's best to hard reset it as soon as you can. The info above contains all the steps to do it. Some advanced alternatives like Mobitrix Perfix are also included, should you need a more powerful yet easy way out.
Hard Reset Vs. Soft Reset Vs. Factory Reset
As an iPhone user, you might be confused by the three 'reset' terms used by Apple. They are different and this is what they mean:
A hard reset involves shutting down your device forcefully when it is unresponsive, so it can reboot and start over. You can do this when a soft reset doesn't work.
A soft reset, however, is not forced. It is simply the process of shutting down a smartphone and turning it back on. This is done to fix minor problems on an iPhone and won't result in data loss.
Factory reset, as the name implies, is about restoring your iPhone to the initial settings it had from the manufacturer. It wipes off all data and settings added by you. When your iPhone 11 is acting weird, and a hard reset can't help, a factory reset can be a good fix. However, backup all your data before trying this method.