What is iforgot.apple.com unlock? Why is this method useful? How is the iforgot.apple.com unlock method used? What must you know about this method?
The iforgot.apple.com is Apple's official website to help Apple users retrieve Apple ID password when they are locked out.
In this article, I explained three different methods of iforgot.apple.com unlock to solve your disabled Apple ID issues. A faster method is also included in the article as a bonus for you.
Have you ever got locked out or disabled your Apple ID? Well, I have been through this too and can say the situation gets pretty tense if you don't have any previous experience.
Last month, my youngest child was playing on my iPhone X, and he entered my Apple ID, passwords, and security questions wrong a bunch of times.
Dealing with the iOS issues and problems for more than 5years and working as an ex-Apple customer service representative, I knew what I must do to unlock the Apple ID.
You don't have to worry even if you don't have any tech background because I will be listing the most effective ways for iforgot.apple.com unlock to help you get out of this intense situation.

I have encountered many people struggling with disabled or locked Apple IDs while working at Apple for more than 5 years as a customer service representative. Most of the time, users were concerned about how to unlock Apple ID locked by security reasons. Usually, I refer them to go with iforgot.apple.com unlock. However, several times they responded with the feedback that they were still unable to unlock the Apple ID and gain access. In such a case, I recommend them to go with a quicker method than iforgot.apple.com unlock.
Before getting to the detailed steps regarding iforgot.apple.com unlock , let me introduce you to what is iforgot.apple.com and some other related facts so you can have a better understanding. However, if you want to directly move to the methods part, then you can skip this part.
What Is iforgot.apple.com?
The iforgot.apple.com is an official website launched by the Apple Company to help its users log into iCloud or other Apple services while they are having some sort of issues or problems with their iOS devices such as disabled or locked Apple ID. The website can help you to get your Apple ID back.

Functions
Let's take a look at the functions of iforgot.apple.com for a better understanding.
You can recover your iCloud account when you get logged out and also forget your Apple ID and password.
Login issues with iTunes, iCloud, or other Apple services can be solved with iforgot.apple.com.
It can be used in case you want to update or change your Apple ID or password.
Usage
The biggest question is when you can use iforgot.apple.com? You can use it in multiple situations such as:
Your Apple ID is disabled.
You get locked out of your Apple account.
How to Use iforgot.apple.com to Unlock Apple ID?
Sometimes one method is not enough as it might not work for everyone. So, I brought you three different ways for iforgot.apple.com unlock. But before getting to the procedures, let's consider some pros and cons of iforgot.apple.com.
Pros
The method is free to use.
It is an official solution offered by Apple.
Cons
The process is slow and time-consuming.
It comes with a low success rate.
You might also face some limitations such as:
Require trusted phone number
Need answers to security questions
Require recovery key (14-digit code) for two-step verification
Method 1: Unlock Apple ID via Recovery Email or Security Questions on iforgot.apple.com
Unlocking a disabled Apple ID might seem a little complicated at first but using email is a good way to recover your Apple ID. Let's move to the steps.
Steps
Go to the iforgot.apple.com unlock website.
Enter your email address of Apple ID.
Choose an option between "email authentication" or "answer security questions"
Follow the brief steps on the screen to start the unlocking process.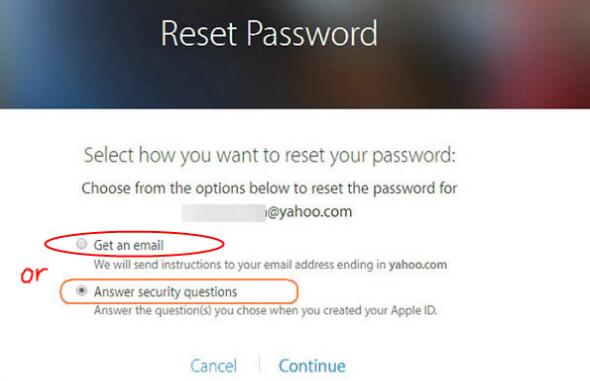 Method 2: Unlock Apple ID via Two-Factor Authentication on iforgot.apple.com
If the above method doesn't work for you, then there is nothing to worry about. Here, I listed another method that you can try. But for this method, you will need a trusted phone device to get the code.
Steps
Go to the Apple ID website.
Select "Forgot Apple ID or password"
Choose the resetting password option.
Click "Did you forget your Apple ID" and choose two-factor authentication.
Choose a trusted device to receive the code.
Enter the code and then your new password.
Method 3: Unlock Apple ID via Account Recovery
If you want to unlock your Apple ID via your iOS device, then you can try account recovery. The steps to the procedure are as follows:
Steps
Open the Apple ID website and choose "Forgot Apple ID or password"
Click on the reset password option and then "Did you forget your Apple ID"
Enter the recovery key in two-step authentication
Type in your new password.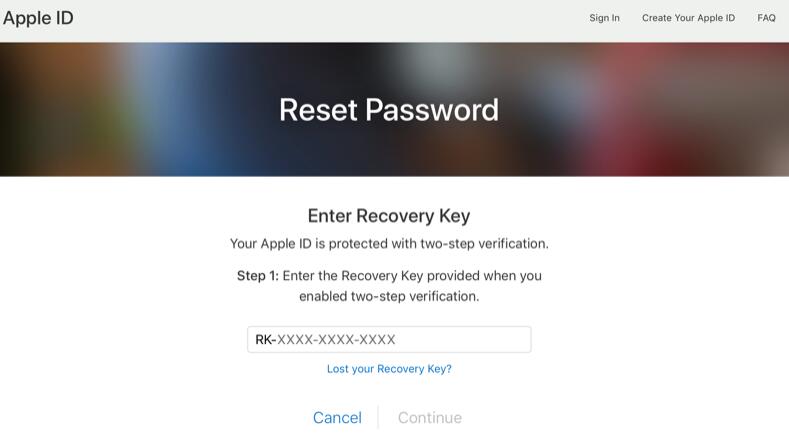 Although the iforgot.apple.com unlock method is free to use and officially offered by the Apple company, it still comes with some cons and limitations. For iforgot.apple.com unlock, you have to fulfill some requirements and conditions, such as security answers. However, if you forgot your security answers and want a faster method to unlock your disabled Apple ID without any limitations, then here I listed a perfect method for you.
How to Unlock Apple ID Without iforgot.apple.com? (Fastest Way)
I have been using this amazing method for months now as I am very clumsy remembering my passwords, but this tool helped me solve my problems in no time. My friends and family also got hands on Mobitrix LockAway after my experience and they just love every bit of it. Let me tell you how it works.
Mobitrix LockAway is a professional tool that can help you erase Apple ID without a password. It can assist you in solving the disabled or locked Apple ID and iCloud account. With Mobitrix LockAway, you will gain complete access to all the iCloud services and your iPhone's Apple ID.
LockAway can help you in removing different types of Apple ID in the following situations:
You forgot the Apple ID password
Apple ID is locked
If you cannot erase your iPhone
Cannot turn off FMI
After you have remove your Apple ID, you can perform following operations:
Change your Apple ID to a different one or create a new
Enjoy all iCloud services and Apple ID features
Disable Find My iPhone/iPad easily
Get rid of tracking by the previous Apple ID
Let's dig up some pros of the method.
Pros
You don't have to remember your Apple ID.
It does not require iTunes.
The steps are easy to follow.
The method is fast and comes with a higher success rate.
Steps
Download and Install Mobitrix LockAway
Click on Unlock Apple ID in the main menu

Start removing Apple ID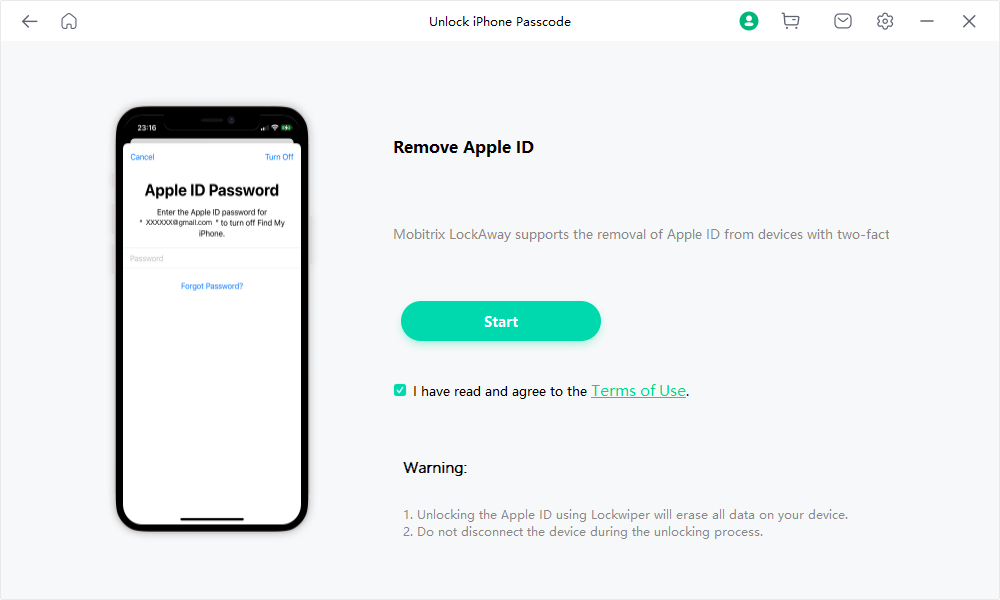 Useful Tips Regarding iforgot.apple.com
You might have gotten your account back by now. But do you know how you can enhance your future experience regarding your Apple ID? Here I mentioned some useful tips that can help you with the situation.
Do not share your Apple ID or account with anyone.
Always use a secure and safe password for your ID, so it is not easy to guess.
Enabling two-factor authorization or verification is also a good option
Set up your account recovery contact so in case you are locked out of your device, you can enter the 6-digit code sent to your recovery contact to reset lock and get your device back.
Summary
Concluding the article, I am glad I was able to help you solve the issue with your Apple ID and iforgot.apple.com unlock. All the methods I explained above will be able to do your work if you fulfill the requirements.
However, I prefer Mobitrix Lockaway over others as I have been using this for months to solve multiple issues related to Apple ID and iOS. The super-friendly interface of Mobitrix Lockaway is my all-time favorite feature of the tool.