Do you own an iPhone whose previous owner didn't sign out their Apple ID? Or did you give a friend your iPhone but they forgot to sign out and now you can't use it? It can be annoying to be in that situation.
Fortunately, I have been there many times and successfully solved it. Here's a short guide offering four efficient ways to get rid of someone else's Apple ID on your iPhone.
Way 1: Using Mobitrix LockAway to Sign Out of Someone's Apple ID Without Password
The easiest way to sign out of someone's Apple ID is to ask them directly. But what if you need to roll out that Apple ID quickly and don't have their password? In that case, the professional tools are your best choice.
Mobitrix LockAway is a specific tool to bypass any locks on your iPhone to erase or unlock an Apple ID. Erase or unlock means logging out the Apple ID that is signed in to remove the Apple ID and all its associated data from that iPhone.
What You Can Do After Removing the Apple ID:
Connect to your iCloud account.
Download apps from the App store.
Protect your iPhone with the Find My feature.
Access to all Apple services.
Steps:
Install and open Mobitrix LockAway on your PC or Mac.
Click Unlock Apple ID to get started.

Unlock Apple ID

Plug in your iPhone to the computer.
Click Start.

Mobitrix-LockAway: Click Start
The tool will begin removing the Apple ID on your iPhone. Follow the on-screen instructions to complete the unlocking process. You can then use a new Apple ID.
Tip :Keep your iPhone screen unlocked, and Two-Factor authentication enabled for a smoother process.
Advantages of using Mobitrix LockAway
Fast and secure removing the Apple ID within less than 20 minutes.
It's simple for any beginner, with no technical steps, just simple clicks.
The software has a 99% success rate.
It will unlock the Apple ID even when Find My is turned off.
It fully supports iPhone 5s to iPhone 15 and iOS 17 and earlier versions.
Applicable scenarios for using Mobitrix LockAway:
If the Apple ID has been locked for security reasons.
In case you can't recall the Apple ID password and can't reset it.
You bought a second-hand iPhone but it hadn't been signed out of the previous Apple ID.
It's impossible to reset the iPhone since you can't turn off Find My.
Perhaps you have an unusual old iPhone and forgot its Apple ID account information.
FAQs
Will I be able to use my Apple ID after using Mobitrix LockAway
Yes, you can. Mobitrix LockAway won't do anything to the Apple ID account on Apple's system but only log out the Apple ID on that device. You can log in with the Apple ID if you retrieve its Apple ID password.
Will the iPhone still have the previous data?
Yes. Mobitrix LockAway will only remove the Apple ID along with the Apple ID password.
How successful is Mobitrix LockAway in removing an Apple ID?
Mobitrix LockAway has a 99% success rate in removing Apple IDs with a 30-days refund policy upon purchase.
Way 2: Restore the iPhone with iTunes To Get Rid Of the Apple ID
The other way is to use iTunes to restore the iPhone to a state with no Apple ID login and no data. It will require you to put your iPhone in recovery mode so iTunes can erase it.
Steps:
Connect your iPhone to the PC via a USB cable and open the latest iTunes or Finder.
Put your iPhone model into recovery mode using the following methods:
For iPhone 8, iPhone 8 Plus, iPhone X, or later, press and immediately release the volume up button and repeat for the volume down button. Long press the side button until the recovery mode screen appears.
For iPhone 7 and iPhone 7 plus, long press the power and volume down button simultaneously until you see the iTunes icon on your screen.
For iPhone 6s or earlier, press and hold the home button and the top button at the same time until the recovery mode screen appears.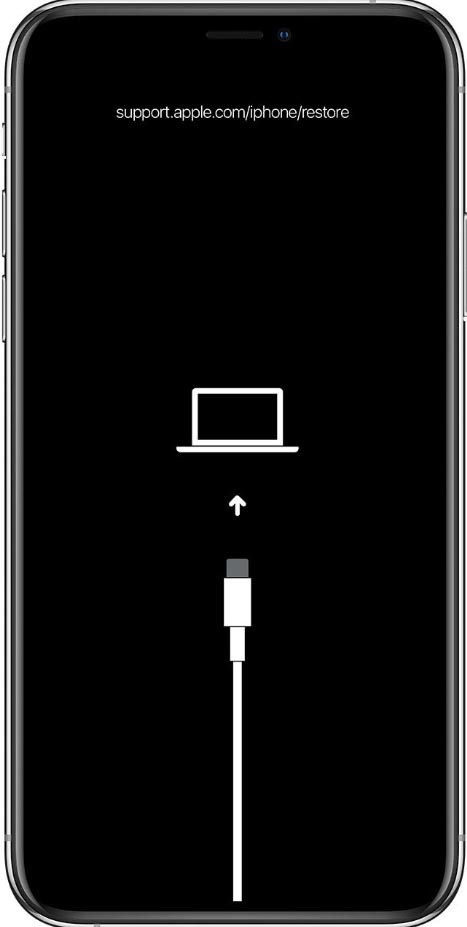 See the recovery mode screen
Locate your iPhone in iTunes or Finder.
Choose Restore when you see the option to Restore or Update.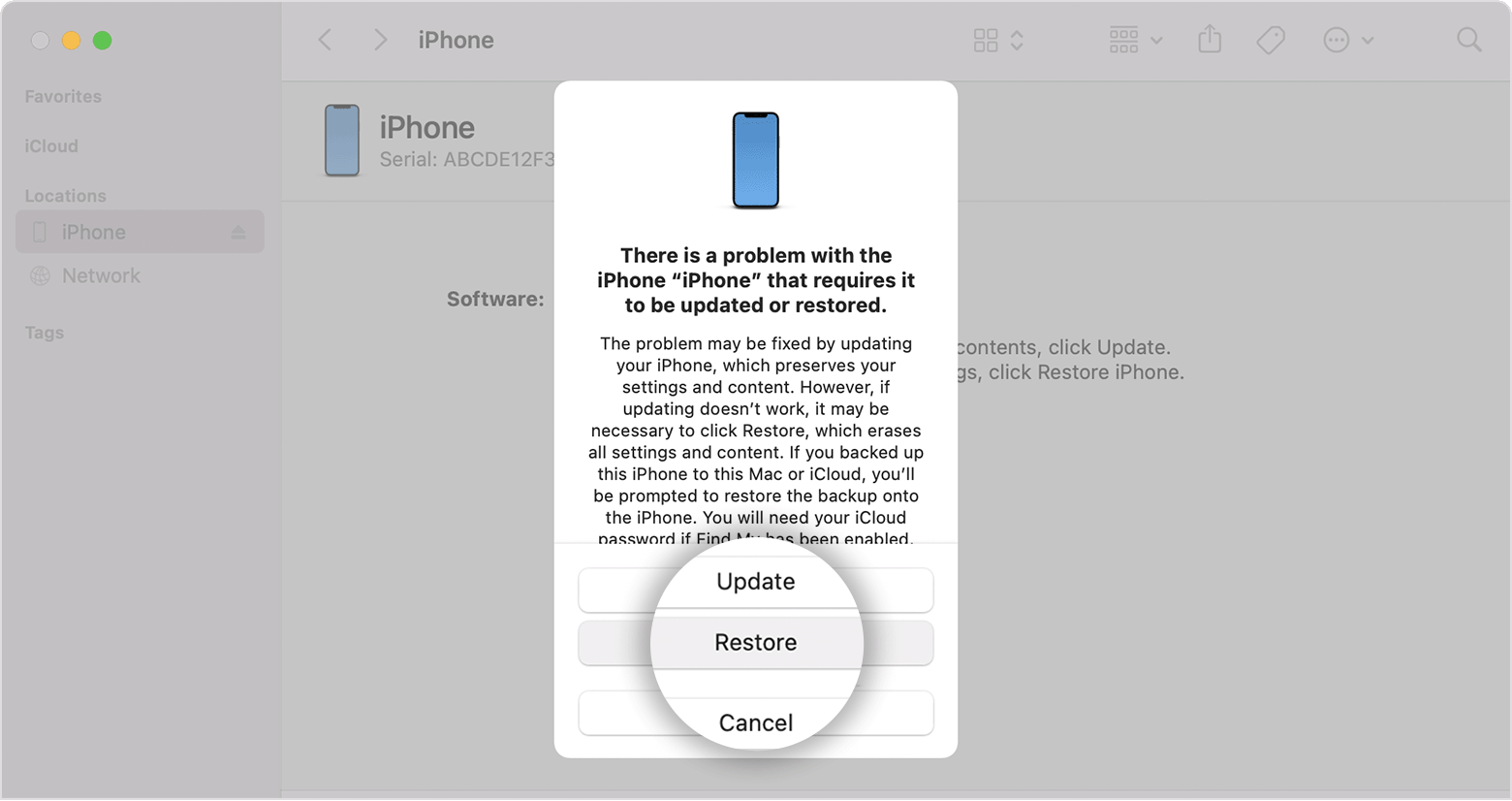 Click Restore
Wait for the process to finish. Disconnect your iPhone from the computer and set it up.
Note:
iTunes Restore is time-consuming as it may take more than an hour and will erase all the data. Turn off your iPhone and start again if you see the passcode screen.
Way 3: Erase Someone Else's Apple ID on iPhone Remotely
You might be in luck and find the iPhone has the Find My option enabled. If you have the previous owner's contact, ask them to Log In to their iCloud account and remove your iPhone on any browser. Now, please share the following steps with them to successfully remove their Apple ID.
Steps:
Open any browser.
Log In to your iCloud.
Click on Find iPhone.
Enter Apple ID and Password.
Click on "All Devices".
Find the iPhone you want to remove the Apple ID from and click "Remove from Account" at the bottom of the screen prompt.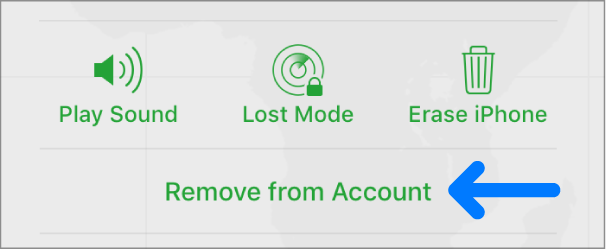 Click Remove from Account
Note: The process won't be a success if your iPhone doesn't have the network and the Find My turned off. Also, it will erase all the data on the phone.
Way 4: If someone shares the Apple ID password with you
The solution might be as simple as the person who sold the iPhone sharing their Apple ID credentials with you. It works easily if they are a good friend of yours or a family member. Ask them for the password, sign in to the Apple ID and make the necessary changes. After acquiring the password, follow the steps below to get rid of the Apple ID.
Steps:
Open Settings
Tap the Name of the previous owner on the top of the screen
Find and click the "Sign Out" option.

Sign Out Apple ID With Password

You'll be prompted to enter the previous owner's password.
After which, you'll have successfully signed out from their Apple ID and are free to set up your newly acquired iPhone.
I hope my guide has been informative and helpful to solve your issue. You have learned the 4 DIY tricks to remove an unwanted Apple ID on your iPhone. Among them, Mobitrix LockAway is the fastest and most effective. It will remove the Apple ID removal within 30 minutes.