While you might find it easier to use WhatsApp on your mobile device, you may have heard of WhatsApp Web, the browser version of WhatsApp that is just as useful. But sometimes WhatsApp web doesn't work as expected.
Whatever the problem you are experiencing with WhatsApp web, this article will prove very useful in helping you come up with solution.
Way 1. Check If WhatsApp is Compatible with Your Browser
For WhatsApp Web to work, the browser you use to access WhatsApp needs to be compatible with WhatsApp. Therefore, the first thing you should do when WhatsApp web fails to work is to check of the browser you are using is compatible. We can tell you that WhatsApp web is compatible with Google Chrome, Firefox, Opera and Microsoft Edge. Other browsers like Internet Explorer and Vivaldi may not be compatible.
Therefore, if you are using any of the incompatible browsers, your problem may be easily solved by switching to a browser that is compatible.
Way 2. Check WhatsApp Server Status
If you are using a compatible browser, but you are still experiencing problems with WhatsApp web, you should verify that the problem is not with the WhatsApp server. The easiest way to do this is try sending a message on your device. If you are unable to do send the message on your device, then the problem could be with the WhatsApp service.
Way 3. Use WhatsApp Web on an Incognito Window
If you are using Chrome to access WhatsApp web, you should try using WhatsApp Web on a new incognito window. For some reason, this always works when you have problems with the normal window.
To open an Incognito window on Chrome, click on "Menu" button in Chrome then select "Open New Incognito Window".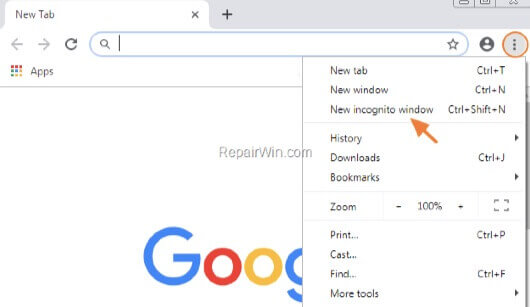 google incognito window
If you are still unable to use WhatsApp Web on an Incognito Window, try the next solution.
Way 4. Clear Browser Cookies
You might also be able to fix any problems you have with WhatsApp web by clearing the cache on your browser. Here's how to do that:
On Chrome
Click on the Menu (three dots) on your browser then select "Settings".
Look for the "Advanced" section and click on it. Click on "Clear Browsing Data".
In the window that opens, make sure that you are on the "Basic" tab and select "All Time" from the "Time Range" option. Make sure that "Cookies and Other Site Data" is selected and then click on "Clear Data".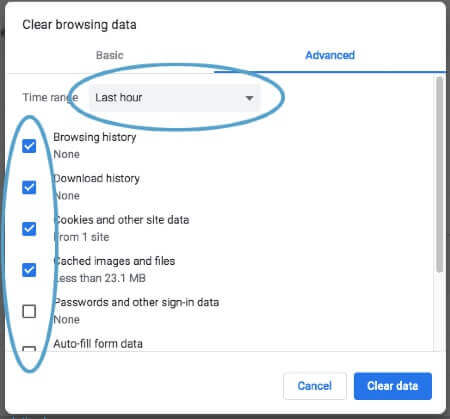 clear browsing data chrome
On Firefox
Click on the "Menu" (three horizontal lines) at the top then choose "Options".
Choose "Privacy and Security" from the left side and click on "Clear Data" on the right-hand side.
Select "Clear Cookies and Site Data" then click on "Clear".
Once the cookies are cleared on your browser, sign into WhatsApp web again to see if the problem has been resolved.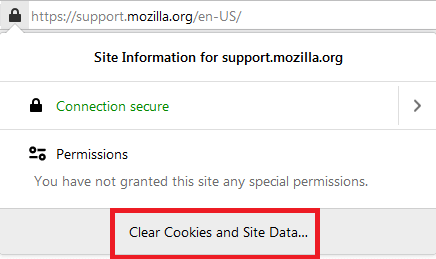 clear broswing history firefox
Way 5. Turn off VPN
You may also encounter problems of WhatsApp web when the VPN is enabled. VPN can cause browser compatibility issues particularly with Chrome. Therefore, if you are experiencing problems using WhatsApp Web on Chrome, consider disabling VPN first.
Way 6. Reset Browser Settings
Resetting your browser settings in Chrome is also another great way to fix this problem. While it may be very useful, this method should be used only when all other options don't work. This is because it will reverse all your Chrome settings and customizations. Here's how to reset browser settings on Google Chrome:
Click on "Menu" (the three dots on the upper right corner) and choose "Settings".
Scroll down to find "Reset and Clean Up" and click on "Restore Settings to their original defaults".
In the popup that appears, click on "Reset Settings" to complete the process.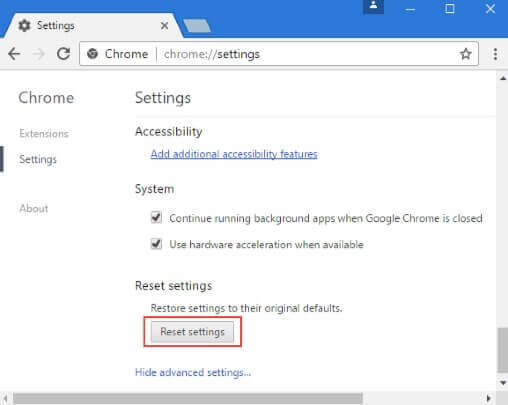 reset chrome settings
Way 7. Turn off Firewall and Security Programs
Firewall and security programs are very important in keeping your system safe from viruses and malware. Yet they can also affect the function of genuine applications, by flagging them as faulty. Thus it may be worth to turn off these security programs temporarily and check if WhatsApp Web will start working without them.
Way 8. Check for Browser Updates
If you are using an outdated version of your browser, the WhatsApp web may not work as expected. Here's how to update the Chrome Browser:
Open Google Browser and then click on the three dots at the top right corner.
Select "Help" in the menu that appears.
Click on "About Google Chrome" and a window will open showing you the current version of Chrome running on your device.
If Chrome is outdated, the latest version will begin downloading immediately.
When the update is complete, click on "Relaunch" to restart the browser.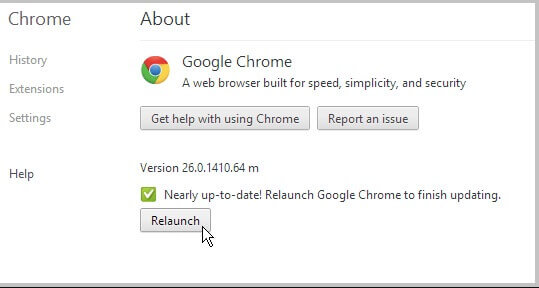 update google chrome
You can then try to use WhatsApp on the newly updated browser to see if the problem has been fixed.
Way 9. Check Network Connection
WhatsApp web will also not work if your internet connection is not stable enough. You need to have a good and strong internet connection to use WhatsApp web. Therefore, check if the computer is connected to the internet and if you suspect that the problem could be your connection, try connecting to a different network to see if the problem will be resolved.
You may need to use WhatsApp Web when you are unable to use the app on your device. And moreover if WhatsApp web fails to work, it may mean that you are unable to access WhatsApp at all. The good news is there are only a few reasons why WhatsApp web may not be working on your browser. In understanding these reasons, we have outlined several solutions above to help you overcome this problem.
If you have any questions regarding this problem or any other WhatsApp issues, let us know in the comments section below and we'll do our best to assist you fix it.