No computer? No problem! How to Transfer WhatsApp: methods that work with and without a computer.
Preface:
Are you switching phones? You probably want to keep your important information, including WhatsApp chat data. But here is a problem: if you're moving from iPhone to Android, the systems are not compatible.
Thankfully, there are several ways to transfer WhatsApp chat data (including media files) between these different operating systems, but most of them require a computer.
We've rounded up all the ways to transfer WhatsApp data from iPhone to Android for you - including how to transfer without a computer. Read on to learn how.
Transferring WhatsApp Data WITHOUT a Computer
Via Email
One way to transfer WhatsApp data without a computer is through email. If your email account is set up on your phone, then you can email WhatsApp chat history to yourself. It works with any email address, no matter the server. However, it only sends single WhatsApp chats, not your entire chat history and it sends as a .txt (text) file, which isn't very useful to accessing on another phone. Therefore, we only recommend this option if you have a few chats that you need to save, and you do not need to see them on your WhatsApp on your new device.
If this doesn't sound like the option for you, read on for some other methods.
Want to try transferring your WhatsApp chats via email? Follow these steps:
Open WhatsApp > Chat and select the contact you want to send, by clicking on the name of the contact.
You should be in the 'Contact Info' of the selected contact. Scroll down and choose "Export Chat".
Choose if you want to send with media attachments or not. (If sending with attachments, it is suggested to complete this while connected to the internet, and not using the phone's data).
Select method to export the chat - Email.
Enter your personal email in the "To" field and send.
Open the email on your other device (in this case, your new Android device) and open the file and attachments.

email export whatsapp chat android
Transferring WhatsApp chats through email isn't the simplest or most convenient approach, but there are some positive points.
Pros:
A free option
No need to use third-party tools or download any program to your phone.
You don't need to have advanced technical knowledge to complete the transfer.
Works with both iPhone and Android
Cons:
WhatsApp chat history transfers in ".txt" format, which isn't useful for opening with WhatsApp on your new device.
Only one contact/chat can be transferred at a time. If you want to export multiple chats it will be very time-consuming.
Transferring via email can use up your phone's data, so do this while connected to the internet.
WhatsApp has some country restrictions and message transfer limits via email, so, depending on where you live, you may have limitations to completing the transfer.
Wutsapper - WhatsApp from Android to iOS
Another option for transferring WhatsApp chat history is with a tool called Wutsapper. This app works without a computer, allowing users to move WhatsApp data, including media files from Android to iOS by downloading an app on their mobile phone.
However, it costs a whopping $29.95 to download this app - and only works one time, for one transfer! If you ever switch phones again, you'll have to fork over the money again.
If you want to try Wutsapper, here is how to complete the transfer:
On your Android phone, go to Google Play and install the app Wutsapper.
Connect your Android phone to your iPhone with a USB OTG cable
Open Wutsapper app on your Android phone.
You will be prompted to transfer your Whatsapp data to your iPhone, confirm the transfer.
Besides being an expensive option, there are a few other drawbacks to using this method. Let's compare the pros and cons.
Pros:
This method works without a computer.
No need to access the internet to complete the transfer.
Cons:
Expensive, and only allows one transfer
Requires users have a USB OTG cord
This method only works from Android to an iPhone, not the reverse. This option is not available for iPhone users transferring to an Android phone.
Transfer WhatsApp Data from iPhone to Android with Computer (more stable options)
Via Mobitrix Whatsapp Transfer
If you do have a computer, there is an easier way to transfer your Whatsapp data from an iPhone to an Android. It's called Mobitrix and it allows users to safely and securely transfer Whatsapp data (including all chat history and media files) between any type of phone. If you have an iPhone or Android and want to transfer data to a phone on a different operating system, this is the easiest and best solution.
How Mobitrix works:
Go to Mobitrix official website and download Mobitrix to your personal computer.
Connect your Android and iPhone devices to your computer with USB cables.

connect the 2 devices to pc

Designate your old phone as the "Source Device" and your new phone as the "Destination Device".
Click "Start Transfer" and let Mobitrix quickly and securely transfer all your WhatsApp data between the two devices.

start to transfer whatsapp
That's it!
We think Mobitrix is the best option for transferring Whatsapp data between iPhones and Androids.
Pros:
Transfer everything (videos, photos, attached files, voice recordings, etc)
Very easy to use
100% Guaranteed privacy - use your computer, your phones for assured privacy.
Does not change your Whatsapp Data or alter the format (no hassle with .txt files)
Supports Bulk Transfers - you can move large files quickly
Via WhatsAppTrans
There is another option for users to transfer WhatsApp data, but it is a little complicated and is only recommended for users who feel confident in their computer skills. Also, it only moves WhatsApp chat history, not all the media files. If you are good with technology and don't need to move any attachments, consider trying WhatsApp Trans.
Follow these steps exactly to safely move your WhatsApp chat history with WhatsAppTrans.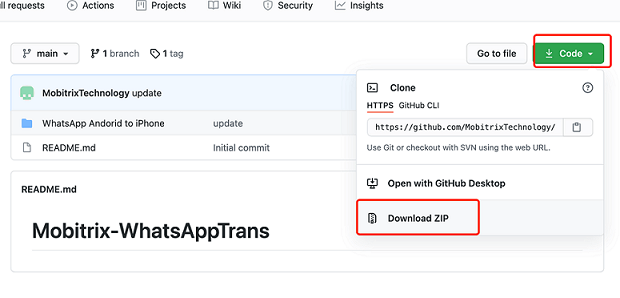 how to download whatsapptrans
As it is a bit complex, we recommend visiting the above link for a full tutorial. A summary of the steps is not sufficient and could result in data loss for users.
There are several ways to transfer WhatsApp Chat history between iPhone and Android devices, with or without a computer. While it is possible to complete the transfer without a computer, it is not the easiest or most convenient solution.
The top recommended solution for transferring WhatsApp data between devices is via Mobitrix. It is simple and easy to use and gives users the highest level of security without a high price point. Try Mobitrix to safely and easily transfer WhatsApp data between iPhone and Android phones.