Preface:
WhatsApp has expanded beyond just a tool for chatting with friends; nowadays, many people use WhatsApp to connect with potential clients for business or 'side hustles'. If you use WhatsApp for important communication, you should save your WhatsApp chats. This article will explain how to save your important WhatsApp communication, including chats and media files.
Part 1: Save Whatsapp Chats on your phone - for iPhone
Save WhatsApp Chats from an iPhone using iCloud
If you are an iPhone user you can easily save WhatsApp chats directly to iCloud using your phone's built-in features. Simply follow these steps to save your WhatsApp chats:
Go to - WhatsApp> Settings > Chats
Select Chat Backup > Backup Now

icloud backup
This will perform a one-time back-up and save to your device.
If you want to set-up automatic backups, the process is similar but in Step 2 you need to choose Chat Backup > Auto Backup, and choose the frequency (daily, weekly or monthly) of all backups.
Pros:
It is a secure way to keep text messages and media files
You can easily access a backup from your phone or the internet
Cons:
You must be connected to the internet to complete this backup
May not back-up properly on old versions of iPhone (iOS 8 or older versions may have problems)
You can only successfully complete a backup if you have sufficient space in your iCloud account, as well as on your phone. If your iCloud is too full, you will be asked to pay to add more storage.
This option only works with iPhones, you cannot restore a backup to another type of phone (such as Android).
Save WhatsApp chats on Android via Google Drive
Saving your WhatsApp Chats to Google Drive is a similar process as using iCloud - if you have an Android phone. If you are using an iPhone, the process is not supported. If you have an Android phone, follow these steps:
Go to WhatsApp > Select the three dots (...) feature in the upper right-hand corner
Choose Settings > Chats > Chat History > Backup
Choose your phone to Backup to Google Drive.
You can also set up regular, automatic backups that will save to Google Drive daily, weekly or monthly (as you choose).

backup whatsapp via google drive
Pros:
This is an official WhatsApp-certified way to save your backups
It is easy to use, and access later
Google Drive has changed their storage features, so now users that save WhatsApp backups to Google Drive do not have it count against the free storage of Google Drive - good news for Android users!
Cons:
Google Drive is only compatible with Android devices. Saving your WhatsApp chats from iPhone is not supported.
Save WhatsApp Chats both on iPhone and Android phones by using email
Another option for saving WhatsApp Chats is to send them via email. You can simply select the chat you want to save and choose "Export Chat". Then, under "More" options, choose to export via email.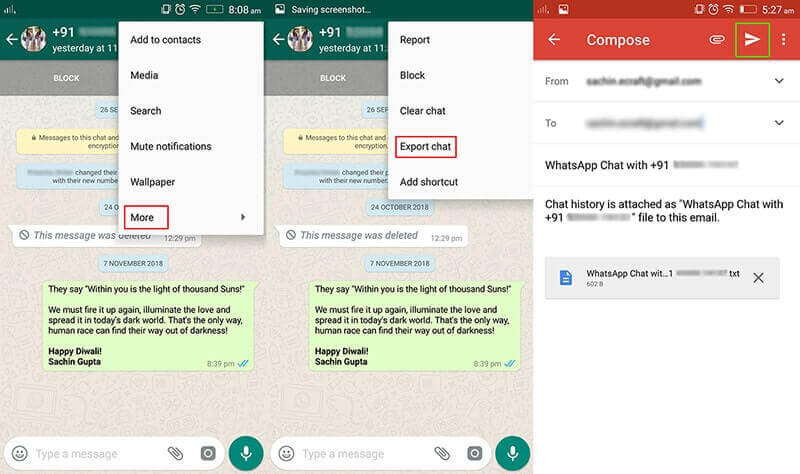 transfer via email
You can email the chat to yourself or another email address. This works well if there is important information in a single chat that you need to save or share. However, it is not a good option for saving all of your WhatsApp chats.
Another issue is that the exported chat is only readable as a text (.txt) file. Even if you email the chat to a co-worker who opens and downloads the file, it will not be readable on their WhatsApp program, only as a text file, which is often not very useful.
Pros:
Exporting a WhatsApp chat through email allows users to send a complete group chat to a person who is not in the group.
Copying the entire WhatsApp conversation in an email allows users to read the chats of a particular person using the email server's search option.
Cons:
This option is only useful for exporting one or two chats, it is not a convenient option for exporting multiple files or your entire WhatsApp chat history.
Files are not readable in WhatsApp.
Mobitrix
If the above options aren't suitable for you, there is an easy way to save your WhatsApp chats: Mobitrix WhatsApp Transfer. With Mobitrix, you can not only save your entire WhatsApp chat history, but you can easily transfer it to another phone or device (such as an iPad). There are no restrictions about viewing it on WhatsApp, and you can even transfer between two different types of devices - including Android to iPhone.
Pros:
User-friendly: Mobitrix is simple and straight-forward to use.
Secure and completely safe: Mobitrix's privacy policy takes your security seriously.
Mobitrix is compatible with all types of phone systems, you won't face issues when transferring between operating systems.
Trusted. Mobitrix is highly rated, trusted, and professionally recommended for saving and transferring WhatsApp data.
Part 2: Save Whatsapp Chats to your PC
Mobitrix WhatsApp Transfer
If you need to save your WhatsApp chats to your computer, the easiest method is to use Mobitrix WhatsApp Transfer. This option allows you to download all media files from WhatsApp to your personal computer - an easy option if you want to move pictures, videos and attachments from your app to your computer in one easy transfer.
All you need to do is download Mobitri to your PC and then connect your phone to the computer via a USB cord.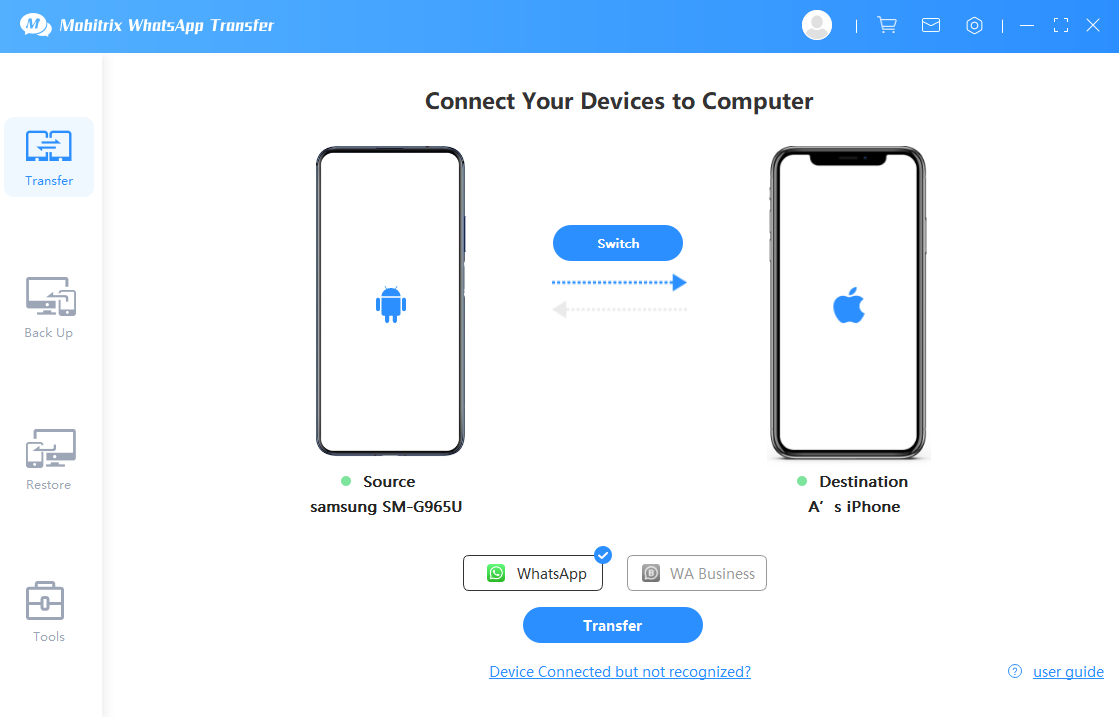 connect the 2 devices to pc
Pros:
You can view all your WhatsApp files, including the text, pictures, voice recordings, attachments, and videos on your computer.
Mobitrix supports all mobile phone models, manufacturers, and operating systems.
Because all of the data is stored on your own computer, it is the most secure option. There is no possibility of data leakage, because you are in full control.
Mobitrix is compatible with both Mac and PCs.
Cons:
You need to download the software on a computer to be able to use it
An internet connection is required.
Chrome Extension
If you have the web browser, Google Chrome, installed on your personal computer, you can also use the WhatsApp Web tool to download your WhatsApp chats directly to your computer. This allows you to download media files as well as text. Another cool feature of WhatsApp Web is that you can select chats between specific dates, if you need to narrow down the chat history you choose to download.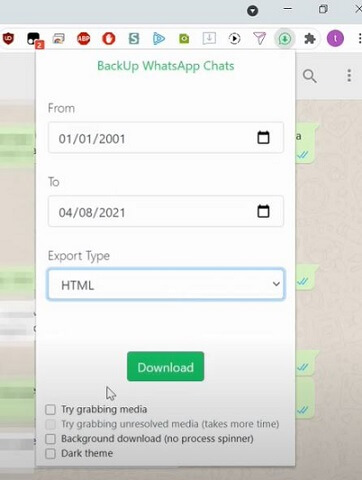 chrome extension backup whatsApp chats
Pros:
It is a convenient and official method.
You can export the chats as .txt, .csv, or .html formats, depending on how you might need to use them.
It works for iOS as well as Android devices.
Cons:
It is only available on Google Chrome. If you do not have Chrome on your computer already, you will need to install it.
In order to successfully complete the download of your chat history or files, you must be logged into your WhatsApp account on both the Google Chrome browser, as well as your WhatsApp account - which means sharing your personal information.
The backup cannot be restored back to a new phone; you can only use it for your own purposes, but cannot transfer it to another device.
This app has not received high ratings on Chrome's webstore - we suggest you read reviews before downloading anything onto your personal computer.
CopyTrans Contacts
Another option for moving WhatsApp chats to your computer is with CopyTrans Contacts. This feature allows users to download a backup for WhatsApp onto their personal computer.
It is simple to use - just download the tool onto your computer, then connect your phone to your PC. The downloaded software will recognize your phone and ask you to back up your WhatsApp chat.
You can also choose specific backups to save, if you don't need to backup all your chat history. A helpful feature of this tool is that you can save your backups as various files, which are easy for you to work with later - such as PDF, DOCX, a web page, or a TXT file.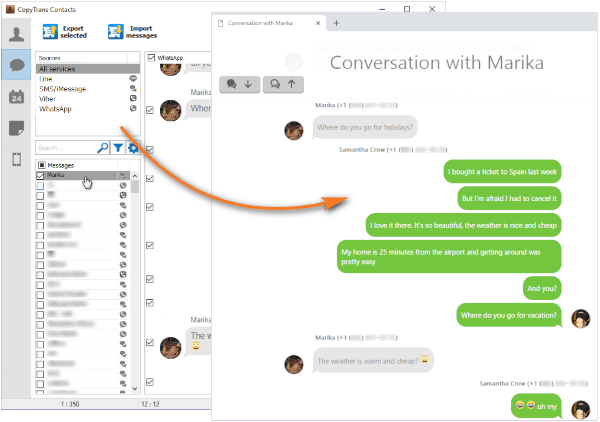 export whatsapp chat via copytrans contacts
Pros
You can use CopyTrans Contacts to back up the messages from just one of the chats instead of backing up the whole Whatsapp data.
Cons:
The backup made by this app cannot be restored back to a new phone.
This option can only download text messages and not attachments to your computer.
There are several options available for users who want to save their WhatsApp Chats. Google Drive and iCloud offer some solutions, depending on the user's phone type, while exporting via email or using web tools can help save a backup to a computer. However, Mobitrixoffers the simplest solution because this tool works with all phone types, and backups can later be restored to another device - even if it runs on another operating system. Also, with Mobitrix you can save all of your media files and attachments, too, making Mobitrix our top recommendation for saving WhatsApp chats.