We all fear losing the memories we have.
One of the major apps that contain our memories is WhatsApp. From the first steps of our children to loving moments with our partners, we all have a lot of cherished memories on WhatsApp.
Though WhatsApp offers a nice little feature to backup the data to iCloud (for iPhone) or Google Drive (for Android phones) to save such memories. But you can only view or delete the backups on Google and not see what's inside them. And for iCloud, you can't even do that!
But there's a way out! In this article, I'll walk you through four of the best methods that can be used to download WhatsApp backups to a computer so that you can use them in any way you want.
Mobitrix WhatsApp Transfer
Mobitrix WhatsApp Transfer is an all-in-one WhatsApp backup and transfer solution. The things that make Mobitrix the best tool for this job include:
It can backup, transfer, and restore WhatsApp backups to and from any mobile device regardless of the operating system.
It can make backups that can be shared across devices running on different operating systems, i.e., Android to iOS and iOS to Android.
It is 100% safe and secure, all the data is stored locally on your computer, and no one can access it in any way.
Unlike Google and iCloud Drive, you can download the backup to your computer and manage or edit it if you want.
The backup and transfer process is simple and easy to execute.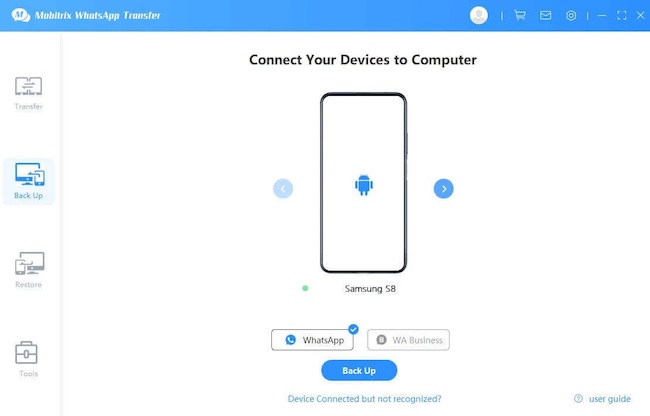 backup whatsapp to pc
How to Use Mobitrix to Make WhatsApp Backups that You Can Access Any time?
To make a WhatsApp backup of all your data that you can save on your computer and see the files inside, you need to do the following:
Login to your WhatsApp account on your phone and restore the backup from Google Drive or iCloud.
Download and install Mobitrix WhatsApp Transfer on your computer.
Connect your mobile to your computer using a USB cable.
Run Mobitrix WhatsApp Transfer and click on the Backup button on the interface.
To restore the backup, just follow the above steps, and instead of backup, click on restore and select the backup that you want to restore to the phone.
Here are some of the pros and cons of using Mobitrix WhatsApp Transfer as your WhatsApp backup and restore solution.
Pros:
You can view all the files, including the text, pictures, voice notes, attachments, and videos on your computer.
Mobitrix supports all mobile phone models, manufacturers, and operating systems.
As all the data is stored on your own computer, the possibility of a data leak is non-existent.
You can use it with a Mac as well as a PC.
Cons:
You need to download the software on a computer to be able to use it.
Chrome Extension – Backup WhatsApp Chats
Backup WhatsApp Chats is an extension that you can add to the Google Chrome web browser and then use WhatsApp Web to download your chats from WhatsApp to your computer. It allows you to download the texts or even attachments and media in the chat.
It also gives you an option to download the chats for a specific period of time by letting you choose the starting and ending dates.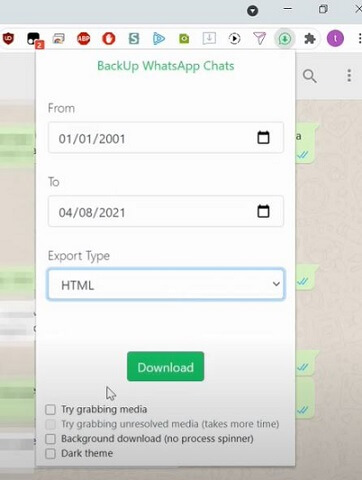 chrome extension backup whatsApp chats
Here are some of the Pros and Cons of this method for downloading WhatsApp Backup:
Pros:
It is a relatively convenient method.
You can export the chats as .txt, .csv, or .html formats.
It works for iOS as well as Android devices.
Cons:
You need to make sure that your WhatsApp is logged in to your WhatsApp account on the Google Chrome browser and the chat has been loaded.
The backup cannot be restored back to a new phone; you can only use it for your own purposes.
The rating of the app is not very good on Google Chrome Webstore; it is recommended that you read user reviews before using it.
CopyTrans Contacts
CopyTrans Contacts is another tool that works more or less like the Google Chrome web browser extension that we just discussed. You can use it to download a backup of your WhatsApp messages to a computer.
Using this app is simple. You download it on your computer and attach the phone to the computer. Then, once the software recognizes the phone (which can take a few moments), you can select the chat(s) you want to backup, and the backup will be made.
It can save the chats as a document file (.pdf), a Word file (.docx), a webpage (.html), or a plain text file (.txt).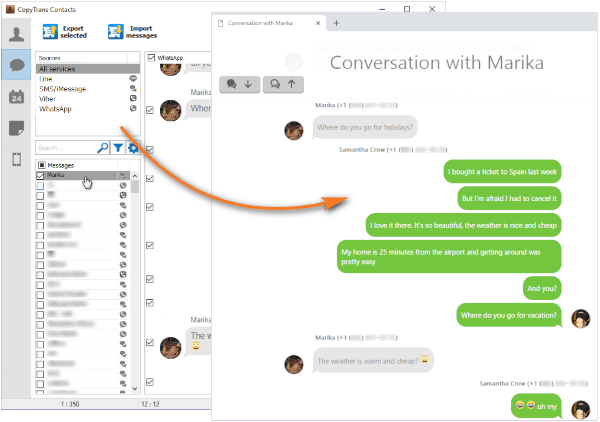 download whatsapp backup via copytrans contacts
Pros:
You can use it to back up the messages from just one of the chats instead of backing up the whole WhatsApp data.
Cons:
The backup made by this app cannot be restored back to a new phone.
It can only download text messages and not attachments.
iMazing
iMazing is more of a WhatsApp record keeper than a backup solution. It downloads detailed data of WhatsApp from text messages to all sorts of attachments and the events like people joining or leaving groups and the shared contacts and locations.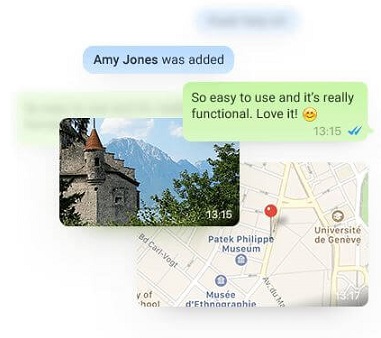 download whatsapp backup via imazing
It can save the chats in .pdf, .csv, and .txt formats. Here are some of the pros and cons of this software.
Pros:
Downloads all WhatsApp data.
Cons:
The backup cannot be restored to a new phone later.
If you want to avoid Google Drive or iCloud, there are four methods that you can use to back up your WhatsApp chats.
I recommend you use Mobitrix because it is secure, lets you download all data from WhatsApp, and above all lets you restore all the chats and other data back to any device when you need it.
In addition to that, you can also access the WhatsApp data backed up by Mobitrix WhatsApp Transfer and view things in it. This is something even Google and iCloud backups don't offer.