I enjoy playing Pokémon GO and want to improve my chances of catching rare Pokemon.
I spent a considerable amount of time searching the internet for tools that would enable me to spoof Pokémon GO.
This article is a how-to guide for anyone interested in using iPogo to play Pokémon GO without being banned.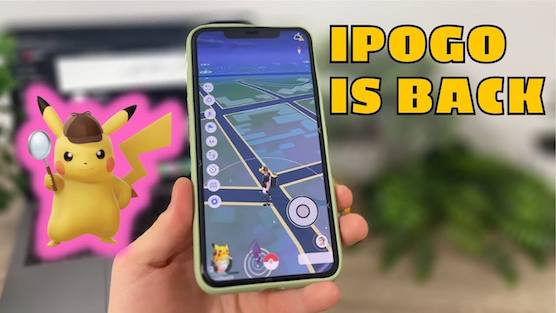 Pokémon GO is a game that is universally adored.
However, every now and then, one may encounter difficulties completing the tasks, making participation in this mind-blowing game difficult or impossible.
This is where the iPogo app comes to the rescue.
I can catch Pokémon faster and more intelligently with iPogo for Pokémon GO. Want to learn how to use iPogo? Let us begin!
What Exactly is iPogo?
iPogo is a more advanced modification of the Pokemon Go game. The iPogo app works by restoring the iOS version to its original state and modifying it to make the game easier to understand.

How Does iPogo Work?
If you wish to use the iPogo iOS software as well, you must jailbreak your iPhone first. Additionally, because utilizing iPogo for Pokemon Go may result in account suspension, you should consider creating a new account prior to using it. This tutorial will demonstrate how to use the iPogo iOS app to spoof your location in Pokemon Go.
Steps:
Install the iPogo iOS application

At first, you can simply jailbreak your smartphone by downloading Cydia Impactor from any publicly accessible source. Afterwards, you can visit the iPogo website to download the IPA file and complete the installation. Additionally, you can download iPogo from third-party sources such as 3uTools, Rickpactor, or Signulous.

Create a Pokemon Go account.

After downloading and activating the iPogo iOS app, you can link it to your Pokemon Go account. After that, navigate to its Settings and "Activate" your account. To examine its functionality, you can open a floating sidebar on your Pokemon Go screen and examine numerous settings.

Use iPogo to spoof your location on Pokemon Go.

By tapping on the map icon at the top of the iPogo screen, you can now change your location. This will open a map where you can enter the desired location's address or coordinates to find it.

Additionally, you can use the filter feature to locate specific Pokemon on the map and move the pin around. This will adjust your location automatically, allowing you to capture Pokemon from the convenience of your own home.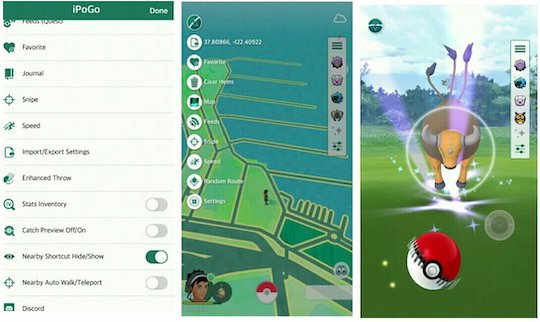 Why isn't my iPogo VIP key working?
Once a user has been banned from the app or attempts to use a forged activation key, they are almost certain to be banned. Additionally, if multiple users use the same key to activate their premium access, iPogo may flag this behavior and consequently ban the offending users. This may also be true for activation keys obtained through social media platforms such as Facebook, YouTube, or Reddit.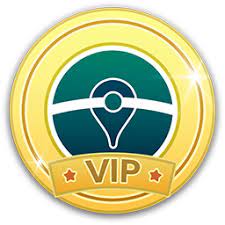 Due to the fact that iPogo requires jailbreak access and is notoriously unreliable, many gamers look for alternatives. For instance, you can download LuckLuck Go to quickly spoof the location of your iPhone without jailbreaking it. The software is extremely easy to use and comes equipped with a GPS joystick that enables you to travel between multiple locations. Apart from that, the desktop program allows you to save any location as a favorite.
Apart from iPogo, a more secure method of spoofing Pokémon Go.
MagicGo is a mobile application that can be used in place of going. It is an app that is said to be an iPhone location spoof that is used to moderate the Pokemon Go app, allowing users to play the game without having to purchase premium packages.
It is one-of-a-kind.
For instance, there are no restrictions on the number of locations you can view in your Pokemon Go application.
Second, it's simple to locate various locations by simply entering coordinates.
It is easily accessible on all iPhone models, from the iPhone 13 to previous generations.
I should also mention that the Pokemon Go app will not detect the location spoofer, and there will be no warnings or strikes issued.
Procedures for utilizing LuckLuck Go
Connect your iPhone to your computer and click "Start" to launch MagicGo.
You can change your iPhone's location by selecting "Teleport Mode" from the top menu. To load a location on the map, simply enter its name, address, or coordinates into the search field.
Apart from that, you can simulate the movement of your iPhone between multiple locations by selecting the "Multi-stop mode" option at the top.
This enables you to create a Pokemon Go route by placing pins on the map. Additionally, you can specify the number of times you wish to travel the route and even the speed at which you wish to travel. After clicking the "Move" button, the movement simulation would begin.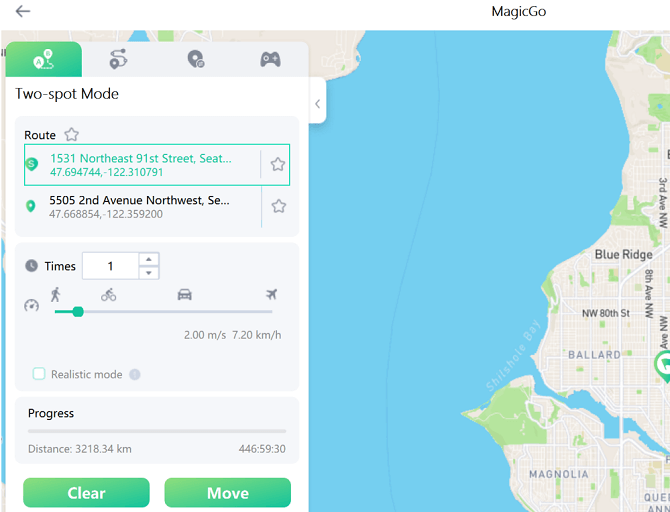 This MagicGo application has a wide range of advantages.
Among the benefits is that no jailbreak is required to access the app.
This app is compatible with all location-based apps, such as Whatsapp, and works seamlessly with them.
As mentioned previously, it supports newly released iPhone versions such as iOS 15 and iPhone 13 and higher.
Bonus Tips: Several methods for obtaining the iPogo activation key.
iPogo VIP keys are available from a variety of sources.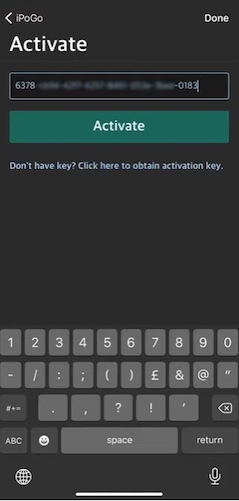 iPogo anniversary
iPogo anniversary is one of the ways to obtain a free iPogo activation key.
Reddit
Reddit is another option for obtaining the free iPogo activation key; on the Reddit app, you'll find a Pokemon Go community where members share their free activation keys.
Discord
Additionally, iPogo keys can be obtained via Discord. There are iPogo-related discord servers where these activation keys can be obtained quickly.
YouTube
Additionally, YouTube provides the free iPogo VIP keys. On YouTube, you'll frequently come across gaming YouTube channels that share free iPogo activation keys. This is advantageous for Pokémon Go players, as it enables them to spoof their locations and access the game.
Facebook
Free iPogo activation keys can also be found on Facebook. On the Facebook app, there are groups dedicated to gaming that regularly share links for premium access to the iPogo app.
The following are frequently asked questions about iPogo.

1. Is iPogo compatible with Android?
Unfortunately, Android users are not yet able to access iPogo. This means that it is only available to iPhone users, and thus any websites offering iPogo for Android users are deemed fraudulent.
2. Why is iPogo not functioning properly?
There are a variety of possible reasons for the iPogo app to stop working, the most notable being that the Pokémon Go app has received system updates. If you find yourself in this situation, do not panic; simply wait a few days while the iPogo app modifies the games' system, and then try again.
3. Will using iPogo result in a ban?
One should exercise caution when using the iPogo app, and one should wait at least thirty minutes before attempting to catch another Pokémon in a new location.
4. When is iPogo going to be fixed?
iPogo should take no more than 24 hours to configure on average. This typically occurs after the Pokemon Go game has been updated and the iPogo app requires time to make the necessary changes to the game.
I'm confident that after reading this essay, you will have a better understanding of iPogo for Pokemon Go and how to use it. Due to the fact that the iPogo iOS software requires jailbreak access on your device, you may wish to investigate other options. I recommend using MagicGo because it is a straightforward solution that does not require jailbreaking your smartphone. Apart from faking your Pokemon Go location, it can also replicate your device's movement at a desired speed and offers a slew of other features for leveling up in Pokemon Go and other games.