Learn about some of the most excellent tools and how to use them to remove location limits from Pokemon Go.
Pokemon Go's visibility is hampered by GPS location. It's preferable if you understand the benefits, drawbacks, and cost of each tool before deciding which one to use for Pokemon Go Spoofer iOS.
My enthusiasm for Pokemon Go is unrivaled, although the Pokemon surrounding me are constantly in short supply. Despite my attempts to move my position, which is generally time-consuming, I obtain nearly nothing in the end, despite my exhaustion.
This led me to try to get a Pokemon Go Spoofer to modify my iPhone's location. I tried and spent all of my time realizing that some spoofers were no longer available. Not to mention that a VPN is not a suitable option because it can only change my IP address, not my GPS address; nevertheless, Pokemon Go is a GPS location-based game!
With this, I'm sure I've given you a hint as to why I'd want to review the current working spoofer for Pokemon Go. It is also my pleasure to share the most excellent tools for removing Pokemon GO location limits.
Do you think that's all I've got for you? No! I'd also want to teach you how to move the game's virtual location! Believe me, after reading this essay. You will be able to catch any uncommon Pokemon from the comfort of your own house, just as I did. Sounds intriguing.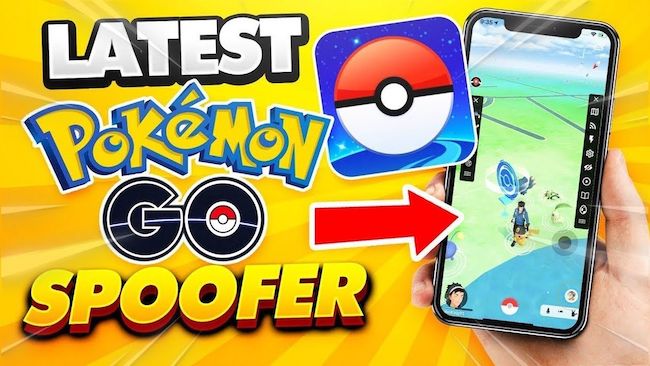 So, what information do you require regarding the most excellent Pokemon Go Spoofer iOS?
First and foremost, I would advise you to employ computer software. The iOS program will need to jailbreak the iOS system to fake the location. This is difficult and may put your phone in jeopardy. So, initially, let's test the procedure without jailbreaking.
1. Mobitrix MagicGo: 1-Click to Spoof Pokemon GO.
As you are going to discover, Mobitrix MagicGo is the most highly recommended. It not only provides GPS changes with a single click, but it also allows you to move about remotely with simplicity. It is safe and secure, and you won't have to worry about your account getting blocked because you changed your location multiple times.
You can't deny the relief this software provides because you know how difficult it is to find an app to fake an iOS location. I hadn't had a good experience finding one before joining Mobitrix MagicGo. Most of them are low-rated, out-of-date, and easily recognized by Pokemon Go.
Features
You may switch to any area to locate more Pokemon and pin historical landmarks with a single click.
Its two-spot mode is fantastic. And there's more. You may create fictitious moments on the map and have them instantly synchronized with Pokemon Go.
It offers joystick mode, controls up and down, left and right, and other features to improve your gaming experience.
How to Use Mobitrix MagicGo
Install and run the software.
Connect your iPhone and press the Start button.
Modify a position on my map using the Move option.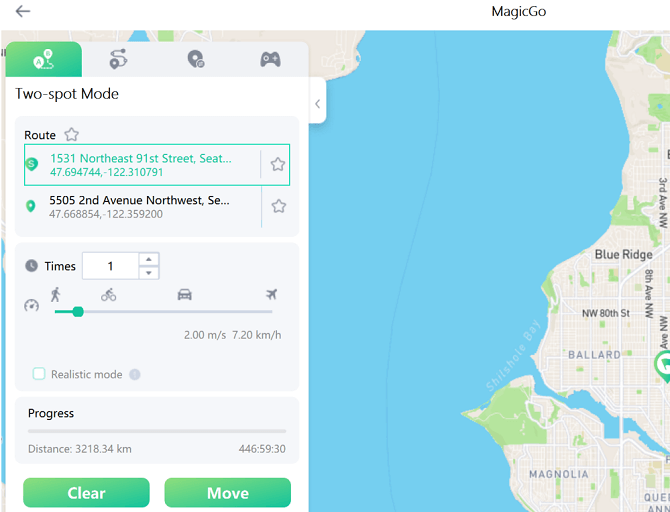 Pros
It's easy to use, the methods are straightforward, and you may obtain rare Pokemon from the comfort of your bed.
It is compatible with the most recent iOS 16 and all the iPhone series.
You may mimic walking between different locations at your own pace.
It is secure. Thus there is no need for jailbreaking. Pokemon Go will not identify a location spoofer and will not issue you a warning or strike.
Are you concerned about the price?
Many Pokemon Go spoofers, such as Dr.Fone -Virtual Location, Mobitrix MagicGo, iMyFoneAnyTo, Tenorshare any, are the same price, $9.95 per month. Based on my game-play experience, Mobitrix MagicGo is a better solution if you want a simple and easy UI to mimic Pokemon Go locations in a less-banned manner. However, I will go through all of the Pokemon Go spoofers, so I will show you each one and provide detailed instructions to assist you.
2. Dr. Fone-Virtual Location to Set a Fake Location on iPhone
Dr. Fone -Virtual Location is yet another excellent stimulant that can assist you in impersonating Pokemon Go. It offers a map-like interface that will assist you in changing your Pokemon Go position accurately.
Do you know how to utilize Dr. Fone?
Select the "Virtual Location" option. Then press the "Get Started" button.
Locate the teleport option in the upper right corner of the toolbox, select it, and enter the desired place or coordinates into the search field.
Place your pin exactly where you want it. Then, after dropping the pin, click "Move here".
Pros
You may play Pokemon Go at your speed by implementing virtual moves.
Cons
Complicated steps
It's not free because you'll have to pay $9.95 every month.
You must first install the program on your computer.
3. iMyFone AnyTo to Change iPhone location
iMyFone AnyTo is a piece of software that allows you to change the location of your device. It can also personalize your routes and even trigger your GPS activities.
How to Make Use of AnyTo
Connect your iOS device to your computer in step one.
Type in your selected address in the top left corner.
Confirm your specific location, and your smartphone will immediately follow that trail.
Pros
Android and iOS smartphones are both supported.
It's pretty simple to use.
Cons
The interface has become less pleasant over time.
It's not free; it's $9.95/month. You may also look at their prices.
Overuse the teleport feature may cause the system to mark you as a suspect.
5. ThinkSky's iTools
iTools is one of the tools that might help you change your location.
How to Make Use of iTools
Go to the thinkskysoft website, click the shop icon, and then pick "iTools."
Choose your preferred iTools version. The costs for the various models will vary.
Download and install the iTools version on your PC. Connect the iOS device to the PC via the USB connection. When the home screen device appears on your screen, click the "Toolbox."
Select "Virtual Location" from the drop-down menu. You will see a map that shows your current position on the device.
Decide on a new location. You may also input a place in the search field or select a new location on the map. Before selecting the area to spoof, make sure Pokemon Go is closed.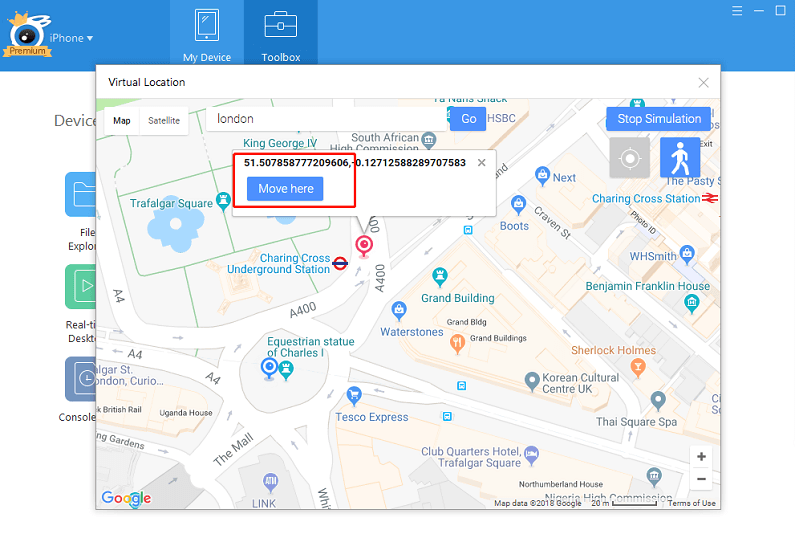 Pros
There is no jailbreaking.
Premium customers get access to an unlimited number of spoofing possibilities.
It can back up and restore your iPhone's data.
Cons
The free version allows for only three location changes.
Premium plans begin at least $5 per month.
Only iOS 12 and older versions are supported (no iOS 13, 14,15)
6. iPokeGo for Pokemon Go
iPokeGo is another Pokemon Go Spoofer on iOS. But the main danger is that your account will be blocked if the firm determines your actual location.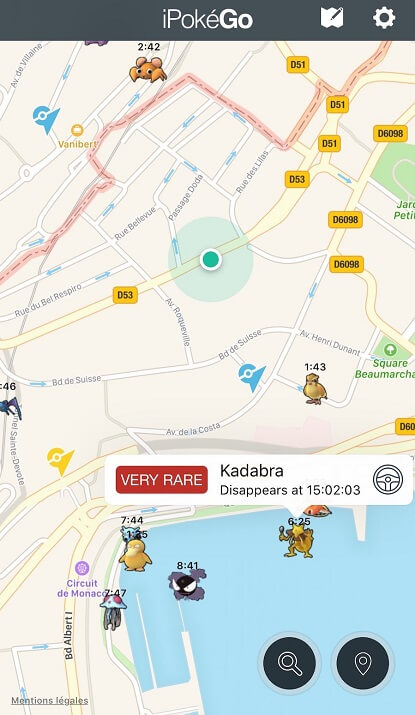 Given that the iOS system lacks a "spoof location" feature doing so is not that simple. Let's look at some of the apps that will require you to jailbreak your iOS.
Pros
Simple to use.
There is no jailbreaking.
Cons
Your profile may be blocked.
Must purchase the beneficial features.
7. Pokemon Go++
Pokemon Go++ is another program that can assist you in faking your position while playing Pokemon. However, it would help if you were prepared to jailbreak your smartphone.
Pros:
There is no need to utilize a computer.
Spoofing a location manually.
Cons:
It would help if you jailbroke iOS.
If you are caught, you will be banned from the game.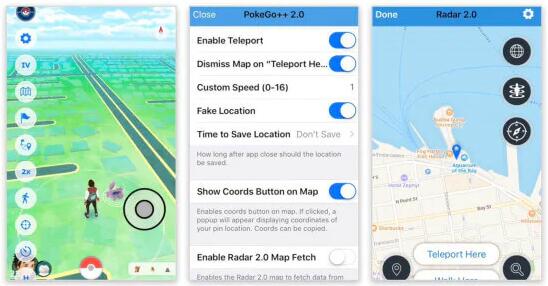 If you don't have access to a computer or don't want to jailbreak your iPhone, another alternative is to use a hardware technique to hide your iPhone's position.
8. iTeleporter Spoofer of Location
This is classified as a plug-and-play iOS device spoofing solution. You will only need to connect it to your device without installing anything.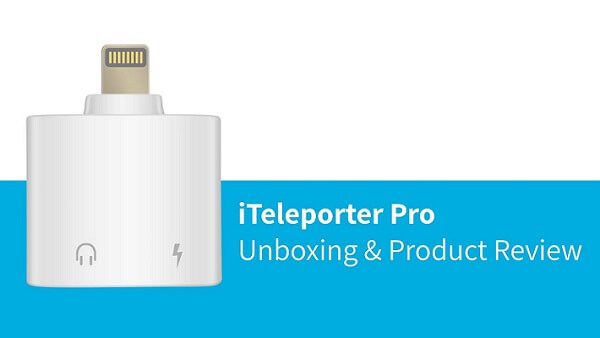 Do you want to find out how to utilize iTeleporter Location Spoofer?
In the top right, select the Teleport mode.
Locate the place to which you wish to teleport.
To teleport to a specific area, click "Move here."
Pros
Simple to operate
There will be no jailbreaking.
It is accurate.
Cons
Only iOS devices are supported.
Very expensive, with multiple models beginning at $259
It is only possible to use it with its companion app.
9. iPhone Location Spoofer Gfaker
This is an iOS-based solution found in a plug-and-play solution. It's simple to use, and you can modify your GPS position to anyplace in the globe.
Instructions for Using Gfaker iPhone Location Spoofer
Installing Gfaker hardware on your device
Search for the location you wish to spoof on your iPhone.
Select a mode to begin shifting your location.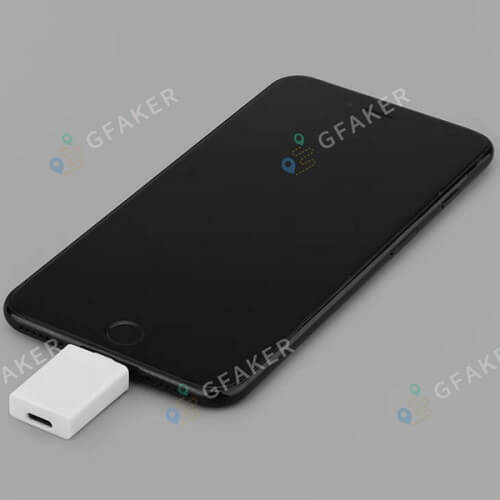 Pros
While charging your device, you may spoof.
Various sites throughout the world
There is no jailbreaking.
Cons
iOS devices are the only compatible ones.
It's pricey.
Avoid Not Working Pokemon Go Spoofers
If you want to catch rare Pokemons from other locations, Pokemon Go spoofers that don't work will waste your time.
There are much better options out there! But first, let's make it clear. I've read several articles praising iSpoofer, iOS Roaming Guide, and VPN, yet they're all ineffective. So, save yourself the trouble and steer clear of them altogether.
Wondering why?
Firstly, iSpoofer has been officially shut down on the Internet and is unavailable in 2022. Also, iOS Roaming Guide only works on a jailbroken device and is not available on the App Store.
As for VPNs, their operation might seem simple, but in reality, they are the most confusing tools. Trust me on this. I once spent money on a VPN hoping to change unrestricted locations on Pokemon Go, only for my VPN connection to drop, exposing my location and almost getting me banned.
Why Can't I Use VPN To Spoof Pokemon Go?
As its name suggests, a VPN gives you a virtual private network as you surf the internet. This method, in essence, only hides your IP address to prevent prying eyes from seeing your online activities.
So, in this case, a VPN won't work because it doesn't change the GPS location, which is critical to spoof Pokemon Go.
VPNs have nothing to do with satellite positioning but essentially work as your proxies on the internet. It only encrypts your internet traffic and disguises your online identity. This feature only makes it difficult for hackers and other third parties to track your activities online and steal data.
However, Pokemon Go is a GPS location-based game, and a VPN is not a suitable option because it can only change the IP address and not the GPS address. Therefore, using a VPN will not allow you to fake your GPS position on your iPhone to play Pokemon GO.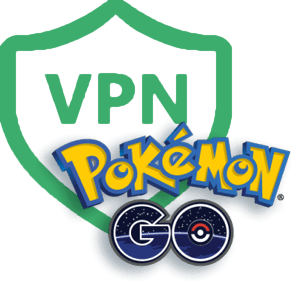 From this post, you may have observed that Pokemon's visibility is hampered by GPS location. You now know how to fake Pokemon Go on your iPhone. The most incredible thing is that you won't be going out. You'll do it remotely since, I'm guessing, you've become an expert and are in a better position to spoof Pokemon Go on iOS.
After discussing some of the nine spoofers, it's evident that Mobitrix MagicGo stands out from the crowd. Keep in mind that you may quickly switch positions with a single click as a player! The cherry on top is that Pokemon Go automatically synchronizes the virtual movement. What more could you want when you have the opportunity to capture a rare Pokemon remotely?