Is your iPhone stuck on verifying updates? This is what you should do.
Any time your iPhone gets stuck at verifying updates this causes inconveniences and acts as a hindrance to your activities thus a quick fix for this problem is needed.
This article covers the needed quick fixes for iPhone stuck on verifying updates for different models of iPhone.
What does "Verify Update" on iPhone mean?
Any time your iPhone says "Verifying updates", it doesn't imply that it's stuck in an update, it implies that the verification process which normally takes few seconds is prolonging longer than it should.
This happens in instances such as when many users are rushing to update their devices to the latest Apple update at once.
Thus, you should wait for about 15 minutes for your iPhone to verify updates but, if it takes more than that, then it's stuck and you need to try the fixes below.
To-do things before you start fixing your iPhone
1. Ensure that your iPhone is charged fully. During any update, your iPhone should be well charged to ensure the update process completes uninterrupted.
2. Check to ensure that your Wi-Fi has good strength as a poor connection will fail to verify the update and your iPhone will get stuck at verifying updates.
3. Ensure you have adequate free space on your iPhone to accommodate the updates. You can easily verify this from Settings > General > About > Available.
4. Before you update, create a backup of your iPhone, this is to ensure you evade a case of lost data as you can easily restore your backup.
Quick fix for iPhone is stuck on verifying updates
1. Lock your iPhone the wake it up.
To lock your iPhone then wake it up, simply press the power button on the side or at the top, repeat this several times (5-10 repetitions). When the iPhone screen goes black, this solution has worked. Apple's logo and the progress bar will appear as an indication that the update process has started.
2. Hard Reset
To hard reset your iPhone, do the following based on your model.
iPhone 6S or earlier: Long-press the Home and Power button at the same time and release when Apple's logo disappears then reappears.
iPhone 7: Long-press the Power button, and the button for volume down until Apple's logo disappears then reappears.
iPhone 8 or newer: Press then release the button for volume up, then press then release the button for volume down, then long-press the side button until Apple's logo disappears then reappears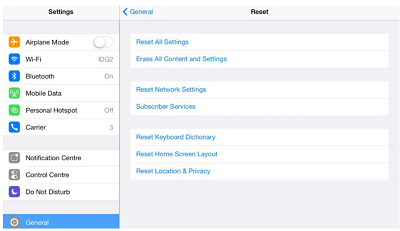 Once hard resetting is successful, open Settings > General > Software updates. Try to re-download and install the update. If this method fails, proceed to the next step.
3. Redownload iOS update
This method assumes that the downloaded update is the cause of the problem thus, it needs to be redownloaded via the steps below.
Step 1: Open Settings > General > iPhone Storage. Delete the updates.
Step 2: Once deleted, restart your iPhone
Open Settings > General > Software Update. Redownload the previous update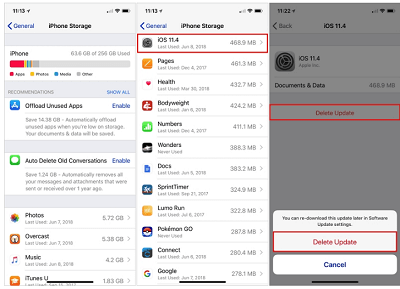 4. Update iOS with iTunes
If still stuck at verifying updates, try to use iTunes to update your iPhone.
Step 1: Connect your iPhone via a USB (Apple-approved) to your laptop or PC
Step 2: Open iTunes on the computer and ensure it's the latest version.
Step 3: Let iTunes sync and once completed, select your device by clicking on the icon for iPhone.
Step 4: Navigate to the Summary section, and select Check for updates, the on-screen instructions will guide you on updating your device.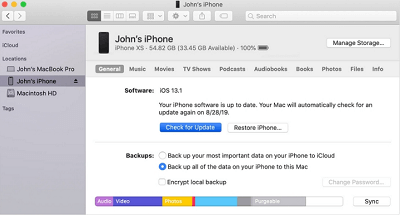 This method requires you have the latest iTunes version on your computer and data can be lost if you failed to create a backup before proceeding.
5. Use Perfix
It is recommended to use Perfix instead of restoring the device in iTunes or performing a DFU recovery. Mobitrix Perfix is an iOS system repair tool that can be used to fix iOS stuck issues without causing data loss.
Step 1: Launch Perfix on your computer and select "Standard Mode"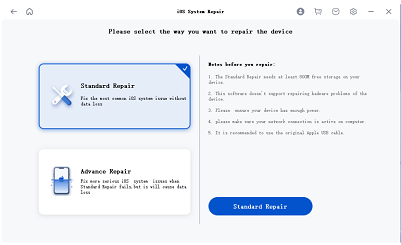 Step 2: Connect your iPhone to the computer and wait for Perfix to detect your iPhone.
Step 3: Download the needed latest firmware for your iPhone.
Step 4: To initiate the repair, click "Repair Now".
Why use Perfix?
It doesn't require you to have iTunes.
It repairs your iPhone with no data loss.
It has simple, just one click, recovery steps.
It has support for all iOS devices and versions.
6. Use iTunes to restore your iPhone.
Open iTunes on your computer and connect your iPhone to it
Select your iPhone from the screen.
At the left click Summary then click the option to Restore iPhone.
Click the Recover button and confirm by clicking again.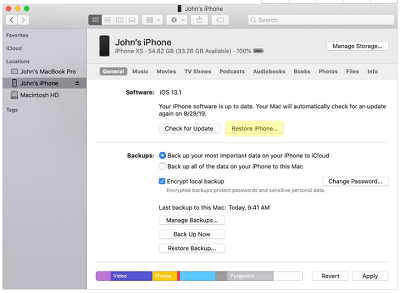 This method is good as it can fix iPhone stuck at verifying updates with no data loss.
However, you need iTunes latest version and you must have a prior iTunes backup.
7. Put your iPhone into DFU mode
The above methods should have fixed your iPhone but if for whatever reason they haven't, go ahead and try this method as a problematic software issue may be the cause, and entering in DFU mode can fix it by cleaning up all new code.
Do the following.
1: Ensure you have iTunes latest version is installed on your computer.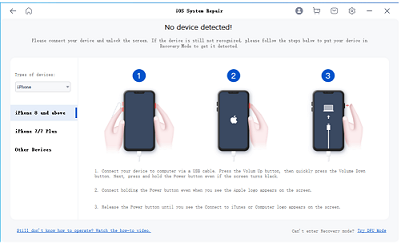 2: Connect via a USB cable your iPhone to the PC.
3: Wait for the computer to acknowledge your iPhone
4: Go to Summary > Restore iPhone
Note that, this method is complicated, can cause loss of data, and is not supported by all iOS models.
Last method to fix the problem if still stuck at verifying updates
The last option is to visit an Apple store with your iPhone or contact Apple Support online for them to fix your iPhone for you.
To conclude, we all need our iPhones in a good position for use thus, having quick fixes for any problems with our iPhone is necessary. This article introduced all the quick fixes that you need to fix your iPhone and most importantly via Mobitrix Perfix. Moreover, you should seek official help from Apple if your iPhone is still stuck at verifying updates.