I occasionally require additional features from the apps I use dependent on my location.
Depending on where I am, different websites provide content.
When I'm on vacation, I need to access different types of content, and spoofing my location is a useful tool.
Spoof location on iPhone
I travel frequently, and apps occasionally offer different content based on the place I'm in. I preferred to stay up to date on what was happening in my location via social media and other websites like YouTube, TikTok, and others. On occasion, I prefer to access an app's hidden features or settings by faking my location.
However, location spoofing on the iPhone is difficult. Without a doubt, the level of fake location applications on iOS is terrible. However, neither the App Store nor side-loaded programs (installed through Apple or other methods) appear to work regularly.
In this article, I'll go through five tried-and-true methods for changing your iPhone's location.
Why Do You Need to Spoof Your iPhone's Location?
Spoofing location for iPhone users is required for a variety of reasons. Some of the reasons are as follows:
Hide your current location while using particular Apps, or prevent being tracked by family members via Find My iPhone.
You could want to view a movie on Netflix/Amazon Prime or another streaming service that isn't accessible in your area.
You can play location-based apps like Pokemon Go on your iPhone by faking your location. On location-based dating apps like Tinder, you may find or get more matches more easily.
You can gain access to restricted location-based services by spoofing your iPhone's location. I'll explain five techniques to secure and spoof the location of your iPhone.
Spoof Location on iPhone via Mobitrix MagicGo [the most recommended way]
Mobitrix MagicGo is the best way to impersonate your iPhone's location because it has been tested to work with iOS.
The Mobitrix MagicGo program outperforms VPNs that are either restricted or do not operate on all applications that rely on GPS geolocation to offer services.
How to use Mobitrix MagicGo:
Start Mobitrix MagicGo on the computer that is connected to your iPhone.
Connect your iPhone to your computer, then press the "Start" button.
Select a location on the map and click the "Move" button.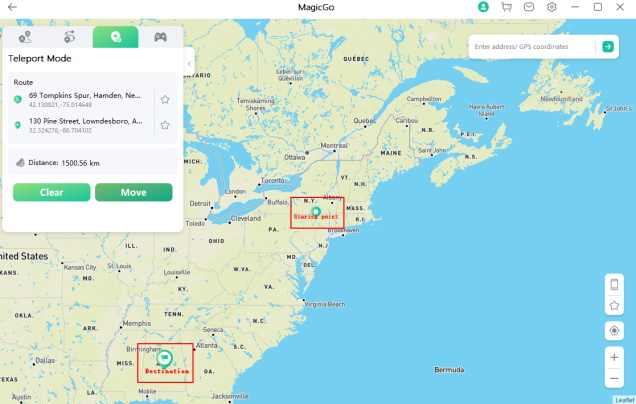 Spoof iPhone Location using MagicGo
Done! Your location will be changed right away. All location-based apps on your iPhone will be altered to reflect the faked location.
Pros:
There are no delays while creating a fake location.
Allow you to share your fake location on social media.
All location-based applications, including Maps, WhatsApp, the Fitness app, Facebook, and others, are compatible.
It's perfect for gaming. By synchronizing simulated motions, you can

play Pokemon Go without moving

.
If you have more than one iPhone, you may use another device to impersonate your iPhone's location to avoid being tracked by locate My iPhone.
How to Change the Location of Your iPhone Using Another iOS Device
Changing your iPhone's location using another iOS device involves tricking your phone into notifying applications that you are somewhere you are not. In most cases, spoofing your GPS position fools every location-based app on your iPhone.
How to Spoof an iPhone's Location Using an iOS Device
On the other iOS device, go to Settings .
Tap on your name at the top.
Select "Find My" followed by "Use This iPhone as My Location."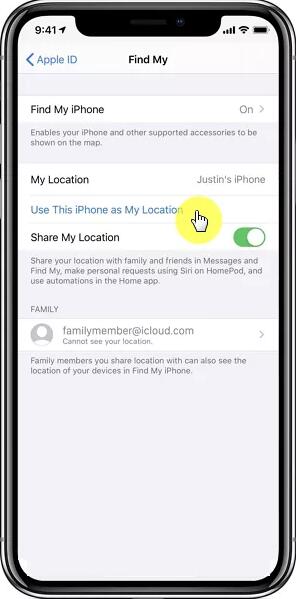 Use this iPhone as my location
Pros:
Fake your iPhone's location quickly and without being detected.
Free.
Useful for masking current location when using various programs and avoiding family members being tracked by Find My iPhone.
Cons:
An additional iOS device is required.
f the location remains constant, family members or friends will be able to find it easily.
A more capable method of faking your iPhone's location for Find My is to use location changing software like Mobitrix MagicGo, which allows you to make simulated motions.
You may wish to view your favorite movies from diverse locations on streaming services such as YouTube or Netflix. The quickest way to accomplish this is to utilize a VPN when surfing and checking numerous websites on your iPhone.
How to Use a VPN to Change Your iPhone's Location (For web browsing only)
VPN enables you to quickly access multiple websites' content, view movies on Netflix, and stream geo-restricted content.
You may use VPN apps from the Apple App Store to change your location from one location to another.
Installing and utilizing a VPN service.
Launch the App Store on your iPhone and search for a VPN app. Popular VPN programs accessible in the app store include Turbo VPN, Express VPN, and NordVPN.
Launch the VPN app on your iPhone and grant it permission to alter VPN settings.
After selecting a VPN server location from the Locations page, tap the connect button.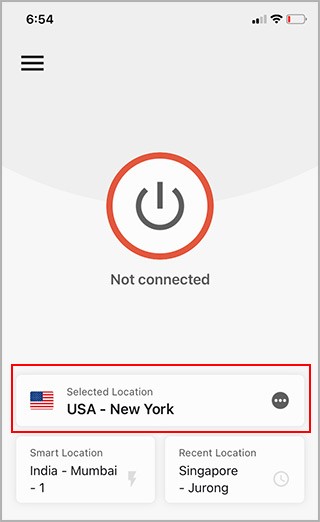 Change location via VPN
Pros:
It is easy to use.
Assist you in accessing services on foreign websites, such as Netflix or YouTube.
Cons:
Only capable of faking your location when browsing the internet on your iPhone.
Won't spoof GPS-based apps and games like Pokemon Go, Tinder, WhatsApp, or Facebook.
Aside from using a VPN, which has restrictions on where you can use it, jailbreaking your iOS is another way to fake your location on iPhone.
Jailbreaking your iOS device is required to spoof your iPhone's location.
Jailbreaking your iPhone is the next step in faking its location. When you jailbreak your iPhone, you have access to the majority of its original settings. However, this technique may be complex because it is dependant on the iOS version you are using. 'The Anywhere!' app is a good option, and it is also compatible with iOS 15. Here is a step-by-step guide to assist you with this procedure.
To utilize this approach, here's what to do:
Download the 'The Anywhere!' location faking the Cydia software on your phone.
Download and install the program, then activate it from your home screen.
Go to the location you want to spoof.
When you tap the address, a red pin will appear.
Next, on the next screen, tap the blue tab.
On iOS, you can now select which applications you want to use to fake your GPS location.
the anywhere location faking app
Pros:
There is no need to utilize a computer using the iOS app.
Cons:
The technique is difficult.
Jailbreaking your iPhone puts it at risk and may cause it to malfunction.
You should be able to see the updated Location on the selected app now that you've launched it.
Spoof iPhone Location Using Hardware Technique
Instead of apps that tend to fake your current location at the app level, certain tools enable geolocation spoofing at the system level and perform significantly more reliably. These are small physical devices that plug into your iPhone's lightning port as a secondary GPS module, allowing you to spoof your location anywhere on the planet. The fake location feature is available across iOS, including in System Settings and individual apps.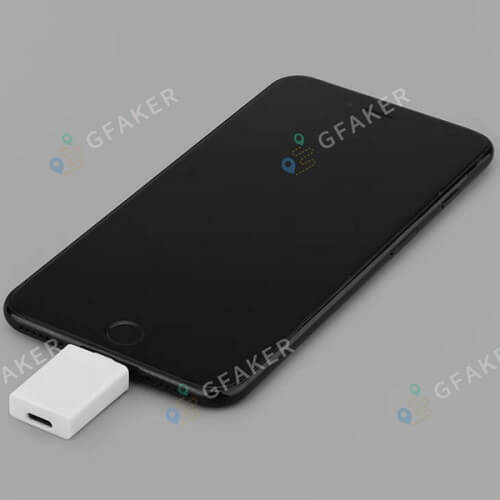 Use Gfaker iPhone Location Spoofer
Despite the fact that there are other tools on the market developed for this purpose, our analysis reveals that GFaker, iTeleporter Location Spoofer, and GFaker are the most commonly utilized iPhone spoofing techniques.
Instructions for Using the Spoof iPhone Location via Hardware Technique App
So, here's how to install and set it up to spoof your device's location. So, first and foremost, if you have GFaker location hardware GPS, you must follow the manufacturer's guide and installation instructions for the companion software. The App Store will not have it. The manufacturer must alternate between jailbreaking and installing the companion software on your iOS device.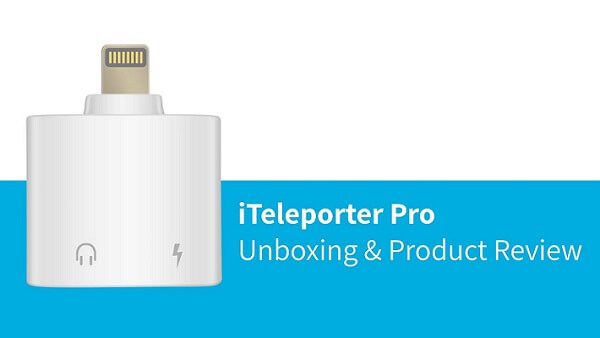 Use iTeleporter Location Spoofer
Pros:
Simplicity of usage.
You do not need to utilize a computer.
Cons:
Pricier, with several models starting at $259
Questions About iPhone Location Spoofing

Q1:How does spoofing GPS location on iPhone differ from spoofing IP location?
Assume you modify your Location to fool an app into believing you're using it in an inappropriate way (for example, Pokémon GO). In such situation, the app would frequently try to match your GPS location to your IP address. To spoof Location on your iPhone, you must now use a location changer, such as Mobitrix MagicGo, to modify your GPS location.
When using a VPN program to access the internet on your iPhone, you can only fake your location. This is useful for streaming Netflix or YouTube, both of which are provided by websites.
Q2: How Reliable Is the iPhone's Location?
When changing GPS location with tools like LuckluckGo, the iPhone position is precise down to a few feet when a GPS signal is available, according to the test. When the position is established by a mobile phone signal, however, it may be off by a few hundred meters.
For changing IP address using VPN, the location is inaccurate, not specific, often a region or area, unable to be specific to a specific street or position.
It doesn't get much easier than this to disguise the location of your iPhone. You may quickly disable some programs that use your location if you are concerned about them. I've offered five straightforward strategies for masking the location. Depending on the user, each choice offers pros and cons.
I strongly advise you to use the Mobitrix MagicGo software, which offers more options for altering and concealing your location than the other methods given above.
Mobitrix MagicGo cares about your security and privacy. That is why I numerous techniques for concealing the location of your iPhone in order to have greater control over how you should use it.