'I'm having an issue with WhatsApp backing up to Google Drive on an Android device. From there the backup stalled at 30%. I can't get it to continue, even on a solid network. Is there a way to force WhatsApp to start a fresh backup? ' – From forums.androidcentral.com
Recently, we've been getting questions from some WhatsApp users who complained that the backup can get stuck. This problem mostly occurs when trying to backup WhatsApp to the Google Drive, especially when the automatic backup is set up.
We've decided to address this issue and find 6 solutions for WhatsApp backup that gets stuck on Android.
Our Suggestion – Use an Alternative Backup Solution
Since not having a backup may not be a good idea, we recommend considering using a backup tool even if you find solutions to this problem. The most appropriate tool to use in this case is Mobitrix WhatsApp Transfer.
This third-party tool allows users to backup, restore and transfer WhatsApp messages, and below are the reasons why we recommend Mobitrix here:
Backup all types of WhatsApp messages to computer. There is no limit to the backup storage. (Just be aware that the free storage of iCloud is only 5GB and Google drive is 15GB.)
Restore WhatsApp messages to an iPhone or Android device. (This can also be done by iCloud or Google drive. However, it will be very slow if the network is poor.)
We adhere to our Privacy Policy and all of your data are stored only on your computer's local hard drive.
The following is a simple step by step guide to use Mobitrix to create a full backup of WhatsApp to your computer:
Step 1: Open the program after successful installation and click on "Back up WhatsApp on Devices".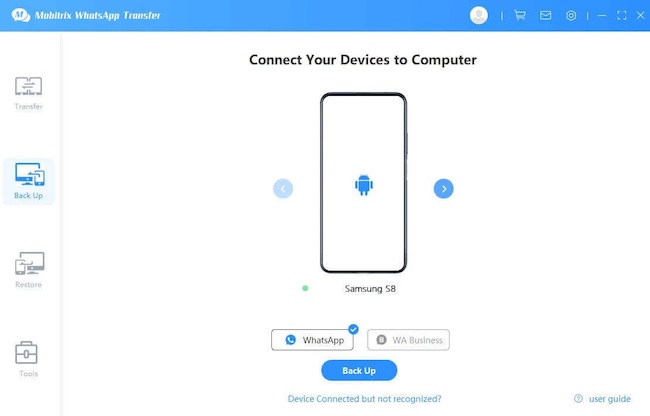 Step 2: Connect the Android device to the computer using an USB cable. As soon as the computer detects the device, click on "Back Up" to begin the backup process.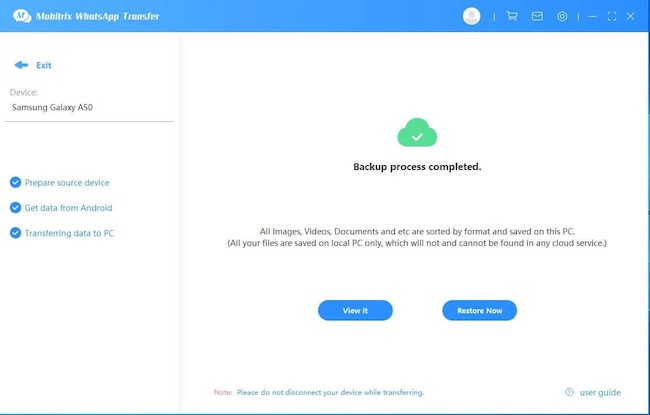 The backup process will begin the process immediately. Simply keep the device connected to the computer until the process is complete.
WhatsApp Support Center's Suggestion
The 2nd place we checked for a solution of this question is WhatsApp support Center. They seem to think that the problem can be caused by a poorly configured Google Drive account. Therefore, they offer the following suggestion:
Make sure that you have a Google account added to your device and that the Google account is activated.
You should also ensure that you have Google Play Services installed on the device and that it is up to date. Google Play Service is however only available for devices running Android 2.3.4 or higher and therefore you may have to update the device if it is running anything lower.
It is also possible, according to WhatsApp Support Center, that your network connection is not strong enough to complete the backup. They suggest using a Wi-Fi network or making sure that the Cellular data network you are using supports both Google Play Services and WhatsApp.
Suggestions from Android Central Forum
We also went looking for solutions from the Android Central forum and many users had two main suggestions to help with this problem. They include the following:
3.1 Clear Cache on WhatsApp
Go to Settings > Apps > Select WhatsApp > Force Stop > Storage > Clear Cache. Once this is done, restart the device before attempting to backup WhatsApp again.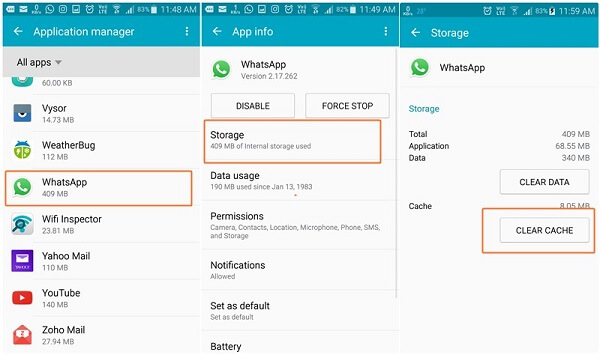 3.2 Use a Different Google Drive Account
Many users on the forum also recommend using a different Google account, seeming to confirm WhatsApp support's assessment that the problem could be the configuration of your Google account. If you don't have an alternative Google account, create one and add it to WhatsApp. You can do this in WhatsApp settings and then try to backup WhatsApp again.
Suggestions from Reddit
The Reddit threads also offered two solutions that you can try. They include the following:
4.1 Force Stop WhatsApp
This solution can be effective if you suspect that WhatsApp may be the problem. To force stop WhatsApp, to Settings > Apps > WhatsApp and the tap "Force Stop".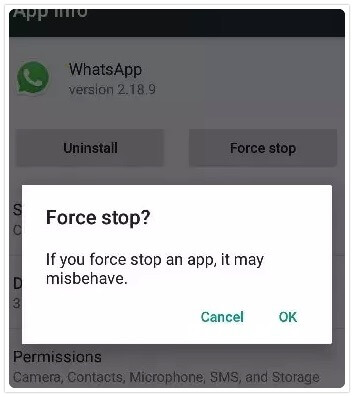 You can then reopen WhatsApp and attempt the backup again.
4.2 Use WhatsApp Beta
You can also try to use the latest version of WhatsApp and WhatsApp Beta is perhaps the best solution when you want to use the most recent version of WhatsApp. But while WhatsApp beta might be very helpful in this instance, it is often unstable and likely to cause problems with the device's other features. To join the WhatsApp Beta program, go to https://play.google.com/apps/testing/com.whatsapp/join
Sometimes, you encounter problems with your WhatsApp backup on Android that make you simply want to abandon the whole backup process. Rather than fail to back up your WhatsApp data, it is our hope that the solutions above will help you overcome this problem and easily backup WhatsApp. Your feedback is very important to us. Let us know which of the above methods worked best for you and more importantly, share your questions and concerns with us and we'll do our best to find you solutions.