You'd think transferring WhatsApp backup from the same manufacturer would be easy. But that is not the case when it comes to Samsung. Although the manufacturer offers specialized software, Smart Switch, most people are annoyed by its problems.
I was going to download the app myself but then I read some reviews. People were having lots of trouble. A user quoted that he couldn't get the app installed in his Samsung Tab S2. Another user said:
"I was so excited to get the new S21 Note but this App has been a complete nightmare to transfer my WhatsApp data from my s9+. Shouldn't be that difficult. I've been a longtime loyal Android/Samsung user for years but this might cause me to rethink that and switch to a new phone altogether."
A glaring shortcoming of the Samsung Switch is that it does not transfer WhatsApp data at all. While it transfers other types of data like apps, device settings, files, photos, and SMS messages, it does not transfer any data or applications which are end-to-end encrypted.
WhatsApp data and messages are end-to-end encrypted. Consequently, Samsung Smart Switch cannot transfer the data. For most users, WhatsApp data is one of the most important to move to a new phone. So how do we fix this?
Thankfully, there are other ways that help you transfer WhatsApp data. We will be discussing these methods in detail and talk about the advantages and disadvantages for each of them. Let's dive in!
Some Common Solutions to Transfer WhatsApp from Samsung to Samsung
1.1 Via Local Backup
WhatsApp keeps a backup of data on your smartphone. Although this process is automatic, before transferring, we need to manually take a back up to ensure the latest data is also backed up. This method does not involve the use of Google Drive.
Open WhatsApp on the older device > Tap the three dots in the top right corner and open "Settings".
Open "Chats" > Tap "Chat Backup" > "Back Up" (this makes a backup on the local device).
Sign out of your account OR Uninstall WhatsApp from the device.
Open up the WhatsApp folder in either internal storage or SD card and copy the entire folder.
Move this folder to your PC/Laptop.
On your new Samsung phone > Navigate to internal storage or SD card, depending on where you want to store your data.
Move the WhatsApp folder from the PC/Laptop to the WhatsApp > Databases folder.

whatsapp databse folder

Install WhatsApp on the new device > Enter the same number as in the older phone.
The setup detects the backup files > Tap on restore and the data will be moved.
Advantages:
Disadvantages:
Requires the same phone number.
Lots of steps to follow.
1.2 Via Google Drive Backup
This is one of the most common method to transfer WhatsApp data. It is less manual than the previous method and it uses your Google Account to backup and restore from Google Drive. It takes some time as all the data is first uploaded from the old phone and then downloaded on the new phone.
Open WhatsApp on your older Samsung phone > Hit the three dots icon > Open "Settings".
Go to "Chat" > Followed by "Chat Backup" > Make sure you are logged into Google Account.
Now tap on the 'Backup' button, you can choose to include or exclude videos > After it is done, remove WhatsApp from the device.
Install WhatsApp on the new device > Log in to the same Google Account > During the setup, it will show the backup, tap the "Restore" button.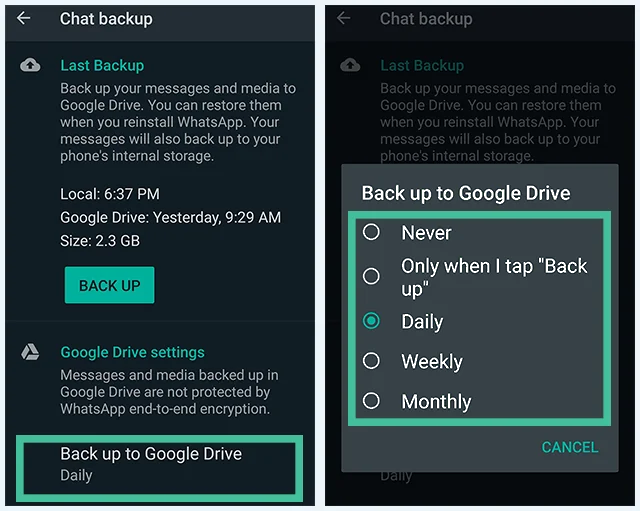 google drive backup
Advantages:
Disadvantages:
Limited storage of 15GB.
There are compatibility issues in some cases.
Slow procedure.
1.3 Transfer Via Email
You can also transfer WhatsApp data by emailing the chats to yourself. The idea is to email the chats from the old phone as attachment and then downloading it from your new phone. However, this won't transfer the chat to WhatsApp and the chats will be accessible as a document file.
Open WhatsApp on the older phone > Select the contact or group to restore > Swipe left.
Tap "More" > "Export Chat" > Select "Mail".
Type in the email linked with your Android phone > Send with the attachment.
You will get an option to transfer media files, however, it is recommended to exclude it due to the 20 MB limit per email attachment.
Open the "Mail" application on your new Samsung phone and download the attachment.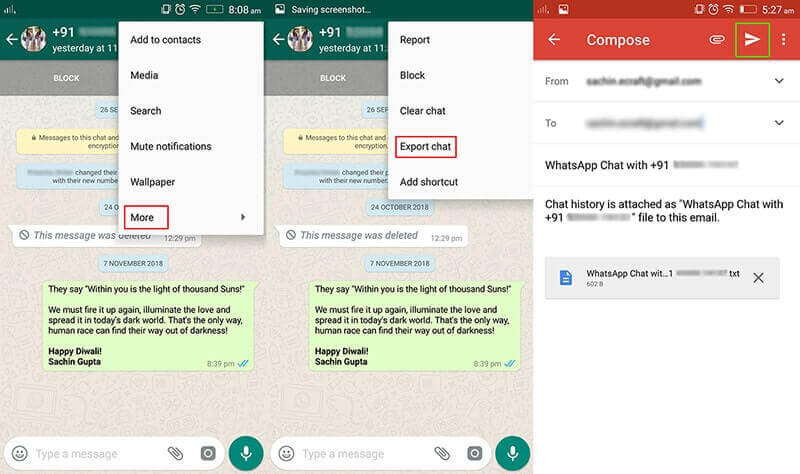 transfer whatsapp via email
Advantages:
Disadvantages:
Limited transfer of media files.
Chats do not transfer to WhatsApp, instead, they are viewable as a document.
Manual process requires repetition for each chat.
One-stop Solution to WhatsApp Data Transfer from Samsung to Samsung
Mobitrix WhatsApp Transfer comes to the rescue as an all-in-one WhatsApp data management software. Do you feel the disadvantages of the methods discussed above are too many? You are right. Mobitrix was developed to fix all the collective issues of the methods of WhatsApp backup transfer from Samsung to Samsung Android devices.
Here are the easy-to-follow steps to transfer WhatsApp from Samsung to Samsung:
Download and install Mobitrix on your computer. Unlock your Samsung phones > Connect both of them to the computer.

connect the 2 device to pc

Open Mobitrix > Click on "Transfer WhatsApp between Devices" in the menu on the left.

the device successfully connected

Click on the "Transfer" button > Once the transfer is complete, you will get a notification.

start to transfer whatsapp messages
Key features of Mobitrix WhatsApp Transfer:
Easily Transfer from any Platform: Mobitrix supports the transfer of WhatsApp messages, images, videos, and more from Android to iPhone, iPhone to Android, iPhone to iPhone, and Android to Android.
Backup WhatsApp to your PC and Restore: With Mobitrix, you can easily connect your device to your computer and backup your data. You can then restore this data to another device.
Quality of Data – 100% intact: You can rest assured about your data. Not only is it going to remain 100% intact, but you also don't have to worry about privacy as all data is stored directly on your computer.
Works with 8000+ smartphones: Mobitrix is made for anyone using WhatsApp regardless of which mobile set they are using. It offers support for Apple, Samsung, HRC, LG, Sony, and other smartphone manufacturers.