WhatsApp is one of the most widely used messaging apps in the world. And while you might think that you need a phone number to setup and use WhatsApp, there are ways to use WhatsApp without phone number. If this sounds like good news to you, keep reading to find out how to use WhatsApp without phone number.
Part 1: Why Don't You Want to Use WhatsApp with Your Phone Number?
One of the main reasons why you may not want to use your phone number on WhatsApp is Privacy. For instance, if you have one phone number and you don't want to use the same number for your business and personal communication, you can choose to not use WhatsApp with your phone number. You may also have a smartphone that doesn't have a SIM installed on it and you want to keep it that way even when using WhatsApp.
If the above sound like good reasons why you wouldn't want to use WhatsApp with your phone number, then one of the following solutions should prove useful to you.
Part 2: Use WhatsApp with Virtual Phone Number via TextNow
There are many apps that can give you a virtual phone number that you can use for WhatsApp. One such app is TextNow. Follow these simple steps to verify WhatsApp via a virtual number you get from TextNow:
Download and install the TextNow app on to your device, either from the App Store for iPhones or the Google Play Store onto Android devices.
Open the app and then tap "Get Started".
Enter your email address in the designated field and then click on the arrow. In the next interface, enter your preferred password then click "Create Account".

create account textnow

Complete the Captcha form and the tap on "Turn on Notifications" so that you will be notified of incoming calls.
You can tap "Skip for Now" for all other options and proceed to enter the area code for your desired phone number.
Tap "Continue" to complete the process.
Now open WhatsApp and enter the phone number TextNow has provided to you. When the countdown is complete, tap "Call Me".
Answer TextNow to receive an automated call from WhatsApp. Enter the 6-digit code that you hear in the call and tap "Next" and you'll now be able to use WhatsApp without using your phone number.
Part 3: Verify and Use WhatsApp via Landline Number
You can also use a landline number to verify WhatsApp so that you don't have to use your phone number to use and access WhatsApp. Here's how to verify WhatsApp via a Landline number:
Download and install WhatsApp on your device and when WhatsApp asks you for a phone number for verification, enter the landline number in the field provided.
SMS verification will fail and when it does, you will see the "Call Me" option to wait for WhatsApp to call your landline number.
The automated call that you receive from WhatsApp will repeat a 6-digit verification code. Enter this code in the field provided to verify WhatsApp.
Part 4: Use WhatsApp via Google Voice Number
WhatsApp users in the US and Canada can setup Google Voice to get a new phone number. Since you can use the Google Voice phone number to send and receive text messages, you can use it to set up WhatsApp. But you will need to provide your phone number to set up Google Voice. Once you have the Google Voice number, all you have to do is enter the phone number in WhatsApp to get the verification SMS or call.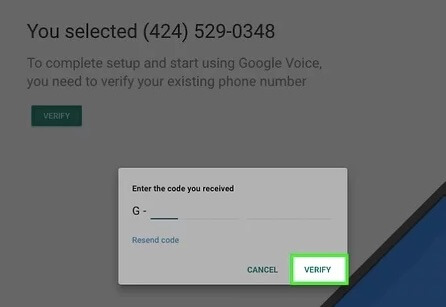 use whatsapp via google voice number
Part 5: FAQs on How to Use WhatsApp without Your Phone Number
The following are just some of the most common questions we get on this process:
Is it Safe to use WhatsApp without a Phone Number?
There is not much difference in using WhatsApp with your phone number or without it. In fact, using WhatsApp without your phone number may be useful if you wish to keep your phone number private.
Are there any other apps apart from TextNow that I can use?
If you don't want to use TextNow to verify WhatsApp without your phone number, you can use MyOperator, FreshCaller and VirutalPhone.
Do these apps Work on other Apps that require verification like WhatsApp?
Yes, the virtual phone number that you get from these apps will also work for other apps that require phone number verification. But it is important to check the terms of use of each app to see if it will be applicable for the purpose you want to it for.
With the solutions above, you can use WhatsApp without having to use your personal phone number. If you encounter any problems with the solutions we've outlined above, let us know in the comments section below and we'll be glad to help.