Have you ever wanted to change your phone but wondered how to transfer your WhatsApp data? Worry no more because all you need is this article.
This article will show you some simple tricks you can use to back up your WhatsApp data.
The article has gathered methods for both Android and iOS users, so there is no need to worry about using either of the phone versions or what to transfer between an Android and iPhone.
Backup WhatsApp from Android to Another Android
1. Via Google Drive
Google Drive can store your WhatsApp data in your Google account, making it easy to transfer the WhatsApp data from one Android phone to another. To use Google Drive, follow the steps described below:
On your old Android phone, open the WhatsApp application, go to the Menu button (the three buttons on the top), select Settings at the bottom, and click on Chats, then Chat Backup.
Select a daily, weekly, or monthly backup frequency, then back up to Google drive. You can also click on Backup Now to make the Backup at that time.
To transfer your WhatsApp data to a new phone, download the WhatsApp application verify your number then, on the prompt to restore your chats, agree to it and allow the process to complete.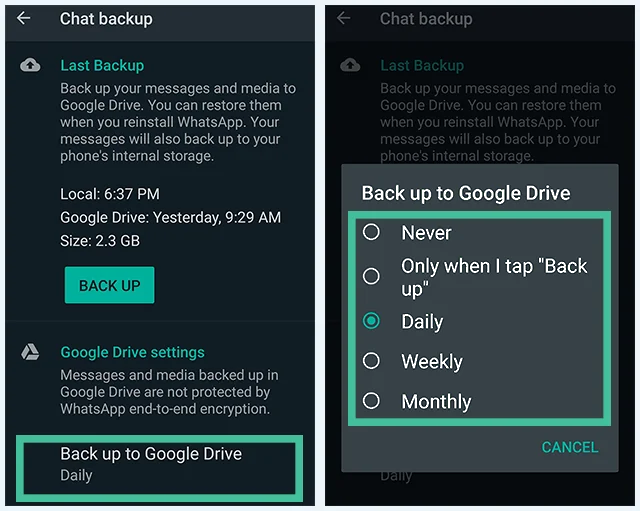 backup whatsapp via google drive
After clicking on the Next option, all your chats will be displayed. You should use the same Google account; otherwise, your Backup will not be restored.
The advantage of this method is that it is fast and convenient but it can only be used with Android phones.
2. Via local Backup
Local Backup is a method of making automatic backups that generally occur at 2 am every day. The Backup is made to your internal memory or an external SD card.
The following steps can be followed:
If you had made a backup on an external Sd card, you can remove it from the old device and place it on the new Android phone.
If your Backup was stored on the internal memory, you could navigate to the Backup location in a WhatsApp/Database folder, copy the latest Backup and paste it somewhere you can easily find it on your computer.
Connect your new Android to the computer where you pasted the Backup, then install WhatsApp on the new device. A WhatsApp/Database folder will be created. If not, you can create it.
Go ahead and copy the Backup, then launch the WhatsApp application. You will get a notification that a backup was found. Go ahead and restore it by clicking on "Restore". Give it a few seconds, and your chats will appear on the device.

via local backup
The benefit of this method is that it does not need any third-party tools. However, it consumes a lot of time, making it inconvenient.
Backup WhatsApp from iPhone to Another iPhone
The article also gathered the possible ways one can use to transfer WhatsApp history between two iPhones.
1. Via iCloud
The iCloud feature can be used to transfer your WhatsApp history between iPhones. Although it works, you can risk losing the existing data meaning it is only convenient if no current data exists on the new iPhone.
To transfer the WhatsApp messages, the following steps will guide you:
The first step is to turn on the function for iCloud Backup on both iPhones. You can skip the step if it is enabled.
Open the WhatsApp application on the old iPhone.
Start the Setting Application > Chat Settings > Chat Back Up, then select Back Up Now. Allow your WhatsApp history in the old iPhone to be backed up successfully on the iCloud server.

backup via icloud

Take your new iPhone and install WhatsApp on it, then verify your Phone number.
On the Restore screen, click on "Restore Chat History" to restore your chats. You will be able to access your WhatsApp history afterward.

icloud backup
This method is very fast and convenient for most users, but the problem comes when you need to transfer a large volume of data as it limits free storage. Also, it can only be helpful when transferring data between iPhones only.
2. via iTunes
iTunes is another way you can use to back up your WhatsApp data on your iPhone. However, you have to note that this method will Backup every data on the iPhone without giving you room to select what you need to Backup only.
The steps to follow are:
First, ensure that the iTunes version on your PC is up to date. Also, update the software on your iPhone.
Connect the iPhone to a computer and allow the device to be recognized by the app. Select your device by clicking on its icon from the side of the screen.
Back up the data by simply clicking on "Back up Now". Allow the process to complete before disconnecting the iPhone. You can then restore it on another iPhone whenever you need it.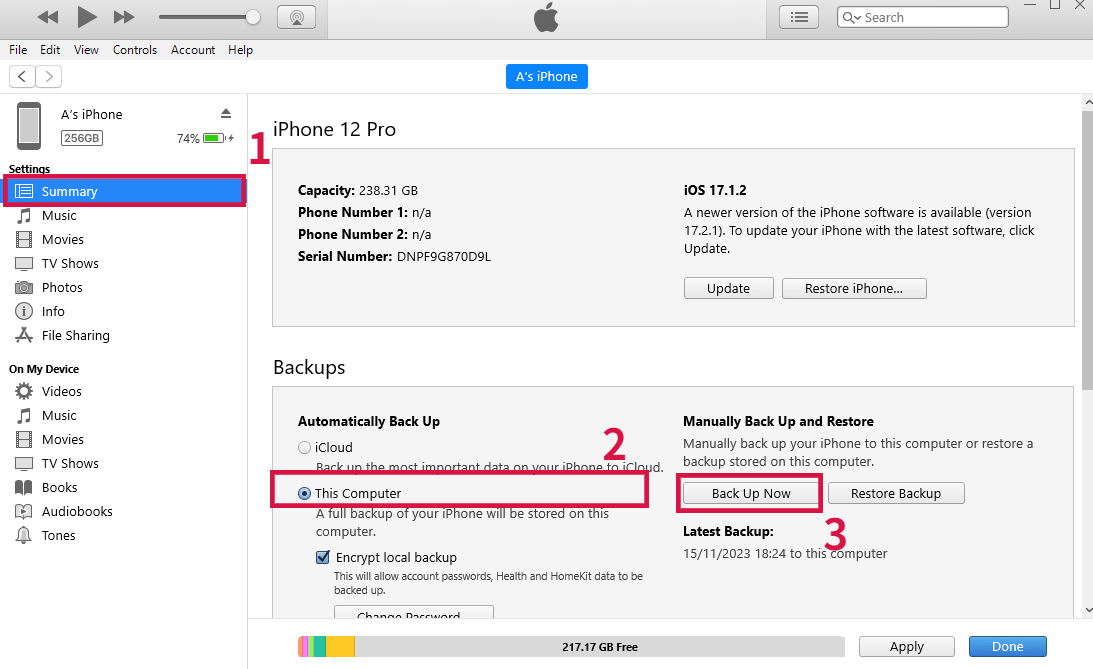 backup whatsapp via itunes
You can use this method without the need to uninstall the WhatsApp application. However, you have no authority over what you want to transfer.
How to Backup WhatsApp between Android and iPhone
If you want to restore a backup of WhatsApp data from an Android to an iPhone, the following methods can help you.
1. Use Mobitrix WhatsApp Transfer
Mobitrix WhatsApp Transfer is a secure way that can be trusted to transfer your WhatsApp Backup from an Android to an iPhone. This tool has specifically been designed to help in such situations meaning you can rely on it entirely.
The following steps will guide you through the whole process.
First, ensure the tool is installed in the computer, then launch it after connecting both the Android and iPhone to it through USB cables.

connect the 2 devices to pc

Both devices will be displayed on the screen. Ensure that the Android is set to be the source and the iPhone as the destination.
Initiate the transfer of WhatsApp data by clicking on "Transfer". Let the devices be connected till the process is completed.

start to transfer whatsapp
Some of the reasons why Mobitrix is recommended and ranked as the best are:
The tool does not require one to uninstall WhatsApp to use it because it allows direct restoration of Backup.
It involves just three simple steps, and therefore anyone can use it.
Everything is transferred with just a single click.
It is very secure, meaning that your privacy will be respected and given priority.
If transferring WhatsApp from an iPhone to an Android, select the iPhone as the source and the Android as the destination. Then follow the other steps as shown above.
2. Use WhatsAppTrans
WhatsAppTrans is another way of transferring WhatsApp data for those users with enough computer skills.
Note that:
The tool can be used for free.
It is advised to use this tool if you have enough computer skills.
The tool is not 100% guaranteed to transfer your data without the risk of losing it.
The chat history can be accessed from the Files application on your iPhone.
To transfer the Chat history of WhatsApp from Android to iPhone, follow the steps below:
On GitHub, click on "Download ZIP" after clicking on the green button labeled "Code". You can download either the customized or business version of WhatsApp, depending on what you need.
Download the tool for exporting your WhatsApp data "ExportAndroidWhatsApp.exe".You can only use this method if a WhatsApp directory exists in your Android's file manager, otherwise don't use this method.

how to download whatsapptrans

Use the local Backup in your Android to back up your data. Go ahead and delete the application and install a customized version of the application. Launch the installed app, log into your account, and restore data by clicking on the "Restore" option.
On your Android, open file manager and locate a 'WhatsApp" folder. Create under it a file "data.flg". Open the customized WhatsApp version and give it a few seconds depending on your data size. Reopen the WhatsApp folder and confirm that a file named "ok.flg" has been created together with a "chatpath" folder. This is a sign of successful exportation of your WhatsApp history.
Copy the WhatsApp folder and paste it on your PC after connecting your Android to it.
Type the command "ExportAndroidWhatsApp.exe WhatsApp path" on a command line.

transfer whatsapp via whatsapptrans

Ensure that iTunes is installed on your PC and connect the Android to it.
You can copy media files and any images from the "Media" folder to your iPhone' photos to allow you to view them easily from your photos.
Texts can also be imported from the "txt" folder on the WhatsApp folder. This will enable you to view your chats from the comfort of your iPhone.
If your computer skills are insufficient, you can consider avoiding this method and instead try the Mobitrix WhatsApp Transfer.
The tool is advantageous because it is free and can be used for iOS and Android versions, but it is complicated, meaning you may easily be lost, and it supports only a "txt" format.
3. Via email
Email can be used to transfer WhatsApp history between an Android and iPhone. Steps to follow are:
Open WhatsApp on your Android phone, then select the chats to transfer.
Navigate to Settings > More > Export chat > Email and either attach media or fail to attach it.
Enter the email where the WhatsApp data will be backed up then you can enter the same email on your iPhone to access your WhatsApp history.

transfer via email
This method is relatively simple. However, you can't open the chats from your WhatsApp as it is attached as ".txt".
Email also limits the number of messages that can be sent up to 10,000 if media is attached and up to 40,000 when no media is attached.
To conclude, the article has introduced the different ways one can transfer their WhatsApp history on either Android, iOS, or both versions.
The most suitable way recommended in this article is the use of the Mobitrix WhatsApp Transfer because it is straightforward and convenient to be used by any person.