WhatsApp is one of the commonly used communication tool for cooperate and personal nowadays. It is highly integrated into our daily life. While more and more information being share through WhatsApp, it is getting important to know how to protect your personal chat history from device lost, stolen or broken. Two ways to achieve that is to backup or exporting your WhatsApp content and store it in cloud or external storage. WhatsApp backup information is encrypted and the main purpose is served to prevent these messages from being read outside of WhatsApp, while export content allow you to save important information outside from WhatsApp and share with non-WhatsApp user.
Part 1. Export Whatsapp Chat from iPhone
2.1 Export Entire Chat History
Screenshot is one of the easier way to capture your WhatsApp information and save in your device and share it with others, but it is unable to capture the whole chart history and it will be stored as image format rather than text format. To do that, you just need to follow the steps below:
Open WhatsApp app > choose the individual/group chat you want to export the chat history.
Tap on the chat name/heading > Contact Info page > export chat.
You can choose to include your media (videos and photos) to be exported together with your chat history or just chat history. If you want to include Media, choose 'Attach Media'.
Choose the location you want to keep your chat history.
A ZIP file containing a .txt document for your chat history will be created.
If you choose to attach media, the media files will be save under "_chat.txt", you can refer the media file name from chat history in the "_chat.txt" file.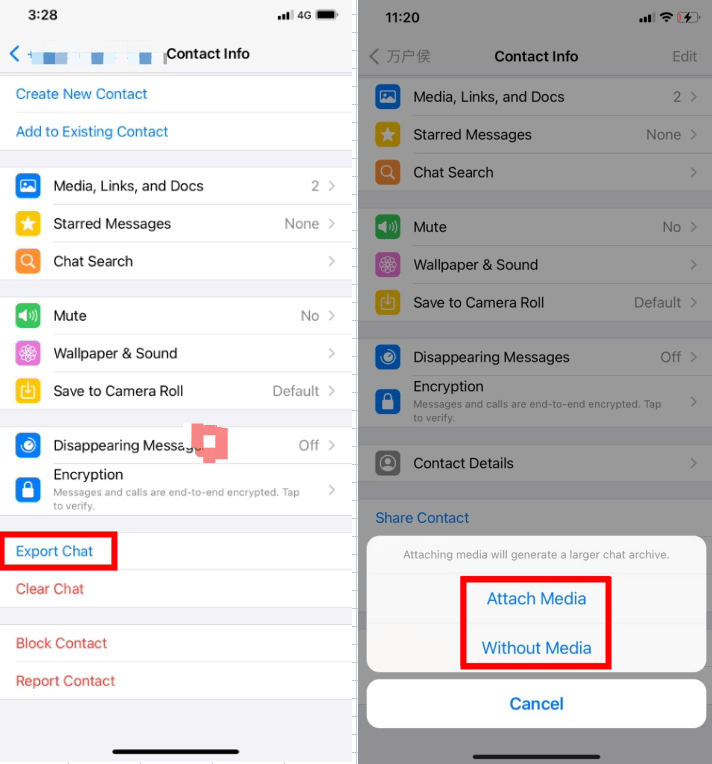 export whatsapp chat from iphone
2.2 Export Individual Videos or Photos
Sometimes, you may just want to keep specific information or media file to transfer to your friends or other personal usage, you may want to skip the process of downloading the entire chat history and search from there. There is an easy way to help you to do so.
Go to WhatsApp > tap on the individual/group chat > select the media file you want to download from WhatsApp chat.
Downloaded media file will be stored in your device. You can transfer the media file through other application or email.

download whatsapp media iphone

All media files by default is auto-download from WhatsApp settings. Users can choose to turn off or turn on the auto-download or choose to auto-download when connecting to Wi-Fi.
Part 2. Export WhatsApp Chat from Android
3.1 Export Entire Chat History
Export chat history from WhatsApp is also available for Android users. It is another option for you to keep your chat history to cloud and share the information with non-WhatsApp user.
From WhatsApp app > tap in the individual/group chat you want to export > settings > More > Export Chat.
You can choose to include media (videos and photos) from the chat. If you want to include them, choose Include Media.
After WhatsApp completed to initialize the export file, choose a location you want to save your chat history and proceed to exporting the file to the location.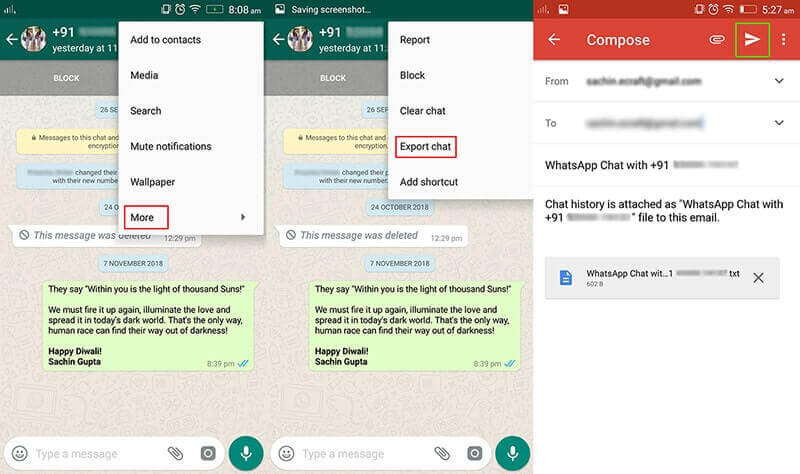 export whatsapp chat from android
3.2 Export Individual Chat History
WhatsApp also provides you to share only selected media information to your friends or use in other purposes. There is only few simple steps for you to follow.
Go to your WhatsApp app > Select the media file you want to export from individual/group chat.
Selected media file will be highlighted > click the settings button located at right-top of the chat > select Share option.
You can select different applications or transfer to your email for the selected media file.
WhatsApp allows you to auto-download data to your device, you can choose to disable or enable the auto-download feature or download only when selected roaming is available. To visit the feature, you may go to WhatsApp > settings > Storage and Data > Media auto-download.
Part 3. Export WhatsApp Chat from iPhone/Android
It is easier to export your WhatsApp content and share through iPhone or Android individually, but if you want to have your WhatsApp content being shared from Android and iPhone, it might be difficult for you to do so.
With two simple steps, Mobitrix WhatsApp Transfer provides you an easy way to export your WhatsApp chat from iPhone/Android.
Step 1: Install Mobitrix on to your computer and click on 'Back Up WhatsApp on Devices'.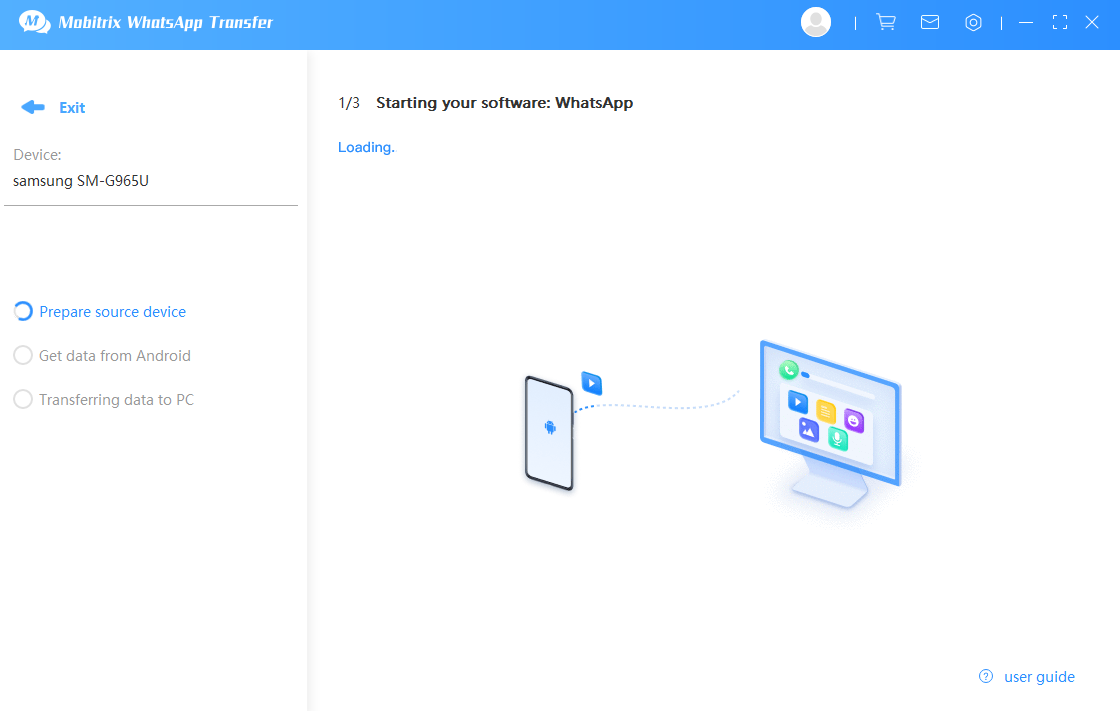 connect the device and start to backup
Step 2: Mobitrix will auto detect your device once you connected the device into your computer. After Mobitrix detected your device, click "Back Up" to begin backing up the WhatsApp data from iPhone or Android device to computer.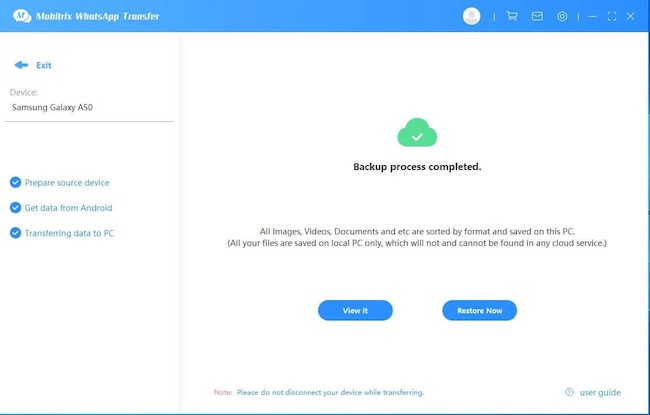 backing up whatsapp messages
Keep the devices connected until the program notifies you that the backup process is complete.
Mobitrix has many other features you may want to know:
Free to backup. No storage limits.
Export WhatsApp to computer and view WhatsApp messages & attachments in detail, such as photos, videos, document files, etc.
It is considered as the best iCloud alternative to backup WhatsApp for free.