There are a lot of different ways to transfer WhatsApp messages and media from a Huawei device or to a Huawei device. One of the most common of these ways is using Huawei Phone Clone. This app can be instrumental when switching to a Huawei device since it allows you to seamlessly move data to the new device.
But is Huawei Phone Clone the best way to transfer WhatsApp to a new device? In this article we attempt to answer this question.
Part 1. Does Huawei Phone Clone Transfer WhatsApp?
The Huawei Phone Clone app can be useful to you if you are transferring WhatsApp data from Huawei to Huawei. But if you are using it to transfer data from other models such as Samsung and iPhone, you will not be able to transfer WhatsApp data. The Huawei Phone Clone app can only transfer contacts, videos, photos and calendar from iOS devices to Huawei.
If you want to move WhatsApp data including chats and media files from any model to a new Huawei Phone, we recommend using a third-party tool. This tool supports the transfer of WhatsApp data from both iOS devices and Android to Huawei.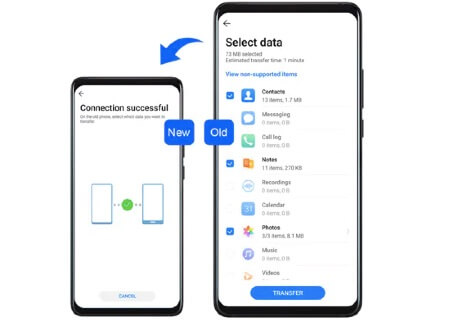 huawei phone clone
Part 2. Its Alternative to Transfer WhatsApp without System Restriction
One of the best third-party tools to transfer WhatsApp to Huawei without system restrictions is Mobitrix WhatsApp Transfer. Mobitrix is the ideal solution when you are looking to easily transfer WhatsApp messages and their attachments from one device to another.
Download Mobitrix from the program's official website and install it on to your computer.
Open the program and then connect both devices to the computer using USB cables.

connect the 2 device to pc

When the devices are connected and in the correct order, click "Transfer." The program will begin analyzing both devices.

start to transfer

After a few minutes, the program will notify you that the process is complete. You will be able to see the WhatsApp chats and media files on the destination devices.

successfully transfer whatsapp
The following are some of its main features:
Transfer WhatsApp messages across both Android and iOS devices.
Transfer all types of media including photos, videos, messages and other attachments along with the messages.
It also comes with Backup and Restore features that you can use to safeguard your messages.
Don't worry about the data security.Your device data will not be uploaded online, they will be kept on your own computer instead.
It supports a wide variety of Android devices and all versions of Android including Android 12. It also supports all iOS device and all versions of iOS including iOS 16.
The Huawei Phone Clone app can be useful for the transfer of certain types of data from an old device to a new Huawei. But you will only be able to use it to transfer WhatsApp if transferring from Huawei to Huawei. It is our hope that you will find Mobitrix WhatsApp Transfer as an effective solution to transfer WhatsApp to your new Huawei device.
We are always here for you. So, if you have any questions on this topic or any other WhatsApp related topics, we would be very happy to help. We also welcome any comments you may have.