Hard reset is also known as forced restart, a deeper operation than restarting, which turns off and then turns on the iPhone and fixes some iPhone issues.
Since there is no home button, you need to use the volume up button, volume down button, and side button to hard reset iPhone X, XS, XR, 11, 12, or iPhone 13.
This article will introduce how to hard reset iPhone X, and how to soft reset or factory reset iPhone X and other models.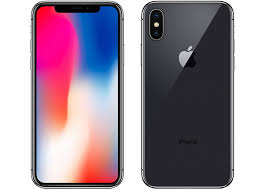 Your iPhone X is not responding? Do you want to hard reset it but don't know how? Since Apple has removed the home button from the iPhone X and later models, hard resetting them will differ from other models. Additionally, you might have confusion over the different reset methods, such as soft reset, factory reset, etc.
As a 3-year former Apple support online customer service, I often get inquiries about the iPhone X issues, like the screen and its buttons not responding. In this article, I will tell you the exact steps of how to hard reset your iPhone X based on my extensive experience, also whether it will damage your iPhone, and how it is different from other resets.
Part 1: How to Hard Reset iPhone X, XS, XR, 11, 12, or iPhone 13?
Your iPhone isn't responding? Just stay calm because this issue can be easily handled by hard reset.
Hard reset forces your iPhone to switch off and turn on again. This method comes with multiple benefits which are briefly mentioned below.
Advantages:
iPhone hard reset is a quick fix if your iPhone is frozen, stuck, among other issues.
It is easy and absolutely free.
Disadvantages:
Sadly, you cannot always fix your iPhone this way. Furthermore, the more hard resets you perform(forced restarts), the lower the used price of the iPhone would be when you wish to sell it. I know that's quite unfortunate. In other words, if you intend to sell your iPhone, you should use this method carefully.
To force restart iPhone X, iPhone XS, iPhone XR, iPhone 11, iPhone 12, or iPhone 13, do the following:
First, quickly press and quickly release the volume up button.
Then press and quickly release the volume down button
Then holding the side button.
Let go of the button as soon as the Apple logo appears.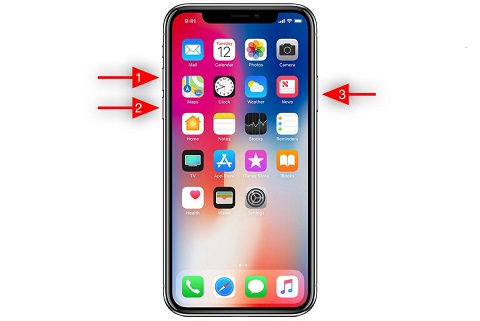 If you have any other model of iPhone, you can visit Apple's official website to view the tutorial.
However, a hard reset cannot always help and may damage your iPhone. So, if you have a more urgent problem with your iPhone that needs to be fixed such as a sudden black screen, and you don't want to pay a high repair fee and wait for days at the Apple Repair Store. I would recommend you to choose a more professional tool by the name of "Mobitrix Perfix".
Part 2: How to Reset An iPhone Without Data Loss?
What can Mobitrix Perfix do?
95% of my iPhone issues are resolved because I rely on Mobitrix Perfix for the solutions. As always the software also resolved my "iPhone hard reset" problem swiftly. Moreover, it enables the iPhone to restart automatically after fixing the problem.
Advantages:
Fast: Your iPhone will be repaired in around 30-60 minutes without iTunes.Well! That's quick! Isn't it?
High success rate: Standard iPhone repairs usually work with a 95% success rate in resolving issues with your device while keeping all of its original data. The amazing part is that the advanced repair offered by Mobitrix has a higher success rate of 99%.
Easy to use: It is the easiest solution and is designed for everyone. So, if you don't have a tech background no need to worry.
Steps:
Firstly, download and install "Mobitrix Perfix."
Secondly, connect your iPhone/iPad to a computer. Click on "Start" in the main menu.
Lastly, identify the issue and download the Fix file Package. Start repairing.
That's it!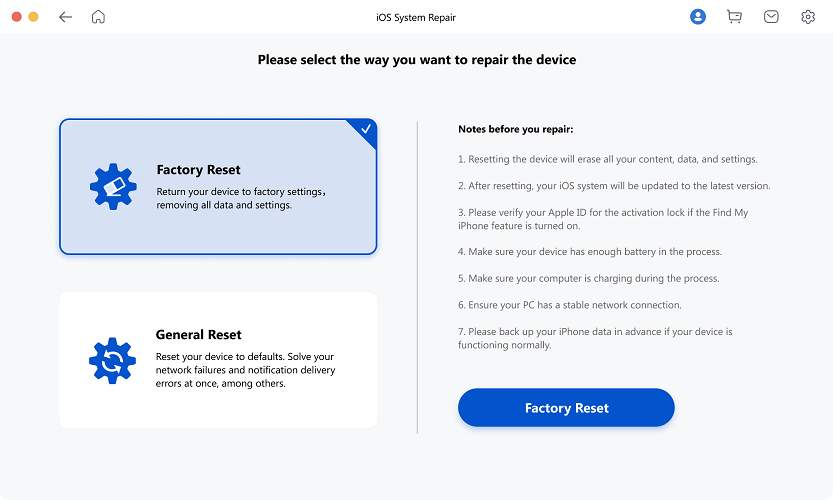 In addition to using the above method, a soft reset is also a common way to restart iPhone X. Let's hop into the details.
Sometimes after listening to users' descriptions I find that some users don't actually need to hard reset their iPhone. So next I would like to introduce a more common method, which is the soft reset. This is the opposite of a hard reset. Confused? Let's hop into the details.
Part 3: How to Soft Reset or Restart iPhone X, XS, XR, 11, 12, or iPhone 13?
"What is a soft reset" is also a common question asked by users who come to us. Well! Soft reset means to restart or reboot your device. It refers to turning your iPhone on or off and does not involve any data loss. That's why if you Google soft reset, you'll find that it follows the same steps as the restart steps provided by Apple.
Soft reset comes in handy when you want to solve some simple iPhone issues like iPhone unresponsiveness, or starts behaving irregularly.
Gosh! Did you break your iPhone button? Don't worry, I've dealt with iPhones in various states like broken screens, broken or missing buttons, etc. Here I have three ways for you to restart your iPhone.
Method1: Soft Reset iPhone X With Buttons
To restart iPhone X, iPhone XS, iPhone XR, iPhone 11, iPhone 12, or iPhone 13, do the following:
Hold down either the Volume Up or Volume Down button and the Power button at the same time.
You can now shut off your phone by dragging the Power Off Screen slider.
You can restart the phone by pressing the Power button and holding it until you see the Apple logo appear.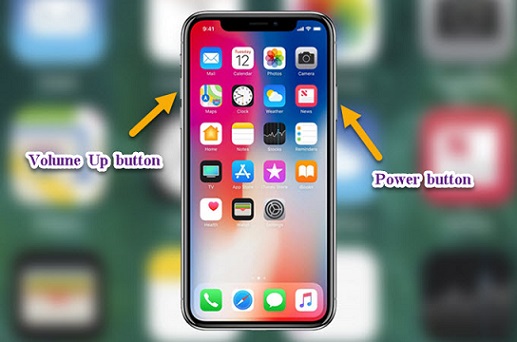 If you have any other model of iPhone, you can visit Apple's tutorial.
Method 2: Restart iPhone X Without Power Button via Settings
If your iPhone buttons are broken, you can still reboot your iPhone easily. Wondering how to do that? Well! That's easy, You can do so through the settings option and without using any button . Here is how you can restart your iPhone X without using the Power button.
Steps:
Tap the General option in the Settings app.
Select Shut Down from the bottom of the screen.
Slide the power off button.
Hold the side button until you see the Apple logo after your phone shuts off.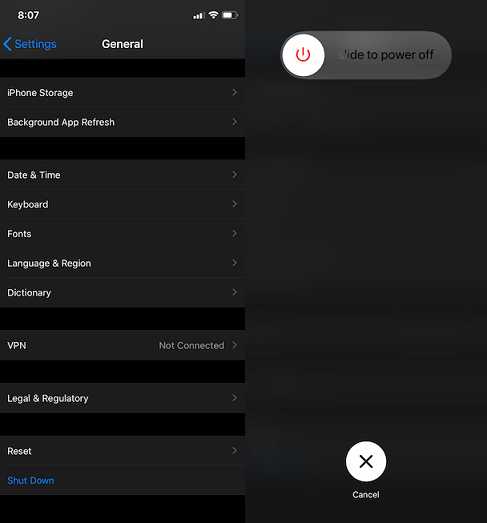 Method 3: Restart iPhone X without Buttons Using Assistive Touch
Is there any other way to restart iPhone X without using any buttons? The answer is Yes! You can do this by using the "Assistive Touch" method. You only need to enable the secret feature, which allows you to turn off your iPhone directly by tapping the screen. Let me tell you how to hard reset iPhone X without buttons.
Steps:
On your iPhone X, open the Settings app. Select General→ Accessibility→ AssistiveTouch. After turning on the switch, tap Customize Top Level Menu
Select AssistiveTouch→ Device→ More→ tap on Restart. Your device will now be successfully rebooted.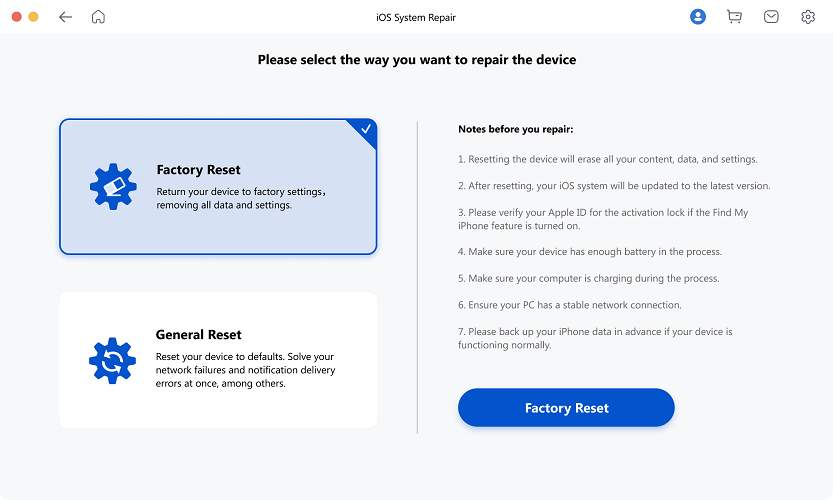 Do you now have a better understanding of how these reset methods work and which method to use in which situation? If you are still confused then let's move towards our FAQs section. I have prepared this section to help you further clarify these methods.
Part 4: FAQs About Hard Reset iPhone X

What is the difference between soft reset, hard reset, and factory reset?

To understand the difference between soft reset, hard reset, and factory reset easily check out the table below:

| Method | What Happens | Done By | Data Deletion |
| --- | --- | --- | --- |
| Soft Reset (aka restart or reboot) | Turning your iPhone off and back, which lets the apps close and then restart correctly. | Settings/Buttons | NO |
| Hard Reset (aka forced restart) | Force the iPhone to shut down and turn on. It clears the working memory (RAM) and shuts down all running apps. | Buttons | NO |
| Factory Reset | Reset or restore your iPhone to factory settings. It erases everything that is currently on your phone and reinstalls iOS. | Settings/ iTunes (Finder) | YES |

Does the above method work for all iPhone models?

The basic principle mentioned in the above methods is applicable to all the iPhone models. However, the steps to restart, force restart, or factory reset differ depending upon the iPhone model.
Summary:
In conclusion, I know it's quite frustrating to visit the Apple store for minor iPhone issues. Prioritizing your convenience I have provided easy solutions about how to hard reset iPhone X.
If you desire to repair your iPhone issues smoothly and efficiently choose Mobitrix Perfix. It is a professional tool that supports all iPhone models and iOS versions.
Enjoy dealing with minor problems sitting comfortably in your home with ease.