Looking to factory reset your iPhone 8, but don't know how and what that will bring to you? Don't worry! Follow my blog as I'll show you the most comprehensive guide about iPhone 8 factory reset. Let's roll!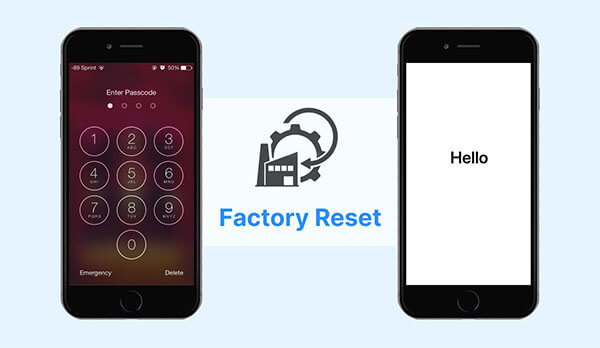 Factory reset iPhone 8
Why Should You Perform a Factory Reset on Your iPhone 8?
In simple terms, a factory reset returns your iPhone to its default settings when first manufactured. This means, all your chats, photos, videos, files, passwords, apps, settings, etc will be wiped out. Therefore, you should only consider a factory reset if you are in one of the following situations.
Your iPhone 8 is malfunctioning, like lagging, freezing, or overheating, stuck in a boot loop, and you can't resolve it with a simple reboot.
You are selling the iPhone to another person, and you want to remove all of your personal data.
You have forgotten the screen passcode and disabled your iPhone 8 after entering the incorrect code several times.
What Should You Do Before Factory Resetting Your iPhone 8?
Whether for troubleshooting or resale, you'll have to consider the following before a factory reset, in case of unpleasant data loss or privacy leaks.
Backup Your Data

You don't want to accidentally lose valuable information from your device. To keep your important data, you can export all of your content to iCloud or back it up on a PC first.

Backup your iPhone data

Sign Out of Your Apple ID

Though factory reset will remove any trace of your login credentials, you should also log your Apple ID out of the iPhone 8 for the sake of security before selling. If you don't log off, then the new user can access your personal information, including files you have stored on your iCloud account.

Sign Out of Apple ID

Deregister iMessage.

In case you are shifting to a non-iOS smartphone, then you must deregister iMessage. Otherwise, you won't be able to receive SMS or messages from other iPhone users.

Deregister iMessage

Turn Off Activation Lock

Activation Lock prevents unauthorized users from accessing your iPhone. If you fail to do so, then the new owner of the iOS device can not use it.

Turn Off Activation Lock

Unpair Your Apple Watch

Apple Watch is generally paired with your iPhone. Make sure you unpair it from the Apple Watch app before a factory reset. Otherwise, you wouldn't be able to pair the Apple Watch with your new iPhone.

Remove Your SIM card

Before giving the iPhone 8 away, ensure you have removed your SIM card from it. If you forget to take it out, the new user could have access to your contact list and other valuable information. Moreover, you might have to disable the old SIM and get a new one, which seems like a lot of work.

Remove SIM Card from iPhone 8

Sign Out of the iTunes & App Store

This ensures the new user doesn't access both platforms using your credentials. So, sign out by heading over to the App Store and iTunes app from your iPhone 8.
Factory Reset iPhone 8 Via Settings
Apple offers a built-in option to factory reset iPhone 8 via the Settings menu. This method is perhaps the most straightforward way to reset the iPhone 8 to its default settings. Plus, it is fast and secure!
In case you are using iOS 15 on your iPhone, then apply the following steps:
From the iPhone 8 Settings app, tap General.
There, choose Transfer or Reset iPhone.
Now, press Erase All Content and Settings and tap Erase Now.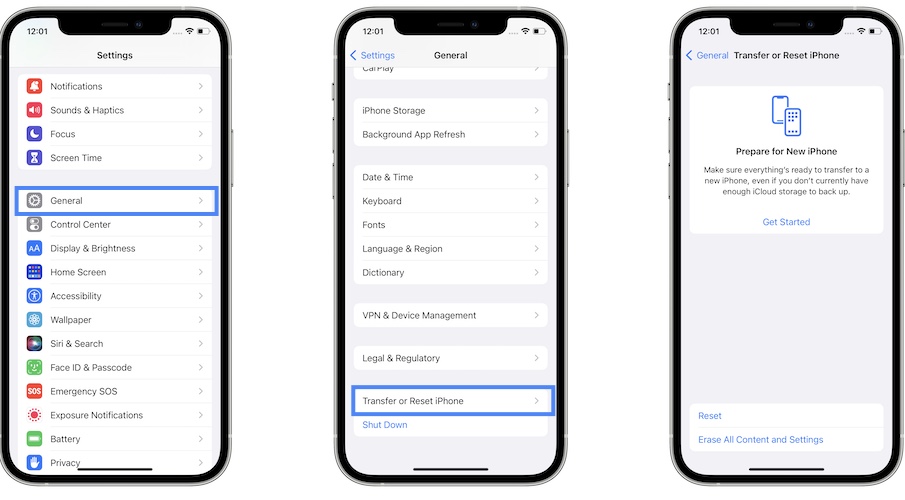 Factory reset iPhone 8 running iOS 15 via Settings
For older versions of iOS on iPhone 8, follow the instructions below:
Open the Settings app. Tap General.
Tap Reset.and select Erase.
Hit the All Content and Settings button and tap Erase iPhone.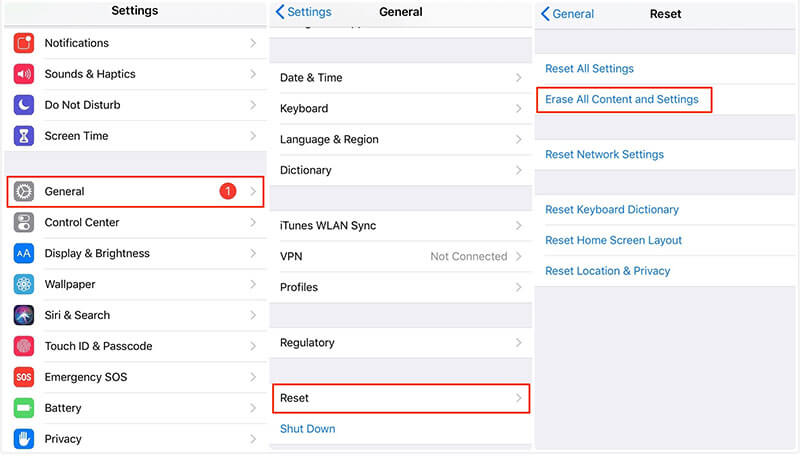 Factory reset iPhone 8 with older iOS Versions via Settings
You can also use Mobitrix Perfix to factory reset your iPhone 8 in one click for free.
Factory Reset iPhone 8 Via Mobitrix Perfix
Mobitrix Perfix is an easy-to-use iOS/iPadOS repair tool that fixes all underlying software and system problems on an Apple device within a few minutes. It has a free factory reset feature that can help you wipe out everything on your iPhone. It fully supports iPhone 5s to iPhone 15 and iOS 17 and earlier versions.
Factory reset iPhone 8 with Mobitrix Perfix
Download/install Mobitrix Perfix on your PC or Mac.
Now, connect the iPhone 8 to the computer.
From the interface, click the " Reset Device."
Next, select "Factory Reset" to initiate the process.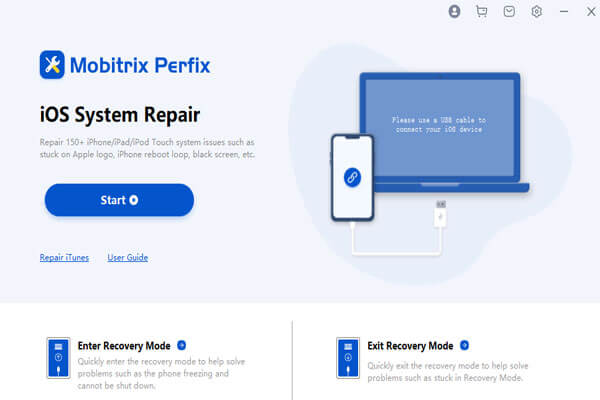 Factory-reset iPhone 8 via Mobitrix Perfix
Plus, if you attempt a factory reset simply to fix some system issues or software glitches on your iPhone 8, Mobitrix Perfix is a better option for you too! Why? Because it doesn't cause any data loss. And it can fix many severe issues on a deeper level that a factory reset cannot do.
Fix iPhone 8 software/system issues with Mobitrix Perfix
Add the software to your computer.
Connect iPhone 8 to the system via USB cable.
Click Start from the home screen.
Download the Fixfile Package after identifying the issue.
Perform Standard Repair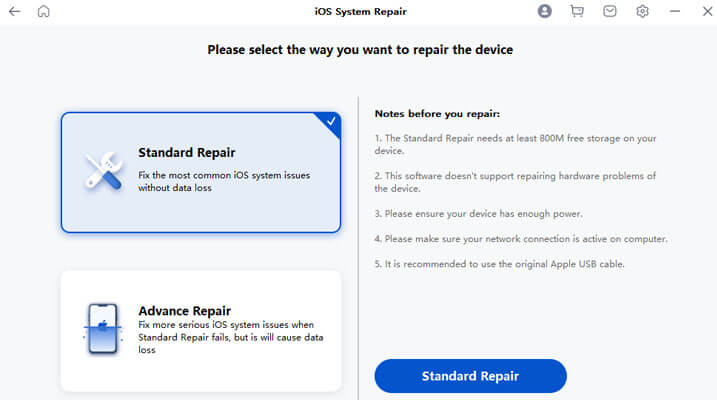 Repair iPhone 8 with Mobitrix Prefix Standard Repair
This software is especially handy for users who lack the technical know-how to troubleshoot their iPhones instantly. Also, Mobitrix Perfix offers a 99% success rate, making it the best third-party iOS repair software.
Factory Reset iPhone 8 Via iTunes
Though iTunes is primarily known to be the go-to platform to access music and videos, it can also backup your iPhone data and restore it when needed. Using this platform, you can factory reset the iOS device in the three following ways:
Directly
By Entering Recovery Mode
Using DFU Mode
Also, you should have a PC/Mac and an original USB cable at your disposal to perform this solution.
Restore iPhone 8 Directly Via iTunes
Connect the iPhone 8 via USB cable to your Mac or PC.
Launch iTunes on the desktop.
Next, on the main screen, click the Device button, which is accessible top left of the interface.

Click the on iTunes

Now, click Summary in the sidebar on the left of the screen.

Click Summary

There, click Restore.
Just follow the onscreen instructions to complete the resetting process.
Restore iPhone 8 Via Recovery Mode
What if you forget your iPhone 8 passcode and accidentally disabled it after entering the incorrect password more than 6 times? Or what if the PC fails to recognize your iPhone or the device only shows the Apple logo on screen after a normal reboot?
Well, you can put the iOS device into Recovery Mode and then use iTunes to restore it to its default settings. Recovery Mode is a resourceful mode to help troubleshoot an iPhone/iPad which is disabled or has some kind of software problem.
Once you put the device into Recovery Mode, it will allow iTunes to detect the iPhone 8. This way, you can quickly perform factory reset and add the latest iOS compatible with the device.
Check out the tutorial below:
First, switch off your iPhone 8 by pressing and holding the Side and the Volume Down button until the power off slider is accessible on the screen.
Now, put the device into Recovery Mode. First, press and quickly release the Volume Up and Down buttons. Next, Keep pressing and holding the Side button until you see the Recovery Mode screen.

Enter Recovery Mode

Run iTunes on your computer, and you'll see the following pop-up notification: "There is a problem with the iPhone "iPhone" that requires it to be updated or restored."
Click Restore

Click Restore from iTunes

Now, click the Restore and Update button.
Download the iPhone Software Update by clicking Next, and Agree.
As soon as iTunes completes downloading the software, click Restore to install the update on your iPhone 8.
Once the update is installed, the device will restart automatically.
Restore iPhone 8 Via DFU Mode
If you are unable to resolve the issues with the iPhone 8 by putting it into Recovery Mode, then I recommend enabling the DFU Mode to fix more complex errors.
Device Firmware Upgrade (DFU) Mode is a particular state with limited use, normally used to restore your device to an older version of iOS. It is usually suggested as the last-resort fix to resolve underlying software problems with the iPhone 8
Check out the following guide to learn how:
Turn off your iPhone 8 and connect it via a USB cable to a PC or Mac. You are required to install iTunes' latest version on Windows PC or Mac with macOS Mojave or older. For newer macOS versions, open Finder instead.
First tap the Volume Up and Volume Down buttons one by one.
Now, press/hold the Power button for 10 seconds. After the specified time, release your hold from the Power Button.
Next, keep pressing the Volume Down and Power button until iTunes detects your iPhone. Release the Power knob after 5 seconds.
Once the iPhone screen turns black, you have entered DFU Mode.
From iTunes' interface, click Restore, which will erase all content and settings on the connected device.
Now, wait for your iPhone 8 to restart automatically once the process finishes.
Factory Reset iPhone 8 Via Find My App
So, if you have the Find My function enabled and iCloud signed into your iPhone 8 before it got disabled, you can remotely factory reset the device using the Find My app on another iPhone/iPad.
However, this method will only work if the locked device is connected to a network(Wi-Fi or cellular data). Also, you should know the Apple ID and Password used on your iPhone 8.
Using another iOS device, access the Find My app.
Next, enter your Apple ID details to sign in.
Tap Erase This Device and wait until the app resets the iPhone 8 to its factory settings.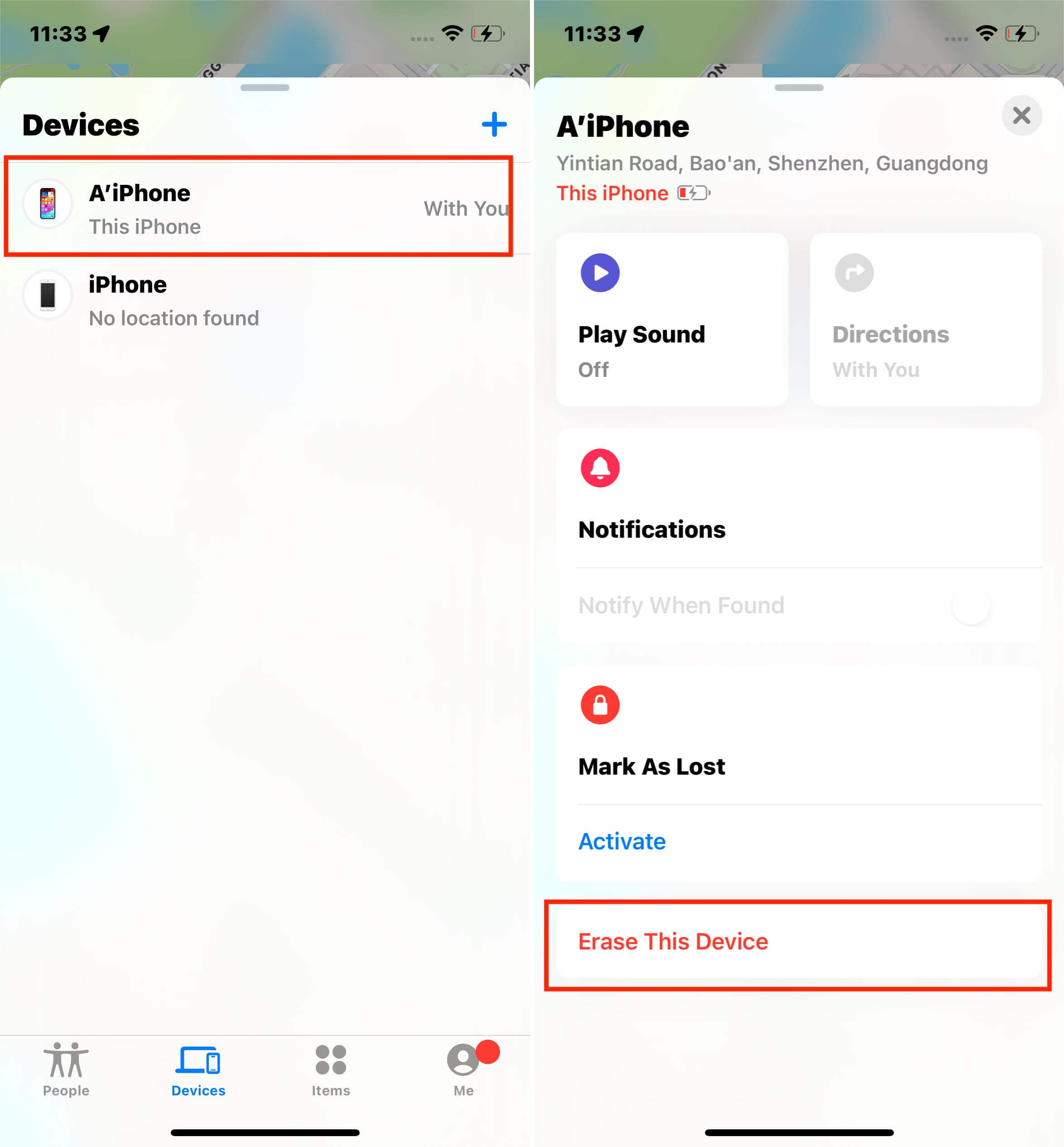 Erase the device via find my app
FAQ
Q1. Soft reset vs. hard reset vs. factory reset, what's the difference?
A factory reset deletes everything from the iPhone, including your files and system settings like passcodes, keyboards, networks, etc. A hard reset is a little different since all it does is force restart the device, deleting nothing but files opened at that time.
A soft reset is a bit like hard reset, but merely a normal restart, which does not delete your data or phone settings.
All three can fix sudden glitches on your iPhone 8 to varying degrees. For minor issues, a soft reset or a hard reset would help. For severe issues, choose a factory reset.
Q2. How to factory reset a locked iPhone?
You can reset a locked iPhone to its factory settings with the help of Mobitrix Perfix. The method is super fast and easy, with a high success rate.
Q3. Can I factory reset an iPhone without remembering the password?
Yes!
If you do not remember the iPhone screen passcode or even the Apple ID credentials, then I recommend using Mobitrix LockAway to unlock the device first. It will merely take 20 minutes and is quite easy to follow. Then you can factory reset it via Settings.
I hope now you fully understand how to factory reset iPhone 8. Each method above gets the job done quickly. However, if you are looking to fix hidden issues with the device before resetting it, then I suggest using Mobitrix Perfix, which will make the device as good as new. Also, it is essential to back up your iOS device data before resetting it.