Sharing a location on iPhone is great when you plan meet-ups with your friends and family.
iPhone has an emergency location sharing feature that shares your location with a text to your emergency contacts so they can help you in time.
Sharing a location from a popular place might impress a person. You can easily share anywhere in the world using a location tool.
Sharing your location on an iPhone is a useful trick to plan a meet-up, check-in popular spots, call for emergency help, etc.
This article will show you how to share your location on iPhone in 7 ways. Keep on reading and see how easily you can make it.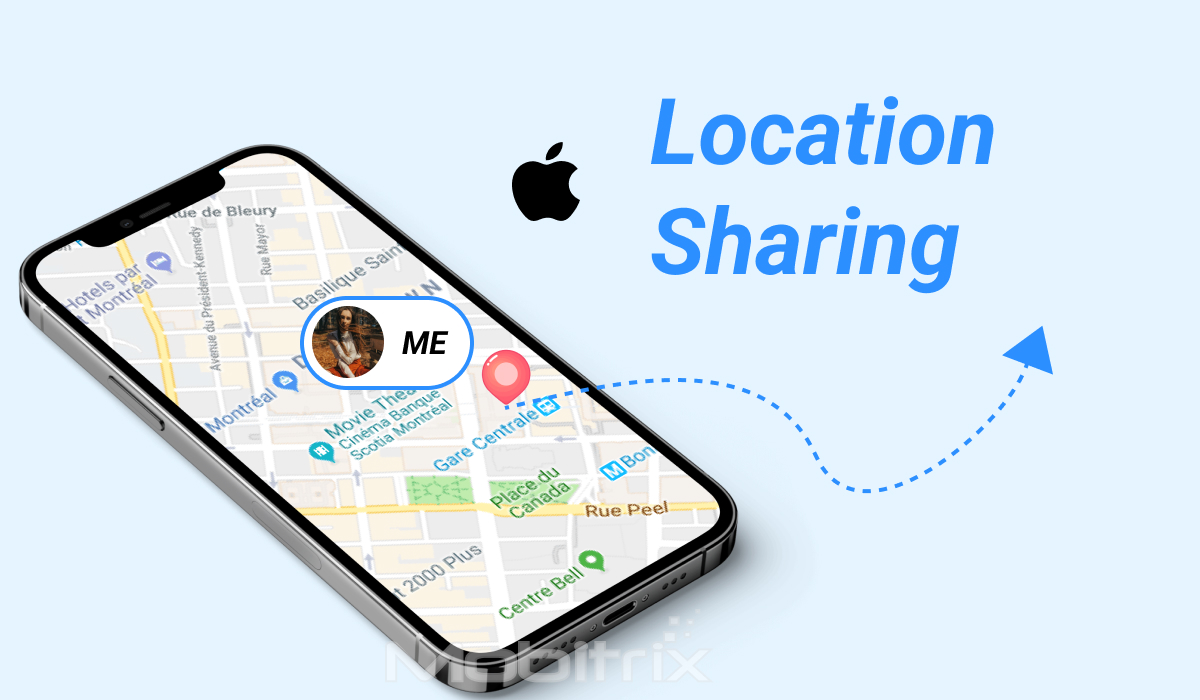 Use iMessage to Send a Map with a Pin
The easiest way is to send your location to someone as a message, just like you are having a conversation. I mostly use this way to send locations when I am visiting new places with my friends and need to meet up at the exact location.
Here are the steps:
Launch the messages app.
Open an iMessage thread with whom you want to share the location.
Choose the info option.

Share iPhone location over iMessage

Select the 'Send my current location.'

Send My Current Location via iMessage
It will share your location with the map preview and a location pinned so you can open and see the exact location.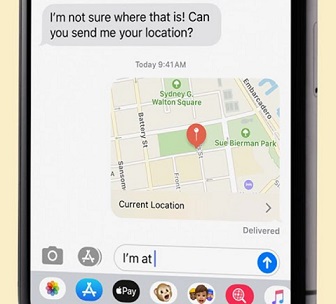 Drop a pin on map
Share My Location on iPhone Temporary
Want to share your location with someone for a specific time, such as an hour or a day? This method will work perfectly fine for you if you want to share your location with someone temporarily.
Steps:
Go to the iMessage thread of the person you want to share your location with.
Click the info option.
Select Share My Location.
Choose an option from the following:
Share for one hour.
Share until the end of the day.
Share indefinitely.

Share my location temporarily
Note: The person needs to check their 'Find my' app to see the shared location as it won't be sent as a message thread in iMessage.
Are you also a fan of dating apps or want to get more matches to hang out on weekends? Sharing your actual location can be somewhat problematic if you have a sensitive location. I use a location spoofer in this case for a win-win situation.
Send iPhone Location with Your Estimated Time of Arrival
The Google maps application allows you to share your location with an estimated arrival time according to the commute or mode you are using, such as bicycle, car, or other means. The steps to the procedure are as follows:
Steps:
Launch the Google maps app.
Choose a destination.
Choose to share the trip progress in the navigation settings.
Click the person with whom you want to share your location.
To stop sharing location, choose 'stop' from the settings.

Share estimated time of arrival
Sharing your location with an estimated time is cool, but what if the next person does not have an Apple device? As we can see, approximately 70% of the world uses non-Apple devices. Don't worry; here is a method to share your iPhone location with your non-Apple friends.
How to Share iPhone Location in Find My iPhone
iPhone's 'find my device' lets you find your lost or stolen device easily to get it back as well as you can lock your device in case you have some sensitive information. The steps to share iPhone location in Find my iPhone are as follow:
Steps
Launch the settings.
Click on your name and choose 'Find My.'
Toggle the button to turn it on.

Share my location via Find My iPhone
You can see the location of your iPhone in the 'find my' app or website by selecting your device from the list.
Imagine being stuck in an emergency, but your friends and family come to the rescue. Yes, that is possible with the emergency location sharing on iPhone. Keep reading to know more about the method.
Emergency Sharing Location on iPhone
iPhone comes along with an emergency location sharing feature that shares your location with a text to your emergency contacts so they can know about your whereabouts and try to help you in the situation. The feature is known as emergency SOS, and the steps are as follows:
Steps:
Launch the health app and click on your picture.
Edit your medical ID by scrolling down to emergency contacts.
Add contact as an emergency.

Add iPhone emergency contacts
And you are done. To send an emergency SOS, you will have to keep pressing the power button with one of the volume buttons in iPhone models later than 7. But if you have an iPhone 7 or older, press the power button five times rapidly. Call emergency numbers with the SOS slider.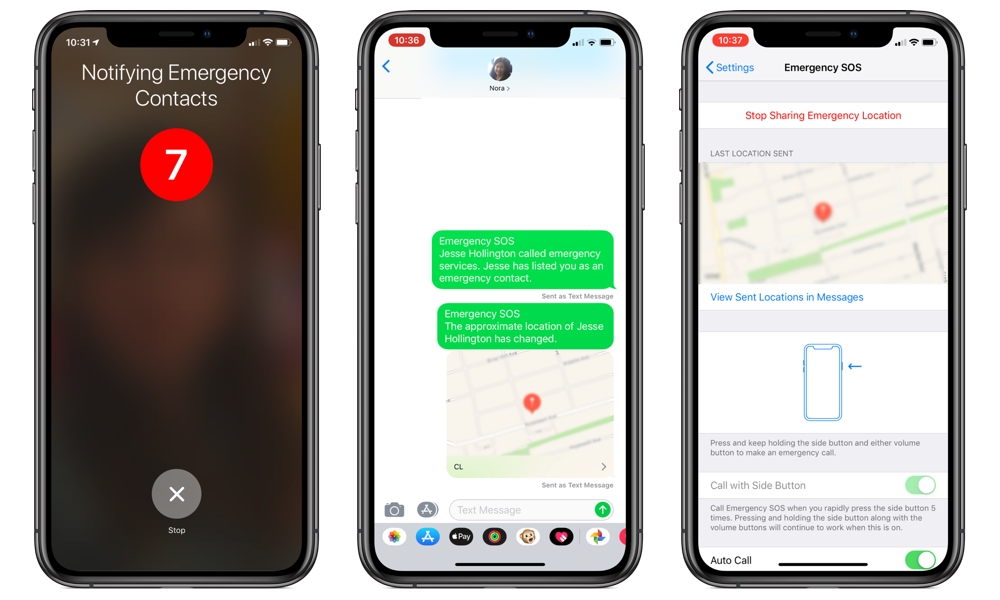 Send iPhone location to emergency contacts
FAQs about Location Settings on iPhone

How does iPhone Share My Location work?
iPhone lets you automatically share your location every time you turn on your location by creating a shared group for location sharing. When you agree to the terms of sharing location, the group members can see your location in the 'Find my friends' app.
Why Can't I see someone's Location after They Shared it with me?
If you cannot see someone's location after they shared it with you, they probably do not have a cellular signal or might have stopped sharing your location.
Can I Stop Sharing Location on iPhone without Them Knowing?
Yes, you can surely stop sharing your location on your iPhone without them knowing by using a location spoofer. Turning your location services off the settings will stop sharing your location; however, the people on your list will be notified that you have stopped sharing your location. MagicGo will help you in such a situation by faking your location to whatever you want.
How can you track an iPhone you have lost?
You could track your lost or stolen iPhone if the 'Find My iPhone' feature was enabled in the settings for your iPhone. Go to the iCloud website or the Find My iPhone app on another iOS device. Log in with your Apple ID, and you'll be able to track the last known location of your iPhone.
All the methods listed above are effective and will do the work efficiently. But if you don't want to share your actual location because of privacy issues, then MagicGo is the best option. I have been using this tool for months not to get the new location boost on Tinder, and I must say the tool works pretty amazingly.