Your Apple ID, usually your email address, is the username and password you use to access all Apple services.
Your iCloud account and Apple ID are the same.
If you have forgotten your Apple ID, you can find it by checking your email from Apple, etc.
apple-id-picture
Just got an Apple device and can't wait to use it? Not so fast! First, you'll need a passport to the Apple universe —— Your Apple ID.
Just so you know, the Apple ID serves as your login for everything at Apple, including the App Store, iMessage, FaceTime, Apple Music, Apple TV, iCloud, and more. You can access your data from any Apple device. Therefore, keeping your Apple ID private is essential.
Based on my past experience working at the customer support department of Apple, I have collected some frequently asked questions about Apple ID to help you fully understand "what is my Apple ID". Let's dive right in!
Part 1 Basics about "What is my Apple ID"
Q1: What is my Apple ID?
Ans: Your Apple ID is the username and password you use to access all Apple services.
Q2: Where can I use my Apple ID?
Your Apple ID is used for logging in to Apple services such as the App Store, Apple Music, iCloud, iMessage, FaceTime, and more. It contains your sign-in email address and password, as well as all of your contact, payment, and security information across ALL Apple services.
Q3: What is the difference between an Apple ID and an iCloud account?
icloud-picture
Your iCloud account and Apple ID are the same. iCloud, in other terms, is a cloud storage service that you may access using your Apple ID. This is very similar to the Google ecosystem, where your Google account is the same as your Drive, Gmail, YouTube, and Docs accounts.
Q4: Why do we have to sign in to Apple ID and iCloud?
It may be a bit complicated to sign in to both your Apple ID and iCloud on your iPad, but this feature is amazing. For example, It allows you to share an iCloud account with your spouse so that you may both enjoy the iCloud Photo Library and other cloud capabilities while keeping your Apple ID separate.
Q5: What minimum age is required to apply for an Apple ID?
Children under the age of 13 are not permitted to create an Apple ID independently. For Family Sharing, an adult who is the family organizer can create an Apple ID for the youngster.
Q6: How do I create an Apple ID? How many accounts can I have?
When setting up a new device, hit "Forgot Password" or "Don't have an Apple ID" and then complete the setup. This can also be done via the App Store on either an iOS device or a Mac. You can have many Apple IDs, but it's ideal if you just have one. You must use the same Apple ID everywhere you sign in if you want all of your Apple services to work properly and your devices to sync.
Q7: What information do I need to provide when creating an Apple ID?
Your full name, date of birth, email address, and phone number are all that is required.
Q8: How do you know if you already have an Apple ID?
You may easily determine whether or not you already have an Apple ID by following these steps:
Using any browser, go to iforgot.apple.com



how-to-find-apple-id-picture

Put your first and last names in the boxes below.
After entering your email address (such as Gmail, Yahoo, or Hotmail), it will say "Apple ID Found" if you have one. "YourEmail@example.com is your Apple ID."
You can get to your account by clicking Go to Account. And, since you were unclear about your Apple ID, likely, you don't know the password. As a result, you can reset it.
Q9: Can you sign into someone else's Apple ID without their knowledge?
No, you cannot sign into someone else's Apple ID because you will have to cross the two-factor authentication, which will send verification code to trusted devices of that users' Apple ID.
Q10 What is an Apple ID verification code?
apple-id-verification-code
An Apple ID verification code is a temporary code sent to a trusted device of the user to verify that it's you who is accessing an Apple ID and not an intruder.
Part 2 Problems encountered when using apple ID and solutions
Q1 What if I forget my Apple ID account?
If you've forgotten your Apple ID, follow the instructions below:
Look through your inbox for receipts, as well as emails from Apple about repairs, support, or bills.



apple-id-check-email

Check whether you've already signed in to an app or service.
Open iCloud.com or appleid.apple.com, then check if your Apple ID is prefilled on the sign-in screen.
Check whether you're signed in to the App Store, FaceTime, or Messages, or on a PC, and iTunes.
Q2 What if I forget my Apple ID password?
If you forgot your Apple ID password, follow the instructions below:
Go to iforgot.apple.com to recover your password.



recover icloud password via two factor authentication

Enter your Apple ID. Then pick Continue after selecting the option to reset your password.
Choose between answering your security questions, receiving an email, or entering your Recovery Key.
Follow the onscreen instructions.
However, there is a more serious situation where users who come in for advice are unable to receive an email, answer the security questions or provide a recovery key.
In this case, Apple's tutorial is probably not for you, as they need this information to verify your identity. Therefore, if you have also forgotten your authentication credentials, then I would now recommend that you turn to professional unlocking solutions.
Use A professional Tool to Remove Apple ID and Regain Access to Your iPhone:
What is Mobitrix LockAway?
With Mobitrix lockaway unlocking solution, you can remove your Apple ID and regain access to your phone without needing a username.
Advantages of Mobitrix
Usually, it takes about 20 minutes to erase the Apple ID, and the user can create a new one.
Easy to operate - Instantly erase the apple ID in a few steps.
99% unlocking success rate.
It doesn't need your Apple ID password.
It fully supports iPhone 5s to iPhone 15 and iOS 17 and earlier versions.
Steps
Download and Install Mobitrix LockAway.
Connect iPhone/iPad to Computer.
Choose Unlock Apple ID.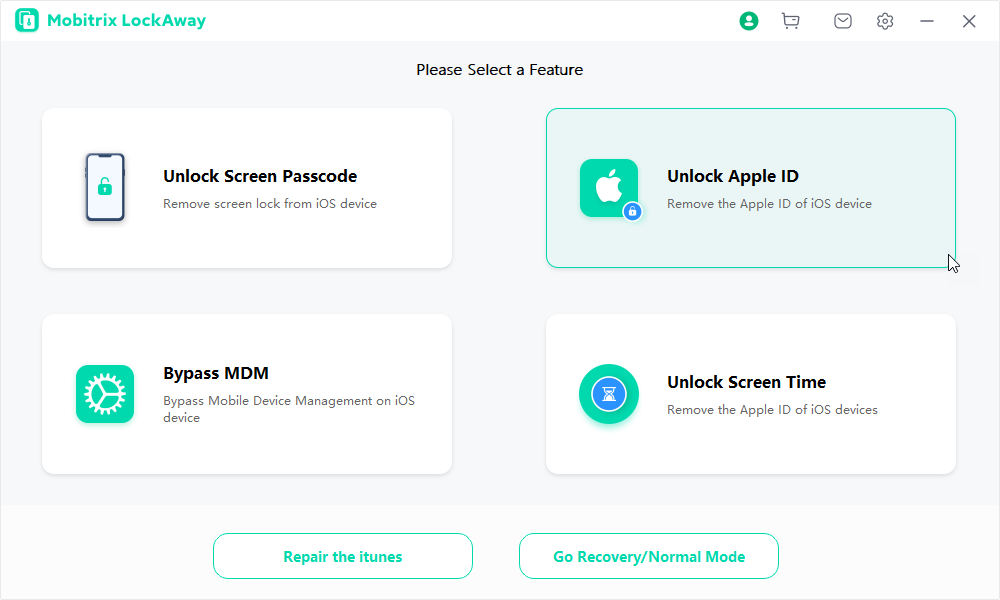 Mobitrix LockAway - Unlock Apple ID - Home
Once your Apple ID has been removed, you can reset your Apple ID.
Q3 If I want to sell my phone, what should I do with my Apple ID?
Before selling or giving away your iPhone, make sure to complete the following procedures:
Firstly, log out from all the applications connected with your Apple ID.
Secondly, backup your data to use them on other devices in the future with your Apple ID.
Finally, erase every content and file which contains personal data.
Q4 What happens if someone has your Apple ID?
Yes, if someone has your Apple ID and password, they can use your ID to activate iMessage on a device and send messages with it. You will, however, receive a notification from Apple every time iMessage is turned on on a device. You should update your password if you fear someone knows your Apple ID/Password.
Q5 How can I tell if someone is using my Apple ID?
Firstly, log into your Apple ID and select devices from the dropdown menu to see the connected devices.
If you don't see your devices, click View Details. And you will have to answer security questions.
You can view the detailed information about a device by clicking on the device name.
Q6 What should I do if I lose my iPhone or have it stolen?
You can use Find My Feature to protect your data if you lose your iPhone, iPad, or iPod touch or suspect it has been stolen. Follow the following procedure:
Locate your device using iCloud.
Mark this item as Lost.
Let the local law enforcement know the missing device with the serial number.
Claim theft and loss.
Erase your device.
Get in touch with your wireless provider.
Remove the gadget from your account that has gone missing.
You can use the measures mentioned above if you are selling your Apple devices or, unfortunately, your iPhone gets stolen.
Keep in mind that your Apple ID contains all of your contact, payment, and security information which is used across Apple services, as well as your email address and password. If this private data gets into the wrong hands, this can create a lot of trouble for you.
Part 3 How to secure our Apple ID?
Q1 What I can do to protect my Apple ID:
Here are a few steps you can do to keep your account private and secure:
Set up two-factor authentication if you haven't already added an extra degree of security to your account.
Reset your security questions and add a rescue email address. Your rescue email address will assist you in regaining access to your account if you forget your password or the answers to your security questions.
Q2 How to request a copy of your Apple ID account data:
To get a copy of your apple id account data, follow the steps below:
First of all, open a web browser and visit privacy.apple.com.
Then go to data and privacy settings on the website and select "Manage your data and privacy."
After that, you can choose the specific data you want to download or if you're going to download everything, then click on "Select All."
Finally, Apple will verify your authentication details and start gathering the data. When it's done, your data will be available on your ID for two weeks.
You can visit privacy.apple.com to delete your apple ID account and data.
Here are some things you need to be aware of before you delete your Apple ID:

Log out of all your devices and browser before deactivating your Apple ID.

You will need to provide your username and password, and if required, you will pass Apple's two-factor authentication.

You'd better check the checklist and deletion terms and conditions before clicking continue and start removing your data

Print, download, or write down the unique access code, which you'll need to contact Apple Support.

This process may take up to seven days. While the process is underway, your account will remain active.
Q4 How to deactivate your Apple ID account and data:
To deactivate your Apple ID account and data, follow the steps below:
You can go to privacy.apple.com to deactivate your Apple ID account and data.
Before deactivate Apple ID, you need to pay attention to the following things:

You will need to provide your Apple ID email address and password.

Review the deactivation terms and conditions.

Save the unique access code by contacting Apple Support about your request.

Sign out of your Apple ID on all devices and online browsers.
As mentioned and emphasized in this article, your apple is key to your contacts, files, photos, and documents. It is vital to take precautions before it gets lost or, worse, gets into the wrong hands.
Follow the steps above depending on the problem you face to avoid any loss in the future. If you are unable to retrieve your Apple ID or password, the best thing to do is try the Mobitrix LockAway solution. It will solve your problems and retrieve your iPhone in no time with a 99% success rate.