Is your iPhone stuck on the Apple logo because it is stuffed up with loads of data and its storage is full?
Well, worry not. I am an ex-Apple customer service representative and have helped thousands of iPhone users with the same issue. iPhone stuck on Apple logo storage full is a 100% iOS system error, and I have come forward with the most appropriate fixes for you. Keep reading. And if you are in a hurry to fix it now, then here you go.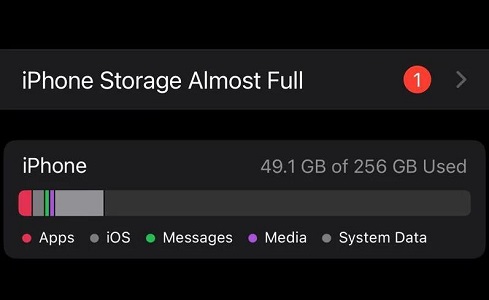 Why Does My iPhone Get Stuck on Apple Logo When Storage is full?
Ask yourself this, how many things have you stored on your iPhone? Contacts, messages, photos...endless! And have you cleaned up the junk files in its internal memory often?
If not, your iPhone is likely to get overloaded due to full storage, and can't proceed anymore. It becomes difficult for the iOS operating system to function normally. This leads to unpredictable performance, and the iPhone starts to misbehave. Worse thing is, by the time it gets stuck, it's already too late to clean any storage.
How to fix your iPhone Stuck on Apple Logo Storage Full?
Based on my experience in working at Apple, I've narrowed down some super effective methods to help you solve your issues. Hard reset is the first method you should try.
Hard reset your iPhone(30% Works)
Hard resetting means to forcefully turn your iPhone off and then force-restart it. It can kill all running activities in your iPhone and clear the junk data in its internal memory. Minor iOS system issues can be easily fixed with a hard reset.
Different iPhone models come with different hard resetting options such as:
For iPhone 8/X/11/12/13/14/15 and newer models: Press volume up button then volume down button. Now, keep pressing the side button till you see the Apple logo.
For iPhone 7: Keep pressing the sleep/wake button and volume down button till you see the Apple logo on the screen.
For iPhone 6 and earlier: Keep pressing the sleep/wake button and home down button till you see the Apple logo on the screen.
However, if this doesn't work for you, it means your iPhone stuck issue is probably more severe than you think. You'll need more powerful tools to restore your iPhone——iTunes or iTunes alternatives.
Yes, I know you are very anxious at this moment. Given that iTunes doesn't always function well, I have also listed a quick iTunes alternative Perfix below. Therefore, you don't need to waste a single minute fixing your iPhone stuck on the Apple logo storage full issue.
Fix with Mobitrix Perfix within 20 Minutes (99.99% Works)
What I recommend is Mobitrix Perfix. The tool is super cool and will solve your iOS problems without any complications. Mobitrix Perfix is a professional iOS repair tool that helps you in fixing different iPhone issues caused by software glitches and system errors such as black screen, iPhone crashing and a lot more.
You only need 2 clicks and 20 minutes to fix your iPhone with Perfix!
Install Mobitrix Perfix onto your computer and launch it.
Choose Start in the main menu.
Select Standard Repair.
Download Fixfiles and the repair will begin immediately.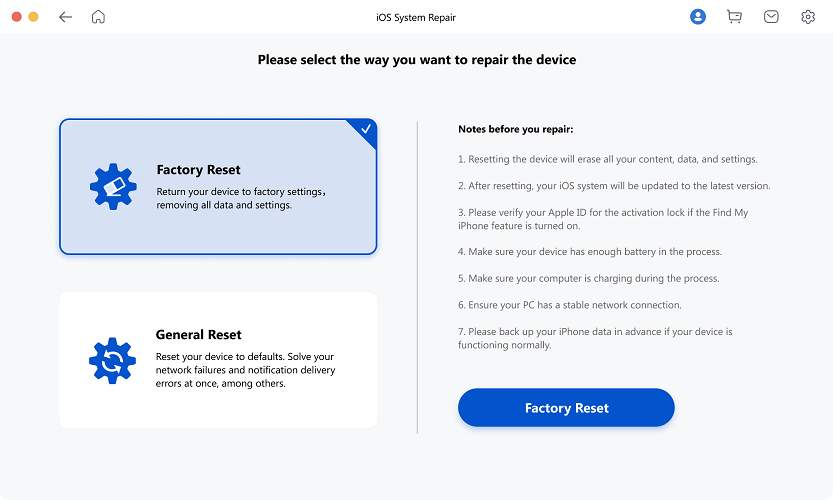 Standard Repair Mode of Mobitrix Perfix
Mobitrix Perfix Should Be Your Best Choice. Why?
High success rate: Mobitrix Perfix has a 95% to 99% success rate of fixing your iPhone compared to other tools.
Fast processing: It only takes about 20 minutes to solve your issue with Perfix's standard repair.
Easy steps: The steps involved are very easy and simple to follow. The tool will solve all your issues with just a single click.
No data loss: There is no chance to lose your data while you follow the Mobitrix Perfix formula to solve your iOS issues.
Compatibility: It fully supports iPhone 5s to iPhone 15 and iOS 17 and earlier versions.
What can be a better solution than Mobitrix Perfix that keeps up with your privacy issues and does not cause you any data loss as other methods such as factory resetting or DFU restore.
Fix with iTunes (50% Works)
iTunes offers two different methods to solve your iPhone stuck on Apple logo storage full. Let's take a look at them.
Via recovery mode
The recovery mode lets you solve the iPhone stuck on the Apple logo issue by restoring your iPhone but it will delete all the data stored on your device and is considered as a last method to try if the problem is not getting solved.
Steps:
Connect your iPhone to the computer.
Enter your iPhone in recovery mode by following these steps accordingly.
For iPhone 8/X/11/12/13/14/15 and newer models: Press volume Up then volume Down button. Keep pressing the Side button till it shows recovery mode.
For iPhone 7: Keep pressing the Power button and volume Down button till you see the Apple logo appears on screen.
For iPhone 6 and earlier: Keep pressing the Power and Home button till you see the screen lighting up.
Launch iTunes and select your iPhone.
Click on restore.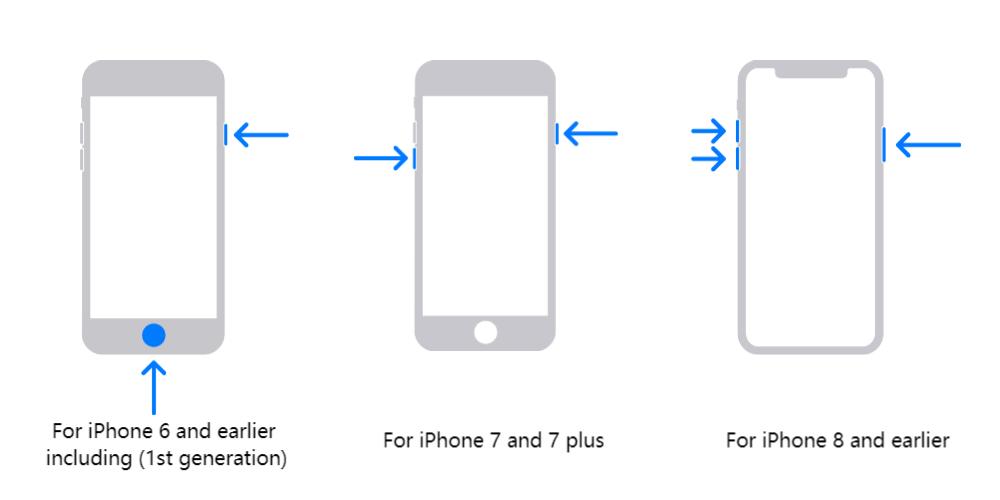 enter recovery mode
Via DFU Mode
DFU stands for Device Firmware Update. It's considered as the deepest type of restore option available to solve iOS system or software issues. Professional Apple technicians at Apple's genius bar usually put problematic iPhones in DFU mode for repairs such as iPhone stuck on the Apple logo because of full storage. But people with non-tech backgrounds find it hard to follow the procedure.
Steps
Connect your iPhone to the computer.
Press and keep holding the Sleep/Wake button and Home button for about 8 seconds.
After 8 seconds, release the Sleep/Wake button but keep holding the Home button till the screen turns black.
If you see the Apple logo on the screen, you will have to repeat the procedure as it didn't enter the DFU recovery mode.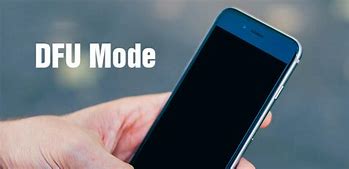 DFU Mode
iTunes Restore Not Recommended! Why?
As an ex-Apple customer service representative, I have seen people making the mistake of choosing the iTunes method as it is considered Apple's official method but let me clarify that this is the most wrong move you will make in any case. Do you want to learn why I won't recommend you? Here are some factors that do not make it a suitable option to try.
The procedure to fix via iTunes is very complicated.
iTunes might not always recognize your iPhone on the computer.
Restoring via iTunes will cause you data loss that can be a big disaster if you have not backed up your data.
This method takes several hours to recover your stuck iPhone, so this is not an appropriate option if you are in a hurry.
iTunes method does not come with a very good success rate. Instead, it can cause your iPhone some fatal issues that are hard to repair.
Tips in avoiding iPhone stuck on logo further due to full storage
Prevention is always better than cure. So let's consider some tips in avoiding an iPhone stuck on Apple logo storage full.
Clear cache

Do you know what cache data is? Caches are included in the system to provide fast performance, but they can also be cleared if you have a full storage issue. To clear out the cache, go to the settings of your iPhone. Locate application settings and choose the clear cache option.

Delete old backups

Does your iPhone contain some old backups that you do not need anymore? If yes, delete them because they are probably the reasons your storage is full. Deleting them will free up some space on your iPhone that can be used to enhance performance.

Avoid Jailbreaking

Jailbreaking might cause you a lot of problems. It is not recommended by Apple as you are giving access to third-party apps. Also, jailbreaking your device comes with more chances to corrupt the system and cause problems so make sure to think twice before performing the jailbreaking process.

Resting your device

Using your iPhone all the time causes your device to heat up, which leads to poor performance as the cache memory also keeps filling up. Do not use your iPhone for long hours and make sure to turn it off for some minutes once in a month so it can take some rest and work with more efficiency.

Uninstall extra apps

Do you also install many apps to try them out but forget about installing them when you are stuck in your busy schedule? If yes, they are the reason why your storage is full and the iPhone gets stuck on the Apple logo. Uninstall them before your storage runs extra full and your iPhone gets stuck on the Apple logo.

Update iOS

Is your iOS update still pending? Update it now. Sometimes, updating might solve the storage issue as the device starts working differently with the new update.
If you ask me, in my profession, I have experimented with all of the methods listed above for my clients but what's my favorite of all time in them is Mobitrix Perfix. Who wouldn't like to solve the issue in minimum time with no risk of losing data? Yes, that is what Mobitrix Perfix is for. I have suggested the tool to my family and they are more than happy with the fast performance and risk-free solution of the tool.