Some apps on your iphone depends on the gps services and once gps is off, it restrict some apps performance.
We can use the best location spoofing ways to access vital services without turning off location.
On this article, i have anylzed all the best method you can use to avoid being tracked or geo located.
Sharing location is very important sometimes as you want your friends and family to know your whereabouts in case of anything wrong happens to you.
However, sharing location comes with a risk. My friends kept sharing her location on social media while on a vacation which led thieves to burgle her house and steal from her.
So, in this guide, I'll demonstrate how to turn off your iPhone location in 6 ways.
Way 1: How to Turn Off My Location from iPhone Settings
iPhone setting is the easiest way to turn off your iPhone location in a simple way by just following the simple steps below.
Open Settings and select "Privacy".
At the top, you'll find a box called "Location Services". It will say "On" if they are switched on.
Select "Location Services". You'll be redirected to a new page.
Tap the green slider to switch off location services.
Scroll up to find "Stop Sharing My Location" and tap on it.
Confirm the prompt by tapping on "Stop Sharing Location".
Pros:
Fast and easy to disable your iPhone's location services in one spot.
Cons
It is impossible to use location features for any applications (such as Maps, Weathers) that require this data.
Other people will notify you cause you have disappeared from the list.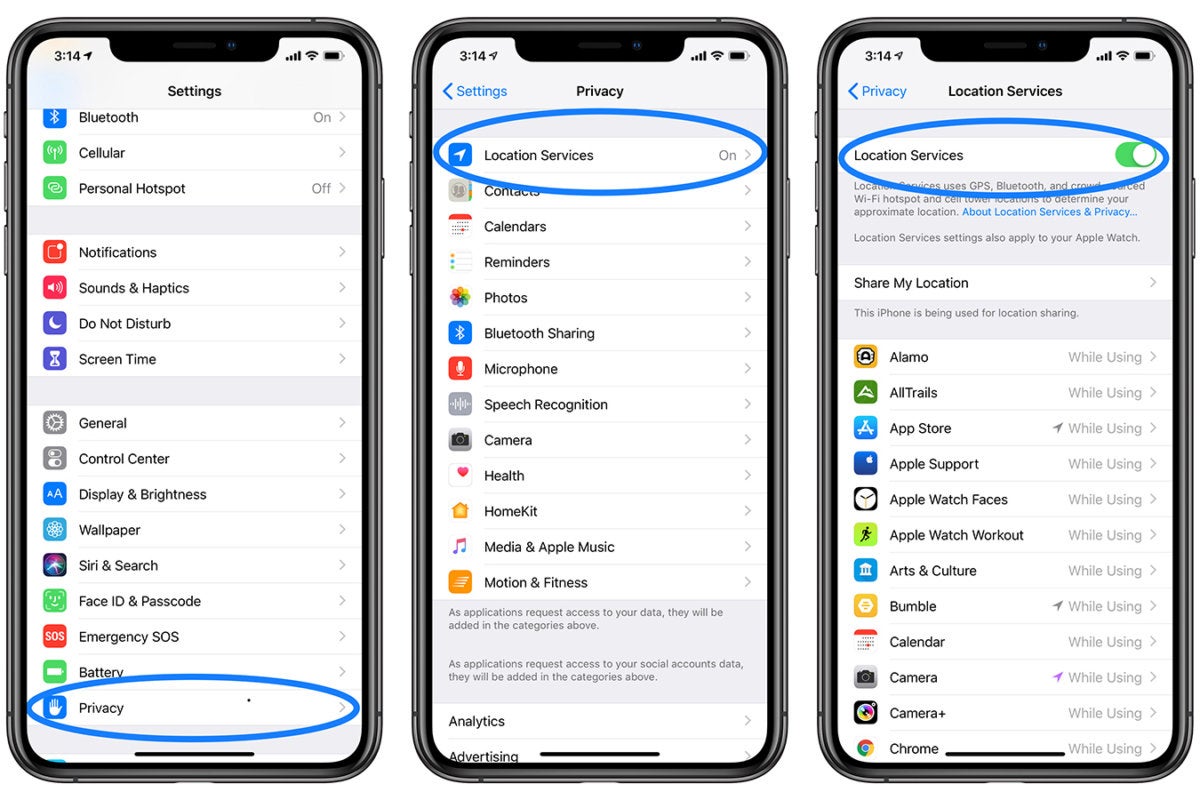 If you switch off all location services on your iPhone, you will no longer use many apps, and others will notice that you have stopped sharing your location. I discovered a better technique to stop broadcasting my location without them knowing. Isn't that amazing? Continue reading.
Way 2: How to Turn Off Location on iPhone without them Knowing
Mobitrix MagicGo software is the best way to modify iPhone location without committing a crime. It is location faking software that works flawlessly. I can change my device's location at any moment with a few clicks and have access to plenty of additional features.
Pros:
Quick and simple to use
Stop sharing location iPhone without notification
There are no limitations, and you can instantly change your location to anyplace..
Change your location to access all location-based applications such as Pokemon Go, Tinder, and others.
How to use LuckLuck step by step:
Launch Mobitrix MagicGo and connect your iPhone to the computer.
Connect your iPhone to the computer and click "Start."
Set a location from the map and click "Move."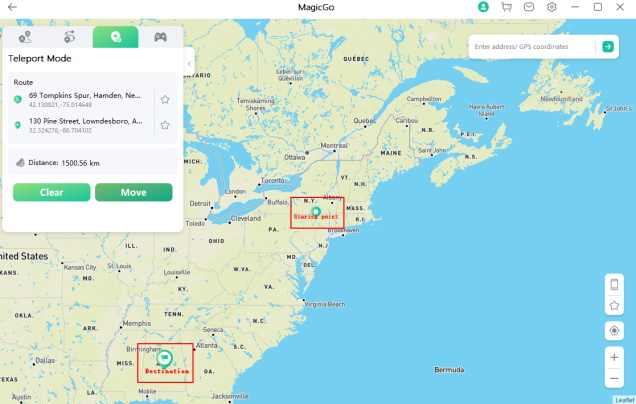 Knowing that iPhone can store every location I've been, it was bothersome and made me feel uneasy when it kept an eye on me. I frequently delete my iPhone's location history to secure my personal information. Let's demonstrate how easy it is to remove iPhone location tracking.
Way 3: How to Turn Off Location Tracking on iPhone
Using location tracking, you can keep track of where you've been and how you got there, such as by using Uber. It's becoming more and more common for iPhone users to be worried that their iPhones may be watching every activity they do online.
Apps aren't the only ones that track your location info. Your iPhone also keeps record of the "important areas" you frequent in order to make location-specific suggestions when using Siri or other services. This data, however, is encrypted and never leaves your phone. Even so, you may prefer to disable it, especially if someone you know is still able to access your phone despite the other protections.
Pros:
Fast and easy
Stop location tracking by iPhone.
Cons
Only for historical location.
Your phone may run slower because there is no-cache
When Turn Off Location Tracking on iPhone, follow the steps below.
Open the Settings app.
Scroll down and tap on Privacy.
Select Location Services.
By disabling Significant Locations at the top, you may completely remove the function.
Alternatively, you may eliminate the most troublesome entries one at a time by clicking each one individually. When you do this, click the Edit button in the top right to erase each entry separately.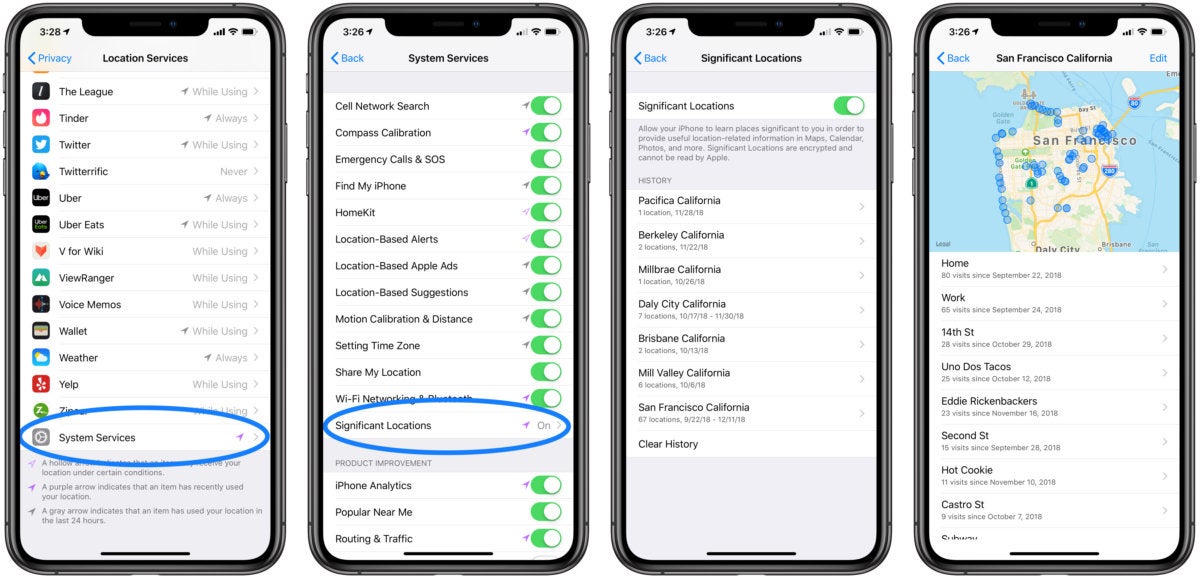 Here are two ways to disable your iPhone's location services for specific apps or users.
Way 4: Turn Off Location on iPhone for Specific Apps
For certain apps, location tracking may be beneficial. Even if you use many apps that require location monitoring, you don't always need it all the time. After installing an app that supports location tracking data, iPhone typically asks whether you want location tracking turned on permanently, if you want it put on for a specific time, or if you want it turned off at all.
Pros:
Fast and easy
Stop a specific app without restricting other apps from location tracking.
Cons
Only for apps
If you disable location sharing in some apps, you may be unable to use such apps anymore.
The process of disabling your location tracking by iPhone is similar to other methods as stated above.
Just follow the steps below.
Open the Settings app.
Scroll down and select Privacy.
Select Location Services.
Many choices are available, including the ability to altogether disable location services.
To turn off location tracking for a specific app, choose it from the list of apps. You will have three options to select:

never disable location while using the app,
disable location while using the app,
permanently disable location of some apps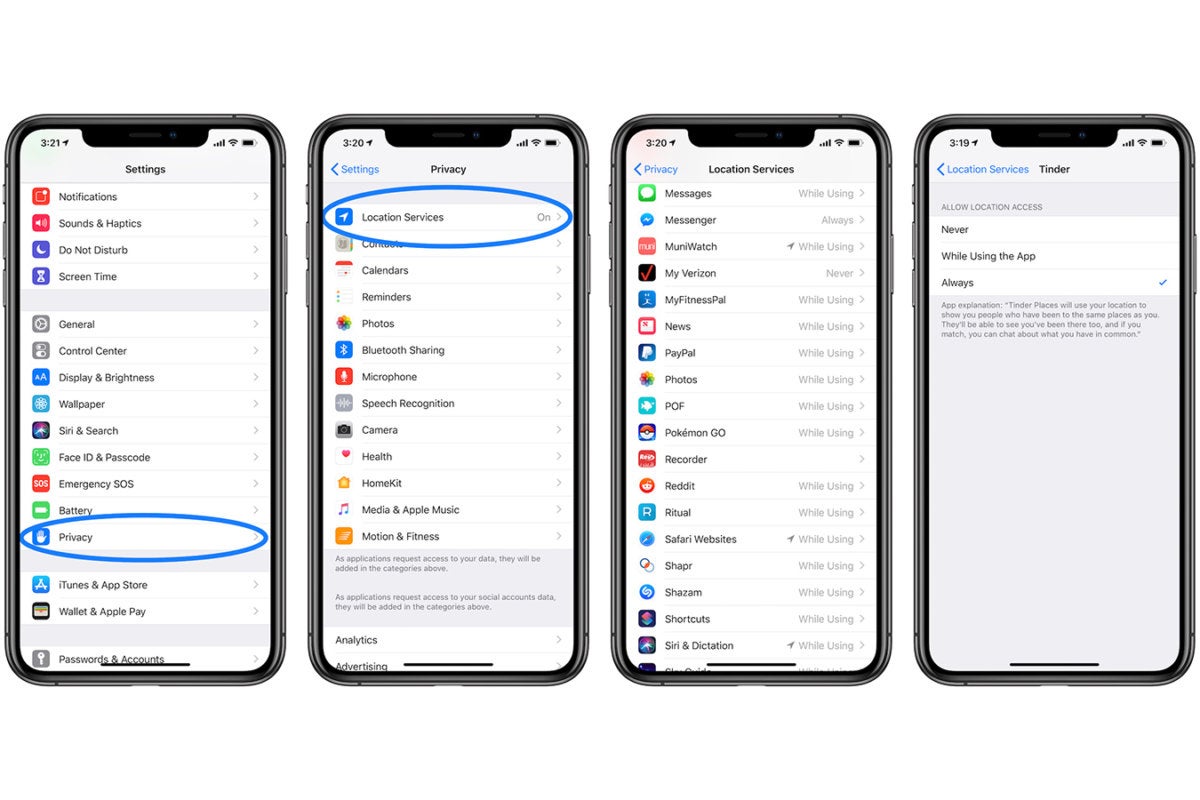 Because my location is sensitive, I'd instead use Mobitrix MagicGo to fake my location on my iPhone than allow applications to access my location so that I may utilize their features.
Way 5: How to Turn Off iPhone Location Sharing for Someone
Do you know how to prevent your iPhone from sharing your location with others? Some people feel that hiding the location of an iPhone is unachievable. There are several advantages to using the iPhone's built-in location-hiding feature.
Pros:
Fast and easy
Don't reveal your location to anyone unless you want to.
Cons
The removed user will notice that you have disappeared from their list.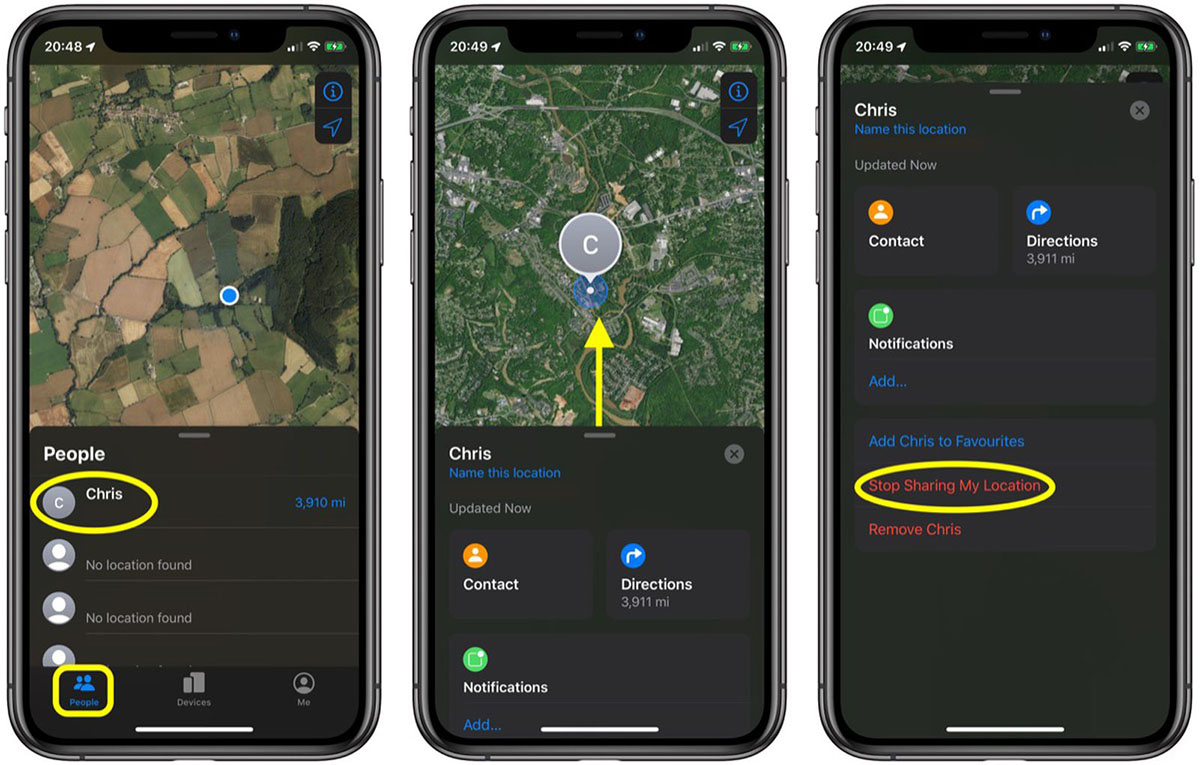 A unique app named Find My, is installed on your iPhone. This app is designed to share your location with loved ones. It is possible to share your location with other devices in your vicinity.
When family members or close friends discover that you have blocked them from knowing your location, they may be disappointed and ask why. It's difficult to explain to your family, mainly if they use it to track your location. It is preferable to utilize location change tools or another device for replacing your current location on the iPhone.
Way 6: How to Turn Off Location on iPhone by Find My iPhone
I discovered that the Find My iPhone feature in iOS 16 was updated, which means that if you enable it, your iPhone's position will be monitored even if you switch off your iPhone or enable Airplane mode; let's discover how to turn location off.
Pros:
When your iPhone is turned off or in airplane mode, it stops monitoring your location.
Cons
You may lose your iPhone if it gets lost or misplaced
Family members will see that they have been removed from the list.
Here are the steps you will follow when How to Turn Off Location on iPhone by Find My iPhone
Open the Find My app on your iPhone
Tap on "Me" at the bottom corner and then toggle the "Share My Location" switch to off.
Select the person you don't want to share with by tapping the People tab, select the person and click Don't Share!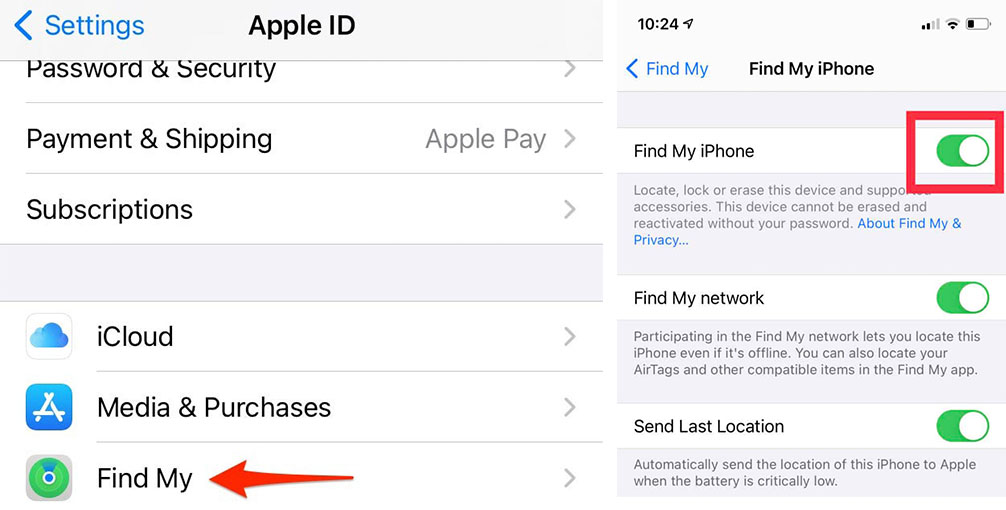 Does Airplane Mode Turn Off Location on iPhone?
You may have seen several articles that advised you to use airplane mode on your iPhone to turn off location services.
However, as previously stated, if you update to iOS 16, your iPhone's location is still tracked when you enable the Find My iPhone feature.
On the other side, I would advise against using Airplane mode because it will reduce internet speed and no one would call or message you.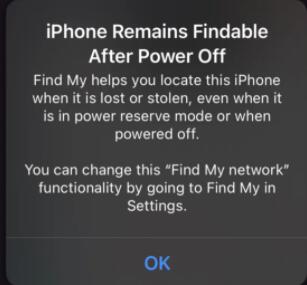 After stating the benefits of various methods to turn of your location on iPhone, I can therefore clearly recommend only Mobitrix MagicGo as the best bet to use when you want to hide your location. For me, LuckLucGo as go for software when you need to stay online, hide your location without letting others be notified about it, and enjoy your daily activities such as social media, youtube, and smile. In contrast, your location is not being tracked.