Tinder location change does not only get your matches from a new place, but you receive more matches than ever as your profile gets a boost.
Changing location on Tinder gets you some benefits but is it safe to change your location on Tinder or fake your actual location?
This article will answer all your questions, including some of the best methods to change tinder location without moving an inch.
A couple of weeks ago, I moved to a new place. Before moving, I was kind of worried about being alone as I was traveling to a distant place.
But then I realized if there is a way to change my location on Tinder and find a new match before I actually move into my house, then I won't feel alone.
Luckily, I found some effective methods and tried them all to share my experience with you. You won't believe I not only got a great match, but my profile also got a boost.
You can also change your tinder location, but for that, you will have to go through with me till the end for better understanding.
How to Change Location in the Tinder App?
One of the ways is to change your location via the Tinder passport feature. The feature is only for paid subscription plans but lets you change location without any complexity by only searching for a place and pinning to receive matches from that area.
Steps
Click on your profile icon.
Locate Settings.
Select "Location."
Choose "Add a new location" and select a new location.
Pros
You can receive up to 25% more matches on average by changing location on Tinder.
This feature can also be used to explore new places for travel hobbies.
Tinder passport users will know you have liked their profile and can see up to one day.
Cons
The Tinder passport feature is only for Plus and Gold subscribers.
Tinder passport feature is noticed by others.
| Plans | Tinder Plus | Tinder Gold | Tinder Platinum |
| --- | --- | --- | --- |
| Hide ads | Yes | Yes | Yes |
| Unlimited likes | Yes | Yes | Yes |
| Unlimited rewind | Yes | Yes | Yes |
| Passport | Yes | Yes | Yes |
| See who likes you | No | Yes | Yes |
| Top picks | No | Yes | Yes |
| One free Tinder boost per month | No | Yes | Yes |
| Free super likes | No | Yes | Yes |
| Priority likes | No | No | Yes |
| Message before match | No | No | Yes |
| See likes you've sent | No | No | Yes |
| Monthly price | $9.99 | $14.99 | $19.99 |
| Monthly price with 6-month plan | $2.50 | $7.50 | $10 |
| Total amount billed with 6-month plan | $14.99 | $44.99 | $59.99 |
| Monthly price with 12-month plan | $1.67 | $5 | $6.67 |
| Total amount billed with 12-month plan | $19.99 | $59.99 | $79.99 |
Tinder paid subscription plans are best for someone who wants to enjoy some extra benefits like passport feature, unlimited likes, messaging before matching, and many more. Subscription plans on Tinder are great and used by millions of people, but I have noticed that still there are some people who do not want to spend money on paid plans. For this concern, I have come forward with a method that lets you know how to change the tinder location on your iPhone.
Change Your Tinder Location via GPS Location Spoofer: Mobitrix MagicGo
I have been using Mobitrix MagicGo for a long time and can say that this is one of the best location spoofing apps I have come across. Mobitrix MagicGo is a professional tool that helps you in changing or faking your location on all location-based games or applications with just one click.
Features
It does not limit you while changing location several times.
It keeps up with your privacy over the internet.
There are multiple modes to travel virtually.
Compatible with all the latest iOS versions and models.
Pros
The process is quick and easy to follow.
Mobitrix MagicGo does not need any tech background to operate.
The app is compatible with all location-based applications and games.
Steps
Launch Mobitrix MagicGo
Connect your iPhone to the computer. Click "Start"
Set a location from the map. Select "Move"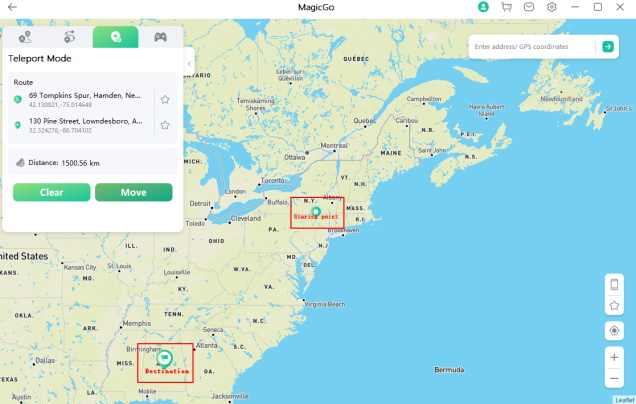 Have you ever stalked your match on Facebook to see if the Tinder profile is true and not a fraud? Well, that's good if you do it because of safety, but what if your new match is also doing the same to check your credibility? What if they find out that you are faking location? There is nothing to worry about. You can change your location on Facebook also to match your Tinder profile. Here is the method to that.
By Changing Your Facebook Location
Facebook lets you change location from their official website via a web browser. Here are the steps to change location on Facebook after you log in to your account.
Steps
Click on your profile photo impression in the upper right corner of the interface.
Go to the "about me" section to move forward.
Change your location by adding a new place in the 'current city' section.
Modify all the other settings accordingly.
Click on 'save.'
Pros
Steps to change location on Facebook are very easy.
The method is completely free.
Cons
Spoofing location on Facebook can get your account suspended if detected.
People in your friend list will be notified when you change your location.
And boom! It was that simple. We got done with all the methods for how to change tinder location. Are you wondering why I have not shared the VPN location method as it is used around the globe for spoofing locations? Let me tell you why you cannot use the VPN method for location spoofing on Tinder.
Can I Change tinder location via VPNs?
No, you cannot change tinder location via VPN. It is possible that you might have used the VPN method a lot of times before for multiple reasons. But let me tell you that the VPN method does not work with Tinder. VPNs only change your IP address, which means it only works for spoofing location on browsers, whereas Tinder uses your GPS settings to get your location and not the IP address.
Let me tell you how Tinder uses your GPS location to find new matches.
Tinder uses GPS location
Installing Tinder for the first time, it might have asked you for location access, and you allowed it without giving it a second thought. In this way, Tinder uses your location access to fill up its location necessity to work and find matches accordingly.
If you want to increase the chances of finding a perfect match and the love of your life, then a professional tool like Mobitrix MagicGo will prove to be best for you to change locations or fake a location as true love does not happen considering location boundary and you will have to get out of the boundaries to found your true love.
Everything You Need To Know About Tinder Location

The best technique to clear your thoughts is asking questions in your head and getting answers to them in a clear way. Here, you will find answers to all your concerns.
How to hide my location on Tinder?
Yes, if you are wondering about Tinder having a location hiding feature, then it is true; there is such a feature but only available to premium users of the app. Users having a free version of Tinder are unable to access this feature yet. You can hide your location in Tinder's location settings. However, I won't recommend you to hide your location for a long time as it can create some problems for you.
How to turn off location on Tinder?
Tinder location access can be turned off on both Android and iOS. All you have to do is follow this procedure. Go to your phone's settings, look for application settings, and locate Tinder. Select the 'never' option from the four options of location access.
Getting a match on Tinder has always been exciting, no matter if you are using a Tinder subscription plan or using other tools to get a location boost. However, being safe must always be your priority, so make sure you are alert enough while meeting for the first time.
Last month, I found about Mobitrix MagicGo while I was searching for a way to fake a location on Tinder, and believe me, I haven't been to any other way since then. I instantly got a match after I changed my location, and the interface of the tool was super-friendly, so things didn't get complicated while using it the first time.