It's annoying whenever you are in the middle of using your iPhone, then it gets stuck and hangs, displaying a white Apple logo. Such a scenario occurs mainly during a system update, backup, or data transfer. To solve this frustrating trouble, the article will introduce the methods to fix your iPhone quickly.
Part 1: How to fix the white Apple logo when your phone is still operational
If your iPhone is still functional despite the annoying white Apple logo, there are specific methods that you can attempt to fix the iPhone. The methods that apply when the iPhone is still functional are discussed below.
1. Update the system
If the iPhone is not updated to the latest version, it may be that the current version has a bug, and updating it may fix the iPhone from random crashes. Here you need to update the iOS and also update your installed apps.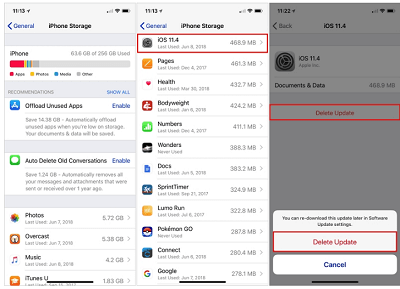 iphone stuck on verifying update redownload ios update
To update your system, open Settings > General > Software Update. You will be notified if a new update for iOS is available. If an update is there, the instructions given will guide you. Once you download and install the updated iOS, reboot your iPhone, the crashes leading to a white screen should have been fixed
2. Check suspected Apps
A buggy app may also cause your iPhone to crash. Thus, you need to ensure all the installed apps are updated. In case you have an app that keeps crashing, you should delete it. The steps to update and fix the buggy applications are:
i. Open App Store > Updates
ii. You can either update all apps by clicking the "Update All" option or update the individual app by clicking the "Update" option next to each app.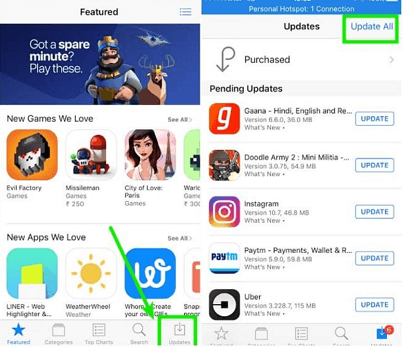 how to fix a frozen iphone via updating apps
Once the apps have been updated, reboot your iPhone. If still stuck, proceed to the next solution.
3. Release the storage
For any apps or activities to run on your iPhone, memory has to be involved. If the memory becomes overloaded, the iPhone will likely hang and get stuck at the white Apple logo screen. You need to free both your memory and local storage by closing background apps and deleting the already backed up or unwanted data and applications. To do this, use the steps below.
i. Open Settings > General > Storage & iCloud Usage
ii. Click on "Manage Storage" under the Storage section.
iii. Check the storage space of your iPhone. If the available space is less than 1Gb, you need to delete some apps or data.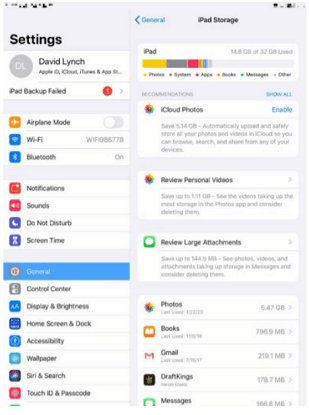 ipad won't update via checking storage
Once you clear more free space, the iPhone should resume normal functioning.
4. Resetting all things
Your iPhone may also be having some software issues that require you to reset all your settings to fix the issues. Before proceeding with this method, ensure you have a backup as your data will be deleted. Once you confirm you have a backup, open Settings > General > Reset, then click "Reset all settings".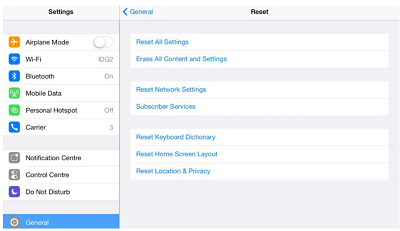 iphone error 4013 via reset
Once your iPhone is wiped clean, the iPhone should be fixed. Go ahead and restore your backup.