Is your iPhone X apparently stuck in purgatory? Are you looking at a stubborn Apple logo or a progress bar on your screen that doesn't seem to move? You are not alone. Here is a complete guide to help you fix an iPhone X stuck on the Apple logo. Without further ado, let's get started.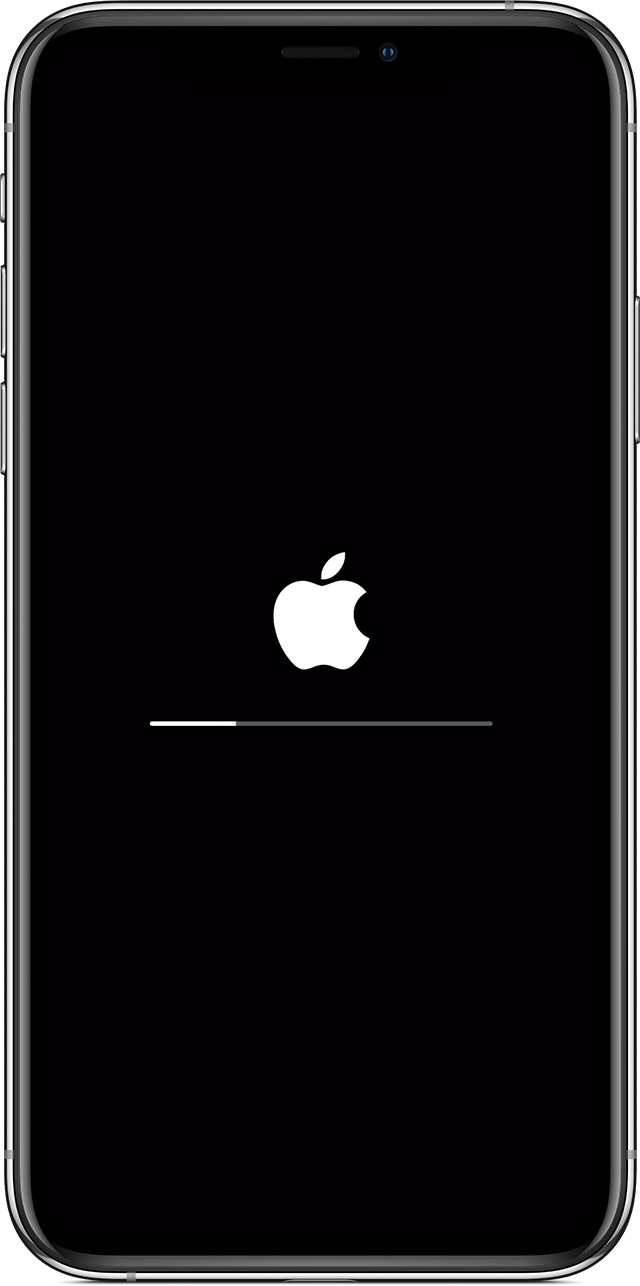 iPhone X is stuck on Apple logo
Why is my iPhone X stuck on the Apple logo?
iPhone freezing on the Apple logo can be caused by many factors, including the following:
Software glitches: Some apps downloaded from another source are not developed by professional developers; they are often corrupted and may contain bugs in it.
Jailbreak: Jailbreaking bypasses Apple security restrictions, leading to various software problems like boot loop.
Restore from iTunes or iCloud: Restore with iTunes fails because of poor Wi-Fi connectivity and other issues.
Storage issues: When iPhone storage is low, it doesn't let the iOS properly load. That can lead to your iPhone getting stuck.
Hardware problem: Your iPhone was smashed or got water soaked in, etc, which damaged certain internal components.
iOS update: Maybe the updated file is corrupt, or compatible with the iPhone X model.
Battery drain: When the battery is drained, a power outage may be a cause for your iPhone to freeze up in the middle of the booting process.
Data restore or migration:Cables and USB ports that aren't working properly might impede data migration and damage software.
The following techniques will help you fix your iPhone X that keeps showing the Apple logo.
Force restart your iPhone X
As the name suggests, this will force your unresponsive or stuck iPhone to shut down and restart again. Many system crashes and app glitches can be solved by a force restart.
Here is how to do it.
Press and release the Volume Up button.
Press and release the Volume Down button.
Press and hold the Side button for about 10 seconds.
Once your iPhone has restarted, you can release the Side button.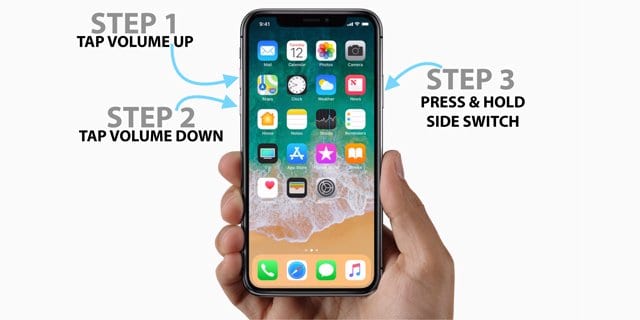 Force restart iPhone x
Fix iPhone X with the Mobitrix Perfix (No Data Loss)
When a simple force restart fails to work, you can resort to a professional third-party tool to fix your iPhone. One of the best iOS system repair tools is Mobitrix Perfix, fixing your iPhone X without any data loss. It fully supports iPhone 5s to iPhone 15 and iOS 17 and earlier versions. This method requires a computer with an active internet connection.
First, download the Mobitrix Perfix software on your computer. Launch it after installation.

Mobitrix Perfix iOS system repair

Use a USB cord to connect your iPhone X to your computer.
A window will appear on the screen. Now click Start, and then tab Fix Now.
Finally, click on Standard repair.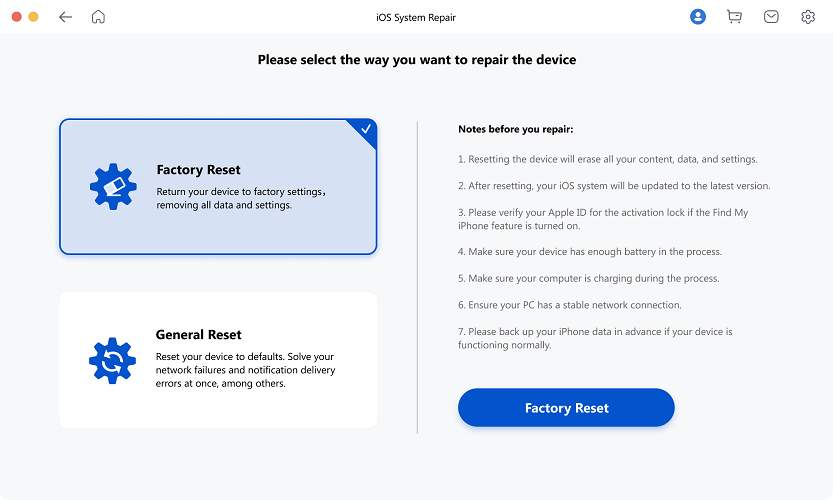 Mobitrix Perfix standard repair
This tool is also user-friendly and doesn't require any technical expertise. You can get your iPhone in working order within 30 minutes.
Update or restore your iPhone X via recovery mode
Recovery Mode is a special mode where a buggy iPhone is placed for iOS reinstallation. This would require the use of iTunes on a computer. If you are going to repair your iPhone 8 with this method, don't forget to install the latest version of iTunes or update your Mac. The procedure isn't too complex, but this method is risky as it may erase all your existing data.
Here are the necessary steps:
If you are using a Mac with macOS Catalina or later, open Finder. If you are using a Mac with macOS Mojave or earlier, or using a Windows PC, open iTunes. Then connect your iPhone X with your PC using an original USB or lightning cable.
Now, to enter recovery mode, quickly press and release the Volume Up and Volume Down buttons in succession. Then press and hold the Side button until the recovery mode screen appears.

Activate recovery mode in iPhone X

Release the keys if you have entered recovery mode.
Here you will see two options available: Update or Restore. It's better to click on Update first, because updating an iPhone doesn't remove your data. If you don't find it helpful, you may click on Restore.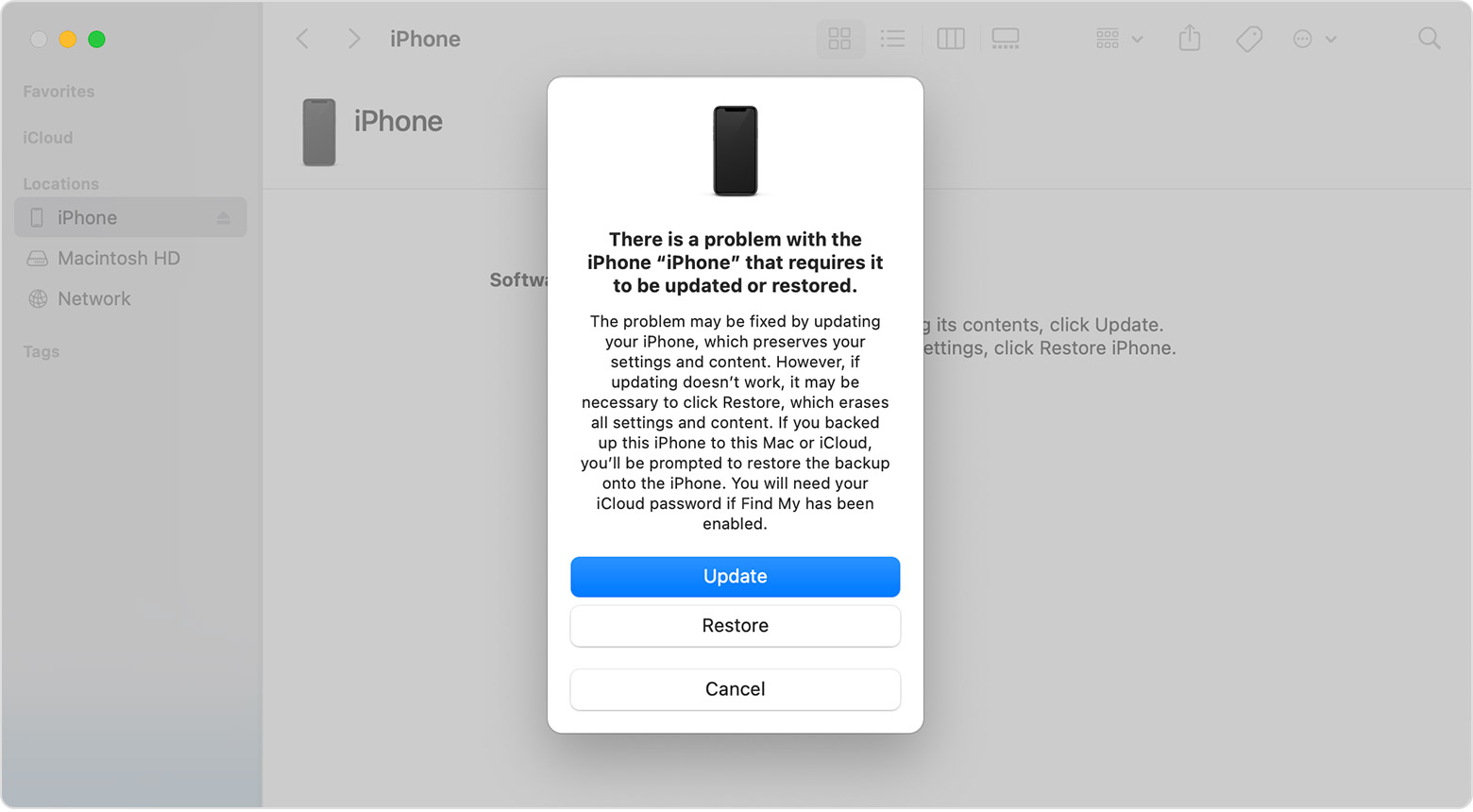 Update restore iPhone x via recovery mode
Note: Restoring your iPhone will erase all the data on your iPhone. If you don't want to lose your important data, make sure you've backed up your iPhone previously, or opt for Mobitrix Perfix as it doesn't cause any data loss.
DFU restore
DFU works on an iPhone in the same way as BIOS works for a Windows computer. It is a complicated method. When your iPhone X is put into DFU mode, iTunes can change its firmware and upgrade it to any iOS version.
Connect your iPhone X with an official Apple cable.
Now press the Volume up quickly and then the Volume down.
Press and hold the Side button on your iPhone X until the screen goes black.
Press and hold the Volume down button as well as the side button.
Release the Side button after five seconds but continue pressing the Volume down button.
Now, if your screen goes black and the Apple logo doesn't appear, it means you have successfully entered DFU mode.
Now go ahead and restore your device by clicking on Restore on the iTunes windows.
Contact Apple for repairs
If the methods above do not solve your problem, it may be necessary for you to contact Apple support. Again, keep in mind that Apple technicians will work on repairing your iPhone, not recovering the data. So if you don't have a backup of them, the risk is that you will lose them forever.
Here are different ways you can contact Apple support.
1. Apple online support
If you are looking for active support at any time of the day, even at night, you can get Apple assistance directly online on the support page where you can choose the most convenient option.
Here is the link to Apple's online support
2. Chat with Apple
Apple's online support is an innovative and advanced tool: it allows you to accurately choose the topic to discuss with an operator directly online via chat by going to the Apple support main page.
3. Support via app
Another valid alternative to contacting Apple Support is the Apple Support app for iOS, which you can download free from the App Store. Once the application is installed and started, just enter your Apple ID and password to proceed.
4. Apple repair request
To initiate a repair request, click on the button at the bottom of the dedicated page and click on Start a repair request. From here, it will also be possible to check the repair status by clicking on Check the repair status and entering the Apple ID.
How to prevent my iPhone X from getting stuck on Apple logo again?
Even if you succeed in fixing your iPhone, you should still keep these points in mind so that you don't face this problem again in the future.
1. Remove or reinstall apps
Sometimes iPhone apps crash, or if you download them from an unofficial store, they may contain a virus. It's better to uninstall such apps. Also, offloading the apps you don't use provides you with free storage. So it can be helpful if your device is stuck on the Apple logo because of low storage.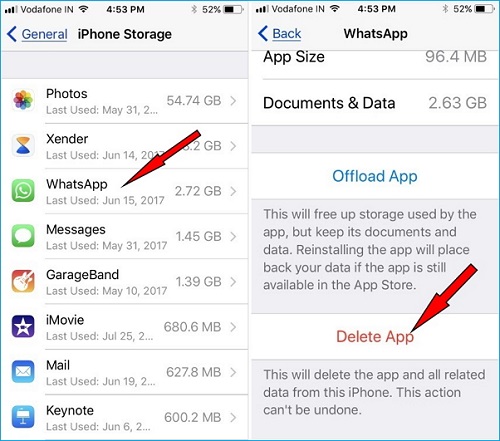 Remove apps from iPhone X
2. Update apps
It is strongly recommended to have updated apps on your iPhone. Because bugs are fixed and security improvements are made, and new features are introduced with the new versions.
Here is how to automatically update your iPhone apps.
Go to Settings > Tap App Store > Turn off App Updates
Automatically update iPhone apps
3. Disable or remove third-party security software enabled on your PC
Sometimes you install third-party security software or antivirus on your PC, which stops incoming files and can destroy the data. As a result, your files don't transfer completely, and your iPhone may get stuck on the Apple logo.
4. Clean charging port
Before the data migration, make sure that the charging terminals of your PC and your data cable are clean and without rust. If you find dirt in them, clean them first. The terminals full of dust fail to make a stable connection between your devices.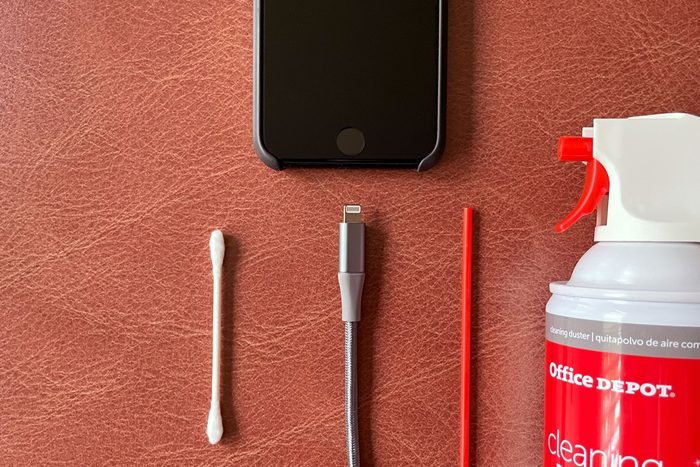 Clean charging port of iPhone-x
5. Switch onto a charging cable
If you still find the problem, use a lightning cable to see if there is any pop-up or error related to this issue.
6. Clean storage
Here are some ways you can keep your storage low.
Go to Settings > General > iPhone storage. Delete unnecessary media files, including videos, images, and all types of graphics. Remove unnecessary apps you don't use often.
Try to clean the cache daily.
It's better to keep your data on iCloud so you get maximum storage for free.
Clean your iPhone storage
7. Update your iPhone
Sometimes the iOS versions are so old that they remain unable to keep the security measures and can't block the malware. The latest Ios versions come with the latest features, which may prevent your iPhone from getting stuck.
Here is how to do it:
First, go to Settings and tap on General.
Click on Software Update.
Now tap on Download and Install.
Enter your lock screen passcode to verify and agree with iOS terms and conditions.
Finally, click on Install Now.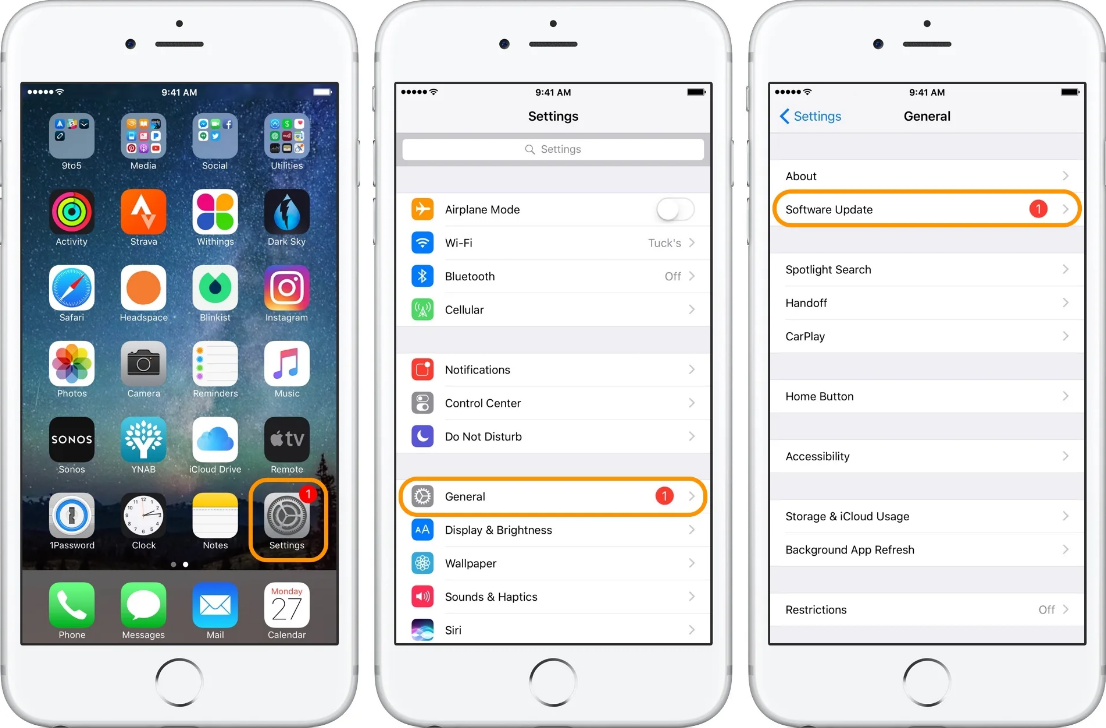 Update your iPhone
8. Downgrade the iOS
The latest operating system is heavier in size, so it needs some extra free space to work with the installed apps and temporary files. It usually uses RAM, but it can also use classic storage memory. Unfortunately, in older phones, there is very little space, so it is better to downgrade the iOS in your iPhone if you are using the latest version of iOS.
Since you are dealing with an iPhone X stuck on the Apple logo issue, you need to check the whole tutorial if you want to fix this issue as soon as possible. I have listed the best approaches to help you troubleshoot. The best of them all is Mobitrix Perfix.