Your iPhone is suddenly showing a black screen with a spinning wheel? Sometimes it may quickly boot past the home screen and go back to normal. But sometimes, it simply won't turn on…oops!
Want to know how to fix it and how it happened? Well then, this article is for you! You will find 4 effective solutions to repair your iPhone quickly!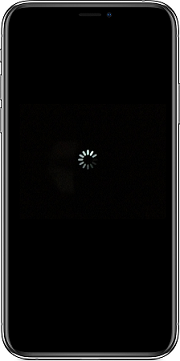 How to fix An iPhone Stuck on Black Screen with A Spinning Wheel?
Keep your iPhone Charged
A spinning wheel usually means there are hidden activities occurring in the background, which will consume a lot of battery. Plus, all the fixes below would require sufficient power. Plug your iPhone into a stable power source first.
Charge up your phone
Force restart
A force restart should be the first simple trick to try. It ends all running processes on an iPhone by cutting off the power forcefully. You don't lose any data other than unsaved files opened at the time.
Here is how to force restart your iPhone:
iPhone 8, X, 11, 12, 13, 14, 15 series and iPhone SE (2nd generation and later):
To begin, press and hold the Volume Up button.
Now tap and hold the Volume Down button for a few seconds.
After that, press and hold the Side button.
All of these should be completed in order. Release the Side button when your iPhone restarts.
iPhone 7 series:
Press and hold the Volume Down and the Sleep/Wake buttons. Release both buttons when the Apple logo appears.
iPhone 6s, iPhone SE (1st generation), and before:
Press and hold the Sleep/Wake and Home buttons. Release both buttons when the Apple logo appears.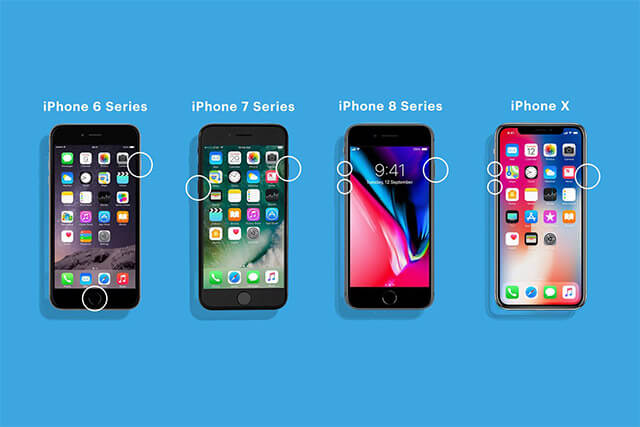 Your iPhone may be working properly now. But this is mostly temporary.
To prevent this from happening again, check what to do next on your iPhone settings.
However, if it still displays a black screen with a spinning wheel after a force reboot and cannot turn on, then you'll need to perform deeper types of restore, with the help of a computer.
Fix iPhone spinning wheel issue with a Computer
There are 3 ways to fix your iPhone while connecting it to your computer.
Via Mobitrix Perfix
Mobitrix Perfix is a professional iOS repair software tool, specially designed to fix various iOS system problems for iPhones, iPads, and iPods. Compared to iTunes and other tools, it is much easier to use, requiring only a few clicks and no tech knowledge. It can fix many severe crashes that iTunes cannot fix in only 20 minutes. And it fully supports iPhone 5s to iPhone 15 and iOS 17 and earlier versions.
Here is how to use Mobitrix Perfix to fix your iPhone displaying a black screen with a spinning wheel:
Install and run Mobitrix Perfix on your computer.

Launch Mobitrix Perfix

Use a USB cord to connect your iPhone to your computer.
Click on Fix Now and then choose Standard Repair.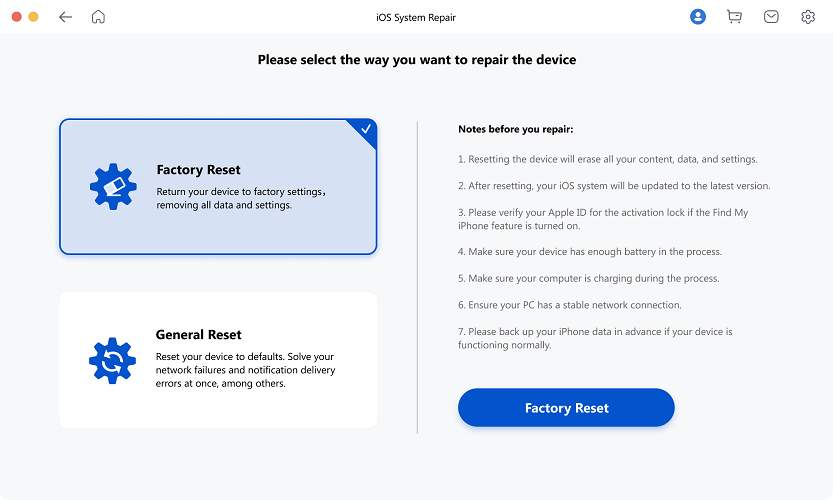 Standard Repair Mode of Mobitrix Perfix
Follow the prompts and the repair process will begin immediately. In around 30 minutes, you will have your iPhone back to normal.
Update your device with iTunes/Finder
iTunes is an Apple-owned software program, generally used for media file management. However, sometimes, it can also help fix iPhone issues by updating the iOS system and fixing potential bugs and loopholes. If you have a Windows computer or a Mac running macOS Mojave 10.14 or earlier, use iTunes. If you use a Mac running macOS Catalina or later, then open Finder.
Update with iTunes

First, install the latest version of iTunes on your PC if you haven't installed it yet. Note the download may take hours long. Whether to download the 32-bit iTunes version or 64-bit depends on your Windows system and processor. Check here to know your processor type.
Connect your iPhone to the computer with a USB cable.
Now run the iTunes application on your computer.
Once iTunes detects your device, click on the device icon to enter the management interface.
Then click on the Summary tab.
Click on the Check for Updates tab.
If there are any updates available, download and install them by clicking on the Download and Update button.
Wait until the whole update process is finished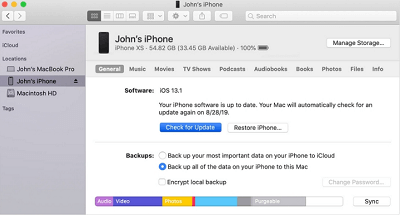 Update iPhone with iTunes
Update with Finder
Connect your iPhone with a USB cable into your Mac.
Select your iPhone in the left bar of Finder.
Tab General, then choose Check for Update. Click Download and Update.
If your computer cannot recognize your iPhone, then you can put your iPhone in recovery mode and try to update or restore it with iTunes or Finder.
Restore your iPhone with iTunes/Finder via recovery mode
Recovery Mode acts like a surefire for most iOS issues. It is used when you want to fix glitches and bugs in your iPhone with iTunes, by replacing its operating system with a newer version.
Before proceeding, make sure you have created a backup of your iPhone data.
Connect your iPhone to your computer and launch iTunes or Finder.
Put your iPhone enter recovery mode.
iPhone 8 or later: Press and quickly release the volume up button, and then the volume down button. Next, press and hold the side button until the recovery mode screen pops up.
iPhone 7: Hold the top (or side) and volume down buttons together until the recovery mode screen appears.
iPhone 6s or earlier: Long press the Home and the top (or side) buttons at once until the recovery mode screen shows up.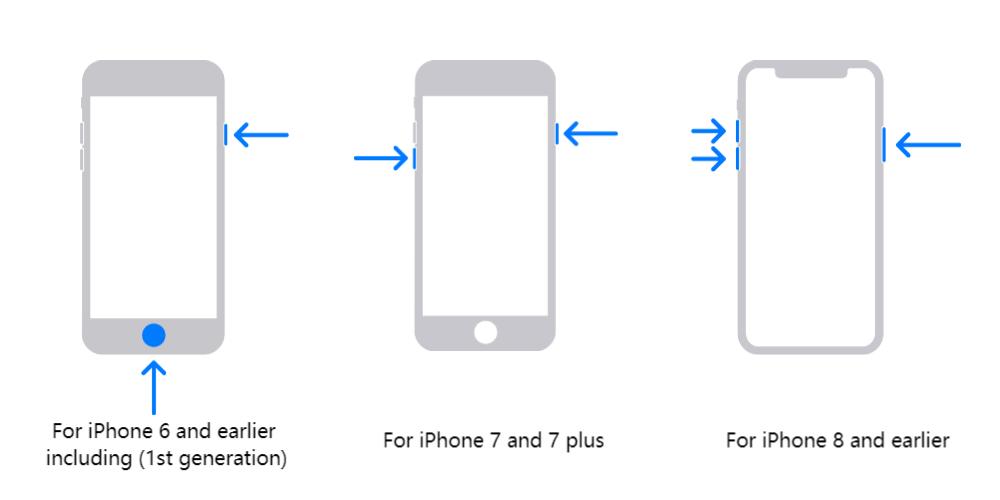 enter recovery mode
There will be two options available, Update and Restore. Click Update first, as it doesn't wipe out your data. If it doesn't fix your iPhone, then repeat the steps above and then choose Restore.
If you can't get your iPhone properly restored via the recovery mode, then DFU is your choice. However, a DFU restore will surely delete all your data. If you didn't create a backup before, opt for Mobitrix Perfix.
Restore with iTunes via DFU mode
The DFU mode is present in every iPhone as part of the SecureROM, which is directly imprinted on the hardware and is impossible to delete. Via this mode, you can restore any iOS device from any state.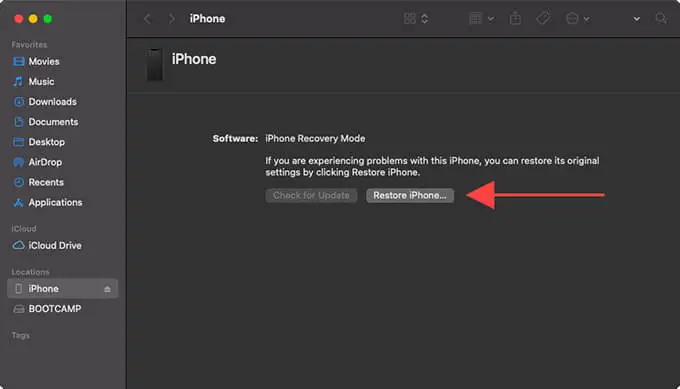 This is usually the fix for the worst scenario —— when your operating system is severely damaged.
Open the latest iTunes or Finder.
Plug your iPhone into your computer with a USB cable and then put it in DFU mode. Once your iPhone has entered the DFU mode successfully, its display should be completely back.
Now, on your computer, choose Restore
After hours, your iPhone should have been fixed.
Fix iPhone spinning wheel issue via Settings
If your iPhone turns on but just keeps showing the spinning wheel with a black screen, there are some simple fixes you can try.
Some users have reported that changing the iPhone location or time can help fix the black screen with a spinning wheel.
Change the location on your iPhone
Go to Settings and hit your name and Apple ID.
Go to Media & Purchases.
Tap View Account. Log in with your Apple ID password.
Select Country/Region and then click Change Country/Region.
Select your new country or region from the list that appears.
Change the time on your iPhone
Go to Settings, tap General and then choose Date & Time.
Switch off "Set Automatically."
Select the Time Zone and enter the time zone for your new location.
Then set up a date and time you prefer manually, preferably before 1st December.
If you have fixed your issue with these two methods, congrats. Otherwise proceed to the next step.
Factory reset iPhone via Settings
When you encounter a persistent iOS problem that you can't fix, and you don't have a computer with you, the most effective solution is to perform a factory reset on your iPhone via Settings. Here is how:
Launch the Settings app on your iPhone.
Choose General.
Then, scroll down and select Transfer or Restore iPhone. The option "Reset All Settings" has been moved to the "Transfer or Restore iPhone" in some versions.
After that, tap Erase All Content and Settings.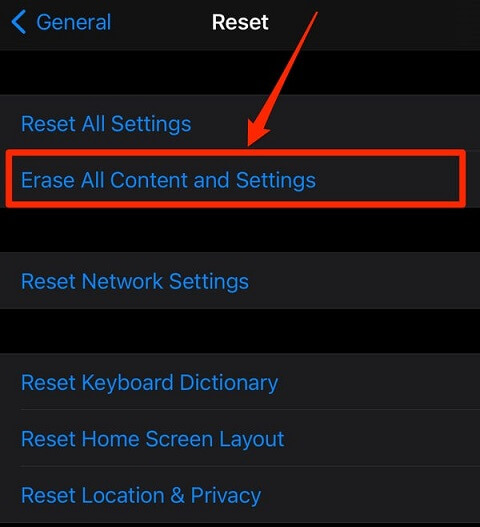 factory reset iPhone via settings
Contact Apple
If none of the above methods work, recall if you dropped your device or if it was damaged by water in the past. Hardware problems are very rare. When it happens, feel free to contact Apple support by phone, or from the official site of Apple. Or post your concerns in the Apple community.
After all this hassle, I bet you are wondering: why me? Well, read below, you will know why this issue happened to your iPhone in the first place.
Why Was My iPhone Stuck on a Black Screen with a Spinning Wheel?
iPhone black screen with a spinning wheel typically occurs due to system bugs, which is very common to iOS 12.1.1 and later. It can also result from jailbreaking, low battery life or any hardware issue, etc.
Software issues
This issue can happen if you have upgraded your iOS system incorrectly, if your iOS version is too old, or if your iOS device is running on a beta iOS version. Sometimes system crashes happen even for no clear reason.
Hardware issues
If any important component of your iPhone is affected (such as the motherboard), it can cause problems in the booting process of the iOS, making your iPhone stick to the spinning wheel for a long time.
Jailbreaking
Jailbreaking is a process through which Apple security is bypassed to install apps that Apple has not approved. Such third-party apps gain root access to your device, which may cause software compliance issues, resulting in the black screen with the spinning wheel. Apple considers jailbreaking a violation of its terms and conditions.
Third-party apps going faulty
A third-party app downloaded from non-Apple Store may contain viruses or malware. Sometimes, apps not approved by Apple remain operational in the background, which can cause an accelerated battery drain that shortens the operation of your iOS device.
Battery issues
The spinning wheel error may occur when your iPhone doesn't store enough electrical energy for it to turn on. Sometimes your battery connectors are filled with a green crusty substance caused by water damage or overcharging, thus battery terminals can't pass proper electric current for the device to boot.
Storage issues
If the space on your iPhone is insufficient, it will be unable to load the iOS firmware.
Knowing the reasons and fixes is not enough. After fixing your iPhone, you still need to learn how to better prevent this from happening again.
What to do after you have fixed your iPhone stuck on black screen with a spinning circle?
Enable automatic iOS updates
A new version of iOS such as iOS 16 includes security updates that help protect your iPhone from viruses and malware.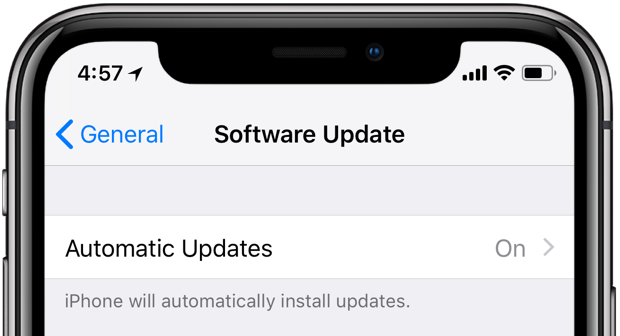 enable automatic iOS updates
With each major iOS release, there comes many exciting features. Keeping iOS updated enhances your device's app compatibility too. To save you time, try enabling automatic updates by going to Settings > General > Software Update.
Free up internal storage regularly
When you operate your iPhone, it needs some space to complete tasks. It is always advisable to delete unnecessary apps files and media from your iPhone storage.
Tap Settings > General > [Device] Storage. See which apps are taking up your storage. Also clean duplicate photos, videos, files, etc.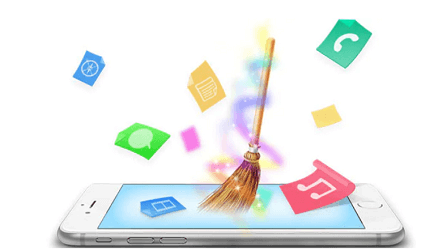 free up iPhone space
Keep apps Updated
Keeping apps up to date is nearly as important as keeping iOS itself updated. App developers always try to keep their apps more efficient, so if there is a previous bug in a third-party app, the update will help rectify it, reduce the chance of the app crashing or going faulty, making the iPhone malfunction.
Go to the App Store, and tap your profile icon at the top. Tap Update next to an app to update that app individually. You can also tap Update All to upgrade all apps.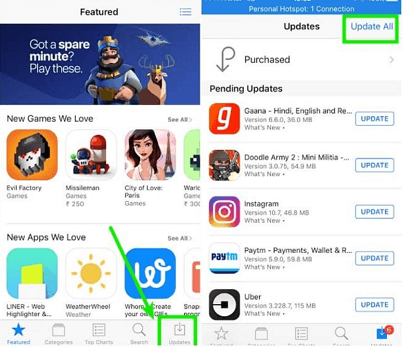 update all iPhone apps
Downgrade to Stable Channel
Older iPhone models like iPhone 6, 7, SE come with lower specifications, which may not be able to support the latest iOS 16. Also, new update files occupy a bigger space. For these reasons, you may want to downgrade from a new version to an old one.You can use Perfix or use iTunes via DFU mode for that purpose.
When your iPhone goes black with a spinning wheel, your life comes to a sudden halt. I've listed all the possible reasons and shared all the methods for you to walk out of this problem. Among all, Mobitrix Perfix is highly recommended. It is a professional iOS system repair tool, able to fix various system issues within 30 minutes. Fix your iPhone hasslefree now.